I know what you are thinking… should I visit Lloret De Mar? Lloret de Mar is a small Mediterranean beach town in Costa Brava, Spain. It is located only 75 kilometers away from Barcelona and 40km from Girona. It's a perfect getaway from Barcelona, and a great place to stop on if you are touring the Costa Brava. I chose to stay in Lloret de Mar because, compared to other towns in the Costa Brava, Lloret de Mar is slightly bigger. As such, there's a lot of hotel availability and hence cheaper prices. In simple words, you get better bang for your buck if you are staying here versus other perhaps more quaint but smaller towns like Tossa de Mar.
In this post I'll walk you through my personal recommendations on what to see, do and where to stay in Lloret de Mar. Let's start with things to do!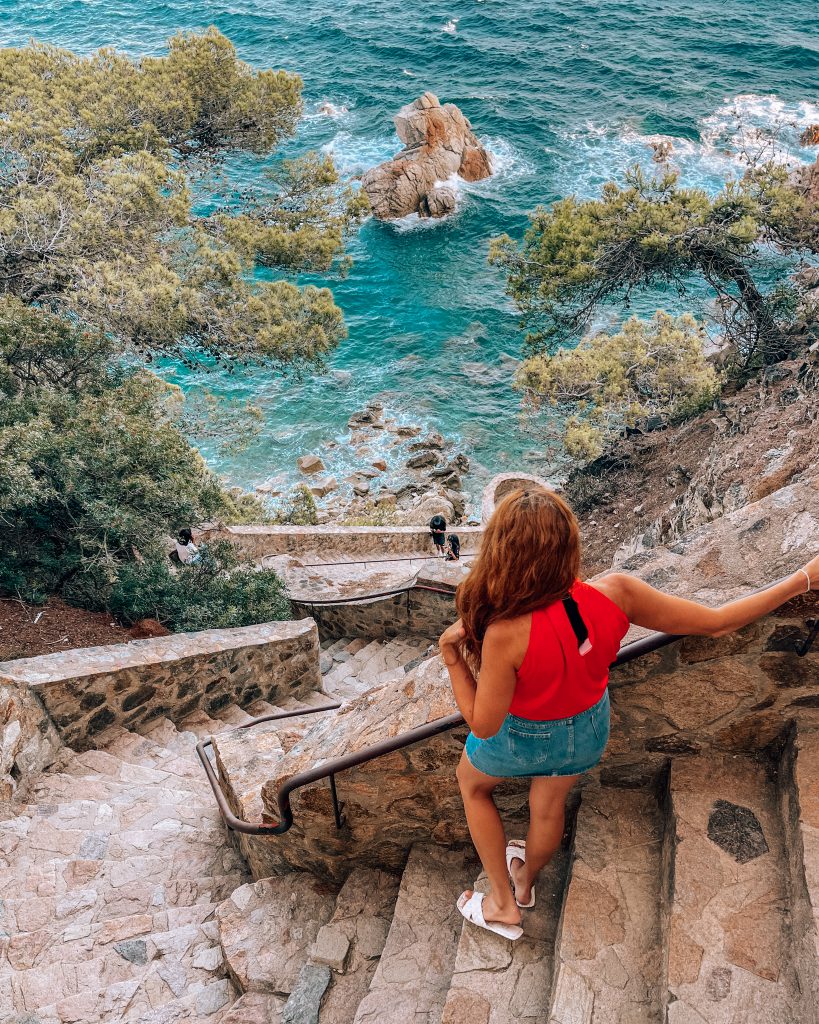 THINGS TO DO IN LLORET DE MAR
Go to the beach, a lot!
You guessed it: you shouldn't go to Lloret de Mar if you don't like going to the beach. There is more to do but I'm sure it's the beach that's bringing you here. These are Lloret De Mar's best beaches:
Lloret Beach: Lloret Beach is the biggest, most popular beach in the city and is very easily reached from the city center. I loved visiting early in the morning when everyone is sleeping after a big night out. While there, you can relax in the golden sand or try some water sports (catamaran, ferry, jet skiing, parasailing etc). The good thing about Lloret Beach is that you can find many beachfront restaurants and bars nearby to grab a refreshing drink or an ice cream.
Fenals Beach: Fenals Beach (Platja de Fenals) is the second largest beach in the city. It is located right next to Lloret Beach but divided by a mound. Even though it is smaller, you will find less tourists. If you want to have the beach to yourself, you can walk to the end of the beach where you will find yourself surrounded by nature and beautiful scenery.
Cala Boadella: This cove beach is another great option if you want to spend time on a golden sand beach, while also being surrounded by wild nature. Bear in mind it is a popular spot for nudists, in case that could make you uncomfortable.
Santa Cristina Beach: Santa Cristina is a small and calm beach which is the furthest away from the city center. It's perfect if you want to get away from the hustle and bustle of the city. But don't worry, you will still find facilities there – umbrellas, shops where you can buy drinks or ice-cream, showers etc.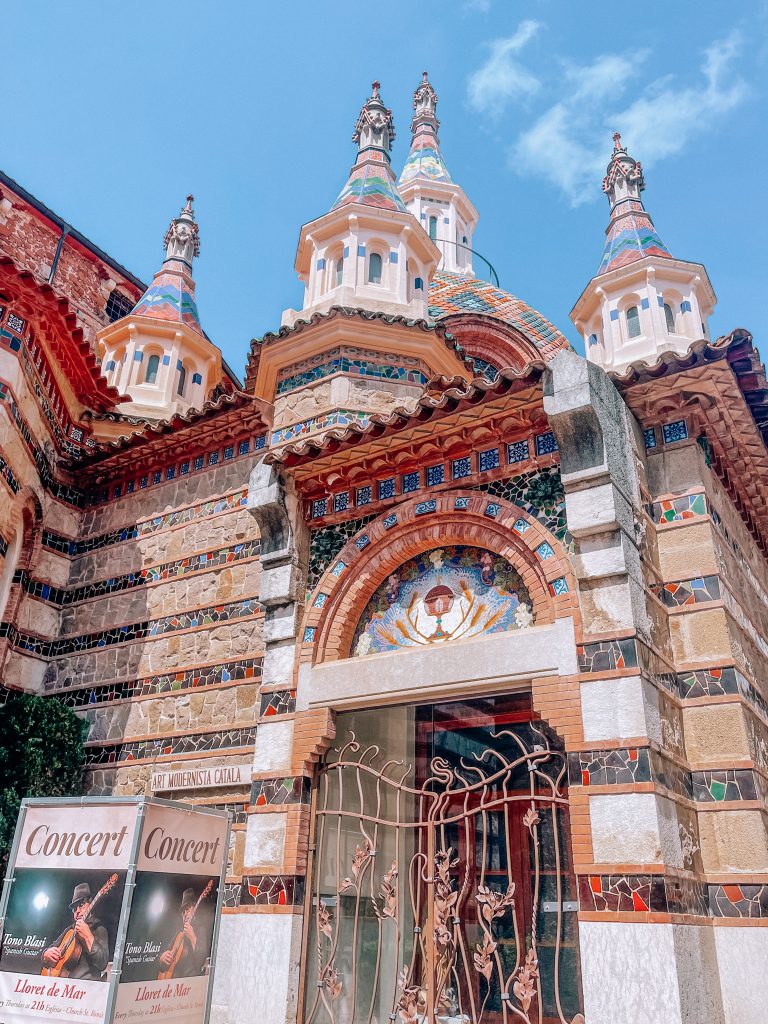 Admire the Parish Church of Sant Roma
Taking a stroll through Lloret de Mar's historic centre, you will come across the Church of Sant Romà, the patron saint of Lloret de Mar. This unique church is actually one of the main Lloret de Mar attractions. It is situated right in the heart of the city and is characterized by its colorful dome roof and unique architecture. The Gothic-Catalan-style architecture will definitely catch your attention, you can't miss it! Entrance is free, but be respectful as this is an actively used city church.
While you're there, you can visit the architectural complex located right near the church. It is called the Parochial Rectory and if you like art, you will want to add it to your list of things to do. Admire the beautiful mosaics that do a great job of reflecting the Catalan style. There's plenty of good coffee & lunch places nearby if all you are interested in is just soaking the view from afar.
Trek to Castell D'En Plaja during sunset
Castell d'en Plaja is located right next to Lloret Beach, on a small mound. It should definitely be on your list of top things to do in Lloret de Mar. It might seem old and medieval but it was actually built between 1930 and 1940 as a mansion for Narcís Plaja (an industrialist). You cannot go inside the castle itself as it's private property but I recommend you take a walk up the hill to where it is located and take in the city-meets-ocean views.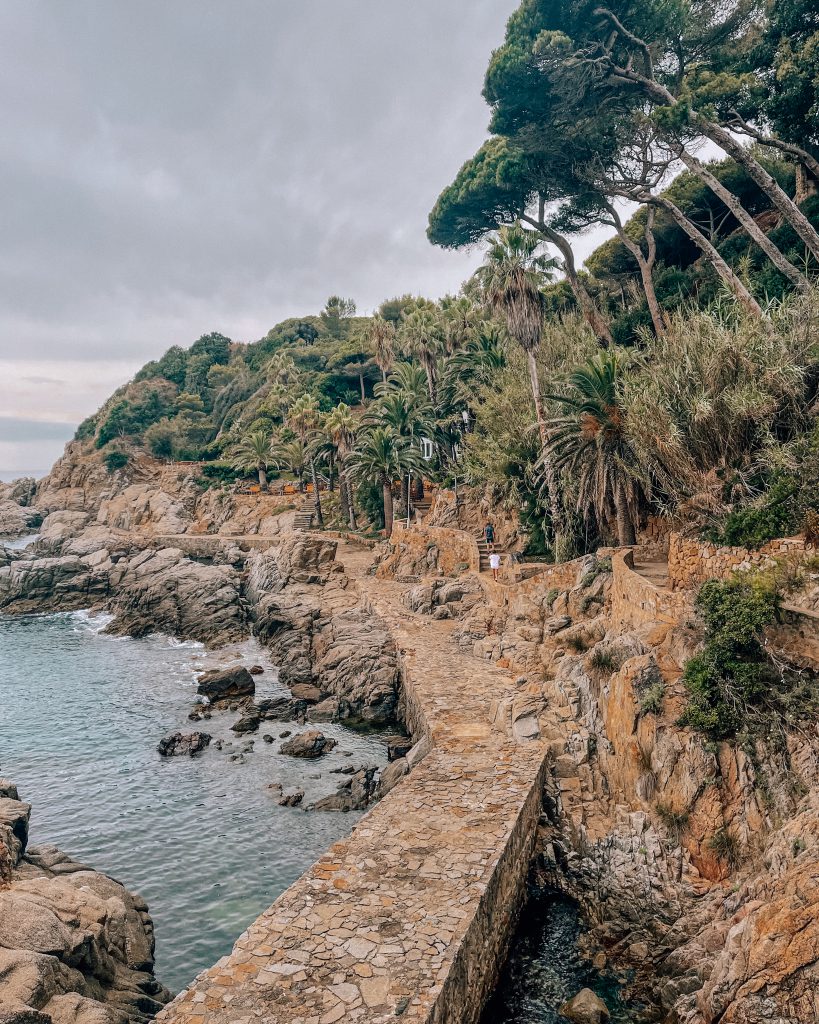 Be a kid at one of its amusement parks
Given the fact that Lloret de Mar is a popular family resort destination, there are many adventure parks, an amusement park and a fabulous aqua park where you can spend an amazing time with your family, friends or significant other!
Water World Lloret de Mar: Do you love water parks? Then you need to visit this one! It is actually one of the biggest aqua parks in Europe, it has 20 rides and different pools, perfect for young and more mature audiences alike.
Arbre Aventura Park: If you are a fan of adventure parks, you will definitely love this one! You'll spend time surrounded by trees and nature. You can try zip lines, adventurous circuits, tree climbing etc. It's definitely a great way to spend the evening after some relaxation on the beach. It is suitable for everybody, from adults to children as young as 3 years old.
Gnomo Park: This is an outdoor fun park created especially for children up to 12 years old, so if you are traveling with your family and kids, make sure to pay a visit to this place – your kids will appreciate it!
Visit the lush Santa Clotilde Gardens
Do you need a peaceful getaway during your stay in Lloret de Mar? Santa Clotilde Gardens is the perfect place to find peace and tranquility this and also an unmissable spot in Lloret de Mar! These lush gardens are located on top of a hill, next to Fenals Beach, full with beautifully kept greenery, including all types of exotic plants and flowers. Capture the beautiful scenery, marble mermaid sculptures and fountains around you. Santa Clotilde Gardens in Lloret de Mar are almost 100 years old. Can you believe it?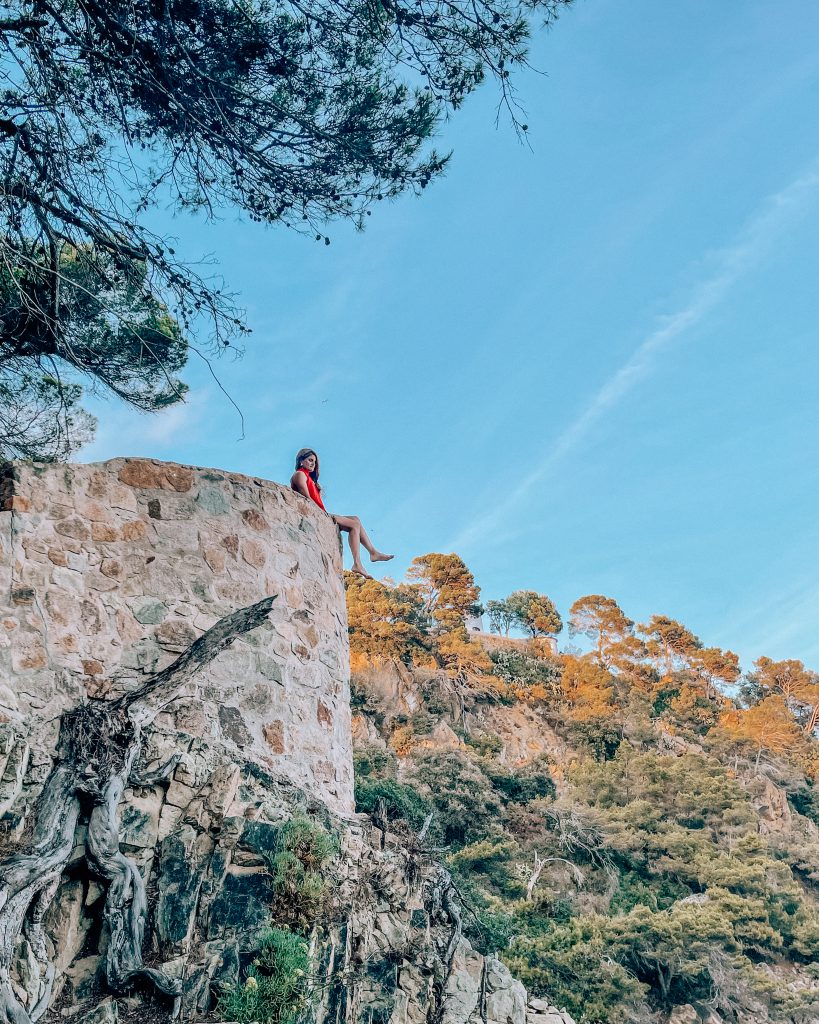 Visit Lloret's Modernist Cemetery
If you, like me, appreciate a good cemetery you'll love Lloret de Mar's Modernist Cemetery. It is a very popular attraction in the city! The cemetery dates from 1901 and you can find many beautiful shrines and mausoleums created in the Art Nouveau style. The entire place is like a piece of art by itself, so it attracts many tourists every year. Trust me, it resembles a museum more than a normal, gloomy cemetery.
Take a day trip to Tossa de Mar
Tossa de Mar is another gorgeous resort town on the coast of Costa Brava. In fact, it's one of the most beautiful ones. It has some magnificent beaches, of course, but the main attraction in the city is Vila Vella (the Old Town), a well-preserved citadel overlooking the ocean. And, as a bonus for all the Game of Thrones fans out there: some scenes from the sixth season of GoT were filmed here. Tossa de Mar is only 12km from Lloret de Mar. If you don't want to organize a day trip all by yourself, you can take this ferry.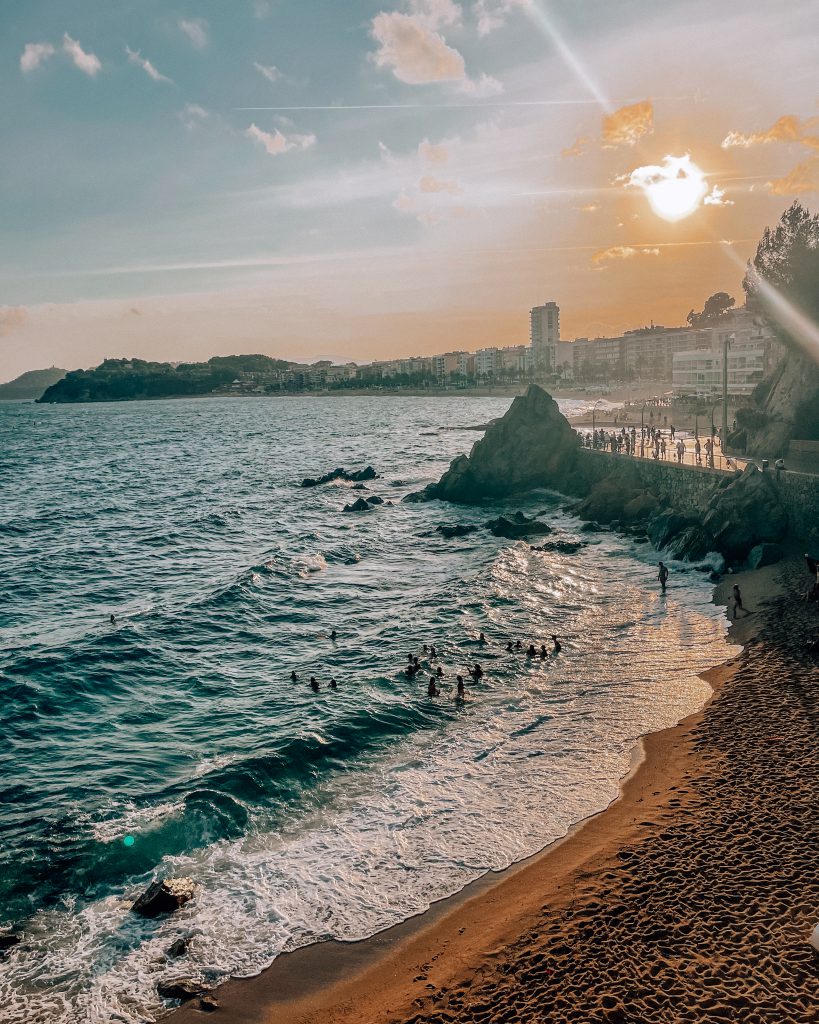 Go for a hike with epic views
Even though Lloret de Mar is the perfect place for a calm vacation full of sun and beaches, it is also a great hiking destination. There are numerous hiking trails in the city. Most of them are located near the coast so you will have a gorgeous view of the ocean along your walk. One of the simplest and most relaxing walks is between Lloret de Mar Beach and Fenals Beach. If you are feeling adventurous, you can take the path from Santa Cristina Beach to Canyelles Beach. This footpath is 9.4km long and it very beautiful, so you won't get bored walking.
A longer more challenging option would be the GR92TR11 footpath. This well-known Gran Recorrido footpath goes from Lloret de Mar all the way to Tossa de Mar. The trail is 13.2km long and it takes around 3 hours to complete.
Last but not least, did you know you can cross the entire Costa Brava region by foot? But beware, this is only for some of the most daring adventurers out there. Camí de Ronda is a series of footpaths that go along cliffs and the Catalan coast. There are different routes you can take and you can find them here.
Visit a real castle, Castell de Sant Joan
Castell de Sant Joan is another Lloret de Mar castle but this is a real one! It is located between Lloret Beach and Fenals Beach, on a small mountain. You can go inside it to learn more about the history of this wonderful city for a small entrance fee.
Take a day trip to Girona
Girona is a beautiful city, only 30 minutes away from Lloret de Mar. Odds are you flew to Girona if Lloret de Mar is the main destination of your holiday! I fell in love with Girona. Would strongly encourage to explore its winding medieval walls, majestic cathedral as well as its many bridges.
Taste some local food!
Having a taste of the delicious cuisine is one of the best things to do in the Costa Brava region (and anywhere, really). While in Spain, you must absolutely try a tapas platter and a cheese platter, some local wine to go with it and, of course, seafood! Because Lloret de Mar is located so close to the beach, the seafood and the dishes made with freshly caught fish are a must.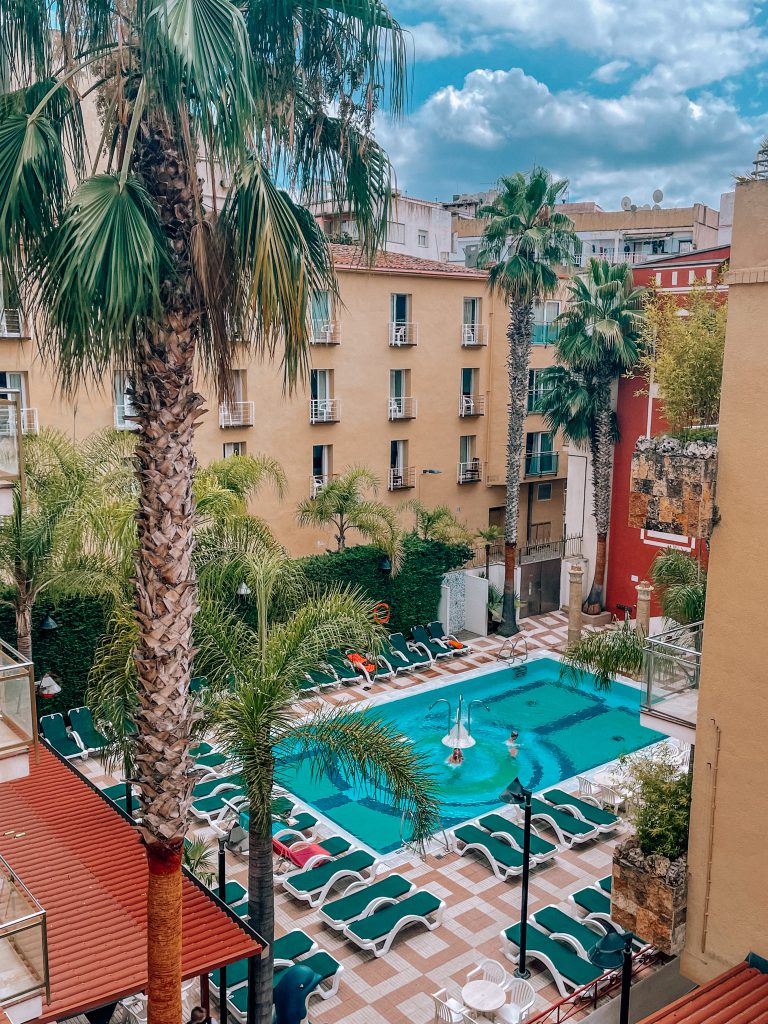 WHERE TO STAY IN LLORET DE MAR
There is a huge range of hotels in Lloret de Mar from hostels for party animals to posh hotels with luxury service. Because I was working the week I visited Lloret de Mar, I chose something calmer with a great spa where I could chill in the jacuzzi after a hectic day. The reviews of Hotel Cleopatra were good, so I chose it for my stay.
The hotel is Egyptian inspired (as the name says). It has a beautiful pool with columns and various fountains which, to me is the highlight of the venue. I stayed at the premium room which had a beautiful spa bath, and an epic view of the pool. Wi-fi works from everywhere in the hotel which was super important for me. It was so handy to have a fridge in the room to be able to have cold drinks during my stay. I would strongly recommend the breakfast which was so indulgent! It has options for everyone (including vegan and/or those looking to keep it healthy). But overall, what made me recommend this hotel above others is the service: staff is super attentive and professional with all guests which to me is what makes a good hotel great. You can book it here.
HOW TO GET TO LLORET DE MAR
Because the city doesn't have an airport, there are no direct flights to Lloret de Mar. Depending on where you are arriving from, there will be, most probably, two ways of getting to the city: from Barcelona and or from Girona (which is where I came from). The nearest airports to Lloret de Mar are in Barcelona–El Prat Airport BCN (75 km) and Girona GRO (30 km). From Girona and Barcelona you can either take a Sarfa bus from the airport or bus station. You could also take a train from any of the cities to Blanes, and a Sarfa bus after. Sarfa is the main bus company that connects cities in Costa Brava.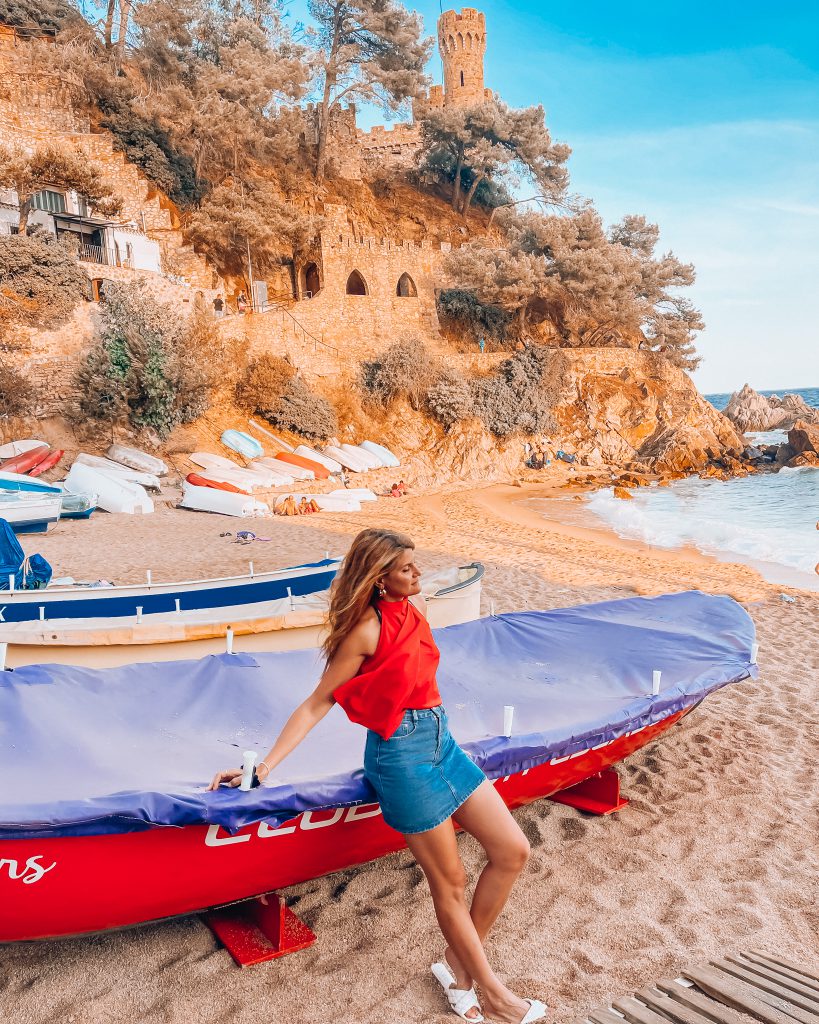 BEST TOURS IN LLORET DE MAR
I kind of like being shown around, don't we all? Here's Lloret de Mar's best tours:
Enjoyed this article? Support my work by buying me an oat capuccino. Otherwise, do me a great favor of leaving a comment and following me on Instagram (@travelwithpau). Feel free to say 'Hello!' I don't bite. And make sure you save the article for later!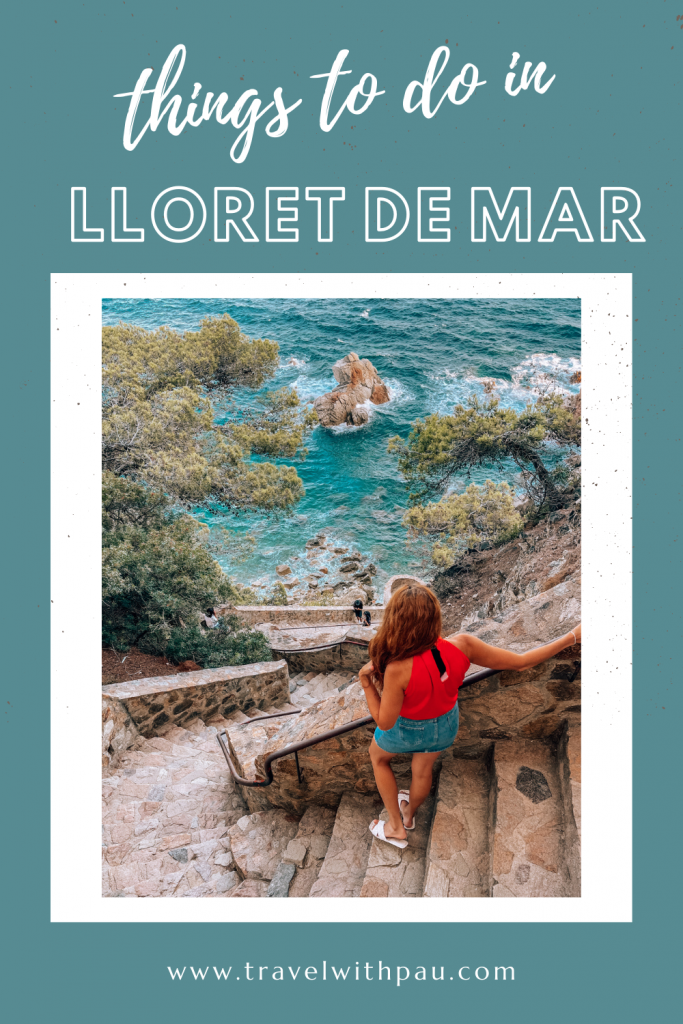 Esta publicación contiene enlaces afiliados. Si haces clic en uno y realizas una compra, es posible que obtenga una pequeña comisión, sin costo adicional para ti, que ayudará a respaldar mi blog.