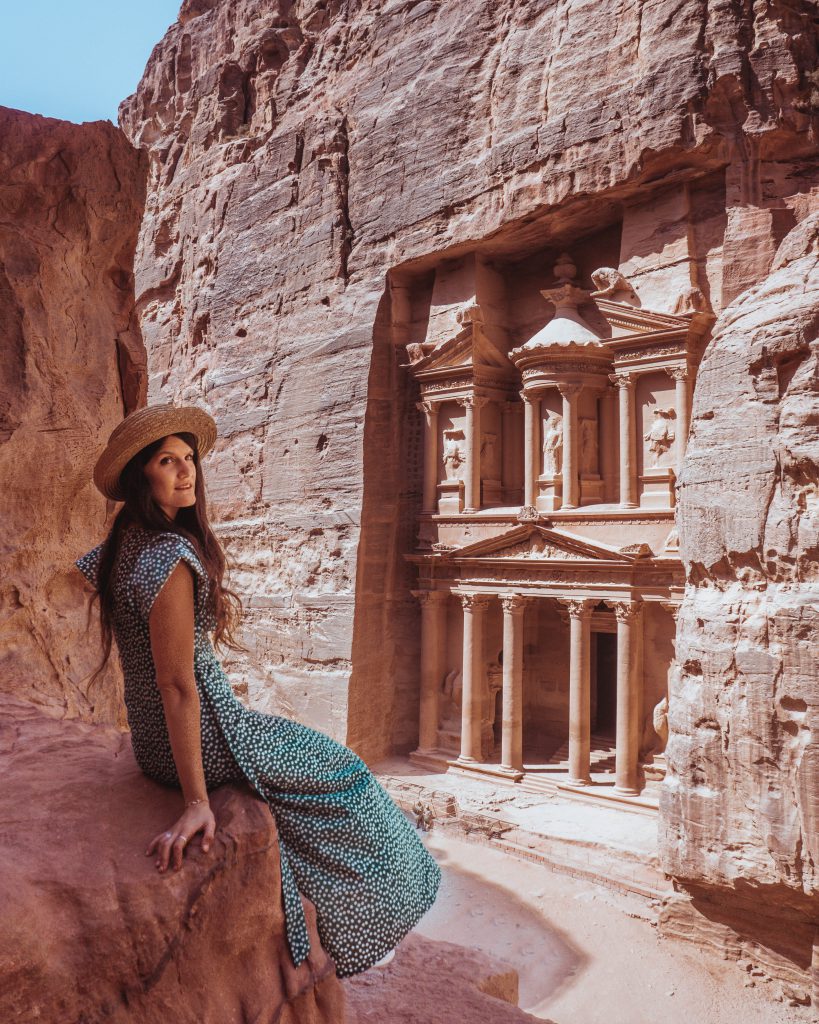 We decided to take a two week trip to Israel and Jordan, flying to Israel from London. When planning Jordan we were faced with a challenge: how do we get from Israel to Jordan?
We soon found it wasn't super easy and mostly, it was very time consuming to go from Israel to Jordan on your own. So instead we decided to take a tour and Abraham Tours had great reviews! So we booked the 3-day tour to Petra and Wadi Rum from Jerusalem.
3 Days in Jordan with Abraham Tours – Day 1: Drive from Jerusalem, Jerash & drive to Petra
The tour kicked off at 7am from Abraham Hostel in Jerusalem and we walked there with our luggage from our hotel in Jerusalem: Jerusalem Hotel. We had a packed breakfast kindly prepared by the hotel as we knew lunch wasn't until around 2pm that day.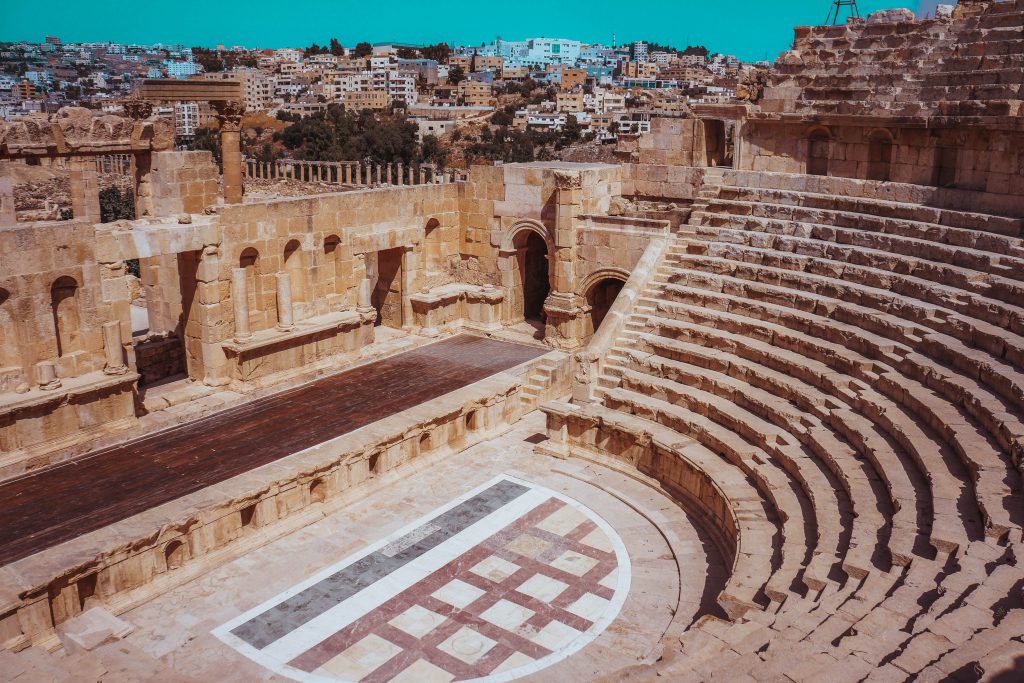 Our bus drove by beautiful desert scenery until we got to the border crossing with Jordan. Crossing the border was a pain. It was easy, but it was just boring and time consuming as you have to wait for everyone to go through. We were done crossing at around 11am. At that time we exchanged buses from a bus in Israel to one in Jordan. Our bus had WiFi and a power socket on each seat, which was awesome. Note that you will need to pay 10JOD exit fee for Jordan but this is done upon entry (which is confusing). There is a place where you can exchange money in the border. The rate is not great, you'll have a chance to take money from an ATM later but the ATM charges a fee so you are better off changing money here anyways.
After that we drove for an extra 1.5hrs for lunch to Jerash. We had lunch at a big buffet restaurant, where the food was delicious, with lots of vegan friendly options: hummus, babaganoush, rice, orzo, salad, grilled aubergine, etc. It is important to note all drinks are not included in the tour (including water, no water is included in meals). This restaurant took card but you normally will need cash to buy drinks.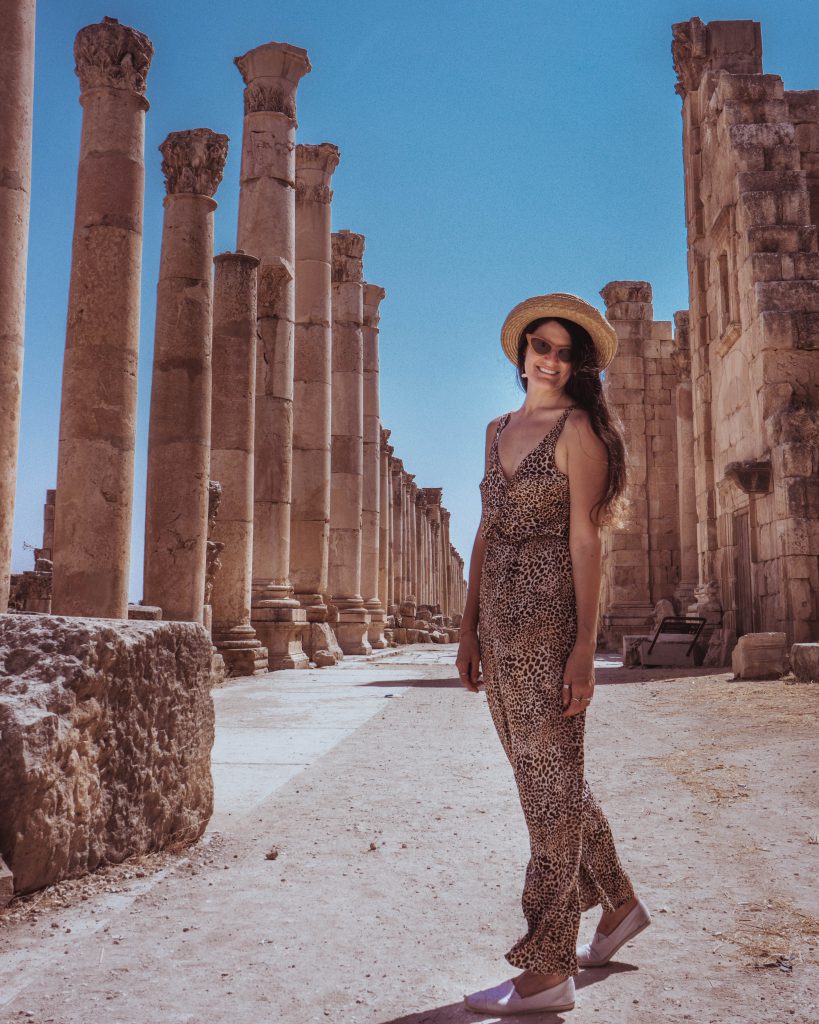 A very short drive after that we arrived to Jerash. Jerash is an ancient Greco-Roman city in Jordan and its ruins can be visited today. It's pretty amazing: it has churches, amphitheatres and lots of columns. We explored and learned a bit about Jerash with our guide first and then explored it on our own. We spent around two hours in Jerash and then hopped into the bus to try a traditional sweet made of goat cheese, flour and pistachio which is eaten warm called kanafeh. As a vegan I couldn't eat it but Pablo said he found it interesting, and weird because it's sweet but with lots and lots of melted cheese.
After that followed a driving tour of Amman, the capital city of Jordan. WE drove by various landmarks of the city where our guide Sam, who by the way lives in Amman, told us about the city. Quite a bit of driving followed until we got to the Seven Wonders Bedouin Camp for dinner.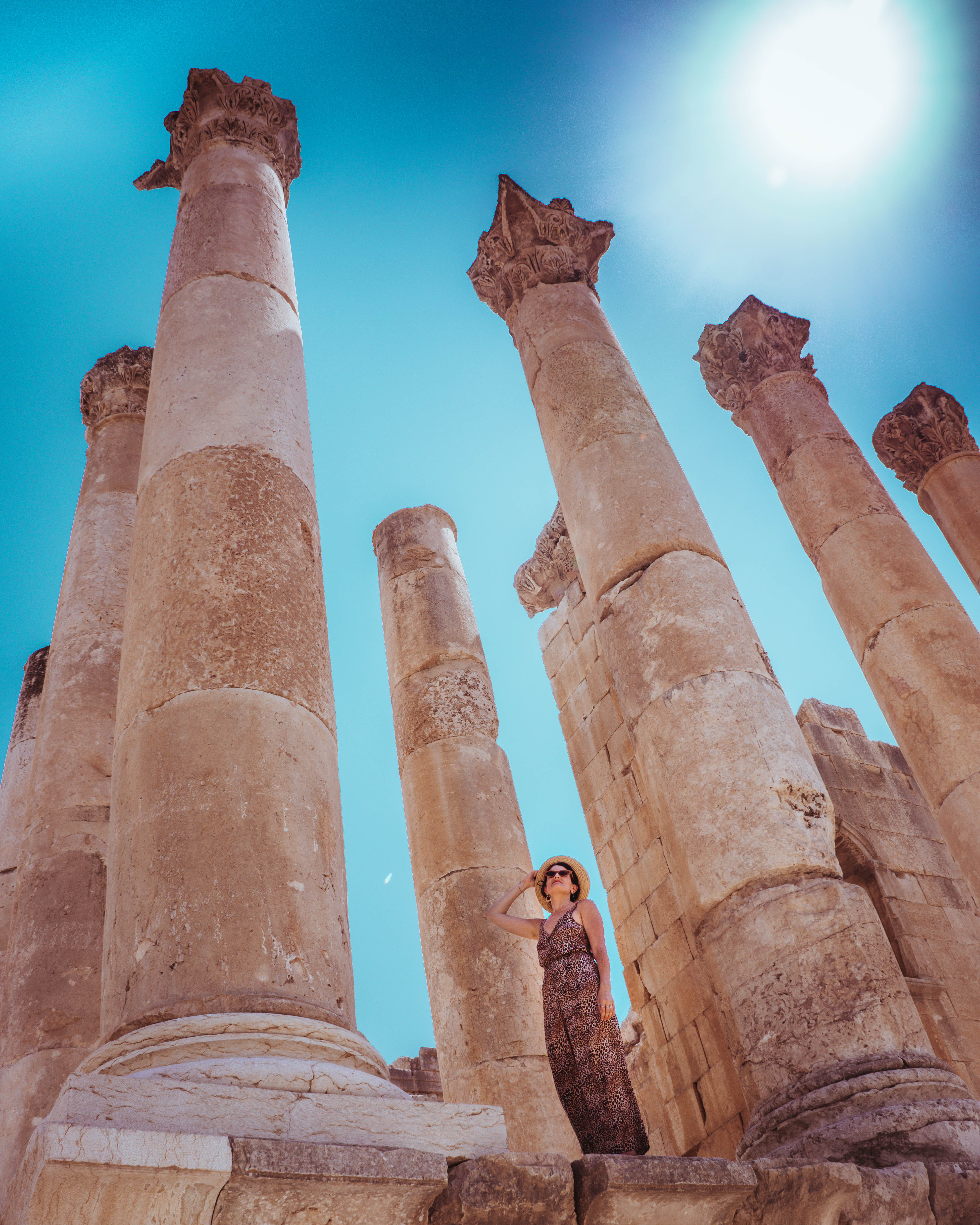 The Seven Wonders Bedouin Camp is beyond awesome! There's free WiFi, power sockets and a lounging area with free tea and shisha (for 5 JOD) surrounding a fire at night. Additionally, it's clean and beautifully decorated, even the hills surrounding it are lit up at night!
Dinner has a lot of veggie options and has a delicious traditional menu: tons of salads of all kinds, generally a meat with rice, hummus, babaganoush, bread, grilled veggies and for dessert there's fruit and traditional sweets.
Bathrooms were clean had good pressure hot water and the rooms were glamping style tents with lights and a socket.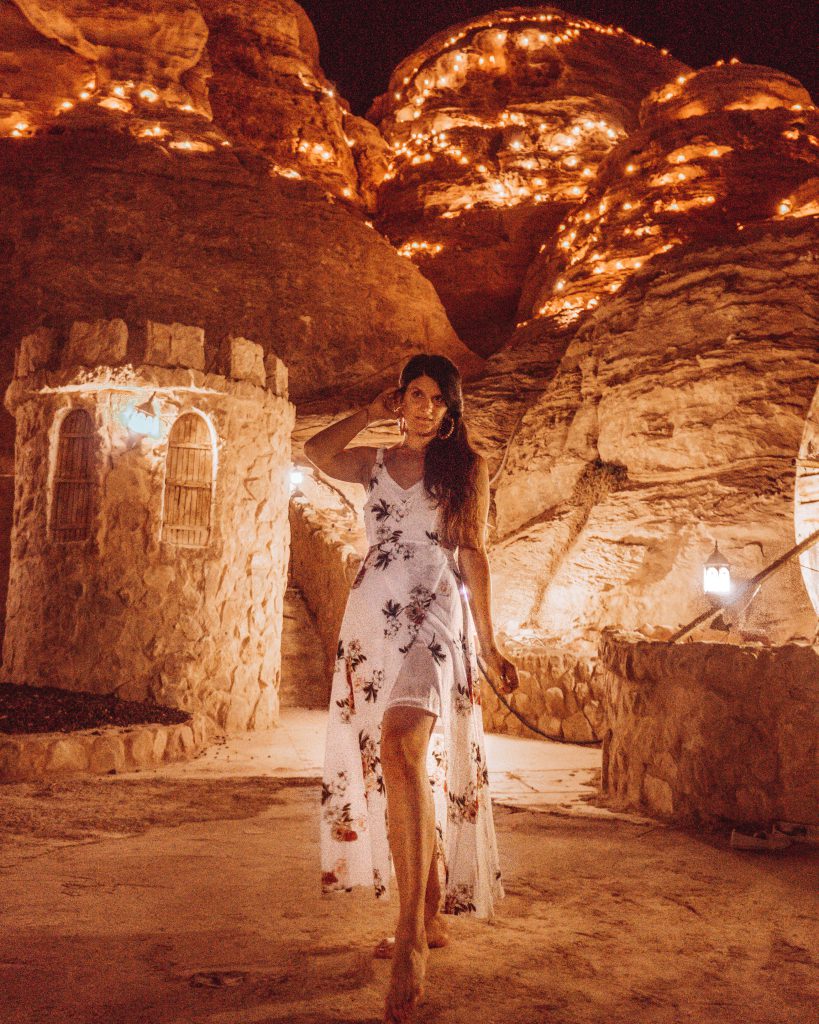 3 Days in Jordan with Abraham Tours – Day 2: Petra
On our second day in Jordan, we had breakfast and left the camp by 8am to go to the archeological city of Petra which is one of the seven wonders of the world! Petra ticked the last of the seven wonders off my list and I must say it's in my top 3 of favorite ones. This historical and archaeological city in southern Jordan is incredible, as well as magical, I got so many vibes from this place.
The city was built by the Nabateans using the mountains and rocks to carve out tombs and structures: caves, tombs, temples and even an amphitheatre! The Nabataeans were nomadic Arabs who invested in Petra's proximity to the trade routes by establishing it as a major regional trading hub. Petra was possibly established in the 4th century BC as the capital city of the Nabataean Kingdom.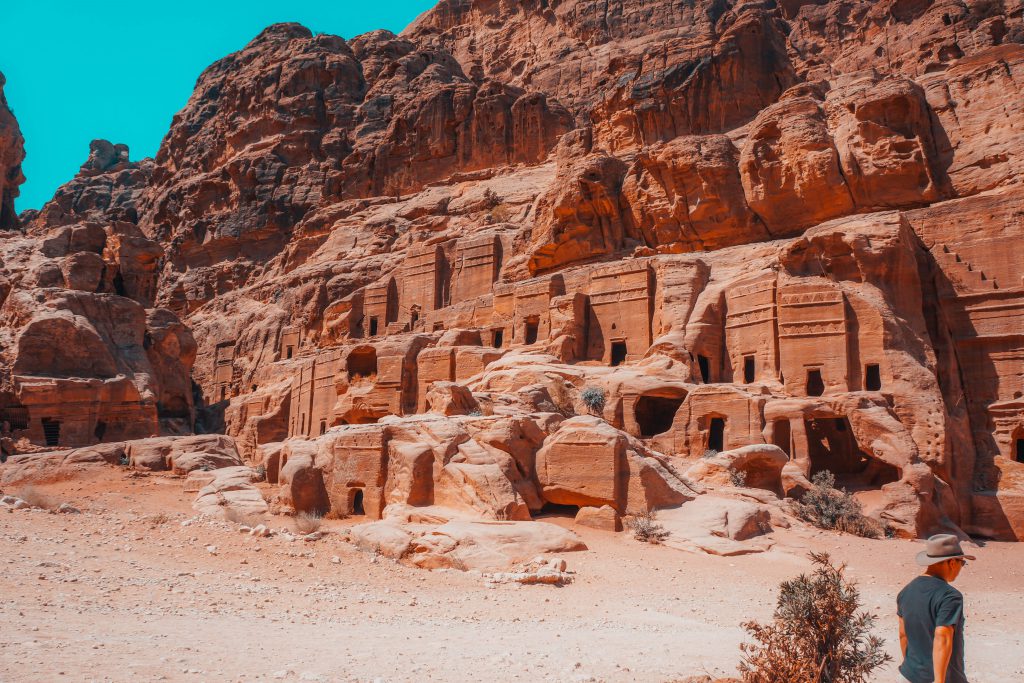 We spent the morning touring the city of Petra together with our guide Sam. We walked into the center of the city (it's quite a walk) and did various stops to learn more about Petra's history and of course stopped by the Treasury which is the "postcard" monument of Petra to take photos. We walked on until we got to the Great Temple and then stopped in the restaurant right by the Great Temple for lunch. After that, roughly from 12:00/13:00 until 18:00 we had free time. Pablo and I used our free time to go to the Monastery Trail which you must absolutely do. Once you get to the beautiful façade on the top of the trail, take some pictures and walk on for spectacular views. Then walk back to the façade and relax on the cafe while you admire the view. Drinks are not that expensive there.
After that our guide Sam suggested we do the Jabal Umm al-'Amr trail (green trail) as it provides a nice view of the Treasury from above but we decided to do the Wadi al Farasa trail (orange trail) to get to the high place of sacrifice. The trail we did was perfect as it had zero people and provided beautiful views. We finished the trail by 4pm and could have done the green trail as well but we were tired and decided to walk back slowly. The trails are easy but do require physical effort.
We headed back to the Seven Wonders Bedouin Camp for dinner, relaxed by the fire enjoying some live Bedouin music and were soon in bed.
3 Days in Jordan with Abraham Tours – Day 3: Wadi Rum & drive to Jerusalem
We woke up at 6.30 in order to leave at 7.30 for a Jeep tour in Wadi Rum.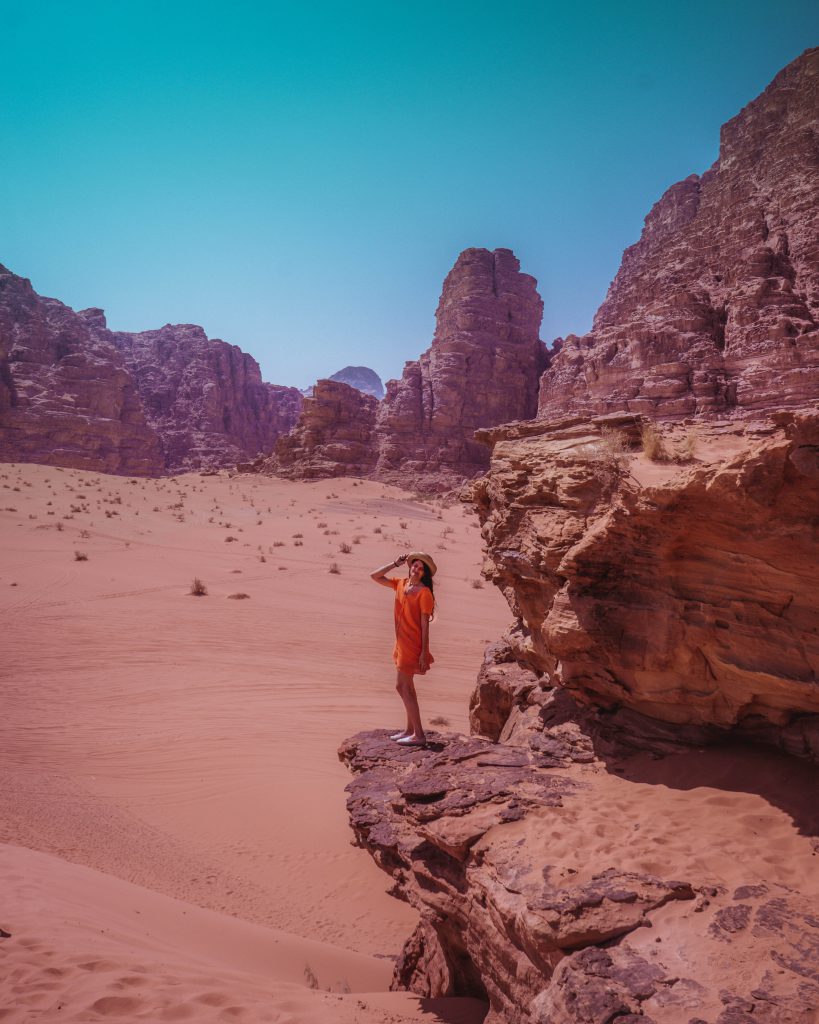 Wadi Rum is a protected desert wilderness in southern Jordan. It features dramatic sandstone mountains like the many-domed Jebel Um Ishrin, and natural arches such as Burdah Rock Bridge (which we didn't see).
We got to Wadi Rum around 10.15 and got into our 4×4 to drive around the desert stopping for some photos after a few minutes. We drove a bit more and stopped again around some rocks where we had the option to ride a camel which, as a vegan, I didn't do and do not support. Then we stopped at a bedouin camp for tea and headed back. I thought this part and day of the tour was a little bit underwhelming, we rode about 20 minutes in total on the 4×4 spending the rest of the time on the stops (and one of them was a shop). We were asked to leave 2 JOD per person as tip to the driver after the ride. We were at the lunch spot already before 12:00 and left Wadi Rum before 13:00.
From there it was simply a drive back with a bathroom stop and a stop at the border.
3 Days in Jordan with Abraham Tours – Conclusion
Overall I really liked the tour and recommend it, the experience is pretty seamless! The day in Petra in particular was perfect.
Only things to note are that first and third days are really mostly driving days which is unavoidable, but true. Food is always good and abundant plus the camp is just great. For full transparency, we ended up spending an additional £75 per person on top of the price of the tour: £50 per person on exit fees, £15 per person on tips and £10 per person on water.
This 3 day Jordan tour is the best way to visit Jordan if you have limited time and don't want to worry about planning everything on your own. You can book this 3 day Jordan tour in Abraham Tours' website.
Enjoyed this article? Support my work by buying me an oat capuccino. Otherwise, do me a great favor of leaving a comment and following me on Instagram (@travelwithpau). Feel free to say 'Hello!' I don't bite. And make sure you save the article for later!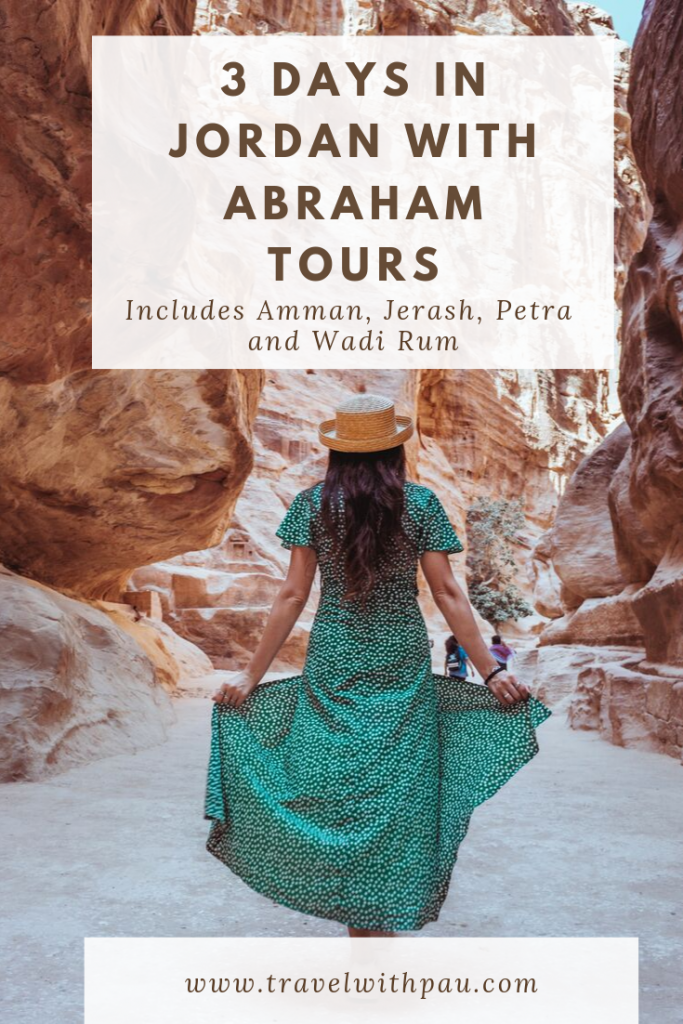 This post contains affiliate links. If you click on one and make a purchase, I might make a small commission, at no extra cost to you in order to help support my blog. I also received 15% discount from Abraham Tours but as always, my opinions are my own.