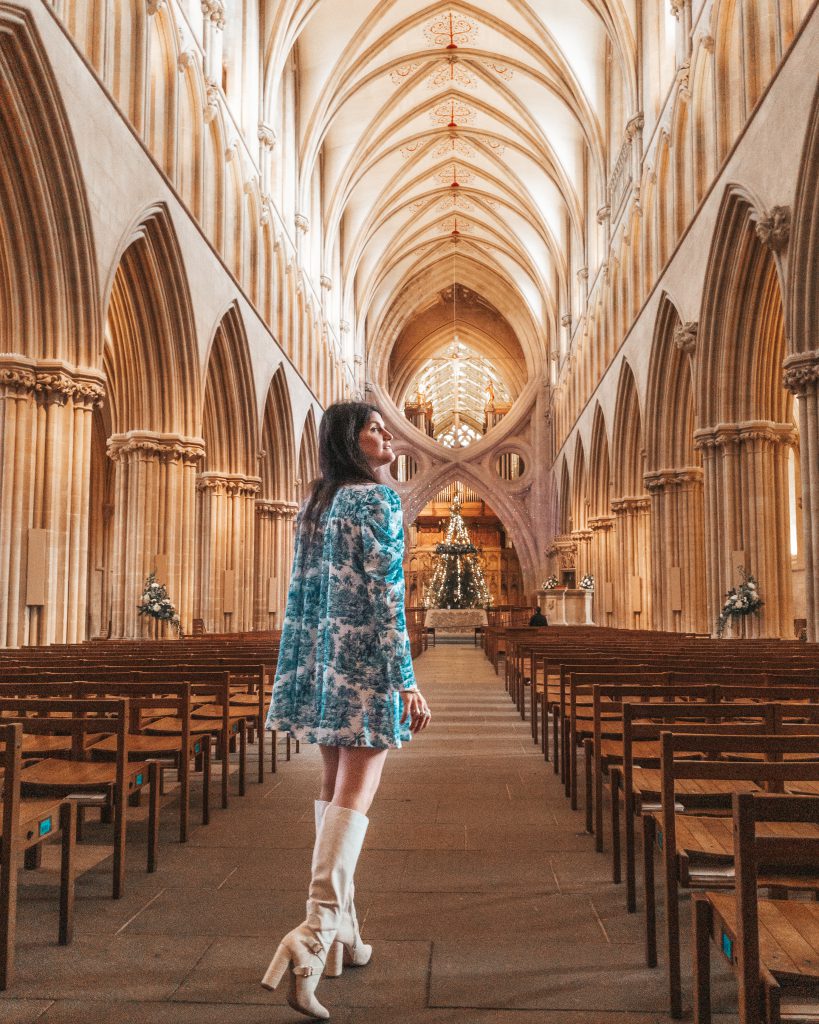 Located in the foothills of the Mendip Hills, Wells is the tiniest cathedral city in the UK with only 11000 inhabitants. Wells lies close to the border with Wales and is not far from the iconic Glastonbury Tor and Cheddar. In this guide you'll find the best things to do in Wells, where to stay, as well as things to do nearby.
How To Get To Wells From London
The best and easiest way to reach Wells from London is by car. You can rent a car in London or various other UK locations using Discovercars which offers the best and cheapest rentals. If you don't want to drive, Wells is indeed connected to the rest of the UK via public transport. That said, Wells doesn't have its own train station, the nearest one being Castle Cary (13 miles away).
For those who don't want to rent a car or a little short on time it's possible to experience the history of the city with an experienced guide via this Wells, Cheddar Cheese and Cheddar Gorge tour from Bath.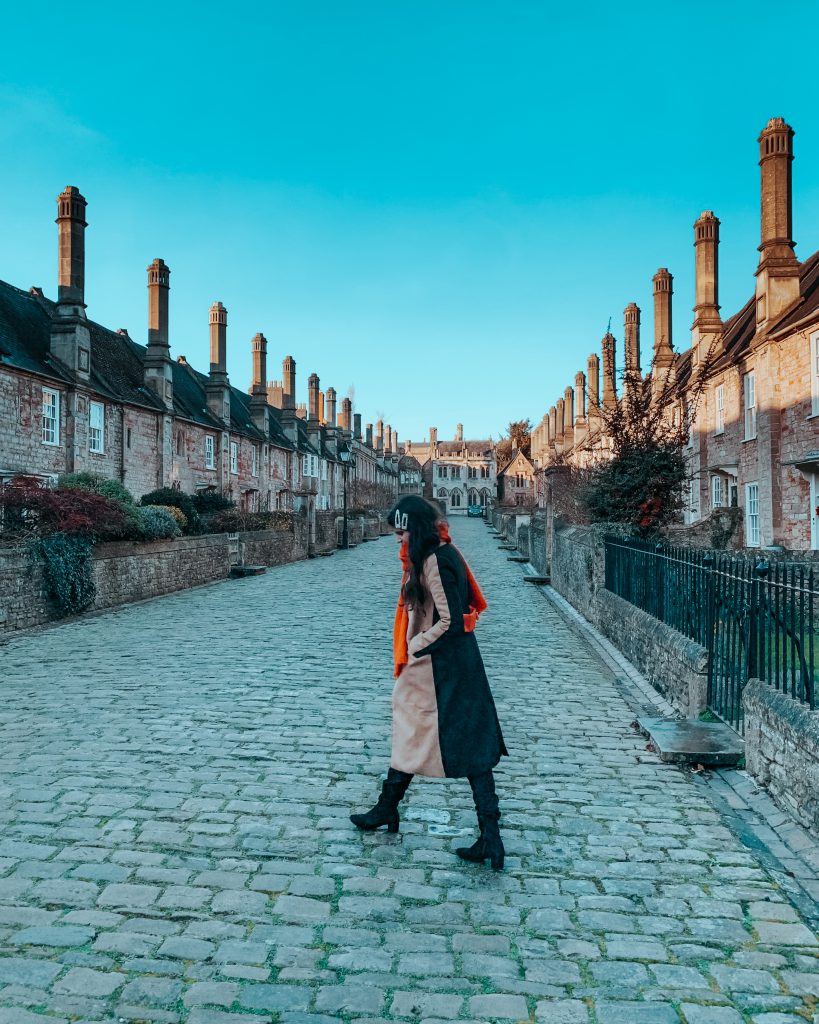 Best Things To Do In Wells
Marvel At Wells Cathedral
Of course, Well's main sight is its stunning Cathedral. Wells Cathedral stands out for its imposing façade, which houses 300 figures, and for its vaulted interior and set of cloisters. Visiting is free, with donations welcome and recommended.
If you are in luck you might run into a choral practice in progress while you visit. Do visit later on in the day and mid-week for the best chance on this. Among other interesting features about Wells Cathedral are a 14th-century astronomical clock and an octagonal chapter house. Visiting the ecclesiastical building's cloisters is must for those passionate about history or Harry-Potter-looking places.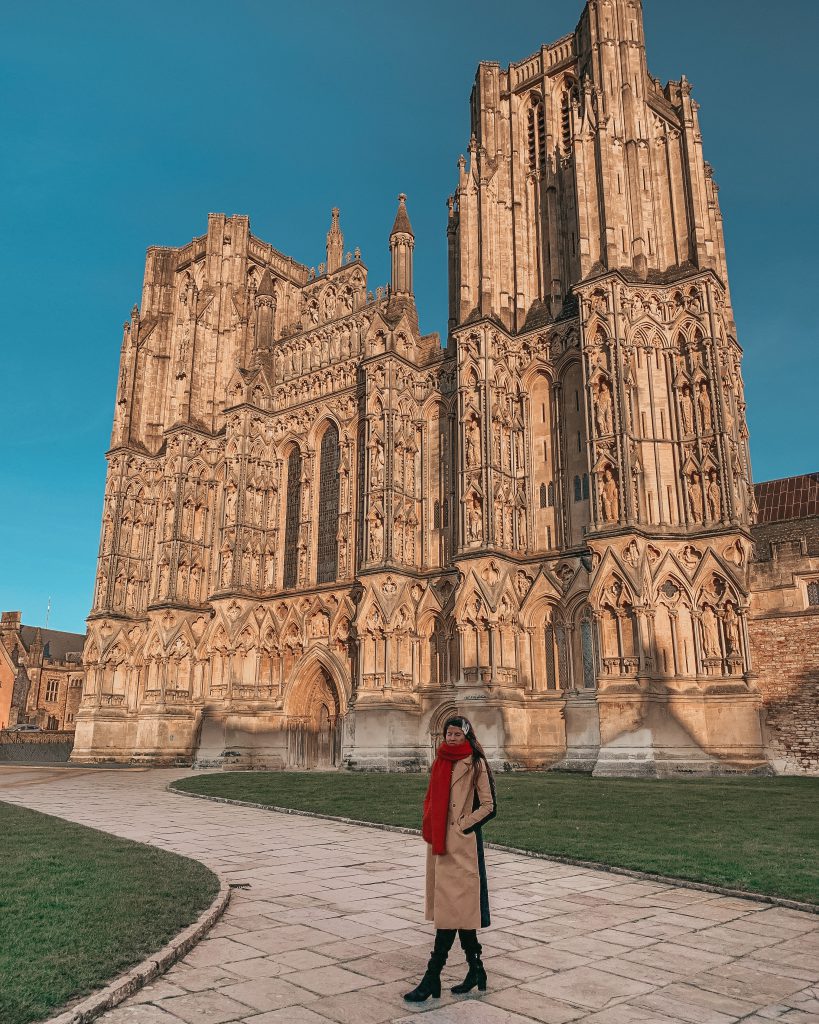 Visit Bishop's Palace
Wells is one of the few cathedral cities in England which still preserve many of its secular buildings and Bishop's Palace is one of them. The palace was first constructed in the 13th century and is surrounded by a moat which gives it all the fairytale vibes. Parts of the Palace are still used as part of the Bishop's residence but it's mostly used today for public function and as a tourist attraction.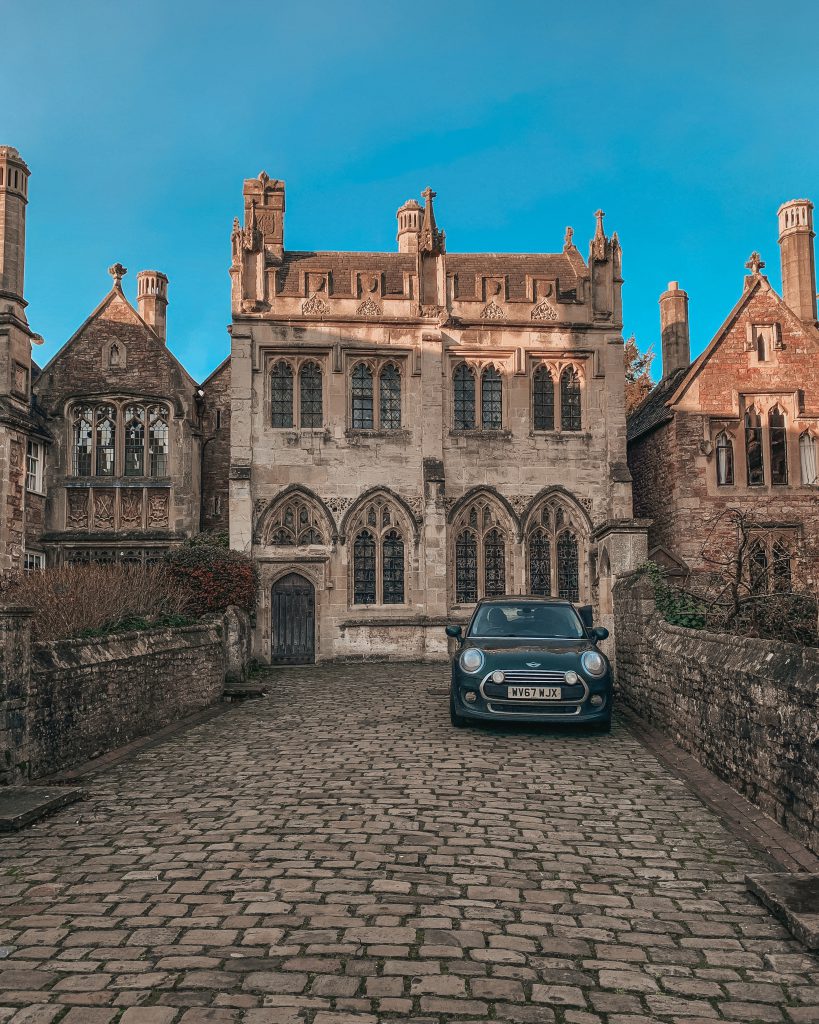 Admire Vicar's Close
Vicar's Close is claimed to be to be the oldest purely residential street with original buildings surviving intact in Europe. It is comprised of 27 residences (originally 44), built for Bishop Ralph of Shrewsbury, a chapel and library at the north end, and a hall at the south end. At its southern end, it's connected to the cathedral by way of a walkway over Chain Gate. Hard to describe why in writing, but it looks postcard perfect!
Shop At Wells Market Place
To the other side of Wells Cathedral, Wells Market Place is where to head to for some shopping. Twice a week, on Wednesdays and Saturdays, an open-air farmer's market is also held here. Wednesday is better for buying local produce. You can purchase all manner of local goods from fresh vegetables to local honey!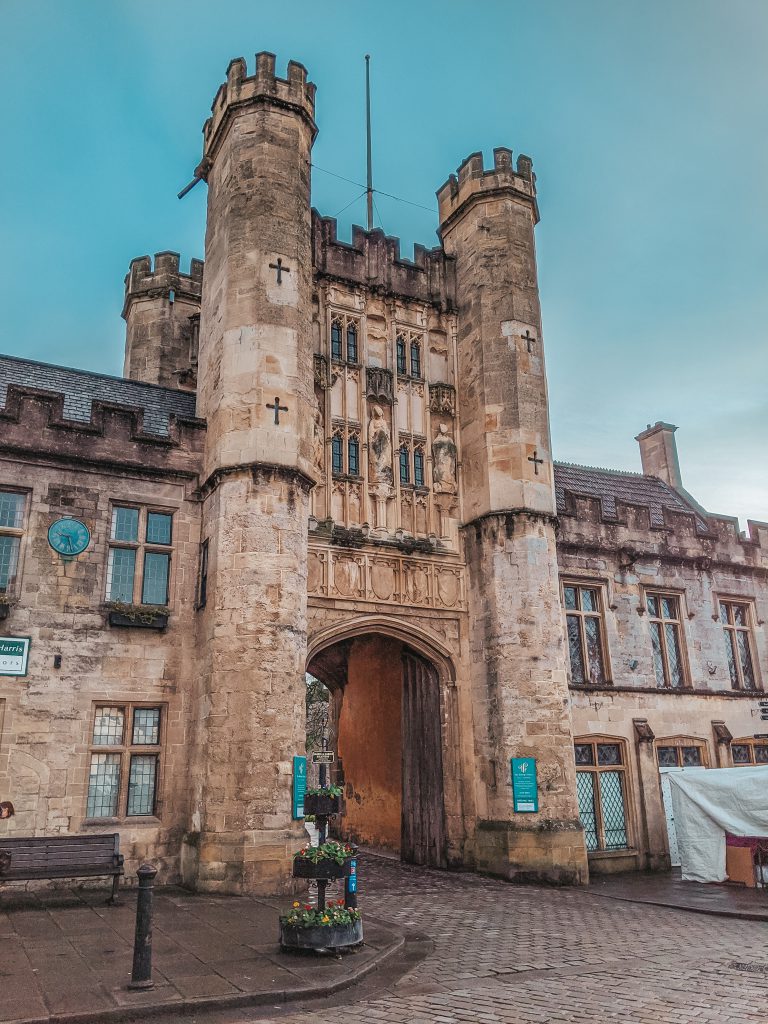 Have A Pint At The Crown Pub
The Crown Pub at Wells was the exterior of the pub featured in the hugely successful blockbuster film Hot Fuzz. It became famous because of the movie but it's believed to have been around since 1450.
Wander The Streets Of Wells
Discovering this tiny city, it's quirky boutique shops and cobbled lanes is an attraction of its own. Through walking and observing you will uncover more information about the medieval city's eclectic history.
Adventure At Wookey Hole Caves
In the village of Wookey Hole it is possible to visit the largest and most spectacular showcaves in England. This is technically outside of wells but just 11 min drive or 40 min walk away.

Day Trips From Wells
Mendip Hills
The limestone Mendip Hills with the lakes of the Chew Valley is a stunning landscape of steep slopes and undulating plateau punctuated by spectacular gorges and rocky outcrops. On the hilltops there are hundreds of ancient monuments, whilst on steeper slopes flower rich grasslands and wooded combes offer varied habitats for a wide variety of wildlife. In recognition of its special qualities the area has been designated as an Area of Outstanding Natural Beauty (AONB). There are several walks available, you can download the walking guides here. Hiking, canoeing and caving and more is also possible.
Cheddar Village & Cheddar Gorge
No trip to Somerset is complete without a visit to Cheddar & Cheddar Gorge. Cheddar is the birth-place of the world's most popular cheese – Cheddar Cheese. Today there is only one factory still producing cheese from this area. The small factory can be visited to get insight into how traditional Cheddar Cheese is made. You can also sample and buy different varieties of the cheese, including a cheese which has been matured in local caves.
Cheddar Gorge is England's largest gorge and has been voted as one of Britain's greatest wonders. It is the most spectacular scenery in the region. It's possible to drive through the gorge, or you cab also stop and walk around and up to a fantastic viewpoint with panoramic views over the gorge and surrounding area.
From Wells, it's only a 22 min drive to Cheddar and there is one Wells, Cheddar Cheese and Cheddar Gorge tour from Bath as well.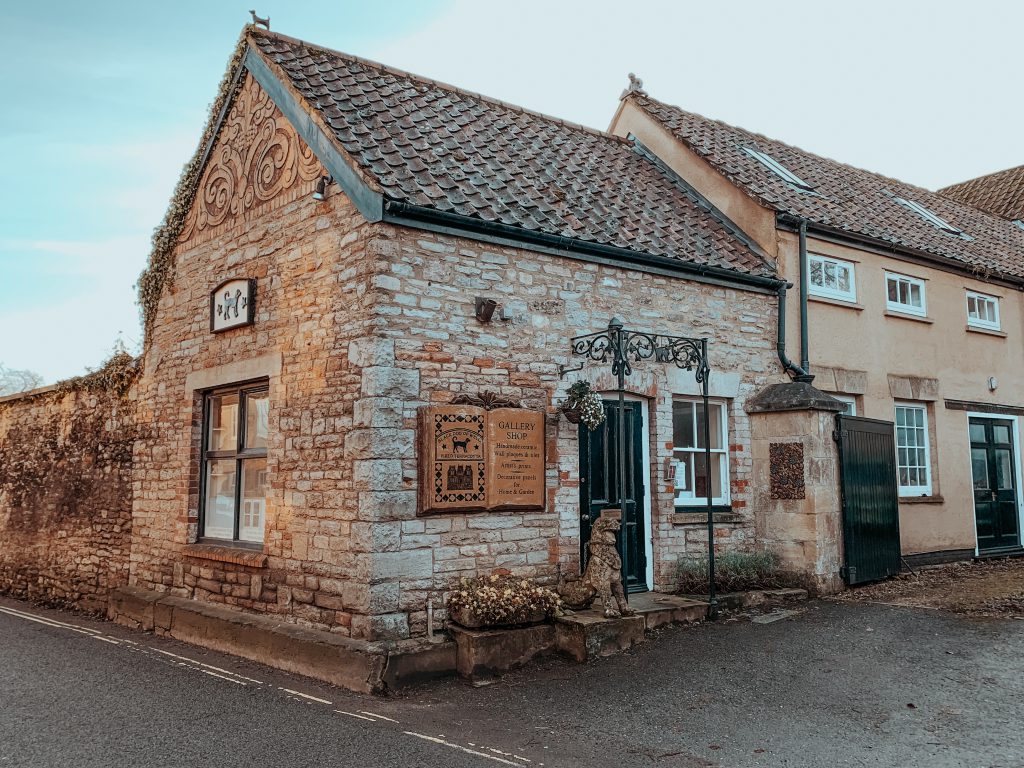 Glastonbury
Only a 20 min drive from Wells you'll find the town of Glastonbury which has a lot to be famous for other than Glastonbury Festival. The town is known for its ancient and medieval sites all rich in myth. Glastonbury Tor is a hill mentioned in Celtic Mythology and myths linked to King Arthur. Down in the town, Glastonbury Abbey is a ruined monastery dating to the 7th century. Glastonbury has also been described as a New Age community which attracts people with Neopagan beliefs. As such the town is filled with New Age stores selling crystals, magic or healing items, vegan restaurants, etc.
You can also visit Glastonbury from London via this Stonehenge, Glastonbury and Avebury tour from London.
Stonehenge
Stonehenge is on the way to Wells if you are driving from London, around one hour away driving and it is a prehistoric monument in Wiltshire, England believed to have been constructed from 3000 BC to 2000 BC. It is world famous, and is a UNESCO World Heritage Site. You can also visit Stonehenge as well as Glastonbury via this this Stonehenge, Glastonbury and Avebury tour from London.
Bath & Castle Combe
Bath is a 46 min drive away from Wells. The city has lots to visit from the historic Roman Baths, the impressive Bath Abbey, stunning Georgian architecture, to Jane Austen's Centre as the author lived in the city.
You can also visit Bath & Stonehenge on this London: Stonehenge, Bath & West Country Day Trip.
Dunster Castle & Dunster Medieval Village
A little bit further away, approximately 1.5 hrs away driving. Dunster Castle was built after the Norman conquest of England on a hill and today can be visited together with the charming medieval village that surrounds it. Check out my post on Dunster here.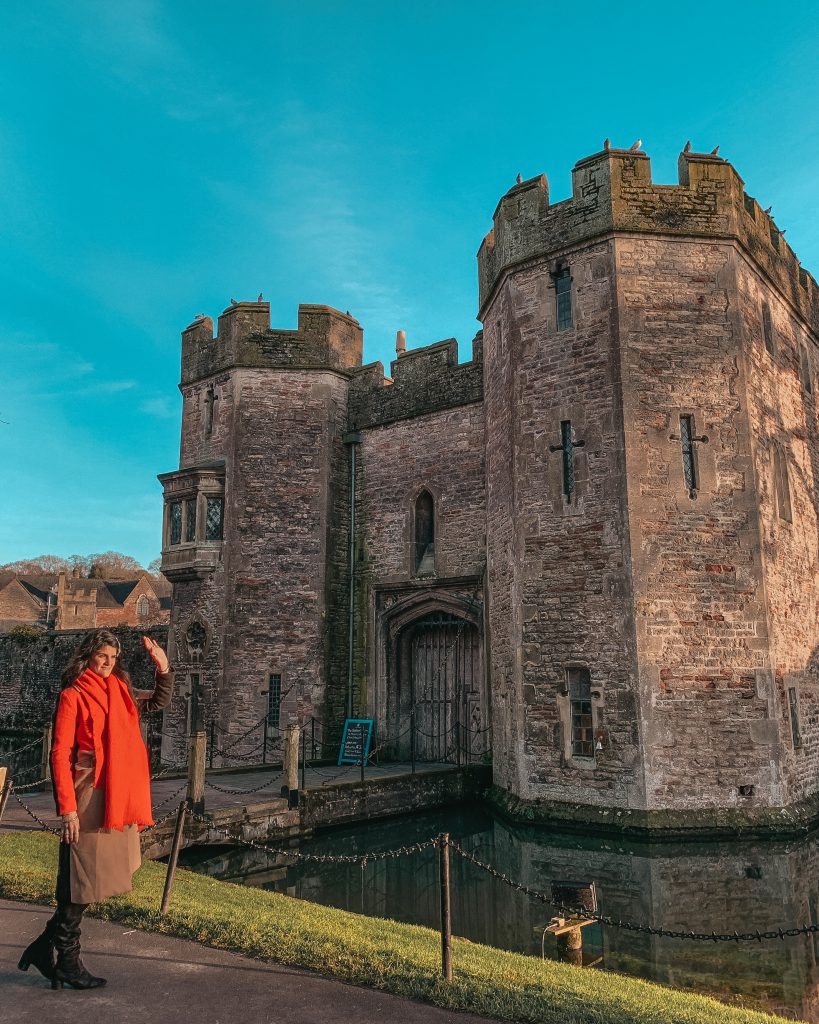 Where To Stay In Wells
If you are a Hot Fuzz fan you might want to stay in The Crown At Wells. Otherwise, I'd recommend a tad more tranquil accommodation like a cozy cottage. I've pre-filtered the best accommodation in Wells here.
Enjoyed this article? Support my work by buying me an oat capuccino. Otherwise, do me a great favor of leaving a comment and following me on Instagram (@travelwithpau). Feel free to say 'Hello!' I don't bite. And make sure you save the article for later!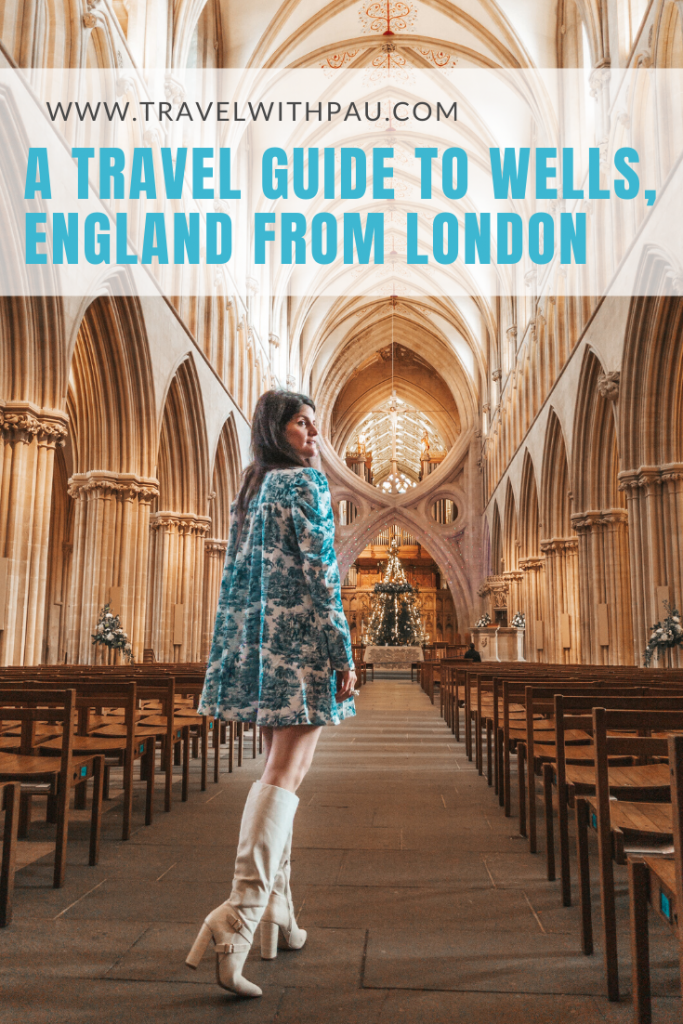 This post contains affiliate links. If you click on one and make a purchase, I might make a small commission, at no extra cost to you in order to help support my blog.