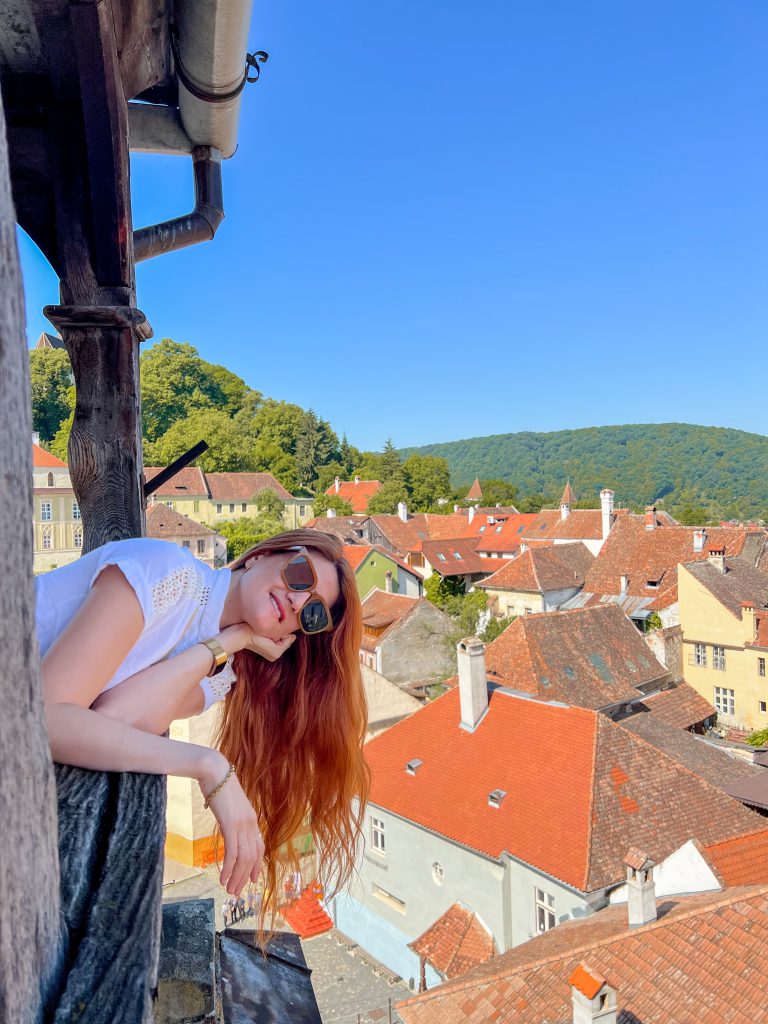 BEST OF ROMANIA: OVERVIEW
Many of us associate Romania with vampires, creepy stories and the infamous gypsies that roam Europe. And many of us actually have no idea what Romania ACTUALLY has to offer!
I kept getting asked by so many people, why are you going to Romania for a week? Now, imagine a country full of castles and citadels, legends and traditions, mixed with beautiful landscapes of colorful forests, lakes and mountains, medieval towns, fairytale houses and kind welcoming people… Welcome to Romania! Romania is more than definitely worth visiting for a week.
BEST OF ROMANIA: MY ROMANIA ONE WEEK ITINERARY
Days 1-2: Bucharest
Bucharest has it's own airport which is serviced by many budget European airlines and flights are usually cheap. You can also arrive by train or bus from neighbouring countries. Chances are you will get to Bucharest in partway through the day which is perfect, because I think Romania's capital is worth a day and a half at least.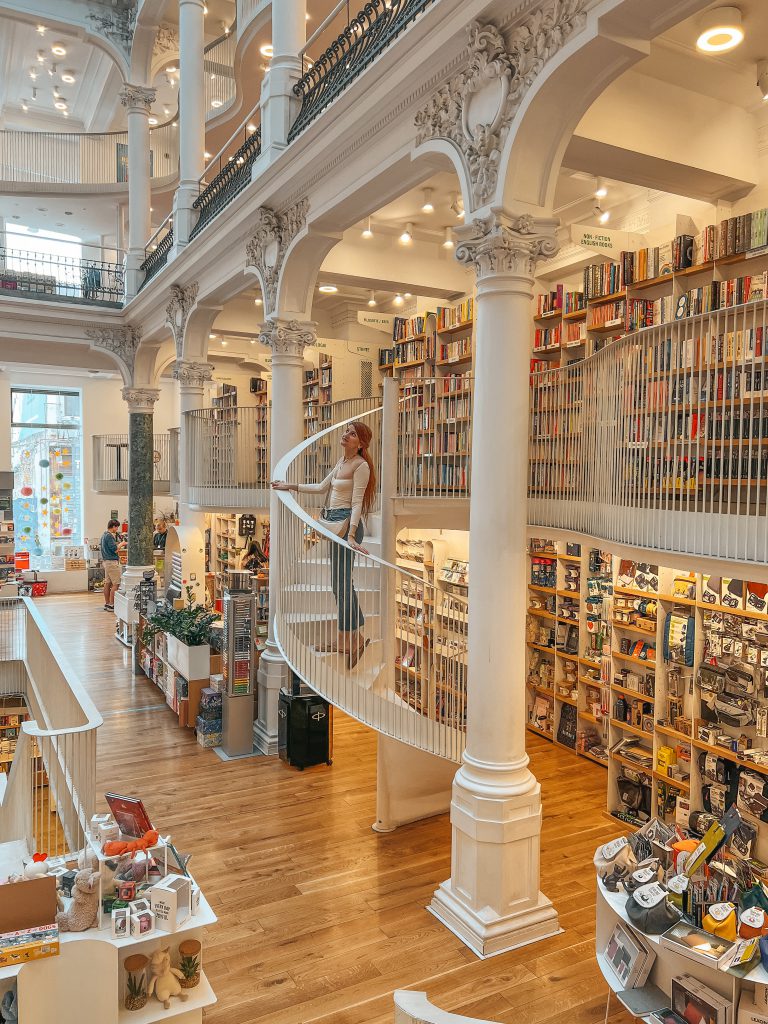 Things to do in Bucharest
Take a walking tour!
The best thing to do as soon as you can is a walking tour, if you read me already, I love a walking tour! It's the best way to give back to the local community and get set up for success when it comes to visiting a city. I took this highlights tour, but if you like to eat I recommend this food tour where you'll get to taste the dishes of Romanian cuisine worth trying: papanasi (doughnut with cream and jam), mici (ground meat sausage) among other things. If you arrive in the afternoon or evening, then take this evening tour that includes dinner to maximise your time. After the tour, I made a note of all the places I wanted to either visit or eat/drink that my guide recommended. Many of the tourist spots will be covered in the tour itself already and my tour even covered some spots that were the coolest and that I would have definitely not found on my own.
Discover all the Old Town gems
Chances are you'll cover most of these on the tour, but not all! Make sure you visit the gorgeous library Carturesti Carusel, the unique French style bifurcating passages Pasajul Villacrosse & Macca, and the most instagrammable street Pasajul Victorei. Get a drink in the terrace of Linea / Closer to Moon for one of the best views of the city. Eat at the best traditional restaurants in the city starting with Cara Cu Bere ("beer wagon") where you need to also get a beer and make sure you check out the inside which is gorgeous. Follow with Hanui Lui Manuc or Manuc's Inn, the oldest operating hotel building in Bucharest today a restaurant.
Admire the Palace of Parliament
It is hard to describe how big the palace of parliament is, but it would help to say it takes an hour to walk around the entire complex. Built during Romania's communist chapter, its story is fascinating. You'll learn about it in the walking tour but you can also visit it inside. To do so book it here, their official website is useles and you'll get turned down if you just show up. Bring your passport, you'll need it to get inside.
Relax in the beautiful parks
Stroll through any of Bucharest's parks or gardens; there are quite a few! They are the perfect places to get away from the crowds for a bit of just sit back and relax. I loved the Cismigiu Gardens, and if you have a bit more time venture to Herastrau Park, it's huge!
Where to stay in Bucharest
I chose HOLT Old Town for my Bucharest stay, it's an old building which has been refurbished to the highest standards and is now an apart hotel…in the main square of the Old Town! Most tours start from this location and it is also right in front of the restaurant I mentioned Hanui Lui Manuc. The location is unbeatable! My room was the attic room which had a beautiful curtain covering the ceiling giving me all the princess vibes, stylish art, and a gorgeous bathroom I would want to take home if I could. You could see everything was done to high spec. Plus, it is self check-in (hail mary) and has luggage storage. The team at HOLT share with you everything you need and follow-up multiple times to make sure you are having a good experience. You can book it here.
Day 3: Day trip to Brasov, Peles & Bran Castles
From Bucharest, it's definitely a good idea to take a day tour to the beautiful Peles Castle followed by a drive to the Transylvanian city of Brasov and the famous due to Dracula: Bran Castle. The tour is full on being twelve hours long but it's definitely worth it.
The tour kicks off with the visit to the impressive Peles Castle, a Neo-Renaissance castle in the Carpathian Mountains, on an existing medieval route linking Transylvania and Wallachia, built between 1873 and 1914. It then visits the city of Brasov where you do a short guided tour followed by free time for lunch and exploration, I recommend you have lunch in La Ceaun. Last, it drives to Bran Castle which is famous worldwide due to being the castle that inspired Bram Stoker for Dracula. I won't spoil the fun and tell you the real story, I'll save it for your tour! The reason I loved the tour is that it makes a huge difference to visit the castles with a guide otherwise you'll be seeing something without understanding why it is impressive, or the story behind it.
You can book the tour here, it is a small group tour son you get to ask questions from your guide and enjoy / move at a relatively fast pace too. Also check availability right here below: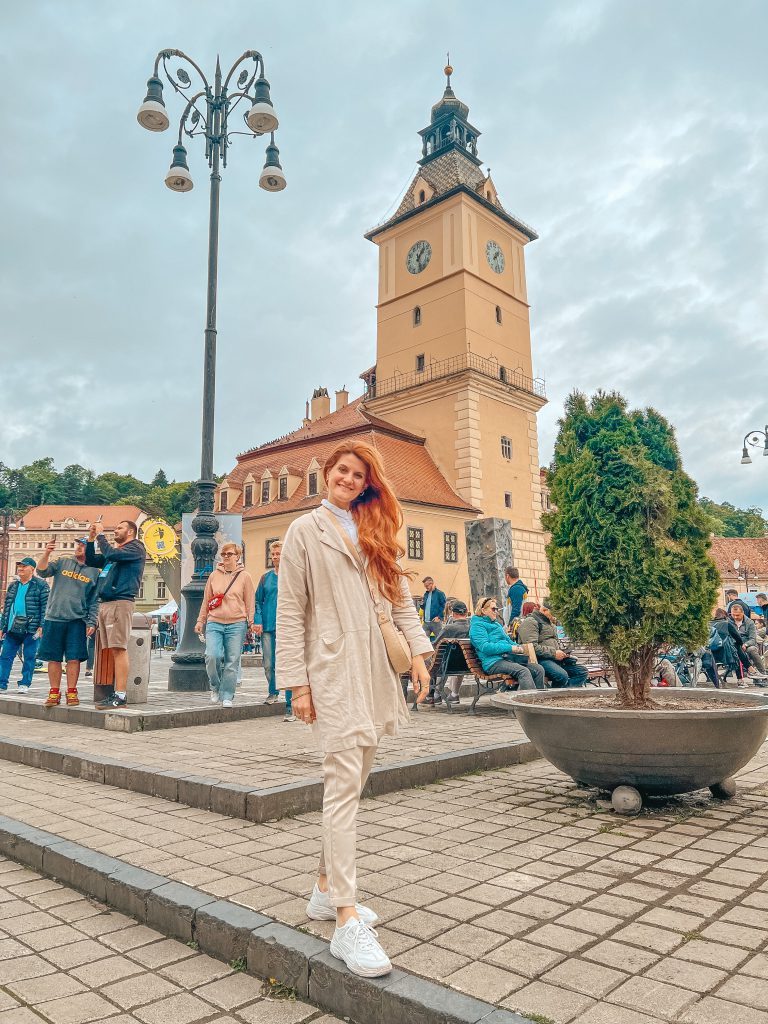 Where to stay in Brasov
Although I took a day tour, you might want to rent a car instead to continue visiting Romania and the spots the tour visits in a DIY fashion. If so, I recommend you stay at Saffrano Palace or Palazzo Brasov. I've also pre-filtered by best reviewed and lowest price in Brasov here.
Day 4: Sibiu
Together with Brasov, Sibiu is one of the Siebenburgen, or the 7 cities built by the Saxons when they inhabited Romania, hence it has big German influence. If you have visited a medieval German town (which I have) you'll see there's little difference. Sibiu was my favourite city in Romania: its colourful well maintained houses had the architecture nerd in me gasping in 'awww's and 'aaaaahs' AND it's big enough to have great eateries, hotels & drinking dens as well. But what I loved the most is that the houses are… looking at you! You'll realise immediately that the roof of most houses have little narrow windows that, with the curved effect of the rooftop tiles acting as eyelids, look like eyes!
Things to do in Sibiu
I recommend a full day in Sibiu for a relaxed experience but if you have a car, a bit more than half a day would do. I decided to stay a full day as I was staying in Hotel Imparatul Romanilor which is an attraction itself being the oldest hotel in Sibiu and the hotel where Emperors & Kings stayed in. It was suggested in my tour I should check it out and I was like, I'm staying there! To maximise your time in Sibiu take a walking tour. There's so much to learn from this city! My highlights of the city were climbing the tower of the Lutheran Church of St Mary and crossing the Bridge of Lies, you'll get to see all of these during your tour. If you prefer to explore the city on your own then this scavenger hunt self-guided tour I did was actually pretty fun.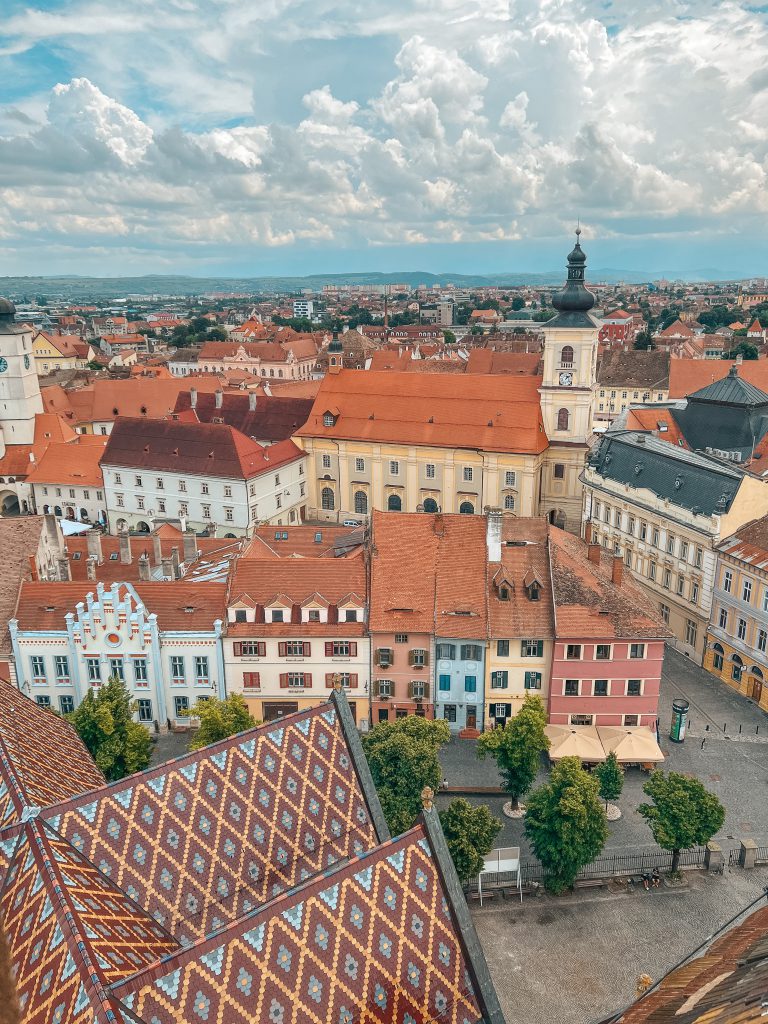 Where to stay in Sibiu
I insist you stay in Hotel Imparatul Romanilor as I had the best experience there, it is tastefully decorated like a place fit for royalty, super clean and staff are the best. Moreover breakfast is DELISH – they had great coffee and such a big selection of food including amazing vegan options, with all ingredients being obviously fresh. Plus if you visit in summer the roof of the breakfast area retracts so you can stare at the sky while sitting in an elegant ballroom which I thought was pretty cool. Last but definitely not least as this is the reason I stayed longer in Sibiu, it has a spa and gym. Use of the spa is included in your room rate, and you can book a massage if you'd like one. Needless to say, given the big personalities that stayed here, it's right by the main square. Book it here.
Day 5: Sighisoara, Alba Iulia & Corvin Castle (Hunedoara)
After Sibiu I travelled to one of the other saxon Siebenburgen: Sighisoara. Sighisoara was described to me by many locals as their favourite city in Romania. On the train getting there I sat besides a lovely librarian from Sibiu who was also going for a break in the city with her boyfriend which reinforces how much locals love & appreciate the city.
Arriving in Sighisoara is a bit like stepping back in time. It is a tiny medieval city of winding cobbled alleys, steep stairways and secluded squares. It is a prettier, smaller, quieter and slower version of Brasov or Sibiu. I got the impression that nothing here ever happens quickly and so I dutifully slowed down too taking an entire day to explore it, whilst you really only need 3-4 hours.
Things to do in Sighisoara, Alba Iulia & Corvin Castle
A UNESCO Heritage Site, at the heart of Sighisoara is the Citadel, which is well-preserved and an ode to the early residents that made the city what we see today. If you are staying in Sighisoara for a day, I recommend you slow down and take this 2hr walking tour. If you are stopping by and moving on to another city, then take this self-guided scavenger hunt self-guided tour to learn more about it and have some fun. Amongst things you must do outside the tours are climbing the Clock Tower for breathtaking views and visiting Vlad Tepes' (Dracula) birth home and bedroom.
Although I didn't visit any other city besides Sighisoara on this day, if you have a car (or an extra day), I'd recommend you explore other nearby cities and towns. Alba Iulia was top of my list due to Alba Carolina a fortress and citadel built under Emperor Charles VI of Habsburg in 1715. The star-shaped Vauban style citadel is very impressive and I definitely would have visited it had I had a car. Last, another thing I regret missing is Corvin Castle a gothic castle close to the city of Hunedoara. From all the castles I've seen in pictures in Romania, this one seems like the most magical one, due to its multiple towers, castellation and the long wooden bridge you need to take to go inside. Please visit it, for me! If you have an extra day you can visit both this spots via a full day tour.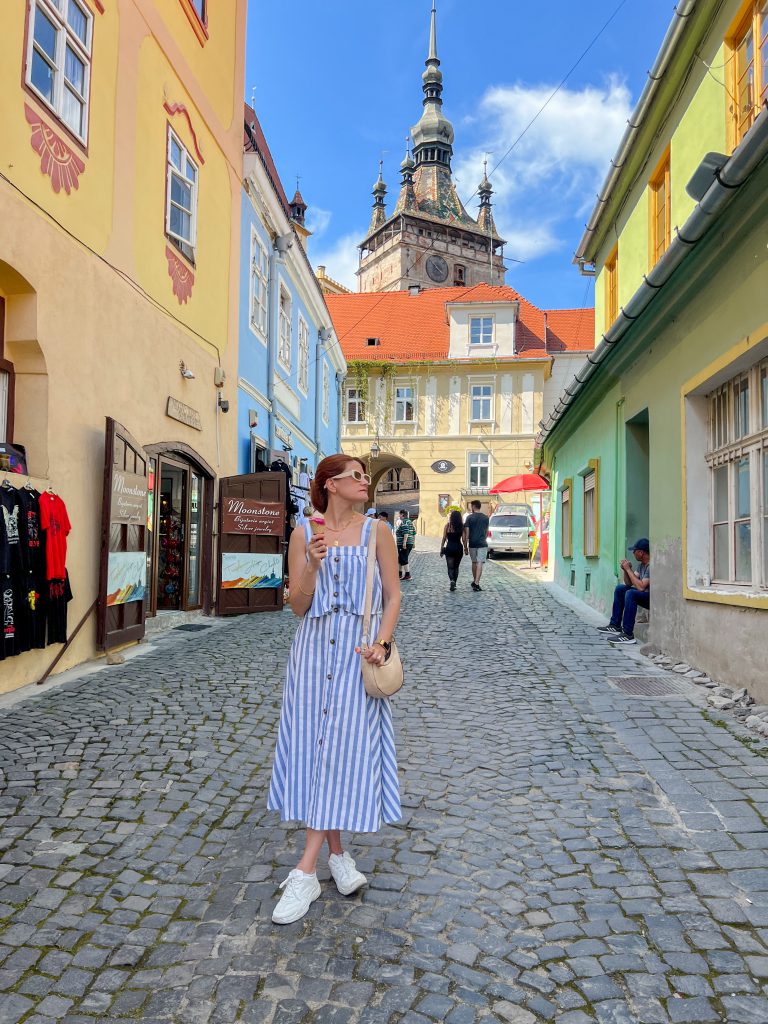 Where to stay in Sighisoara, Alba Iulia & Hunedoara
In Sighisoara, I would strongly recommend Central Park Sighisoara which is where I stayed. In Alba Iulia, I recommend Hotel Medieval & in Hunedoara Vila Corviniana. Otherwise, here are my top picks in Sighisoara, Alba Iulia & Hunedoara.
Day 6: Turda Salt Mine, Turda Gorge & Rimetea Village (from Cluj)
As this trip ends in Cluj-Napoca, and looking for things to do in the area, I found several tour companies were offering tours to Turda Salt Mine & Rimetea Village. Ever since I visited Wielizcka Salt Mine in Krakow, I just love a salt mine so I knew this was for me. When researching tours, I found a tour which included a hike to Turda Gorge on top of the visit to the Salt Mine and thought, why not?
Turns out it was the best decision I could have ever made because the tour was wonderful, every single bit of it. The salt mine is unmissable, do make sure you do the row boat in the underground salt lake located right at the bottom of the mine. I particularly enjoyed the hike in Turda Gorge because we saw views out of this world which made me appreciate the natural beauty of Romania I would have otherwise missed. The hike was not a walk in the park, but not technically challenging and Tudor who runs this tour will adapt it for the group's needs. If my 64 year old mum made it through it, you can too! I also had the opportunity to feel like a bird in a fun zipline, an optional activity. You can book this tour here, if your mobility is limited and you are unable to do the hike here's another option of a tour that includes a much shorter hike but visits Turda Salt Mine too.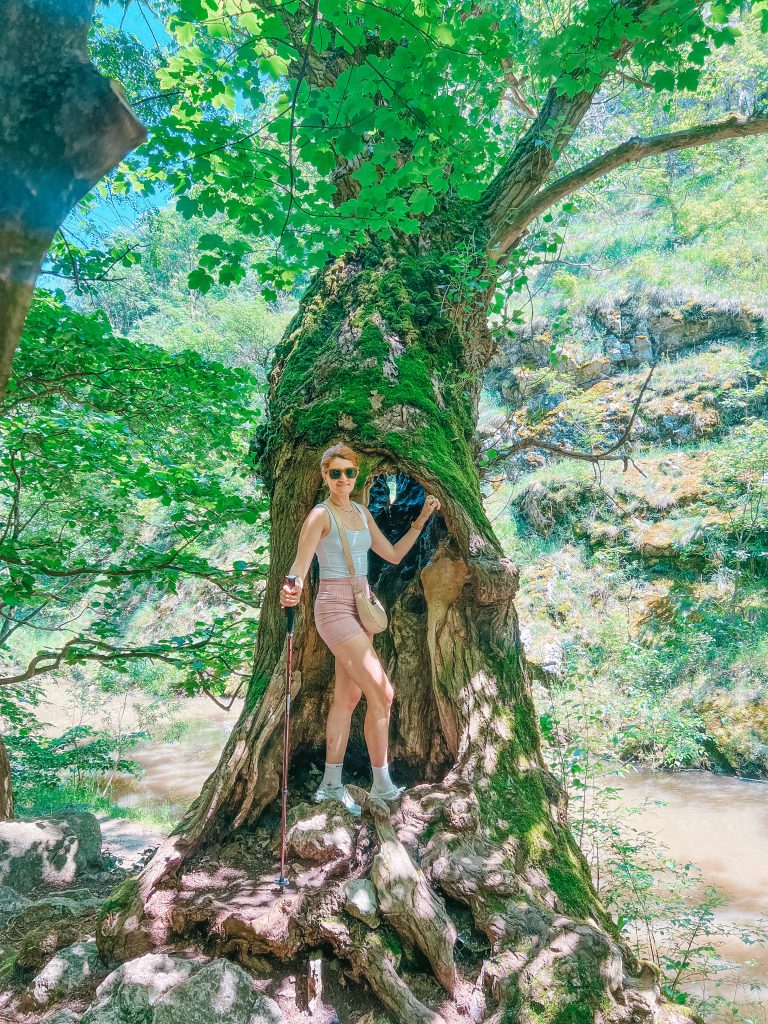 Where to stay in Cluj-Napoca & Turda
The night before and after the tour I stayed in Cluj as this is where I was picked up by the tour guide, I stayed at Hotel Confort which was great, and Hotel PASO was my first choice but it was fully booked. If you are staying in Turda, I'd recommend Hangers. If these are unavailable, these are the top picks in Cluj & Turda.
Day 7: Cluj-Napoca
To see more of Romania, I planned my itinerary (including flights) to end in Cluj instead of coming back from Bucharest. Cluj is a dynamic and youthful university city (which I realised right away due to the city's buzz), the capital of Transylvania and second most populous urban centre. True to Transylvania's Saxon background, Cluj-Napoca is endowed with Gothic wonders like the stunning St Michael's Church.
Cluj-Napoca also has an exciting historical legacy as the home of Hungarian dukes and the birthplace of the 15th-century Hungarian King Matthias Corvinus, who is remembered with an imposing statue in front of St Michael's square.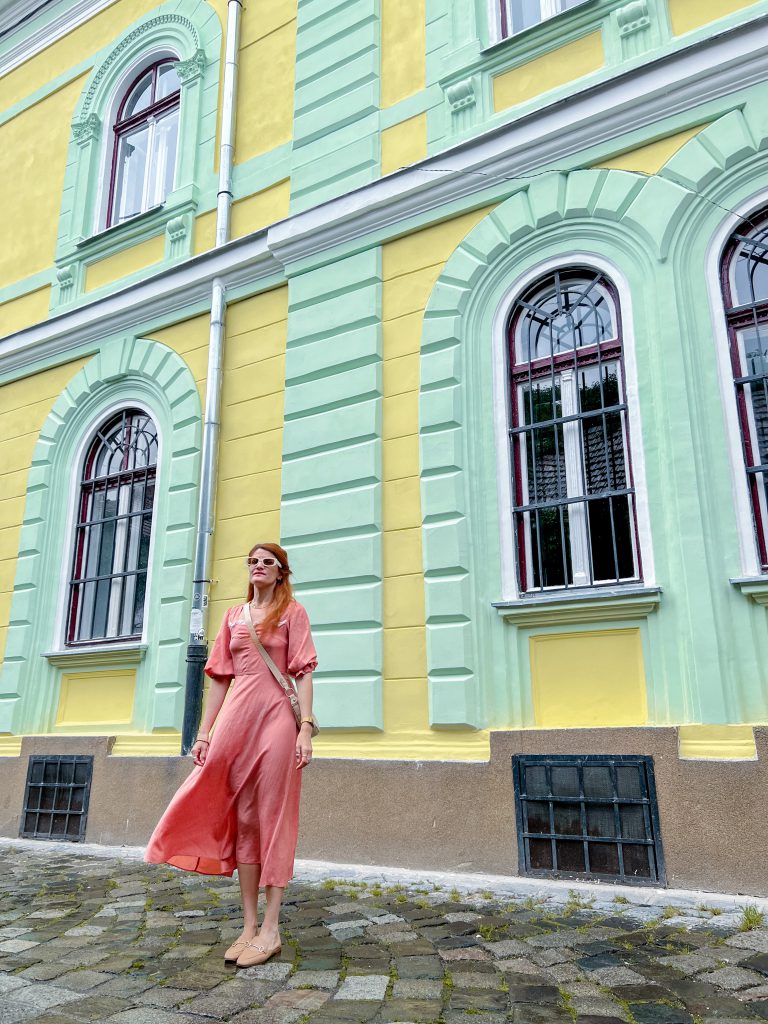 Things to do in Cluj-Napoca
Although the list is not as long as Bucharest's, Cluj has a few things to discover. I recommend taking this walking tour or if you are strapped for time, take this DIY scavenger hunt exploration tour which is what I did and really enjoyed! Both will take you the city's main sights including St Michael's Church and Unirii Square. Please do not miss the Botanic Garden which is not included in the tours, trust me, you'll thank me later. Also, I found Cluj had the best restaurants compared to any other city in Romania (including Bucharest) in terms of menus and food quality. My favourite spots were Bujole & Eggcetera.
BONUS: MORE PLACES TO VISIT IN ROMANIA
Should I have had more time in Romania, there's two more things I would have chosen to do:
2 Days: Maramures Tour
If I had spotted this tour earlier in my trip planning process, I would have included it or at least extended my time in Romania to take it. During this tour, you get to meet the people from Maramures (north of Romania) who wear their handmade traditional costumes with pride, enter their homes and get to know the culture of this region through its traditions, delicious food and simplicity. The tour is for nature lovers, people who love tradition, architecture, history and religion (that's why I was so gutted I didn't get to do it). It starts from Cluj, so you could extend the itinerary by 2 days at the end to accommodate it. This tour includes accommodation. Book it here.
2 Days: Bucovina Painted Churches Tour
During this tour you get to discover Bucovina, a remarkable region filled with traditional houses where locals seem to be living in another era, and art treasures – including the Painted Monasteries, part of the UNESCO World Heritage Sites. Bucovina is especially famous for its painted monasteries, and over two days, you will visit the most representative of all seven including the most famous painted monastery in the world, Voronet Monastery. This tour is for art, architecture and nature lovers. Book it here.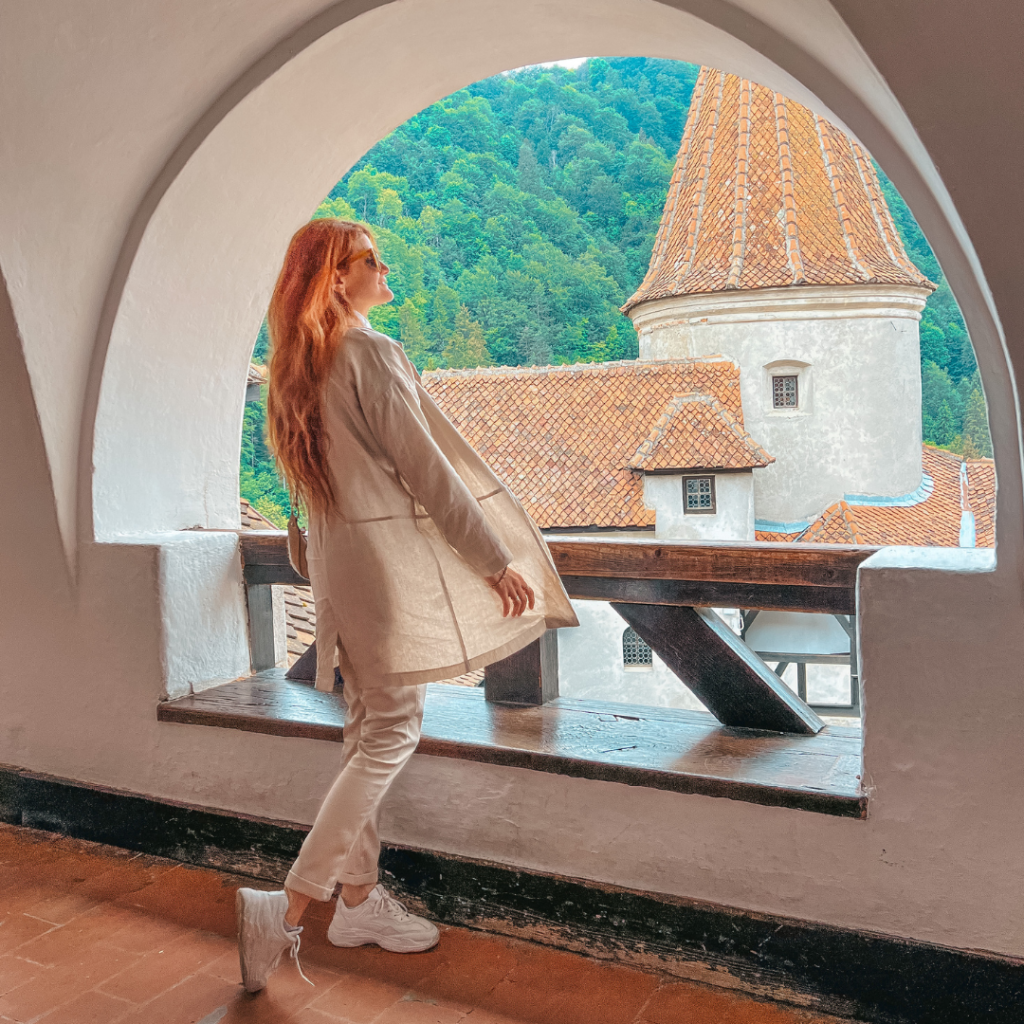 BEST OF ROMANIA: HOW TO GET AROUND
The million dollar question! Renting a car is the best option as driving is pretty easy. However, I didn't drive and I managed perfectly fine with the train system using the Romanian national rail website. Trains are slow and dirty, but what you see in your journey is worth it, there are some pretty unique views! Buses are also an option, however I found the booking system a bit more confusing, bus terminals are usually not as well located as train stations and also they seemed to sometimes be slower than trains.
BEST OF ROMANIA: BEST TOURS IN ROMANIA
Romania is cheaper than major European countries, to me this is a big advantage as I see the tours as the most efficient and enjoyable way to explore new places! You can pack more in than if you do your trip DIY (specially if you don't have a car). But most importantly you are learning about the location from an expert while giving back to the local economy. These are Romania's best tours:
Enjoyed this article? Support my work by buying me an oat capuccino. Otherwise, do me a great favor of leaving a comment and following me on Instagram (@travelwithpau). Feel free to say 'Hello!' I don't bite. And make sure you save the article for later!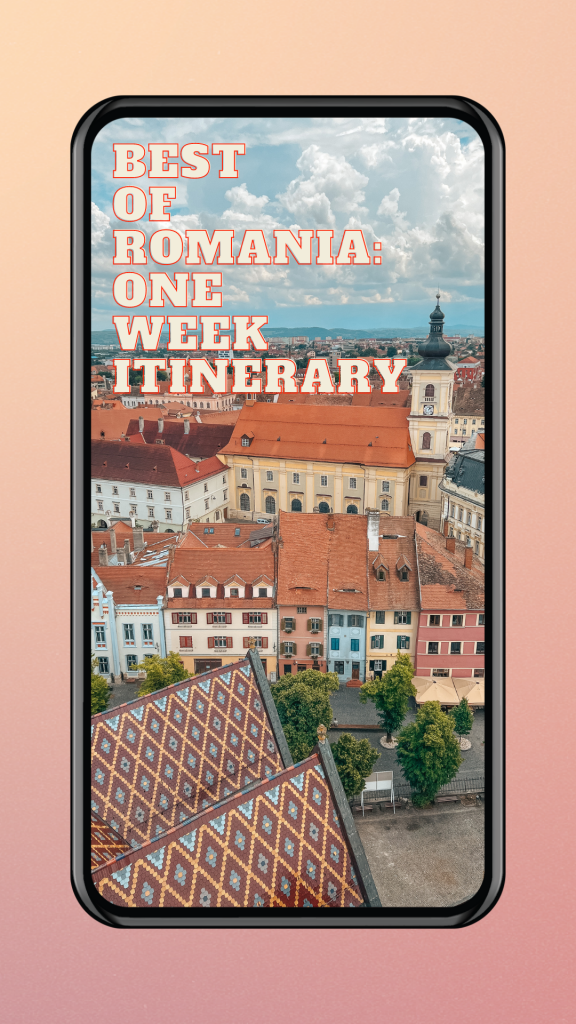 This post contains affiliate links. If you click on one and make a purchase, I might make a small commission, at no extra cost to you in order to help support my blog.