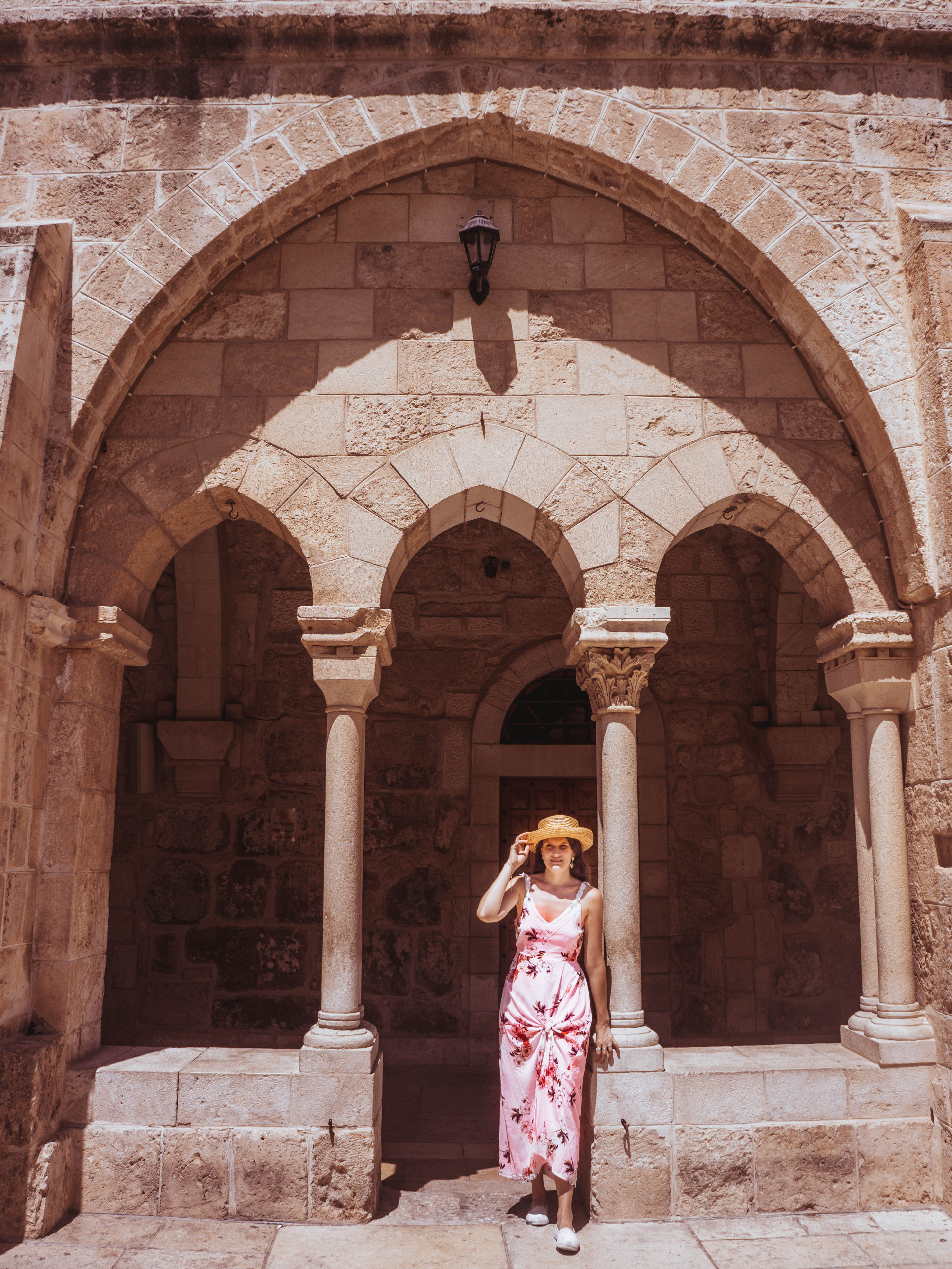 When in Jerusalem, I took the Best of the West Bank Tour from Abraham Tours. Bethlehem isn't far from Jerusalem and this tour was a way to see it without the hassle of planning it independently we decided to just go for it.
What I got out of the Best of the West Bank Tour was a lot more than I expected: I got a much better picture of the conflict between Israel and Palestine. Our tour guide Kamal was actually a Christian Palestinian, more specifically, Greek Orthodox and Palestine. So he had first hand knowledge of the situation itself and sprinkled examples across the tour.
The Best of the West Bank Tour kicked off from Abraham Hostel in Jerusalem at 7.30AM.
Stop: Jordan Rift Valley & Jesus' Baptism Site
After a ride through the Jordan Rift Valley we got to our first spot, a section of the Jordan River where Jesus was baptised and got a chance to dip our feet in these holy waters.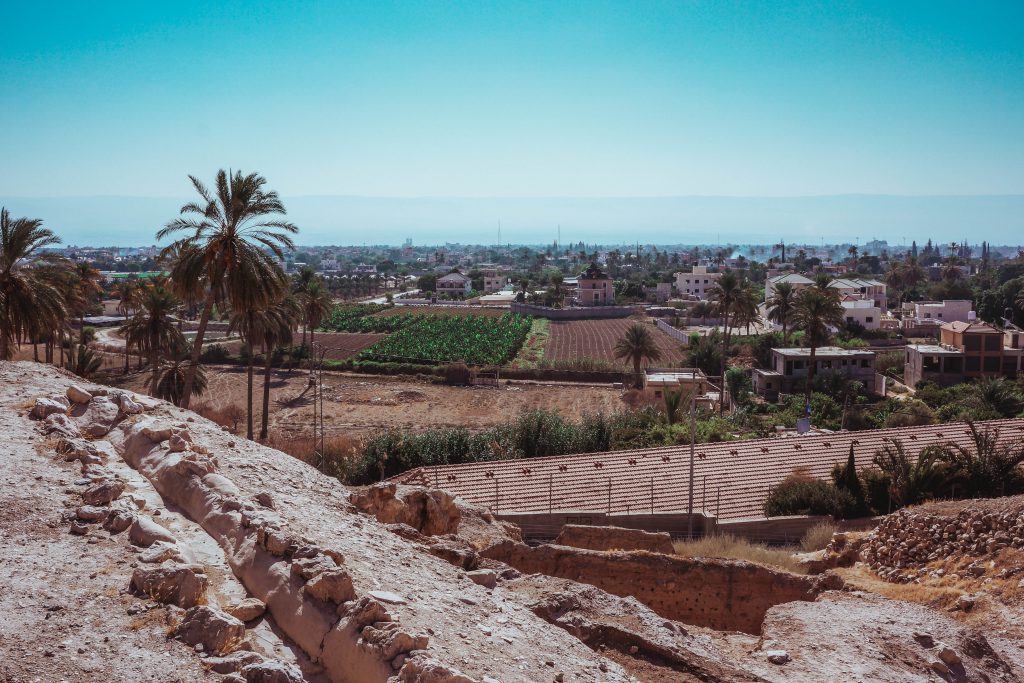 Stop: Jericho & Tell Es Sultán
We continued our ride through the dessert to Jericho. Soon after we stopped at Tell es-Sultan, the oldest city in the world. In this stop we went to an archeological site where one could witness the remains of the various cities that were established on that spot. Through a deep hole done on the hill, you could see the layers that alluded to the different cities that were built one on top of the other.
Stop: Arafat Tomb
Or guide told us about Arafat, the controversial Palestinian leader, and how he believes he was killed. Soon after we arrived to his tomb located in Ramallah and after a very short stop there we continued our journey.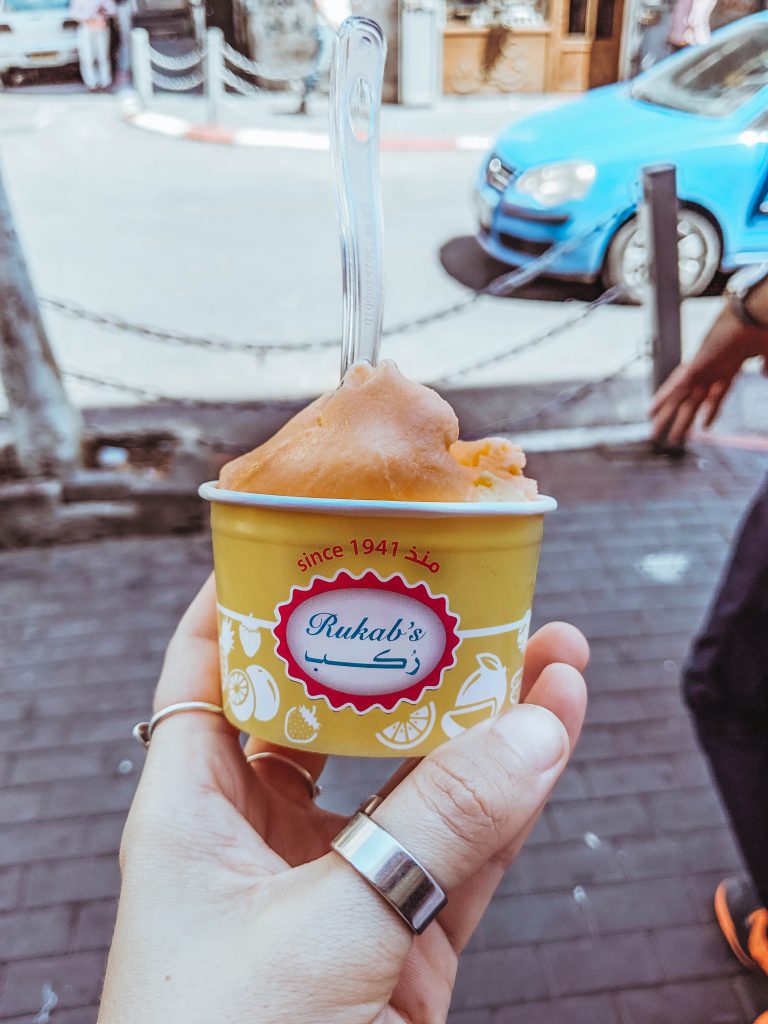 Stop: Ramallah
Our next stop was Ramallah, one of the most thriving cities in Palestine. This was one of my favorite stops as it was quite a non touristy city and also quite a modern one. It was fun to walk and see the way of life in the city. We stopped at Rakubs for the best ice cream in Ramallah and it was pretty special, as it had a gum-like texture I hadn't previously experienced on ice cream.
Stop: Qalandiya Checkpoint
Upon leaving Ramallah we had to pass through the Qalandiya Checkpoint, the main checkpoint between the northern West Bank and Jerusalem, and caught a first glimpse of the massive wall that divides Palestine from Israel controlled Palestine, which is 803km long.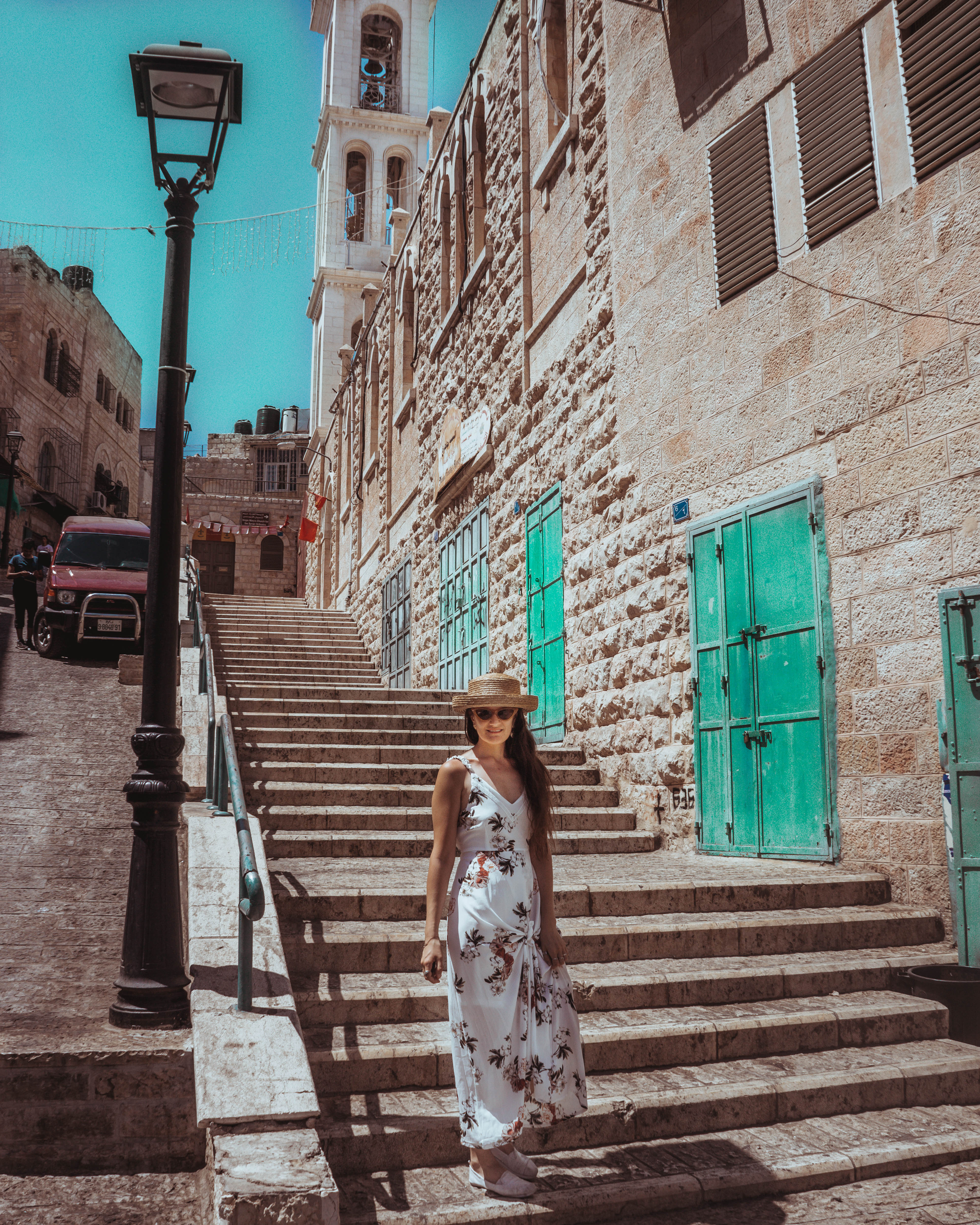 Stop: Bethlehem & Lunch
Our last city in the Best of the West Bank tour was Bethlehem where we had a couple of sights to visit. The first and most important attraction in Bethlehem is the Church of Nativity where Jesus was born, in a stable. We spent some time here talking about the church's architecture and symbolism while we queued to see the stable, which we ended up not seeing (something I didn't personally care about).
We then went to Bethlehem's market to see it functioning and then headed to lunch. Lunch was to be served at the guide's house which I thought was quite a nice personal touch and was cooked by Kamal's father who is also Palestine. It consisted on salad, pearl couscous and a meat stew. Baklava style sweets and mint tea was for dessert. Kamal's mother also spent some time talking about her experience with the wall being built through a garden they own and her family's struggles with the current conflict.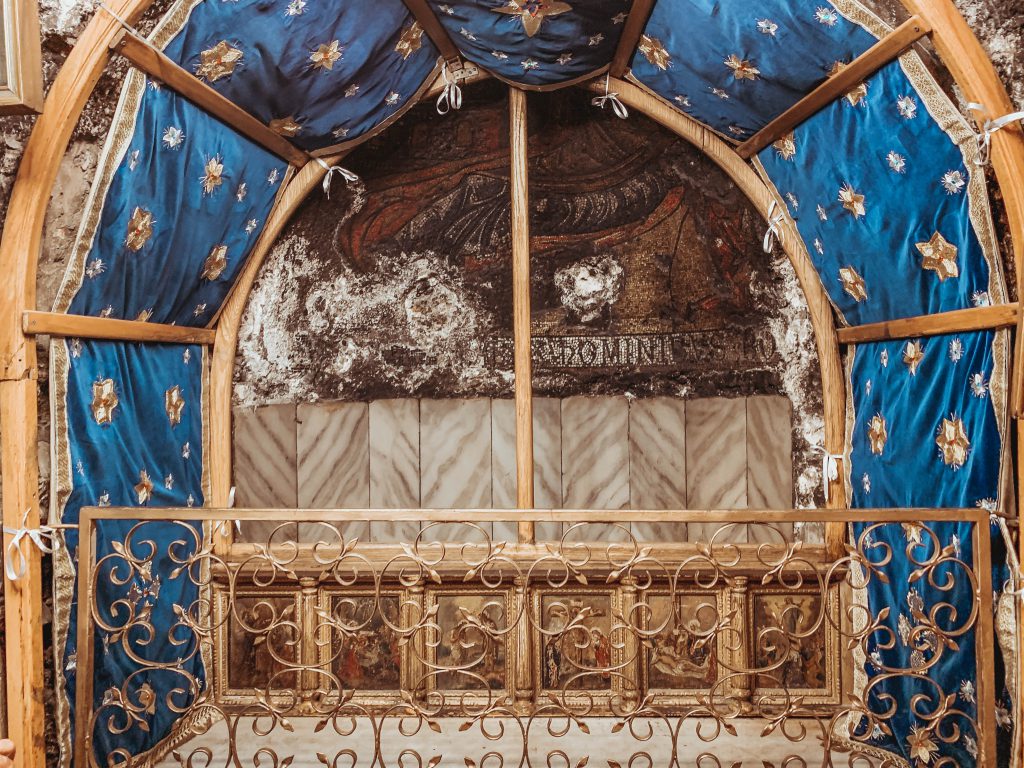 Stop: Banksy's Hotel
After lunch, we stopped by a souvenir shop and then headed to the very last stop of the Best of the West Bank tour, the 'Walled Off Hotel'. The hotel is one of Banksy's creations. He describes it as the hotel with the 'worst view in the world' as it faces the wall which separates Palestine from Israeli controlled Palestine. The wall itself displays some funny, some tough, messages expressing the sadness from Palestines and visitors with this wall, which in the end is not different from the Berlin Wall which I'm sure you'll be familiar with.
We then stepped inside the 'Walled Off Hotel' to get a glimpse of Banksy's take on the conflict: security cameras displayed as trophies, a rubble fireplace, little cupids breathing from oxygen masks…you get the point. There is a paid museum which you can choose to visit as well. We then returned to Abraham Hostel in Jerusalem around 5pm.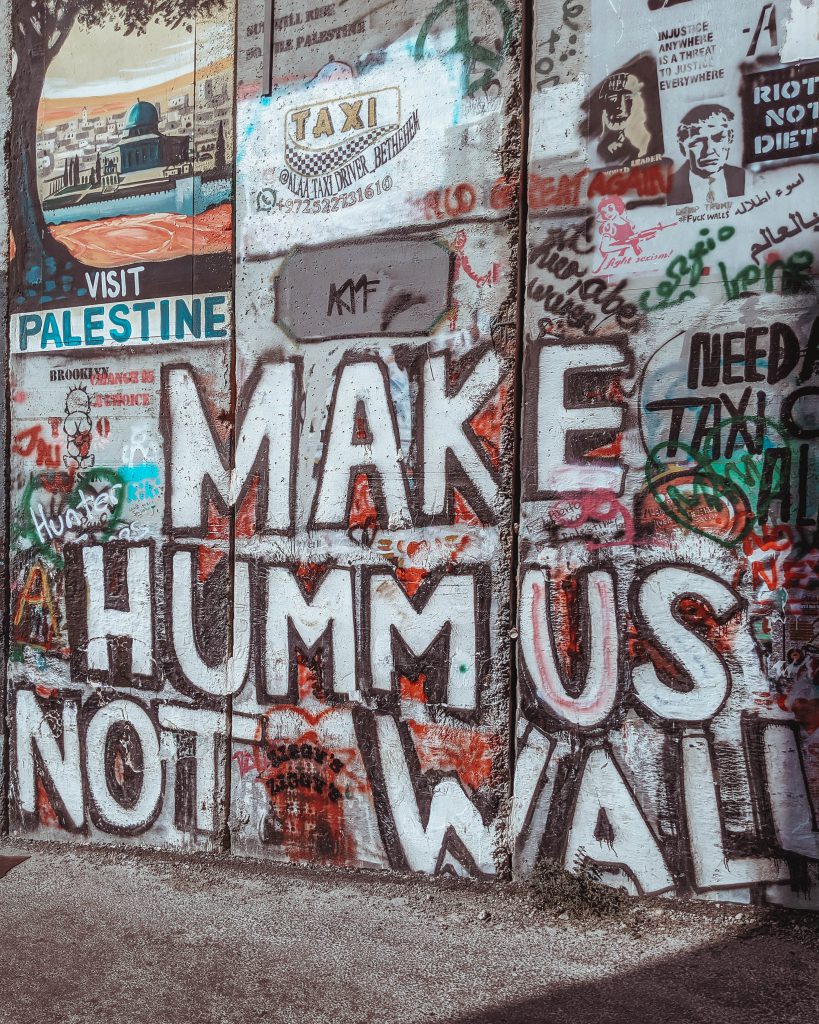 What could be improved about the Best of the West Bank tour
There was a little bit of disorganization in the Church of Nativity, we ended up queueing for 30/40 mins to go into the stable then decided not to and rushed across Bethlehem market. Not everyone was happy about this.
I also found the tour quite political, which is not necessarily wrong but something to look out for if you'd rather stay out of politics.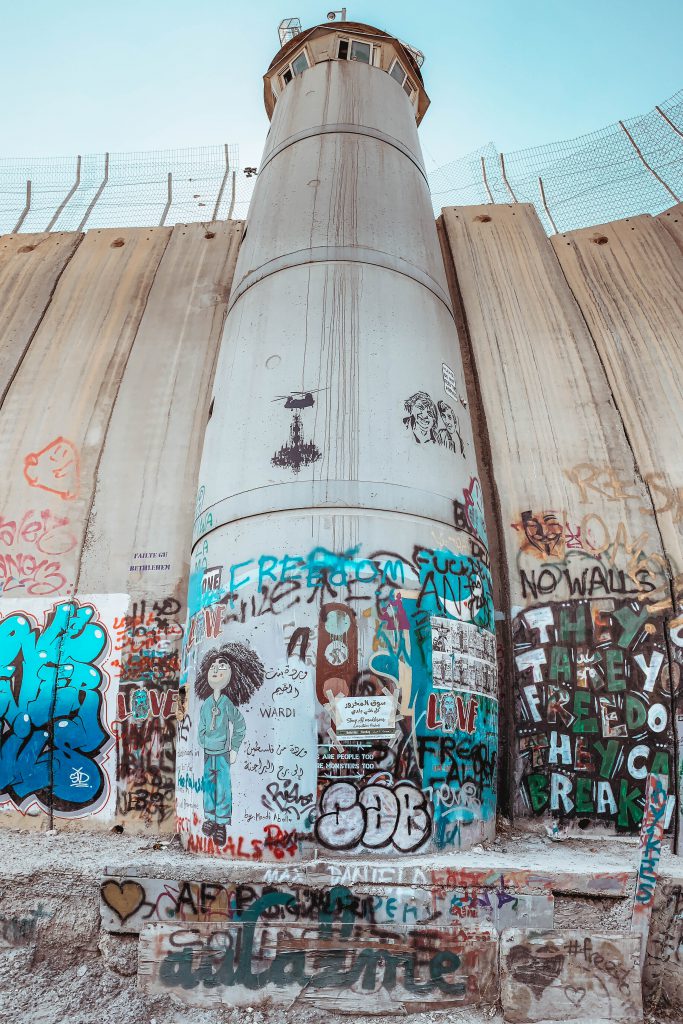 What I liked about the Best of the West Bank tour
I liked that our Best of the West Bank Tour guide was originally from Bethlehem and also a Palestine, so he was able to share insider details such as where he got married, traditions and stories about his life in the city. He was also able to share about the Israel-Palestine conflict first hand and had a one-of-a-kind perspective as a Christian Palestine, something very rare.
What I mostly appreciated about the Best of the West Bank Tour is being able to learn about the conflict from the Palestine side, as well as visiting Palestine.
How to book the Best of the West Bank tour
You can book the Best of the West Bank by Abraham Tours here. Price is around ~90GBP but varies. The tour departs every day from Jerusalem and also Tel Aviv from Abraham Hostel.
Enjoyed this article? Support my work by buying me an oat capuccino. Otherwise, do me a great favor of leaving a comment and following me on Instagram (@travelwithpau). Feel free to say 'Hello!' I don't bite. And make sure you save the article for later!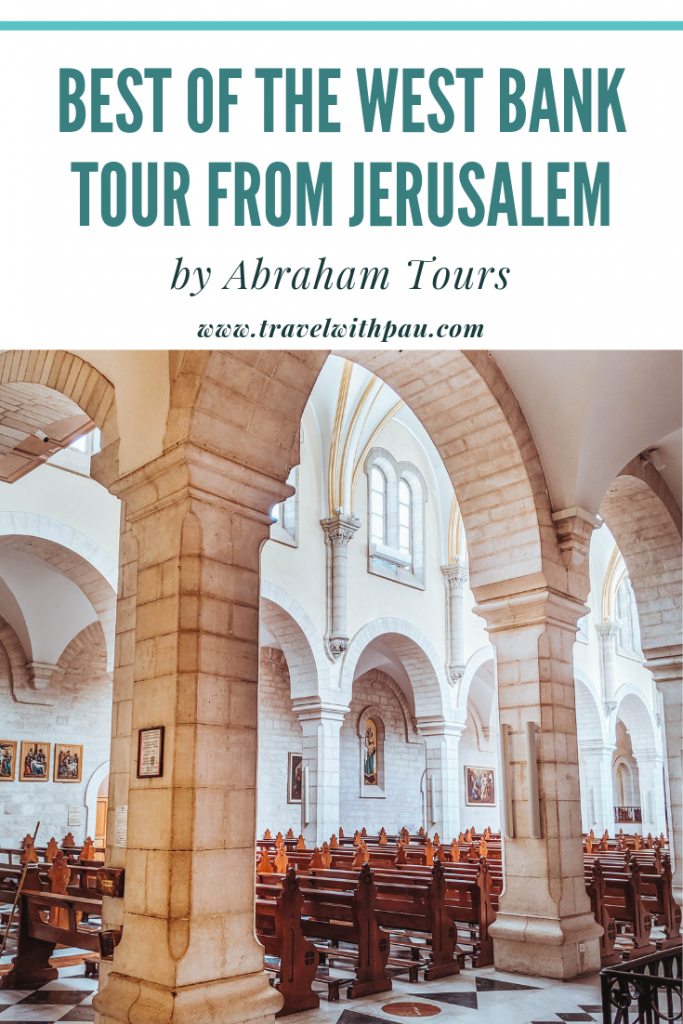 This post contains affiliate links. If you click on one and make a purchase, I might make a small commission, at no extra cost to you in order to help support my blog.