Every true Londoner knows and has visited Brick Lane multiple times. This vibrant street is one of the most famous of the city, and is the perfect medicine for Sunday blues. Because, if it's Sunday, Brick Lane didn't get the memo.
There is so much to do, see, eat and drink. But the main visual attraction is street art. Just keep your eyes very open, it's everywhere and all around!
Now, to help your Brick Lane visit I've created a map which you can save.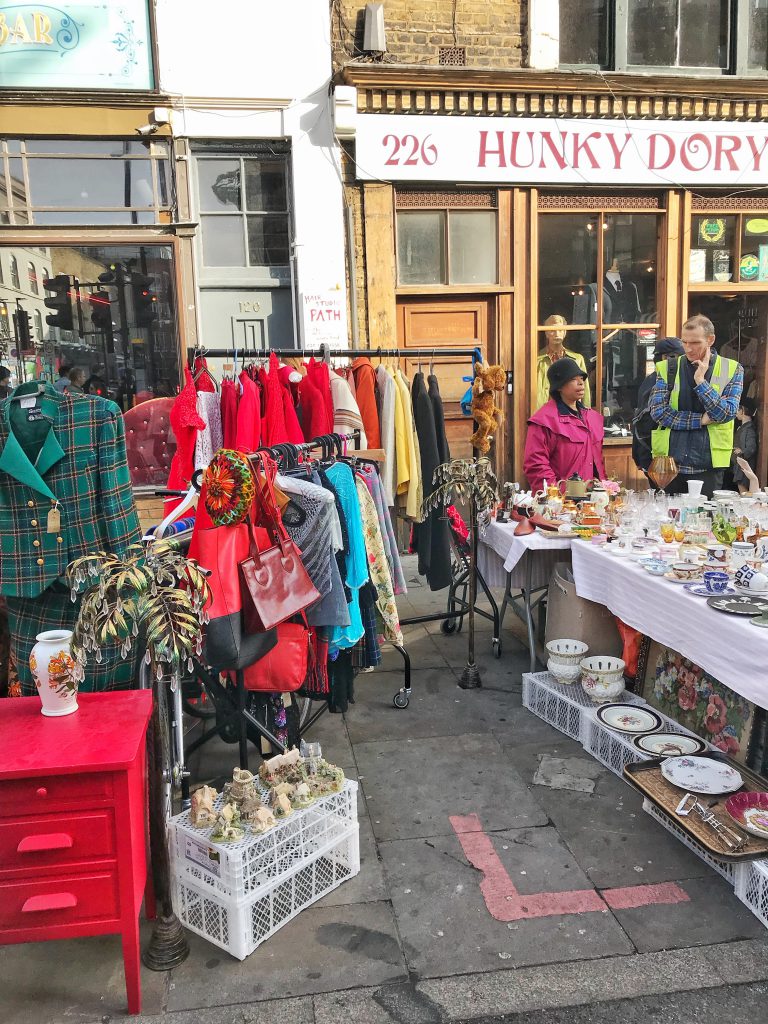 And now, let's get started! 
I like to start my visit at the north of Brick Lane. After a short walk, to the left Bethnal Green Road which crosses Brick Lane you'll find Lady Dinah's Cat Emporium – a cat cafe! This cafe is vegan friendly (but also caters to omnis) but the main thing is that you can have your tea surrounded by purring fur balls. If you want to visit them, make sure you book it in advance as walk ins are almost impossible.
Now, back to Brick Lane. You'll start noticing queues leading up to two similar stores, Beigel Bake and Beigel Shop. Turns out that in the late 19th century Brick Lane was home to a big Jewish community. These two shops are a reminder of that time, and they serve delicious bagels 24/7. As of which of them is best, well, experts just recommend that you join the shorter queue.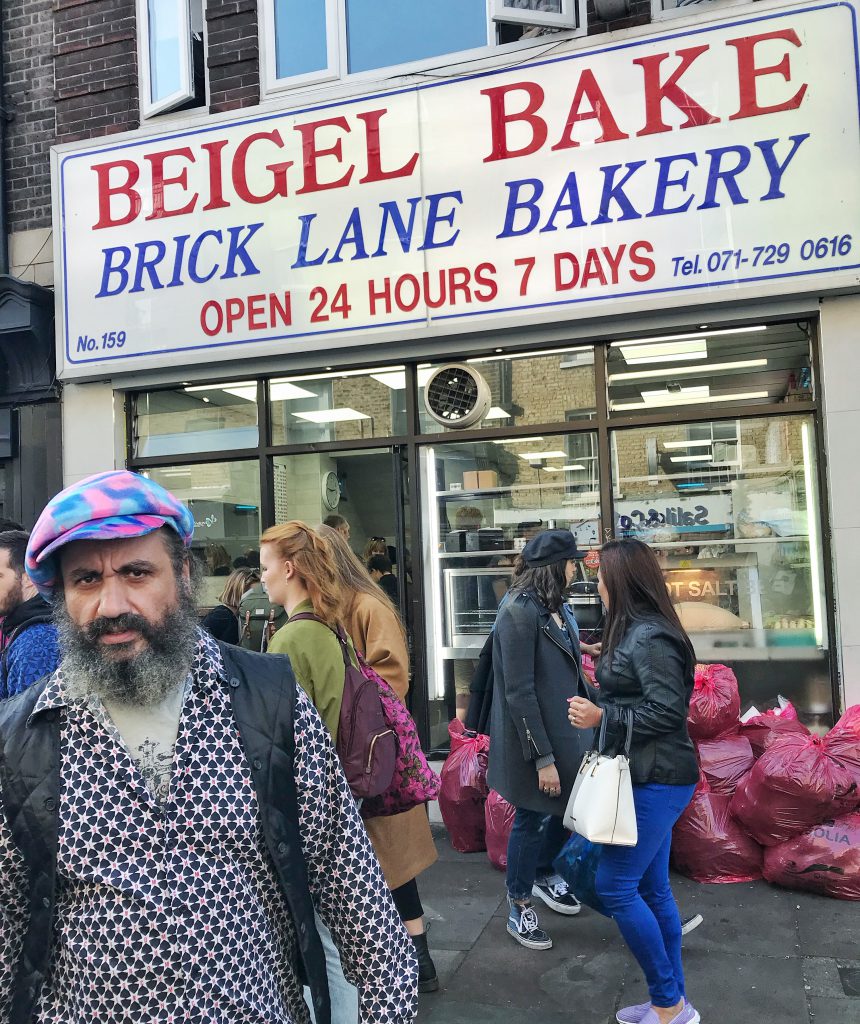 Between the two bagel shops you'll find another doughy delight. Crosstown serves donuts which you absolutely can't miss if you are a donut lover. They do vegan ones also! If donuts are not part of your sweet cravings, Sloane Bros. – also right there – serve yummy frozen yogurt with fun flavors and toppings. If you smell chocolate then the pretty and chocolatey creations of Dark Sugars are to blame. Impossible to resist temptation with huge chunks of chocolate on display. If those two didn't make your cut, the controversial Cereal Killer cafe might do so. This unique venue serves bowls of cereals with milk amongst nostalgic 90s memorabilia.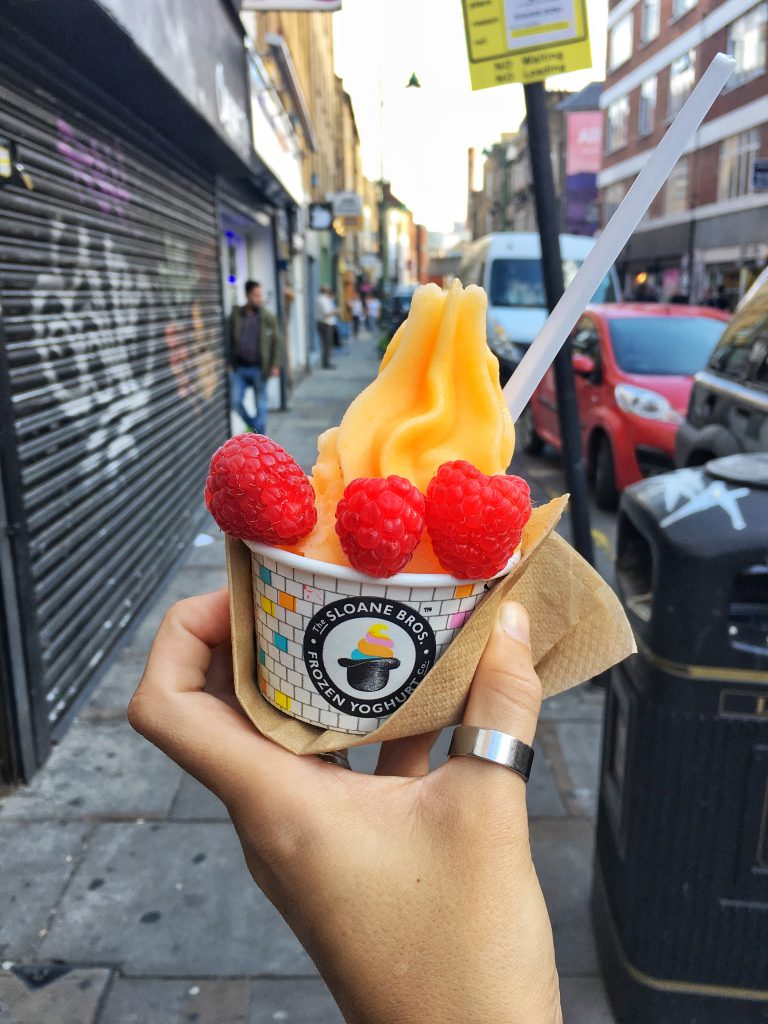 Brick Lane = street art, vintage & vegan
If it's a Sunday, by now you probably dodged various clothes racks selling vintage clothes or antiques. You can get pretty good deals in some of them! There are also many full time vintage stores on the following blocks that you might want to check out.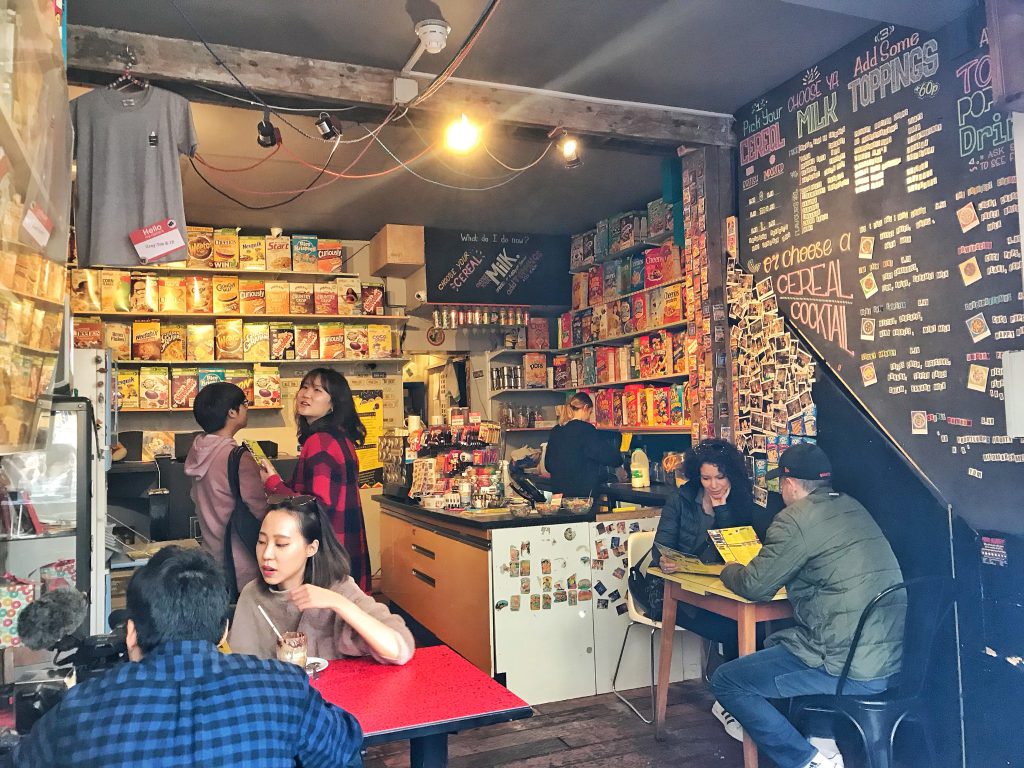 On Sundays, you'll also find food stalls on the street on this stretch of Brick Lane. You'll quickly notice that most of them are or have a vegan option. Brick Lane is extremely vegan friendly and the most delicious vegan foods I've had have been here. If you continue walking, you'll find The Boiler House Food Hall. This is my favorite lunch spot! It has vegan "steak" sandwiches, vegan brazilian food, vegan arancini, vegan fish & chips, vegan cupcakes, veganwraps an loads more. Omnis also have loads of options here. My favorite item is the vegan pao de queijo on the Brazilian stall. I swear I can't tell the difference with the real thing!
If this food hall was too vegan for you or you just didn't find what you wanted, or maybe you are just not totally convinced, don't worry. There is one food market after the other now! Sunday Upmarket, Backyard Market and Ely's Yard are just a very short walk away. If you have already eaten, you might want to check out the Vintage Market. Not everything is vintage, you can also find independent designers that do awesome stuff. In front of Ely's Yard there is an events space which usually has exhibitions that sometimes are free.
Craving curry?
The markets visit should be over by now, and this Brick Lane visit is coming to an end. Continue walking south and admiring the street art. I've marked a close in the map which is off the street which is fully covered in art which otherwise you wouldn't find yourself.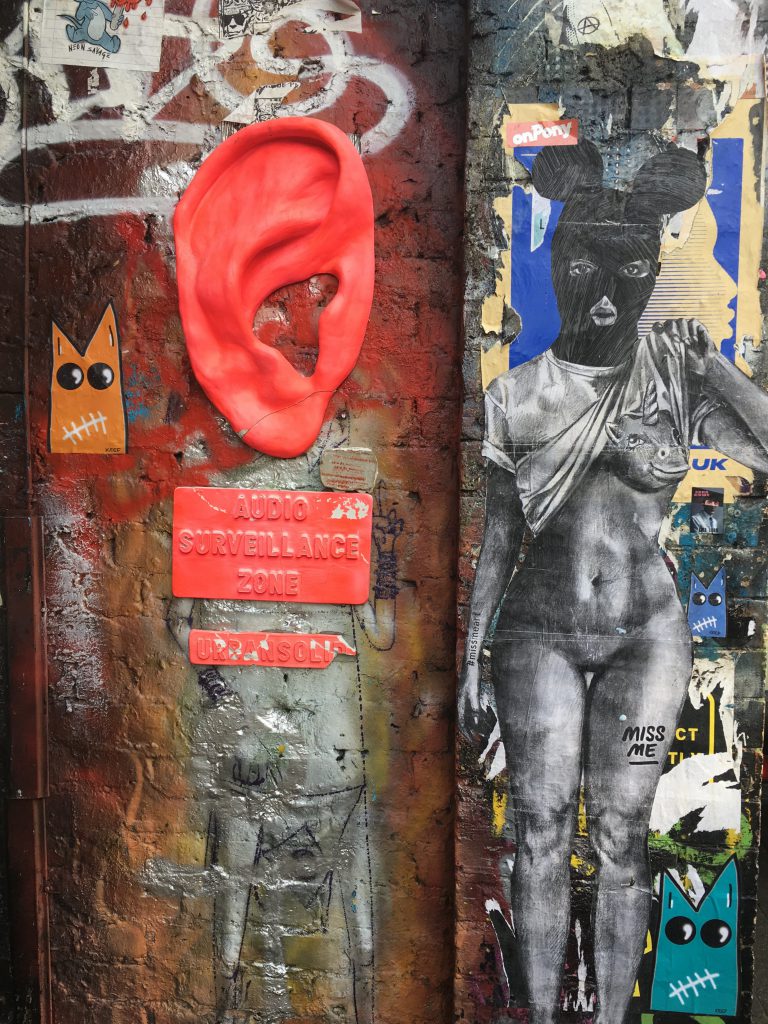 By now, you should start noticing one curry house after the other. You'll also start noticing restaurant staff trying to lure you in! If you are craving curry don't just chose anyone. Try The Monsoon or the Eastern Eye Balti House.
If you still have energy to burn, walk towards the Old Spitalfields market to do a bit more shopping or to eat a bit more food.