[DISCLAIMER] This article was written during the Coronavirus pandemic with the hopes things go back to normal soon. They may not and I'll revise the article once they do as some of the venues mentioned may have closed permanently.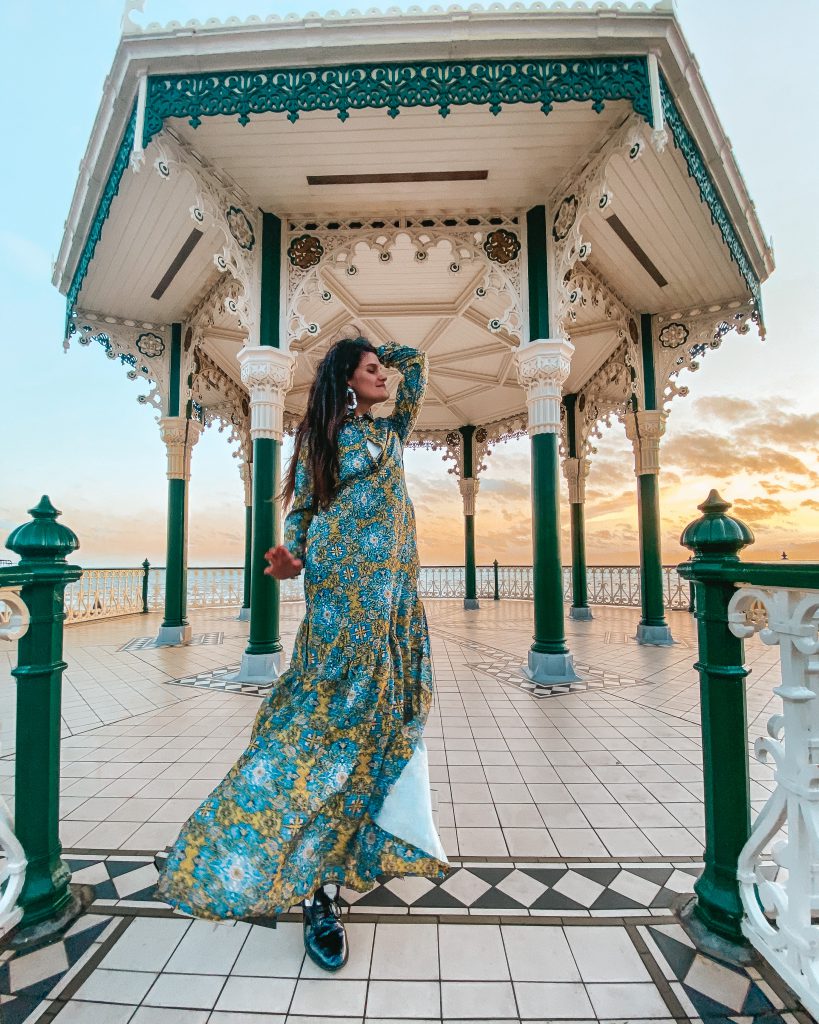 Brighton is so close to London and is the perfect destination for a weekend trip! It's only an hour away by train and has tons of cool things to do as it's a decently sized city…with a beach! Here's a run down of all the things Brighton.
Brighton Bucket List: Things To Do in Brighton
Admire Brighton's street art
Brighton has earned international reputation over the last few years for its stunning and original graffiti artwork dotted around the city. Check out a replica of Banksy's 'Kissing Cops' at Prince Albert's Pub as well as the Music Mural in the same place. If you are into street art you can find more arts locations here.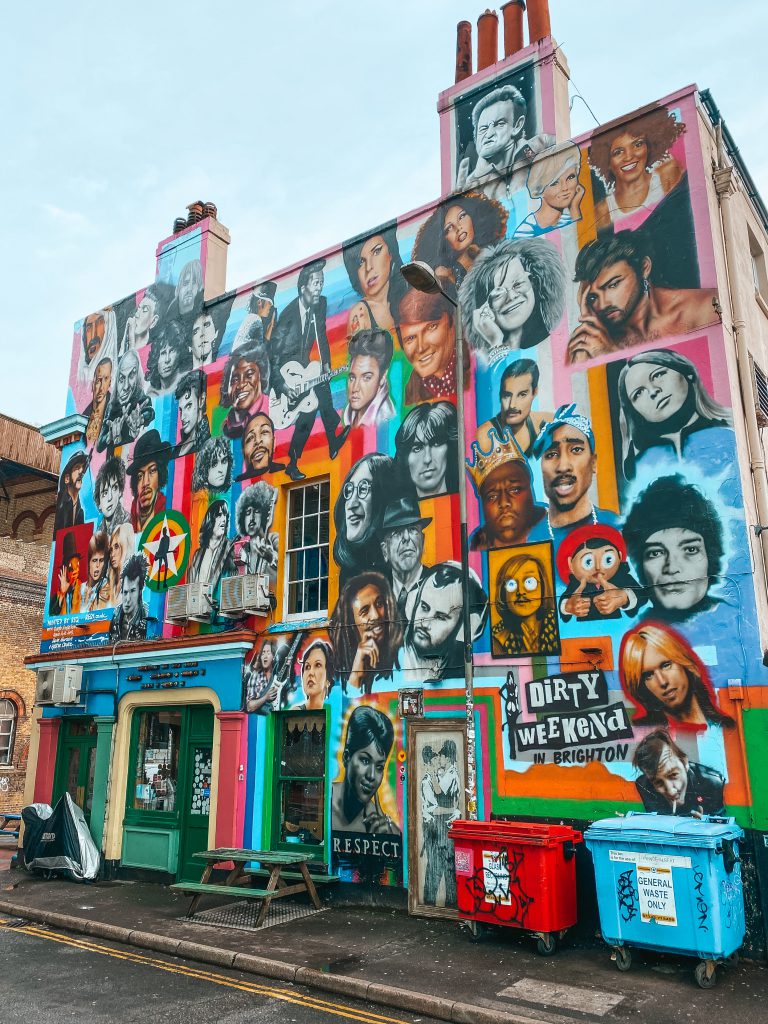 Take a cycling tour of the city
Take this Grand Brighton Bike Tour as soon as you hop off the train. You can also enjoy the city at twilight by taking this 1 hour 30 minute tour visiting iconic landmarks, through Brighton's colourful past to the present. Discover the real history of Brighton. There are many stops along the way, and a great chance to take some haunting photos!
Get brunch and buy vintage clothes at North Laine
North Laine has a happening, bohemian vibe with vegetarian cafes, vintage clothing stores, and jewelry stalls centred on busy Kensington Gardens pedestrian road. The vintage stores are really well curated and have prices that are a lot more reasonable than London's.
Visit The Royal Pavilion and Brighton Museum & Art Gallery
In the Cultural Quarter, the 19th-century Royal Pavilion will draw your attention with its Indian-style domes and minarets, it's stunning! The nearby Brighton Museum & Art Gallery has art and local history displays, and music fans head to gigs at Brighton Dome arts centre.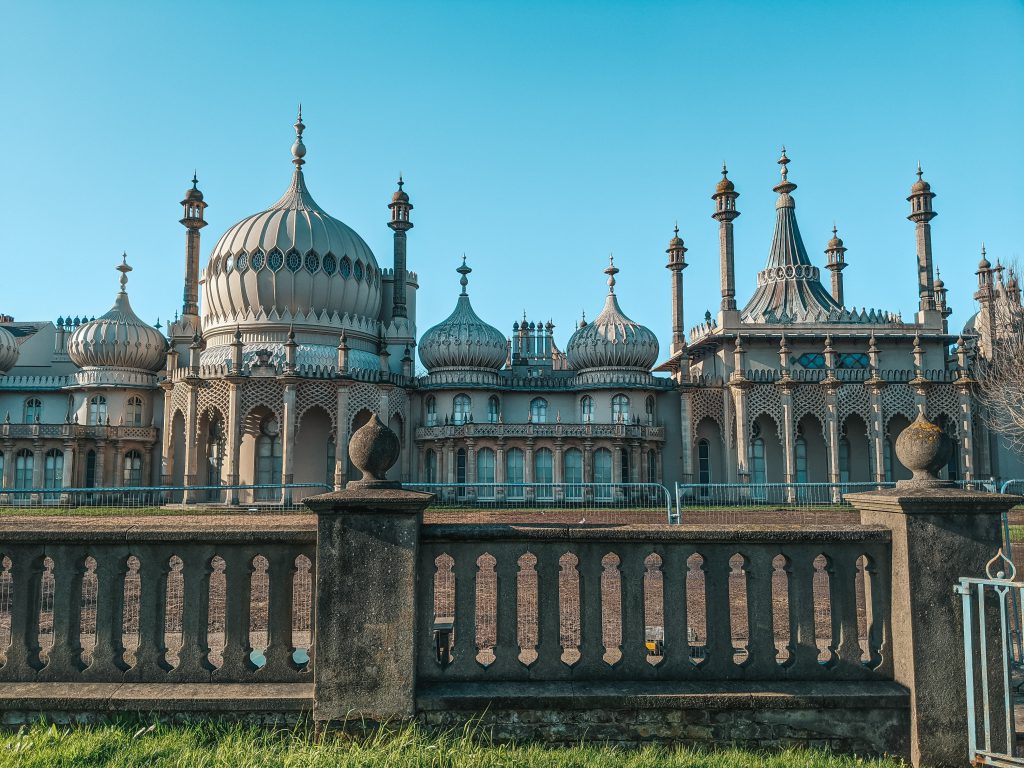 Ride a rollercoaster in Brighton Palace Pier
Take a stroll down the legendary Brighton Pier and ride the crazy super booster, visit the horror hotel, win a giant teddy or just relax in a deckchair and enjoy the view with some fish and chips. Careful with the seagulls, I've seen them attack those carrying fresh donuts!
Get lost in The Lanes
The Lanes are a collection of narrow lanes famous for their small, independent shops (including several antique shops) which are great to browse around.
Watch the sunset from British Airway's i360
The British Airway's i360 is the world's tallest moving observation tower. I was skeptical about visiting it because of the price but it was great to view Brighton from above, specially as there is loads going on design wise on the city's rooftops. I'd recommend you visit to see the sunset. The visit is brief, but enough to take loads of photos and appreciate the unique view.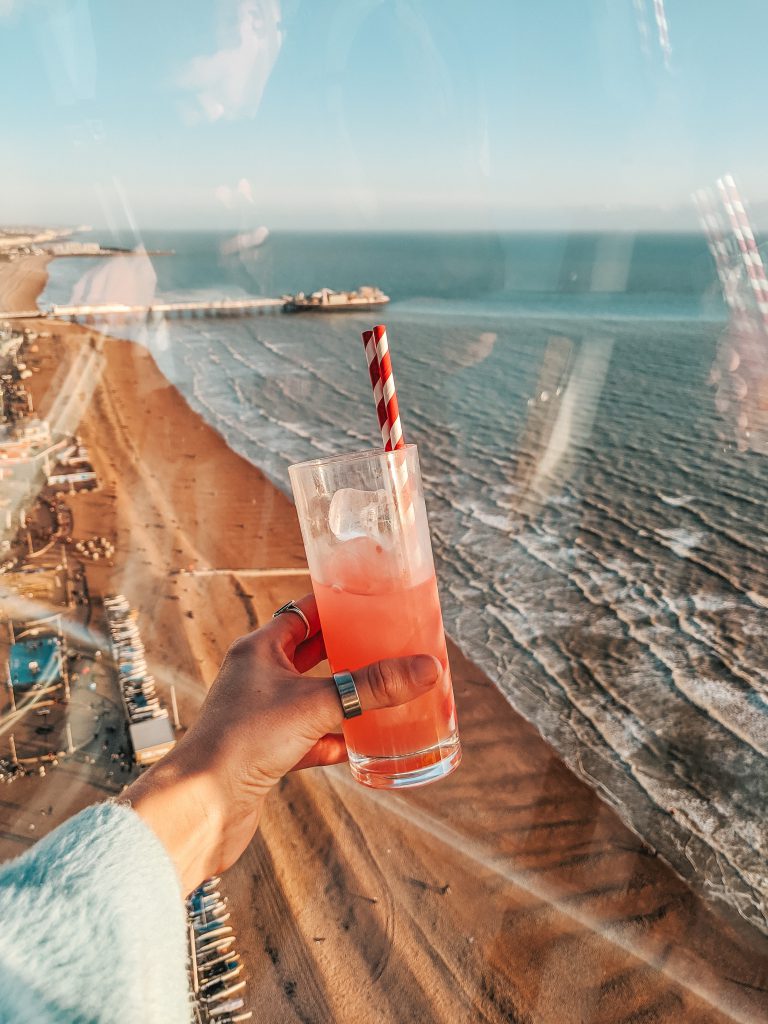 Get funky photos at the Upside Down House
The upside down house is just that, an upside down house where you get to take optical illusion 'upside down' photos. Super fun for kids and grownups alike!
Relax at the beach
Brighton's beachfront is cool and legendary. There's always something going on, as well as bars all across the beachfront to enjoy a drink while gazing at the waves.
Have a cocktail at Bohemia Brighton
Bohemia Brighton's cocktails are spectacular! They have unique presentation, for many of them dry ice is used which means there's smoke and bubbles floating around making it even more fun.
Do Pride
Brighton Pride has become one of the most fabulous Pride Festivals in the UK. It's a celebration of all that's great about the city and its vibrant LGBT community. There's usually a concert in Preston Park and loads of events across the city.
Get champagne and oysters at Riddle and Finns
With branches in The Lanes and, even better, overlooking the beach, Riddle and Finns has risen to a household name in quality seafood, oyster and Champagne dining.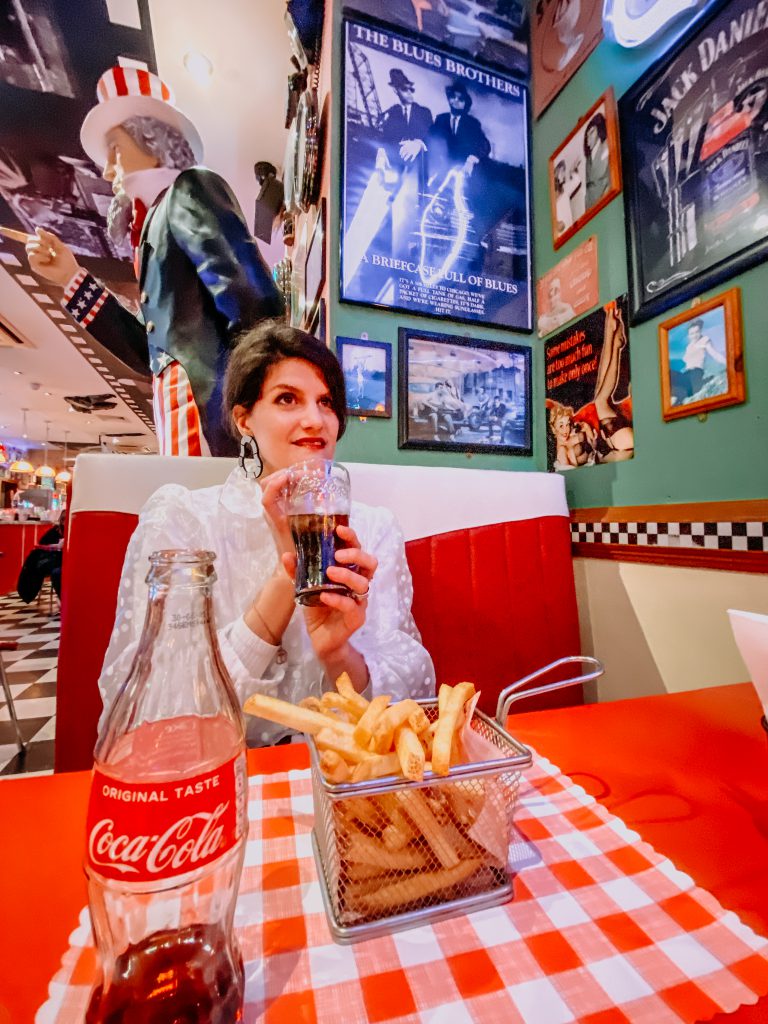 Get your dose of comfort food at JB's American Diner
JB's American Diner is one of Brighton's unique eccentricities. It's a tribute to the classic American Diner from the 50's rock n' roll, with dining booths and stars n' stripes flying proud. Admire the memorabilia as you eat your way through the delicious USA themed menu including shakes, burgers and steaks. Don't forget to visit the toilets!
Mesmerise at the dancing flock of starlings
One of the most incredible things about Brighton is that the starlings dance at dawn and dusk; mostly around Brighton Pier. Watching them is a show of its own. Don't forget to look!
Take cute picture's at Brighton's Bandstand
Brighton's Bandstand is gorgeous! I find that it's not as appreciated and usually not very busy. Make a point of stopping by for a few minutes when you walk the beachfront.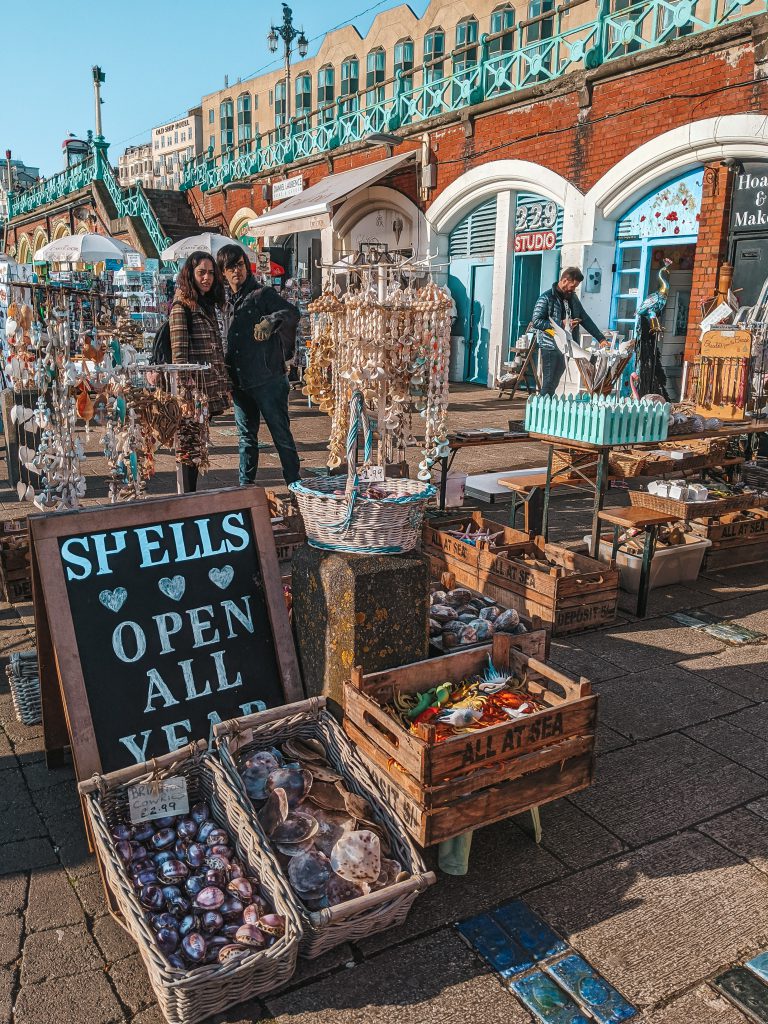 Brighton Bucket List: How To Get To Brighton
Trains from London to Brighton leave from London Bridge, London Victoria or London Blackfriars with several departures an hour. Get your ticket here.
Brighton Bucket List: Where To Stay In Brighton
Find Brighton's best rated hotels, ordered by price, here.
Enjoyed this article? Support my work by buying me an oat capuccino. Otherwise, do me a great favor of leaving a comment and following me on Instagram (@travelwithpau). Feel free to say 'Hello!' I don't bite. And make sure you save the article for later!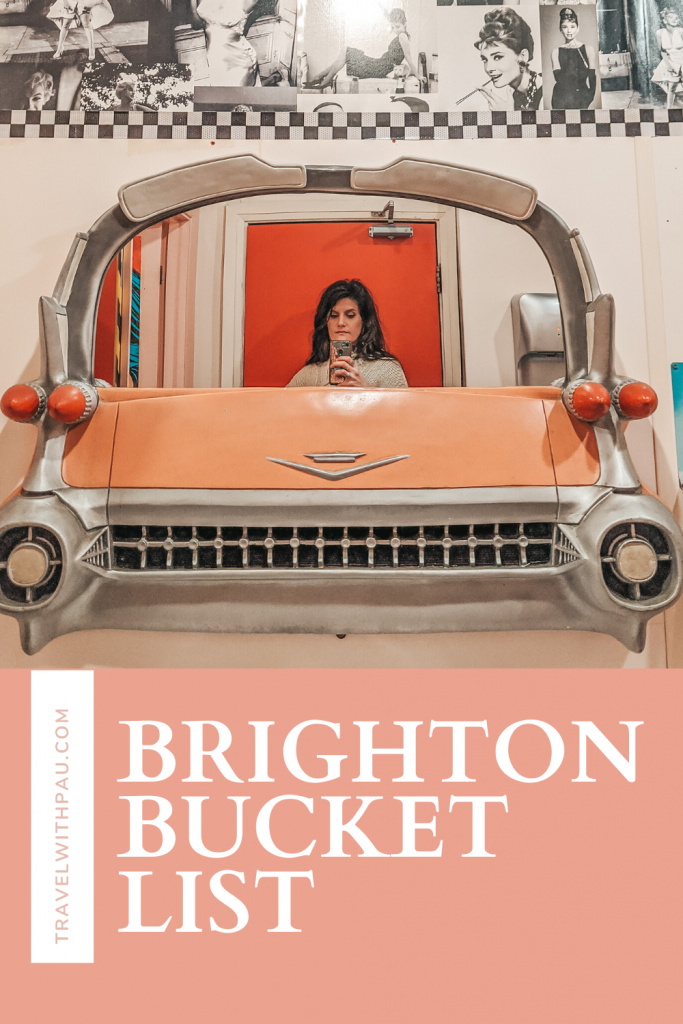 This post contains affiliate links. If you click on one and make a purchase, I might make a small commission, at no extra cost to you in order to help support my blog.