This time around on my collaboration with Femme Luxe I chose some party pieces!
Make sure you follow my 21buttons account as I post all of my outfits there, these included!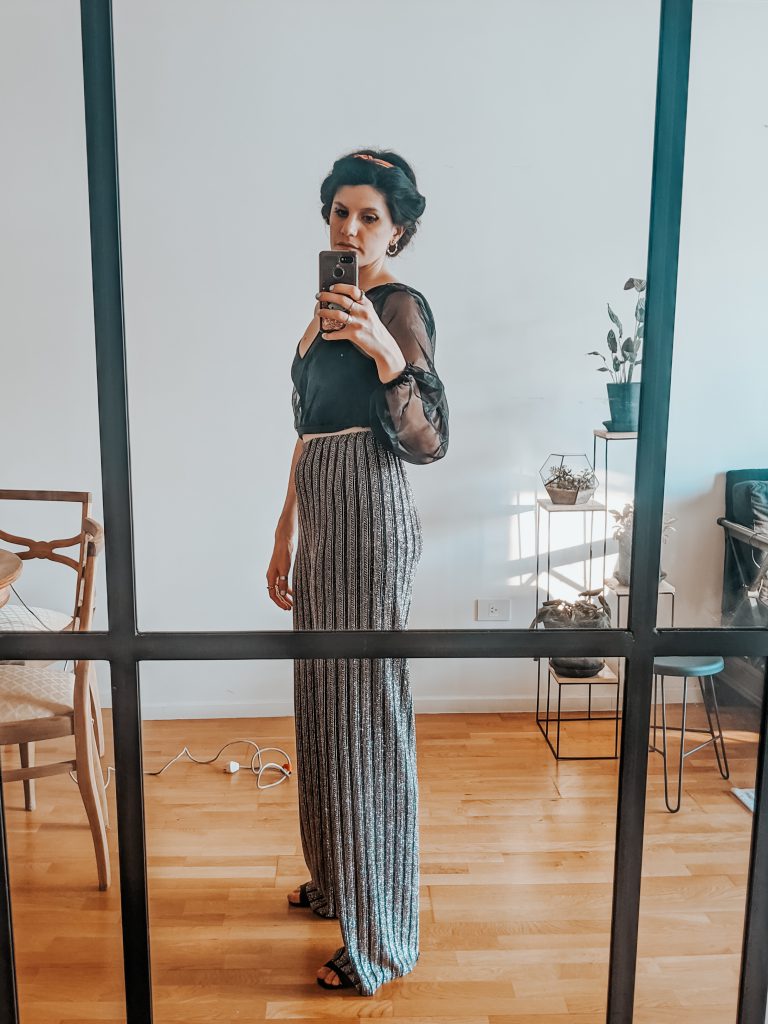 I started with the Black Organza One Shoulder Sleeve Crop Top – Milo. This attention grabbing Black Organza One Shoulder Sleeve Crop Top can be matched with party trousers, black trousers or even high waisted jeans depending if you want to dress it up or down.
I decided to match them with another item I chose from the collection: Black & Pink Sparkle Stripe Wide Leg Trousers – Quinn. The trousers are super snazzy and they look amazing although they have many flaws. First they were way too big, second, they kept losing glitter to levels unimaginable. The owners of the cars I sat on using those trousers were definitely not happy; I wouldn't recommend you buy them at all for this reason unless you plan to use them for a disco night and then throwing them away.
Next, I chose the Black Mesh Sleeve Cuffed Crop Top – Magnolia made with transparent fabric and puff sleeves as well as a lovely cleavage. I'm always a size 8 and I kind of struggled with this one when I bought it, I could only start wearing it when I happened to lose 2 kilos so be careful with the size. The top is beautiful and can also be dressed up or down depending on the occasion. Definitely an attention grabber too.
Last I chose the Black Iridescent Plunge Puff Sleeve Bodysuit – Samia which I knew was going to be a winner! This bodysuit top was just gorgeous in pictures and is also in real life. Its cleavage is extremely original and sexy and the fabric is certainly special too! Certainly can be dressed up or down but must be worn with high waisted items as it has black fabric towards the the groin area which would show on lower waisted items.
Well, this was another successful Femme Luxe haul although it's the first time I don't recommend one of the items from them although I did like all of the others. I've only had good experiences in the past. Hope you enjoyed and see you on the next haul!
Enjoyed this article? Support my work by buying me an oat capuccino. Otherwise, do me a great favor of leaving a comment and following me on Instagram (@travelwithpau). Feel free to say 'Hello!' I don't bite. And make sure you save the article for later!