Looking for immersive experiences in London? Well, good, because I'm the UK's biggest indepent immersive experience blogger. Whenever an immersive experience launches in London, I'm there no matter how weird it is.
Below London's best immersive experiences that I have tried and tested, organised by type. This article gets updated regularly, check the last published date for the latest update time and you'll find 30+ immersive experiences here at all times.
THIS MONTH'S IMMERSIVE EXPERIENCE HIGHLIGHTS
Gourmaze
Gourmaze is a food treasure hunt experience in London. Challengers will be immersed into a fictional story, where characters will send you riddles and clues to your phone. Solving these, will lead you to food vendors & restaurants, where you will pick up a delicious food item or dish. It's the baby between an escape room and a food walking tour. Book it here.
SAW Experience
SAW is a brand-new, immersive, multi-room escape experience – sounds like a handful, doesn't it? Well, that's because it is! It's an intense experience designed to test your moral choices against elements of escape rooms inspired by the iconic horror film franchise, SAW. There are some jump scares, but very tolerable even for the scaredy ones. Book it here.
Tarantino Live
Tarantino Live is a rock musical based on the Quentin Tarantino Cinematic Universe. This show is a dynamic combination of Broadway-style live action with rock 'n' roll music from QT's iconic films. After a sold-out LA debut, Tarantino Live is coming to London – get your tickets now!
LONDON'S IMMERSIVE THEATRICAL EXPERIENCES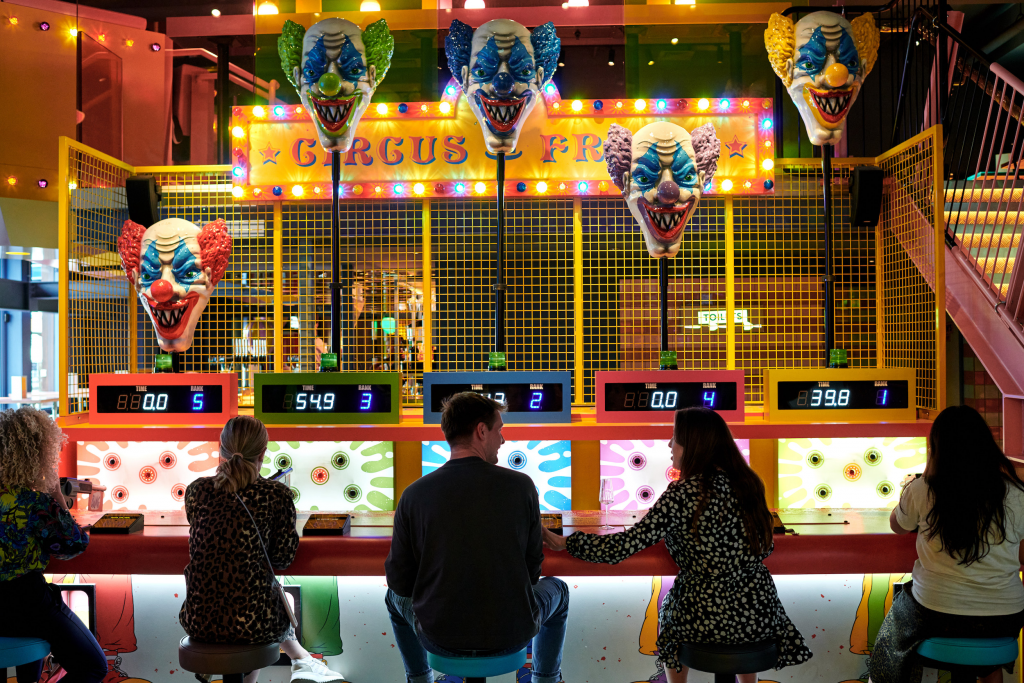 Bloodbath by Screamworks
This experience will immerse you in the sinister plot of a cunning serial killer as he tries to find the parts he needs to complete his Great Work. As a guest, you'll be blindfolded and taken to the scary family home of Jack and Abel in Bethnal Green, where nothing is as it seems and your fate will lie in the balance. While this event is not for the faint-hearted, it is more of a psychological thriller than a traditional 'haunted house' attraction. You will be made to feel like you are the main character in your favourite horror movie. Book it here.
Burnt City by Punchdrunk
Punchdrunk, the world's leading immersive theatre company, is back in London. You will explore a complete sensory world at your own pace, experiencing scenes in a non-linear way as the story unfolds around you. The story this time is the fall of Troy, where you will witness a mythical world of Gods and mortals who rise from the ashes. It has been one of the most immersive immersive experiences that I've ever been to and unlike anything I had seen before, noting it was my first time at a Punchdrunk show. Tips to enjoy: do some research before going, go early to maximise the time in the venue, ditch your group and explore on your own, go more than once! Book it here.
Candlelight
Concerts illuminated by candlelight? I'm definitely in! Fever has recently launched Candlelight, affordable and intimate concerts performed by live musicians in some of the most iconic venues in London that transport you to a fairytale. I had the chance to attend a concert in the beautiful conservatory in Syon Park to listen to City String Ensemble play Movie Soundtrack Disney classics, and I might have shed a tear or two. Book it here.