Cyprus, a captivating island nestled in the eastern Mediterranean Sea, is a destination that effortlessly combines stunning natural beauty, rich history, and vibrant culture. From its golden beaches and crystal-clear waters to its ancient ruins and charming villages, Cyprus offers a wealth of experiences for every type of traveller. Whether you're seeking relaxation, adventure, or cultural exploration, this Cyprus bucket list travel guide will help you discover the best that this enchanting island has to offer.
WONDERFUL THINGS TO DO IN CYPRUS
Relax on Cyprus' Incredible Beaches: Discover the Paradise of Sun and Sand
Cyprus is renowned for its pristine beaches, where azure waters meet golden sands, creating an idyllic setting for relaxation and leisure. Whether you seek a vibrant beach scene with water sports and beach bars or a secluded stretch of coastline for peaceful moments, Cyprus has a beach to suit every preference. Here are some of the most popular beaches on the island:
Nissi Beach, Ayia Napa: Nissi Beach is a bustling and vibrant beach known for its lively atmosphere and crystal-clear waters. Its powdery white sands and shallow turquoise waters make it perfect for families and water sports enthusiasts. Enjoy beach volleyball, jet skiing, or simply unwind under the sun while sipping refreshing cocktails at one of the beachfront bars.
Fig Tree Bay, Protaras: Fig Tree Bay is a picture-perfect beach that boasts a crescent-shaped shoreline, fine golden sand, and calm, shallow waters. This family-friendly beach offers a range of water activities, including paddleboarding, kayaking, and pedal boating. Take a leisurely stroll along the promenade and discover charming cafes and restaurants, or simply relax on the soft sands and soak up the breathtaking coastal views.
Coral Bay, Paphos: Coral Bay is a stunning beach renowned for its pristine beauty and vibrant marine life. Surrounded by dramatic cliffs, this Blue Flag beach offers excellent swimming conditions and is ideal for snorkelling and diving. Lounge on the warm sands, take a dip in the crystal-clear waters, or explore the nearby Coral Bay Village for a taste of local culture and cuisine.
Mackenzie Beach, Larnaca: Mackenzie Beach is a popular spot for both locals and tourists, known for its lively atmosphere and vibrant nightlife. This sandy beach offers a range of water sports activities, such as windsurfing, kitesurfing, and parasailing. Relax at one of the trendy beach bars and restaurants, and witness the breathtaking sunset views that paint the sky in vibrant hues.
Aphrodite's Rock, Paphos: Aphrodite's Rock, located near Paphos, is a mythical beach associated with the birth of the goddess of love and beauty, Aphrodite. This pebbled beach offers a tranquil atmosphere and breathtaking views of the shimmering sea. Legend has it that swimming around the rock will bring you eternal beauty and eternal love. Marvel at the natural beauty of the area and embrace the mythical aura that surrounds this enchanting beach.
Governor's Beach, Limassol: Governor's Beach is a picturesque pebbled beach renowned for its unique rock formations and dramatic cliffs. The crystal-clear waters are perfect for swimming and snorkelling, allowing you to discover an underwater world teeming with marine life. The beach also offers shaded areas and picnic spots, making it an excellent choice for a relaxing day by the sea.
Lara Bay, Akamas Peninsula: Lara Bay, located in the pristine Akamas Peninsula, is a remote and unspoiled beach famous for its protected turtle nesting sites. This secluded paradise is ideal for nature lovers and those seeking a serene escape. Accessible via a rugged road, Lara Bay offers a glimpse of untouched beauty with its golden sand, crystal-clear waters, and enchanting coastal landscape.
Whether you choose to embrace the vibrant beach scenes or seek solace on secluded shores, Cyprus' incredible beaches promise a memorable experience. With their natural beauty and inviting waters, these beaches invite you to relax, unwind, and create unforgettable moments on the sun-kissed shores of this Mediterranean paradise. My favourite beach was a really tiny one just behind Cavo Zoe, the hotel I stayed in, called Mimosa Beach. I went snorkelling there and saw various turtles!
Explore the Historic Wonders of Paphos
Paphos, a UNESCO World Heritage site, is an archaeological treasure trove that boasts a fascinating blend of ancient ruins and modern amenities. Begin your journey by visiting the remarkable Paphos Archaeological Park, home to impressive Roman villas with well-preserved mosaics. Don't miss the awe-inspiring Tombs of the Kings, an underground necropolis dating back to the 4th century BC. Dive into Cyprus' mythical past with a visit to the legendary birthplace of Aphrodite, the stunning Petra tou Romiou. Book this tour to Paphos.
Discover the Timeless Beauty of the Troodos Mountains
Escape to the tranquil beauty of the Troodos Mountains, a scenic region that will captivate nature enthusiasts and adventure seekers alike. Hike through dense pine forests, discover hidden waterfalls, and soak in the stunning panoramic views from Mount Olympus, the highest peak in Cyprus. Explore traditional mountain villages such as Omodos, known for its cobblestone streets and Byzantine architecture, and sample local wines at the renowned wineries nestled in the picturesque countryside. Here's a tour that hits most those spots and more.
Explore the Haunting Beauty of Famagusta Ghost Town
Famagusta Ghost Town, also known as Varosha, is a hauntingly intriguing destination in Cyprus that offers a glimpse into the past. Once a thriving resort area, this abandoned city now stands frozen in time and is part of Northern Cyprus (Turkey), its streets and buildings frozen in decay. The town's eerie atmosphere and dilapidated structures create a unique and melancholic ambience. You'll get a chance to admire the striking architecture that showcases a blend of different influences, from Venetian and Gothic to Ottoman and British colonial styles. Visiting Famagusta Ghost Town presents an opportunity to learn about the complex political situation on the island. You can only visit Famagusta via a tour, due to its political situation, and you have to bring your passport as there's a checkpoint. Though it may evoke a sense of sadness, the ghostly allure and the stories it holds within its walls make it a must-see destination and it was one of the highlights of my trip. Tour I took here.
Explore the Tombs of the Kings
The Tombs of the Kings in Cyprus is a captivating archaeological site that takes visitors on a journey into the island's ancient past. This UNESCO World Heritage site is a necropolis dating back to the Hellenistic and Roman periods, known for its impressive underground tombs carved into solid rock. Explore the intricate labyrinth of chambers and marvel at the elaborate burial sites, adorned with stunning frescoes and intricate details. This archaeological gem offers a glimpse into the rich history and funeral practices of ancient Cyprus, making it a must-visit destination for history enthusiasts and those seeking to unravel the mysteries of the past. Here's a guided tour to the Tombs of the Kings
Unwind in the Serenity of the Akamas Peninsula
The Akamas Peninsula, a nature reserve on Cyprus' western coast, is a paradise for outdoor enthusiasts seeking tranquillity and unspoiled landscapes. Embark on a memorable hike through the Avakas Gorge, a breathtaking natural wonder with towering cliffs and a meandering river. Discover hidden coves and secluded beaches, such as the stunning Blue Lagoon, where you can swim in crystal-clear waters. Take a boat trip around the peninsula and marvel at the dramatic coastline, dotted with sea caves and rock formations. You could visit on your own with a car, or take a guided tour.
Dive into the Underwater World of Cyprus
With its warm waters and abundant marine life, Cyprus is a fantastic destination for diving enthusiasts. Explore the Zenobia Wreck, one of the top wreck dive sites in the world, where you can discover a sunken roll-on/roll-off ferry lying on the seabed. Dive along the pristine coastline of Protaras and Ayia Napa, where you'll encounter colourful coral reefs, fascinating underwater caves, and a variety of marine species. Don't miss the opportunity to try your hand at snorkelling and witness the incredible marine biodiversity firsthand. Here's an introductory lesson you can book, in case you are not yet a pro!
Immerse yourself in the vibrant atmosphere of Nicosia, the capital city.
As you step into the heart of Nicosia, you'll be captivated by its unique blend of history, culture, and contemporary charm. The city, known for its ancient walls that once fortified its boundaries, invites you to wander through its narrow streets and discover its hidden treasures. From the bustling Ledra Street, lined with shops and cafes, to the enchanting Old Town with its well-preserved medieval architecture, Nicosia offers a wealth of experiences for every traveler. Explore the fascinating Cyprus Museum, home to an extensive collection of archaeological artifacts that provide insights into the island's rich heritage. Marvel at the iconic landmarks, such as the Venetian walls and the imposing Selimiye Mosque. Indulge in delectable Cypriot cuisine at traditional taverns or embrace the city's vibrant nightlife at trendy bars and clubs. Immerse yourself in the vibrant atmosphere of Nicosia and let the city's captivating energy and cultural diversity leave a lasting impression. Here's a Nicosia tour you can take.
Get into the charming atmosphere of Larnaca
Larnaca, a bustling coastal city, offers a perfect blend of history, culture, and relaxation. Stroll along the picturesque Finikoudes Promenade, lined with palm trees and sandy beaches. Explore the Larnaca Salt Lake, a haven for migratory birds, and witness the mesmerizing pink hues created by the flamingos during certain seasons. Don't forget to visit the Hala Sultan Tekke, a serene mosque surrounded by tranquil gardens, and delve into the city's vibrant past at the Larnaca Fort and Museum. Explore on your own, or with a guide.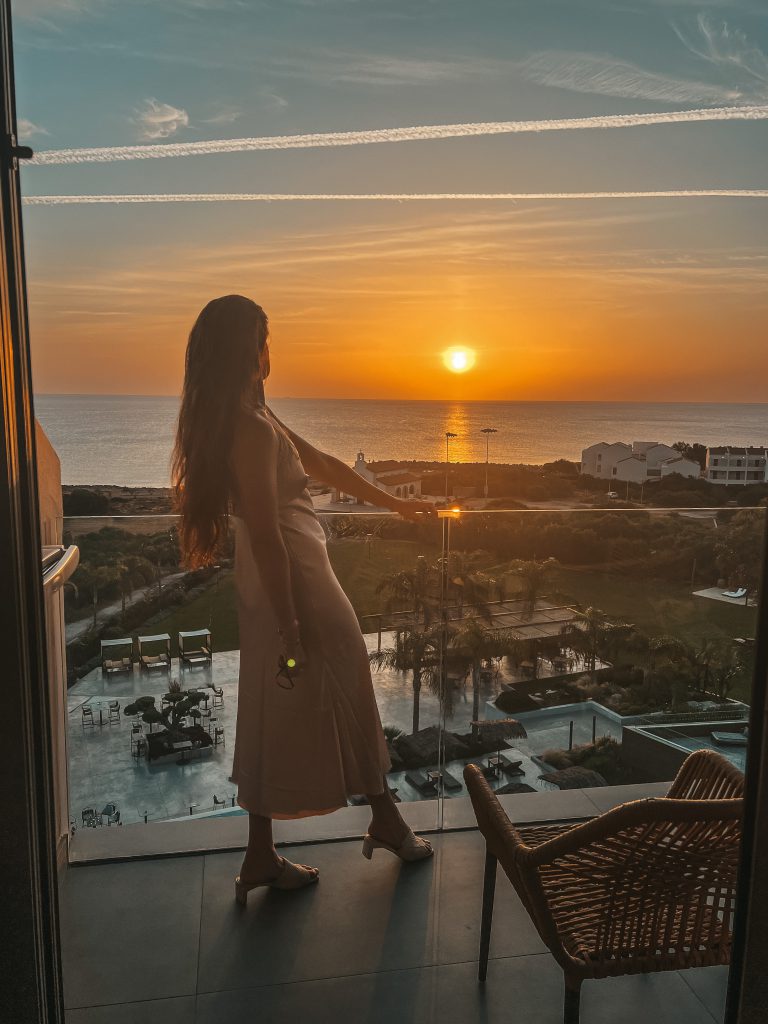 Indulge in delicious Cypriot cuisine
Embark on a culinary journey through Cyprus, where authentic flavours await. Indulge in creamy halloumi cheese, succulent souvlaki, and flavourful moussaka. Discover more delights like grilled octopus, vibrant meze platters, and sweet treats like loukoumades and baklava. Pair these culinary wonders with local wines, crafted with expertise. You can do this by choosing your restaurants wisely! If you want a truly immersive experience try this cheesemaking tour with brunch.
Experience the Pristine Beauty of Cape Greco
When it comes to stunning beaches in Cyprus, Cape Greco is a hidden gem waiting to be discovered. Located on the southeastern coast of the island, this nature park offers breathtaking coastal landscapes and crystal-clear waters. Spend a day exploring the dramatic sea caves and limestone cliffs, or simply relax on the secluded beaches and soak up the sun. Snorkelling and diving enthusiasts will be delighted by the vibrant marine life and underwater rock formations. Cape Greco is a must-visit destination for beach lovers and nature enthusiasts seeking tranquillity and natural beauty in Cyprus. I did this Jeep Tour that visits Cape Greco and was really good!
Explore the Enchanting Blue Lagoons of Cyprus
Just a short distance from Cape Greco, you'll find one of the enchanting Blue Lagoons in Cyprus (spoiler alert, there's two!). Accessible by boat, the Blue Lagoon in Protaras provides an idyllic location for swimming, snorkelling, and simply immersing yourself in the tranquillity of its pristine surroundings. Dive into the turquoise waters, explore the thriving underwater world, or simply bask in the beauty of this secluded paradise. The Blue Lagoon offers a unique and unforgettable experience, allowing you to escape into a world of serenity and natural splendour. Here's a boat tour you can take to it.
The second Blue Lagoon is in Akamas, which I haven't had a chance to visit personally but I did hear it's actually better than the one in Protaras. This great tour from Paphos takes you there.
WHERE TO STAY IN CYPRUS & BEST HOTEL IN CYPRUS
Cyprus offers a range of accommodation options to suit every traveler's preferences. Whether you're looking for luxurious beachfront resorts, charming boutique hotels, or cozy guesthouses, you'll find a wide selection of accommodations throughout the island. In popular tourist areas such as Paphos, Larnaca, Limassol, Protaras and Ayia Napa, you'll find a plethora of hotels and resorts catering to various budgets.
My personal recommendation? Cavo Zoe Seaside Hotel. Nestled along the stunning coastline of Cyprus, Cavo Zoe Seaside Hotel offers a serene and luxurious retreat for travellers seeking a beachfront escape. The hotel features a collection of beautifully designed rooms and suites, that have just been renovated and have very nice technological touches: you can turn the lights on/off from a panel right by the door or at your bedside table – it's so cool! Also, from the spacious balconies, guests can enjoy panoramic vistas of the sea or the hotel's lush gardens, pools and the sea.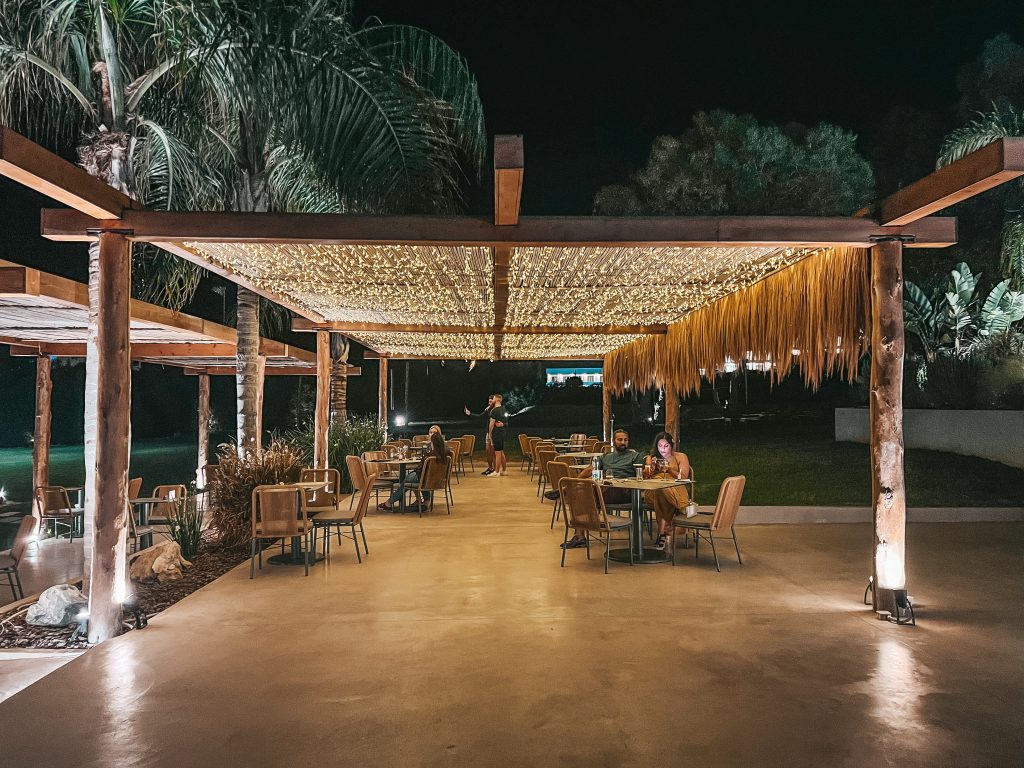 The hotel's attention to detail and personalised service ensure a comfortable and relaxing stay for guests. The friendly and knowledgeable staff is always on hand to assist with any inquiries or requests, creating a warm and welcoming atmosphere. The aesthetic of the hotel overall is incredibly harmonious: every corner has been carefully planed.
Cavo Zoe Seaside Hotel offers a range of amenities to enhance guests' experience. Relax and unwind by the hotel's infinity pool, which seems to merge seamlessly with the azure sea. Indulge in delicious culinary delights at the on-site restaurant, where skilled chefs prepare a fusion of Mediterranean and international dishes using locally sourced ingredients. There's an all-inclusive option which is super high quality and what I enjoyed during my stay.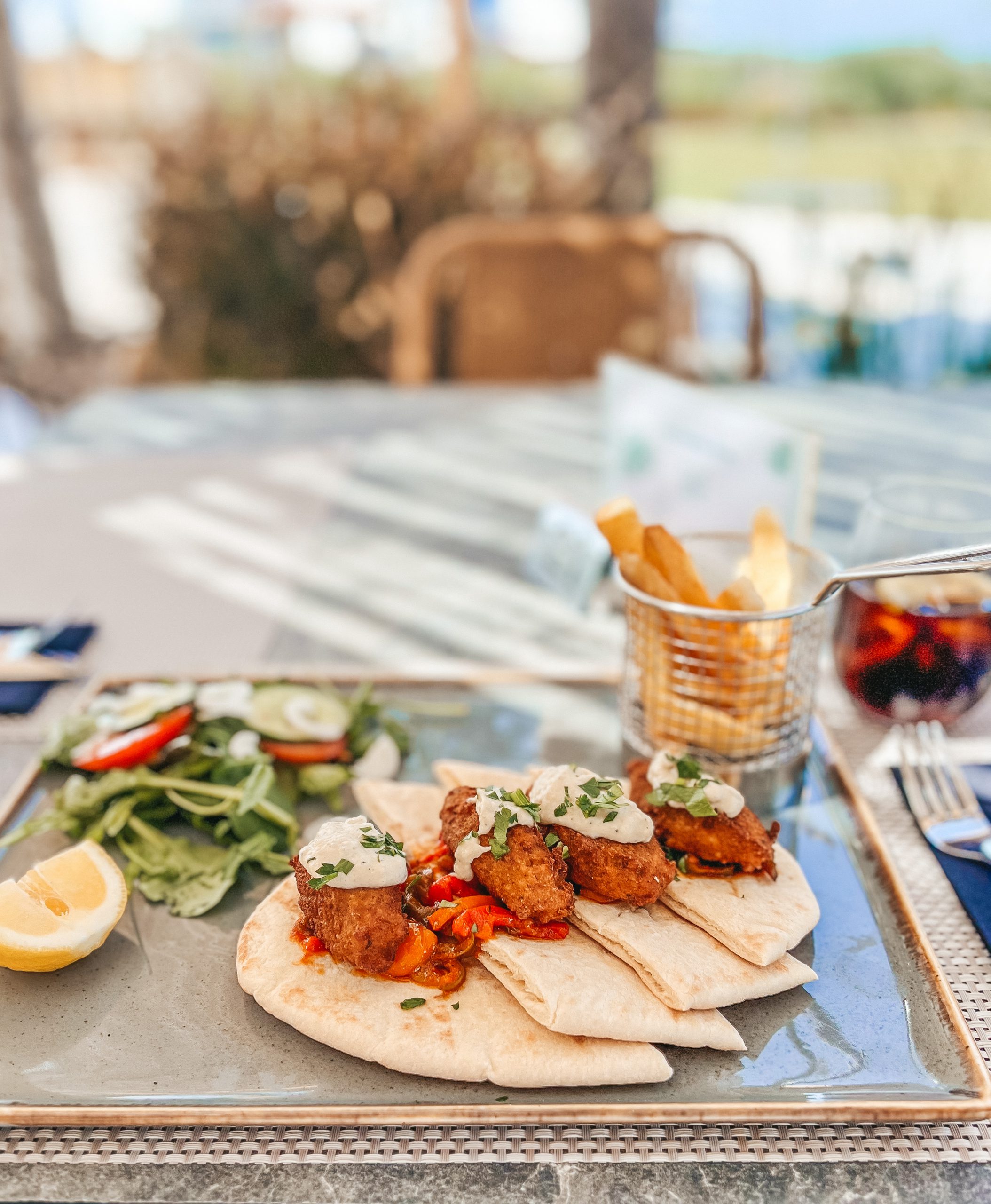 For those seeking rejuvenation, the hotel's spa provides a tranquil sanctuary with a range of treatments and therapies inspired by Cypriot traditions. From soothing massages to invigorating body scrubs, guests can indulge in pampering experiences that leave them feeling refreshed and revitalized.
Whether you're seeking a romantic getaway, a family vacation, or simply a peaceful solo retreat (which is what I did), Cavo Zoe Seaside Hotel provides an idyllic setting and a luxurious experience. You can book Cavo Zoe directly on their website for the best rates or via Booking.com (if that's what you prefer but it will be a bit more expensive – but can also read its great reviews there).
HOW TO GET TO AND AROUND CYPRUS
Cyprus is well-connected to international destinations through its two main airports, Larnaca International Airport and Paphos International Airport. Several airlines offer direct flights from major cities in Europe and the Middle East.
Once you arrive, you can explore the island by renting a car, which provides the freedom to discover Cyprus at your own pace. This is the best way to do it. You can rent your car here.
If you don't drive or don't feel like driving, an extensive network of buses connects major towns and tourist destinations. Taxis and ride-sharing services (like Bolt) are also available for convenient transportation within cities.
BEST CYPRUS TOURS
If you, like me, like being shown around and being taught by those who know, then these are the best reviewed tours:
VISITING CYPRUS: FAQs
How long should I visit Cyprus for?
The duration of your visit to Cyprus depends on your interests and the places you wish to explore. A week-long trip is often sufficient to cover the main highlights of the island, including its archaeological sites, coastal towns, and natural attractions. However, if you have more time, you can delve deeper into the culture and leisurely enjoy the relaxed Mediterranean lifestyle.
What is the best time to visit Cyprus?
The best time to visit Cyprus is during the spring (April to June) and autumn (September to November) seasons when the weather is pleasant, and tourist crowds are relatively lower. Summers (July and August) can be hot and crowded due to peak tourist season.
Do I need a visa to visit Cyprus?
Citizens of many countries, including the United States, European Union member states, Canada, Australia, and New Zealand, do not require a visa for stays up to 90 days. However, it's essential to check the visa requirements based on your nationality before travelling.
What currency is used in Cyprus?
The official currency of Cyprus is the Euro (€).
What is Cyprus known for?
Cyprus is known for its rich history and cultural heritage, beautiful beaches, ancient ruins, delicious cuisine, and warm hospitality. It is also famous for its production of halloumi cheese.
Is English widely spoken in Cyprus?
Yes, English is widely spoken and understood in Cyprus, particularly in tourist areas, hotels, and restaurants. You will generally not face any language barriers.
Is it safe to drink tap water in Cyprus?
Yes, tap water in Cyprus is generally safe to drink. However, some people may prefer to drink bottled water, which is widely available.
What is the local cuisine like in Cyprus?
Cypriot cuisine is a delightful fusion of Mediterranean flavors. Don't miss out on trying traditional dishes such as souvlaki (grilled meat skewers), halloumi cheese, moussaka, and freshly caught seafood.
What is the tipping etiquette in Cyprus?
Tipping in Cyprus is appreciated but not obligatory. It is customary to leave a small tip, usually around 10% of the total bill, for good service in restaurants. It is also common to tip taxi drivers and hotel staff.
VISITING CYPRUS: CONCLUSION
Cyprus, with its diverse landscapes, rich history, and warm hospitality, offers a truly unforgettable travel experience. Whether you're exploring ancient ruins, basking in the sun on golden beaches, or immersing yourself in vibrant local culture, Cyprus will leave you with cherished memories. This ultimate Cyprus bucket list travel guide has highlighted just a few of the countless wonders awaiting you on this captivating Mediterranean island. Embark on your journey to Cyprus, and let its beauty and charm captivate your heart.
Enjoyed this article? Support my work by buying me an oat capuccino. Otherwise, do me a great favor of leaving a comment and following me on Instagram (@travelwithpau). Feel free to say 'Hello!' I don't bite. And make sure you save the article for later!

This post contains affiliate links. If you click on one and make a purchase, I might make a small commission, at no extra cost to you in order to help support my blog.