Welcome to Edinburgh, a city that effortlessly blends ancient history with vibrant modernity. From its iconic castle perched atop a volcanic rock to its lively festivals and captivating architecture, Edinburgh has something for every traveller. That's why it's loved by so many, this city is b-u-s-y. Whether you're exploring its historic streets, immersing yourself in its rich culture, or savouring its culinary delights, this Scottish gem promises an unforgettable adventure. Get ready to dive into the heart of Edinburgh with this ultimate travel guide.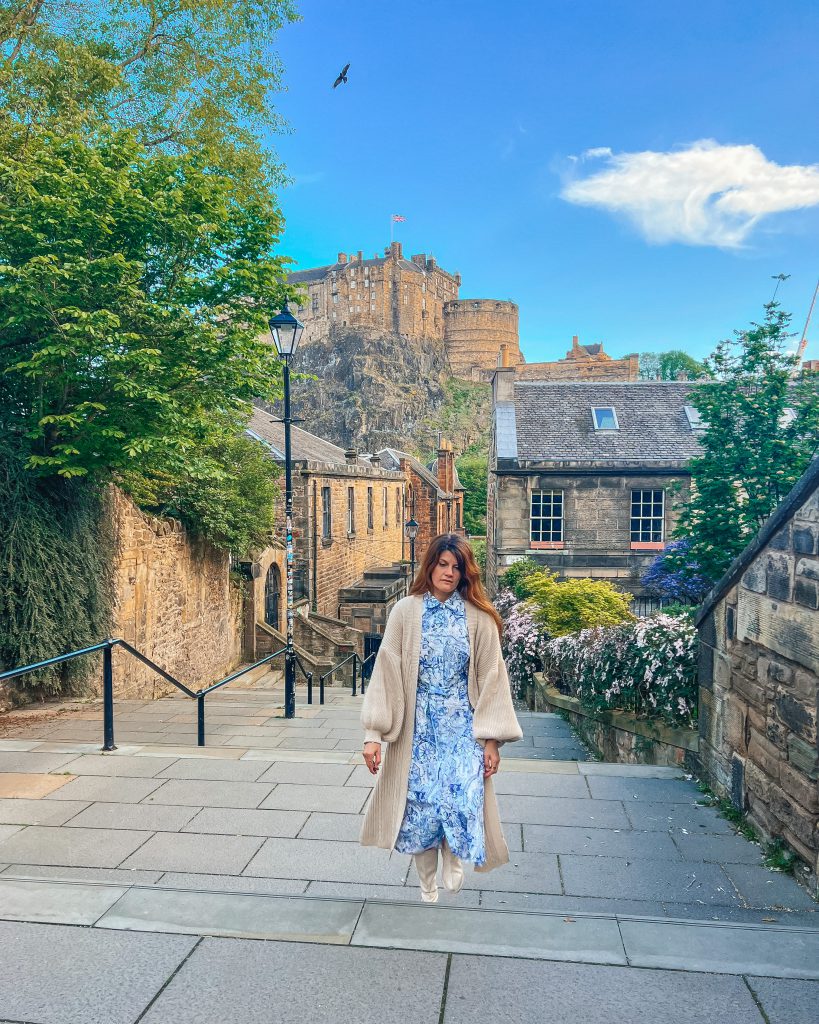 WONDERFUL THINGS TO DO IN EDINBURGH
Discover Hidden Gems in the Old Town
Edinburgh is one of the cities where I'd say a walking tour is a must, specially in order to discover the hidden treasures of Edinburgh's Old Town. You'll wander through narrow closes and winding streets, capturing the charm and character of this UNESCO World Heritage site. Why not frame unique doorways, architectural details, and picturesque alleyways in your photos? Book a walking tour here.
Capture Memories at Edinburgh Castle
Step into history and capture breathtaking views at Edinburgh Castle. Take a selfie with the grand fortress as your backdrop, explore the Great Hall, and be awe-inspired by the Crown Jewels. Don't miss the One O'Clock Gun firing, a moment worth recording. The ticket it's expensive, but it's worth the price! Book it here.
Wander Along the Royal Mile
Embark on a captivating journey along the historic Royal Mile. Immerse yourself in the bustling atmosphere, snap photos of iconic landmarks, and browse through charming shops. Get a shot of the famous St. Giles' Cathedral or pose with street performers for a fun-filled memory. Look out for Lady Stair's Close where the Writers' museum is and White Horse Close which is a striking spot. There are also lots of tourist shops if you're after a souvenir. A favourite on The Royal Mile is the Fudge Kitchen which does incredible fudge.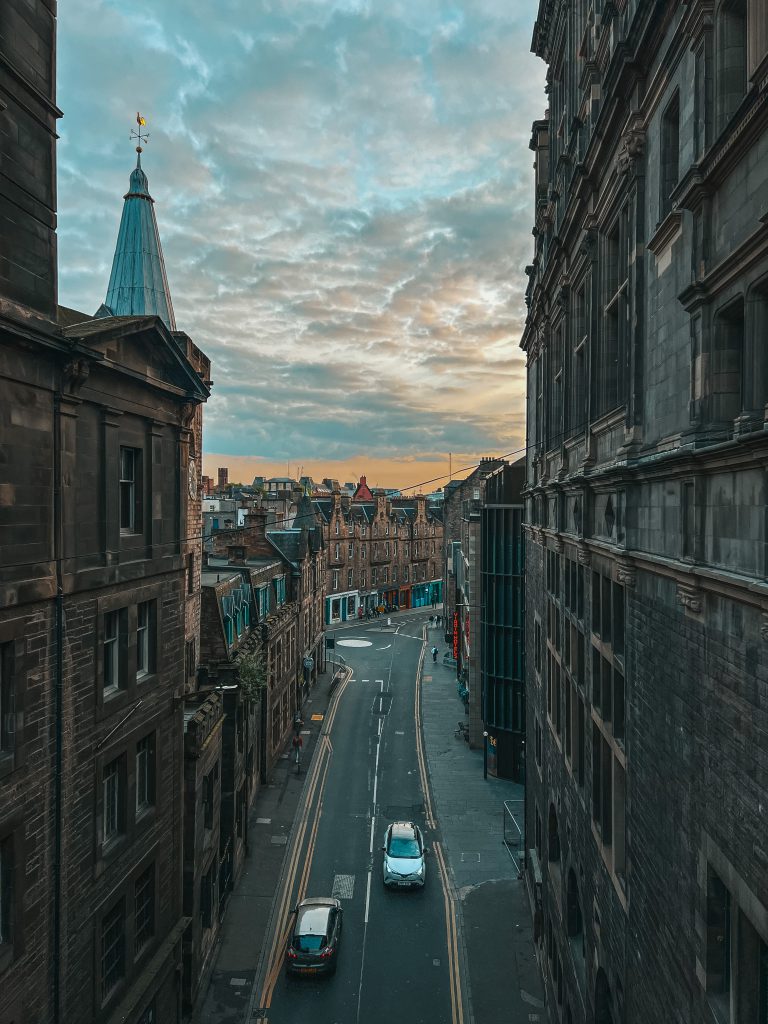 Fall in love with Victoria St
Curving down from George IV Bridge down to the Grassmarket, Victoria Street needs to be high on your agenda in Edinburgh. Probably one of Edinburgh's most well known streets, the brightly coloured shops & cafes pop brightly in contrast to the gothic grey architecture of the city's Old Town. Harry Potter fans should know that Victoria Street is said to be one of the inspiration's for Diagon Alley in JK Rowling's novels. There's even a Harry Potter shop on the street for all of your wizarding gifts. If you are a Harry Potter fan, you definitely need to take this tour.
Conquer Arthur's Seat
Ready for a challenge? Hike up Arthur's Seat and revel in the stunning views of Edinburgh and its scenic surroundings from the summit. Take a careful but epic selfie from the top, celebrating your conquering spirit and the mesmerising beauty of the natural landscape. Please make sure you wear appropriate footwear because it is more strenuous than a lot of people think.
Take a day trip to the Scottish Highlands & beyond!
Edinburgh is great place to explore more of Scotland, whether you do it by yourself or join a tour. From the city centre, you can hop on a train to the lovely town of North Berwick which is right by the seaside for a beach walk. If you're an Outlander fan then you can take this tour. If you want to visit the Scottish Highlands, this tour is a great option. Last, I really do recommend visiting the Hebrides which are an archipelago off the west coast of the Scottish mainland. The best way is to get a car and explore them on your own, noting it does require a bit of logistics (booking ferries with a car reservation). Alternatively, this tour takes you to the Isle of Skye & the Highlands so it might be a great option for you!
Feel the Magic of the Edinburgh Festival Fringe
Ah the Fringe, that thing I didn't pay any attention to until I went. And oh boy, it's incredible! If you are lucky enough to manage to make it, you'll immerse yourself in the vibrant atmosphere of the world's largest arts festival. Street performances, comedy acts, and theatrical showcases all day is what's in store! I think I did 16 shows in a single day. Crazy right?
Attend a Candlelight Concert
If Fringe isn't on, what's a better way to top up an evening than attending a concert in the Candlelight? These are always going on, and there's many to choose from depending of what you are into. Book it here.
Experience Whisky Tasting
Indulge in the flavours of Scotland by doing the whisky tasting experience. Savour the golden liquid and capture the essence of Scotland's famous drink. A must when visiting the city is to enjoy a glass of fine whisky, creating a memory that epitomises the spirit of Edinburgh. Book the original whisky experience here.
Immerse Yourself in History at the National Museum of Scotland
Delve into Scotland's rich history and culture at the National Museum of Scotland. Explore its diverse exhibits, from ancient artefacts to modern art installations and enjoy the symmetry of the Grand Gallery. Learn about Scottish inventions, traditions, and the country's contributions to science and technology. The Museum also has a secret roof terrace which has excellent views across South Edinburgh and towards Edinburgh Castle and Arthur's Seat. In dry weather it's a great (and free) place to come and spend some time resting and enjoying the city view.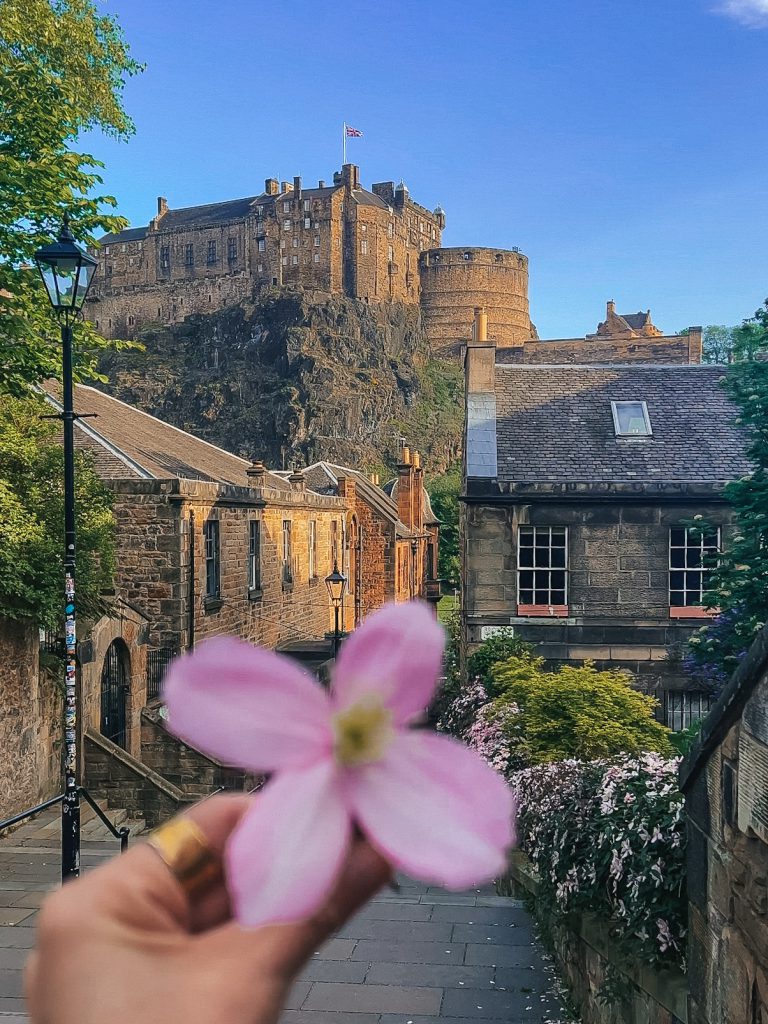 Discover the Secrets of the Royal Botanic Garden
Escape the hustle and bustle of the city and find tranquillity in the Royal Botanic Garden. Explore the lush greenery, vibrant flower displays, and serene ponds. Take a moment to connect with nature, breathe in the scents of the gardens, and photograph the beauty that surrounds you.
Visit the Palace of Holyroodhouse
Step into the official residence of the British monarch in Scotland, the Palace of Holyroodhouse. Marvel at the splendid architecture, stroll through the historic State Apartments, and explore the beautiful gardens. Book your ticket here.
Delight Your Taste Buds on a Edinburgh Food Tour
Embark on a culinary adventure through Edinburgh's vibrant food scene. Join a food tour to indulge in traditional Scottish dishes, sample local delicacies, and explore bustling markets. From hearty Scotch broth and smoky haggis to buttery shortbread and indulgent Cranachan, the flavours of Scotland will captivate your taste buds. Discover hidden culinary gems and savour the rich and diverse flavours that make Edinburgh a food lover's paradise. Book it here.
Lose Yourself in the Charm of Dean Village
Escape to the picturesque Dean Village, a hidden gem nestled within the city. Wander along the quaint streets, admire the well-preserved architecture, and capture the timeless beauty of the area.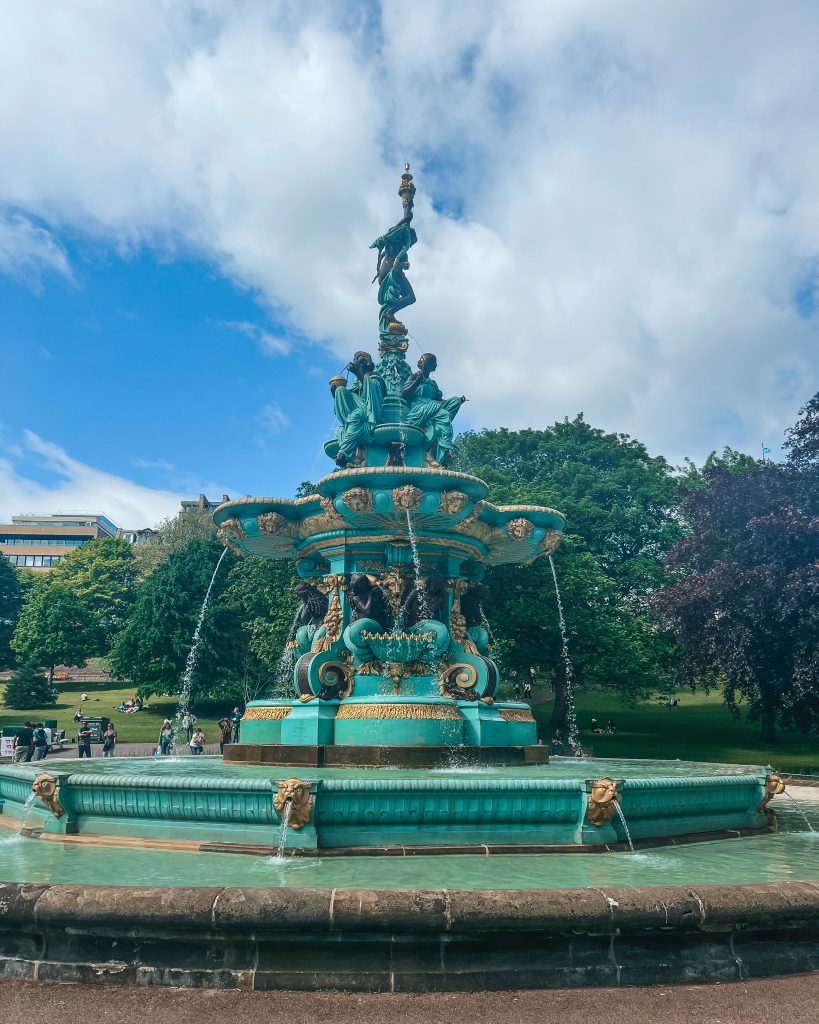 Step into the enchanting world of Circus Lane
Edinburgh's prettiest street, Circus Lane is very close to the Dean Village and worth a little detour to discover this picturesque corner tucked away in Edinburgh's New Town. Wander along the charming cobbled street lined with colorful Georgian houses adorned with vibrant flowers and lush greenery.
Take a trip to South Queensferry
Get to South Queensferry on the north side of Edinburgh to get a breath of fresh sea air. Buses in Edinburgh are really great way to get about the city if the streets have taken their toll on your feet. Bus 43 runs from Edinburgh city centre out to South Queensferry. Admire its lovely high street with colourful cottages and feel like you are in a seaside village. Plus from the seaside here you can see the impressive structures of all three of the bridges that span the Firth of Forth spanning three centuries and three architectural structures.
WHAT AND WHERE TO EAT AND DRINK IN EDINBURGH
I'd imagine where & what to eat is definitely on your mind! Of course, try haggis but why not eat like a local and visit some of the city's best restaurants? If I only had one day in Edinburgh, I'd go to the Edinburgh Larder for breakfast, OINK for lunch, Cairngorm Coffee for a latte, Cold Town House for a beer and The Bon Vivant for dinner.
If you want a full list of recommendations, here are my personally curated Google Maps lists for: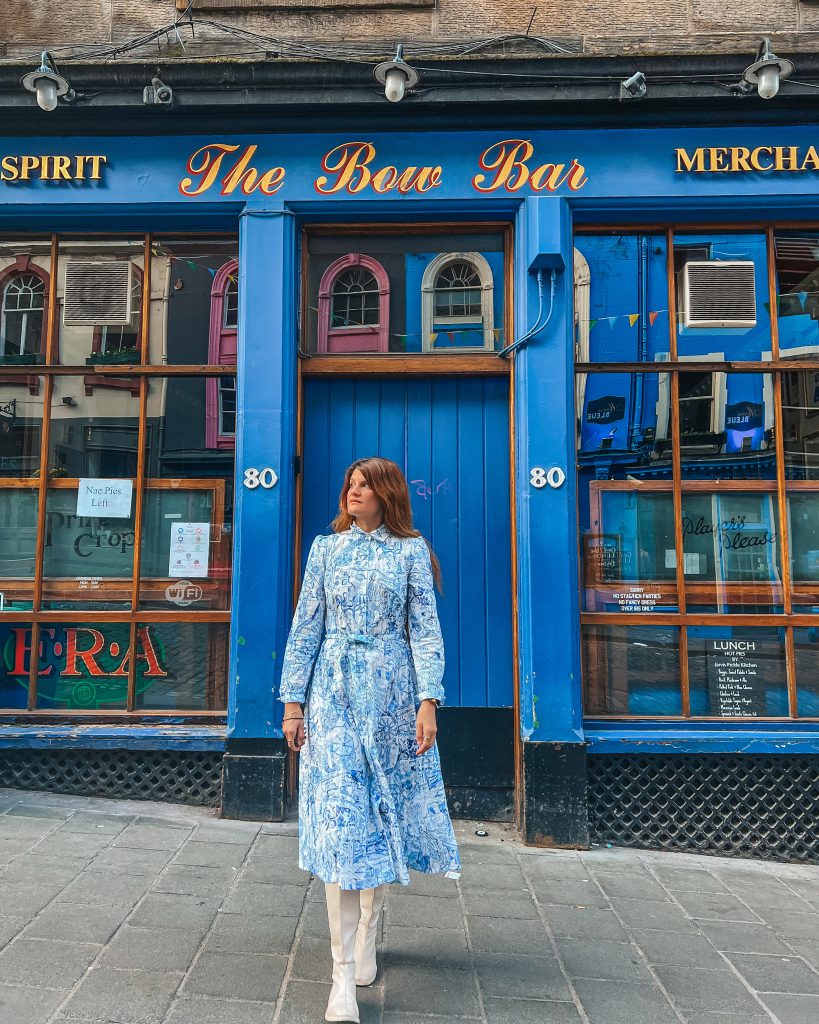 WHERE TO STAY IN EDINBURGH
Edinburgh offers a range of accommodations to suit every traveler's needs and preferences. Whether you're looking for luxurious hotels, cosy bed and breakfasts, or budget-friendly hostels, the city has it all. I'll link the best hotels for you to choose from on the different neighbourhoods below, which are the ones I recommend.
HOW TO GET TO AND AROUND EDINBURGH
Getting to Edinburgh:
Getting around Edinburgh: Getting around Edinburgh once you're in the city is easy and convenient. The best way to explore the city center and its attractions is on foot. Many of the main landmarks, such as Edinburgh Castle, the Royal Mile, and Princes Street, are within walking distance of each other. If you prefer not to walk, the city has an extensive bus network operated by Lothian Buses, providing convenient transportation to various neighborhoods and attractions. Taxis and ride sharing apps such as Uber & Bolt are also readily available throughout the city for quick and comfortable rides. Additionally, Edinburgh offers a reliable and efficient tram system, with stops at key points, making it a convenient option for getting around. Whether you choose to walk, take a bus, or hop on a tram, navigating Edinburgh's vibrant streets is a delightful experience.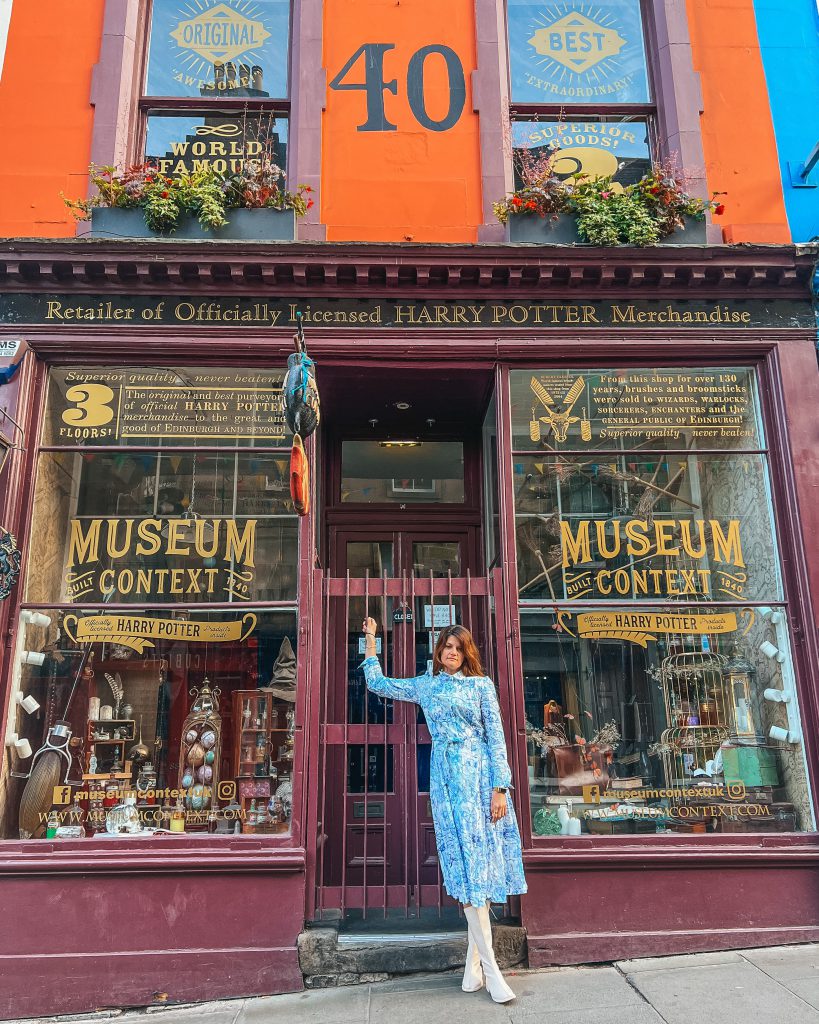 VISITING EDINBURGH FAQs
When is the best time to visit Edinburgh? The best time to visit Edinburgh is during the summer months, from June to August, when the city comes alive with festivals and events. However, the shoulder seasons of spring (April to May) and autumn (September to October) offer milder weather and fewer crowds if you don't mind missing the Fringe.
How long should I visit Edinburgh for? To fully experience Edinburgh's highlights and immerse yourself in its culture, we recommend spending at least 3 to 4 days in the city. This will give you enough time to explore the iconic landmarks, wander through the charming streets, and even take day trips to nearby attractions like the Scottish Highlands.
What's the best thing to do in Edinburgh? While it's difficult to pick just one, a must-do in Edinburgh is to visit the iconic Edinburgh Castle & walk the Royal Mile.
How do I book tours in Edinburgh? You can browse and book all Edinburgh tours here.
Is it necessary to book tickets in advance for attractions? It's highly recommended to book tickets in advance for popular attractions, especially during peak tourist seasons. This will help you skip the long queues and ensure entry to attractions like Edinburgh Castle, the Royal Yacht Britannia, and the Palace of Holyroodhouse. Most tickets can be booked here.
Is the city walkable? Yes, Edinburgh is a very walkable city, particularly in the central areas. The main attractions, shops, and restaurants are within walking distance of each other. However, be prepared for some uphill climbs, stairs and uneven surfaces, especially in the Old Town. Comfortable walking shoes are essential, the cobblestones can be slippery.
Are there any day trips from Edinburgh worth considering? Absolutely! As mentioned earlier, Edinburgh serves as a great base for exploring the stunning Scottish countryside. Consider taking a day trip to the Scottish Highlands, visiting Loch Ness, or exploring the picturesque villages along the Fife coast. St. Andrews, known for its golfing heritage, is also within easy reach for a day trip. Find some guided day trips here.
9. What food is Edinburgh known for? Edinburgh, and Scotland in general, is well known for a dish known as Haggis. This is often served with a full Scottish breakfast, but can also be ordered as a meal or as a burger topping. Whilst the ingredients list can be a bit terrifying, it is actually a delicious dish that is well worth trying while in the city.
10. What are some hidden gems to see in Edinburgh? About twenty minutes walk south of the city centre there's an awesome venue called Summerhall. They host a range of live events throughout the year, as well as during Edinburgh's famous festivals. It's also home to both a gin distillery and a microbrewery. Tours of the former are possible, and you can try them both on site as well!
BEST EDINBURGH TOURS
If you, like me, like being shown around and being taught by those who know, then these are the best reviewed tours: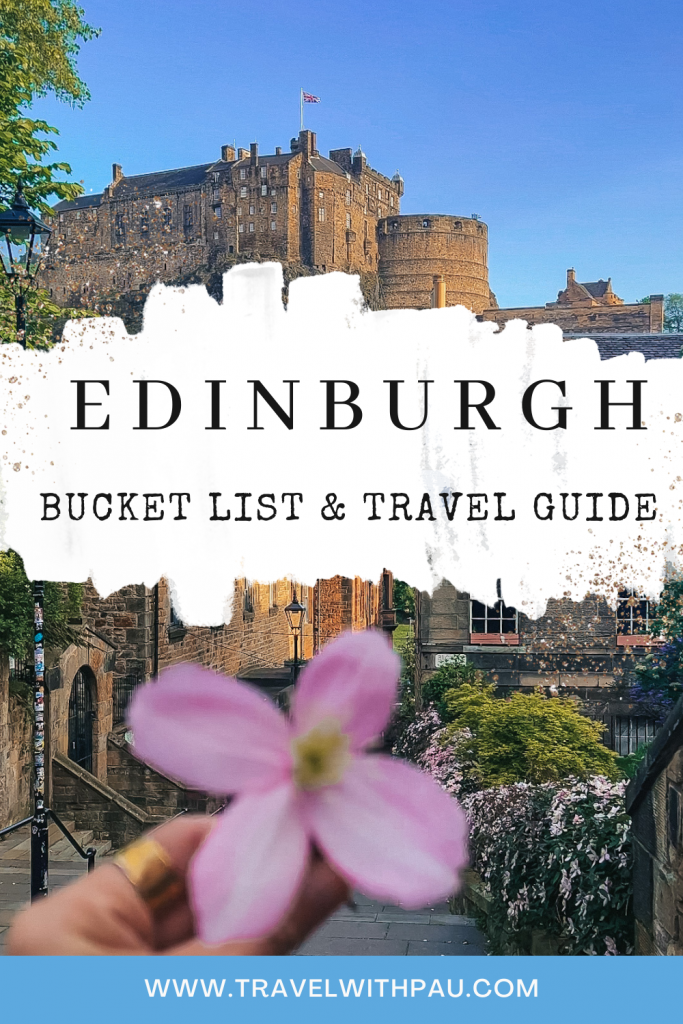 Enjoyed this article? Support my work by buying me an oat capuccino. Otherwise, do me a great favor of leaving a comment and following me on Instagram (@travelwithpau). Feel free to say 'Hello!' I don't bite. And make sure you save the article for later!

This post contains affiliate links. If you click on one and make a purchase, I might make a small commission, at no extra cost to you in order to help support my blog.