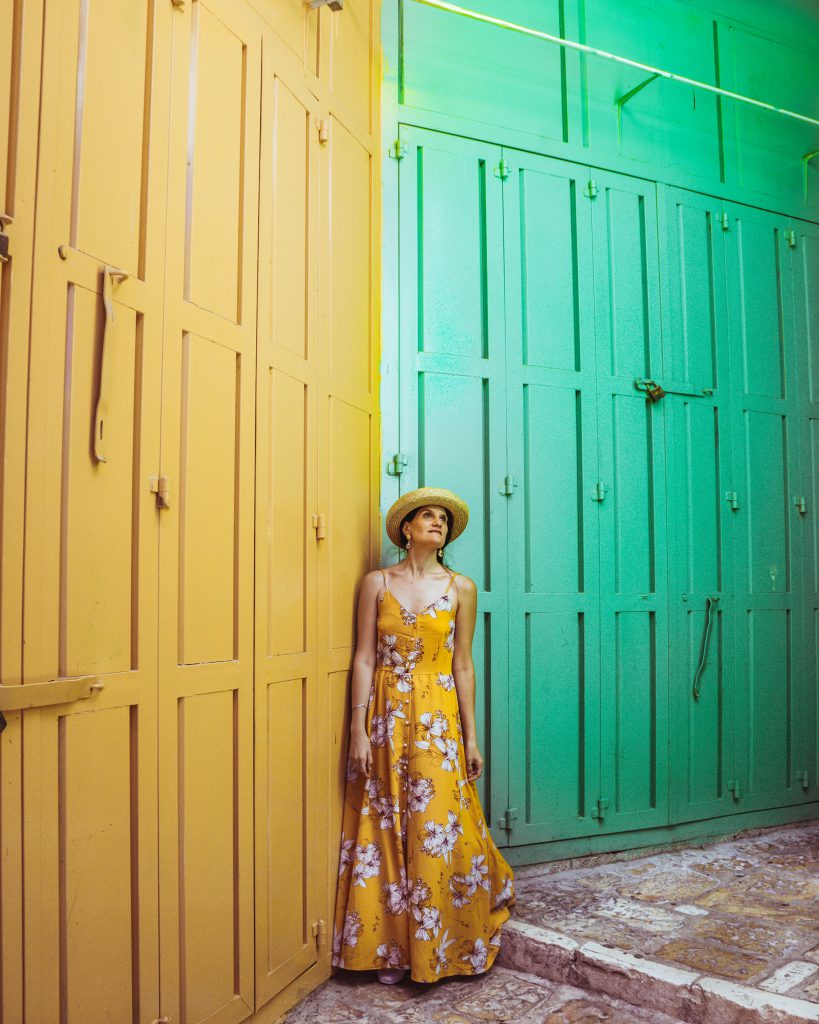 Jerusalem is one of the must visits of Israel, specially for those interested in religion. I was raised as a Christian (although now agnostic) and many of the sites to visit in the city resonated with what I learned as a child from the Bible. It's also pretty crazy how different religions interact together in this city: Christianity, Islam, Judaism, and others.
In this post I'll walk you through what to visit in Jerusalem in a short time, as well as various recommendations on where to stay, how to get to and around the city.
Things to do in Jerusalem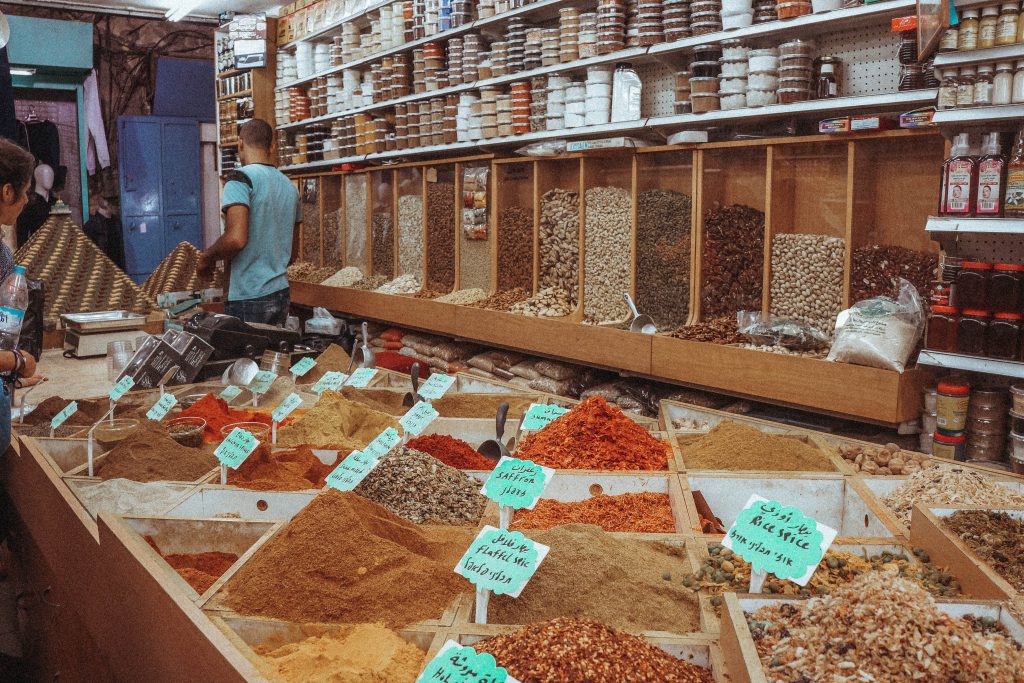 Explore Jerusalem's Old City
Let's be honest, the old city is really why you came to Jerusalem on the first place. This is the main attraction within Jerusalem and the one that deserves most of your time. As such, there are probably hundreds of things to see in Jerusalem's Old City but I include a few essential ones below:
Take a tour of the Old City: the Old City is as good as the history that comes with it. Unless you are a historian or are visiting with a guide you'll need a tour to set the scene. I recommend that you book this one.
The Western Wall: this is one of the main attractions of Jerusalem's Old City. The Western Wall surrounds the Temple Mount one of the holiest places in Jerusalem. As Jewish people are not permitted in the Temple Mount, this is the next best place from them to pray in. To go to the wall men and men are separated. It's quite an experience to see people pray in the wall, some rocking back and forth, some placing papers between the rocks. I recommend that you do the Western Wall Tunnels tour when you are visiting the Wall but you need to book it in advance.
The Temple Mount and Dome of the Rock: this site has been venerated in history by Christians, Jewish and Muslims alike. Today the Temple Mount is the third holiest site for Muslims after Mecca and Medina. In Muslim tradition, this is where the Prophet Mohammed made his "night journey" to the throne of God. In the seventh century, when Muslims conquered Jerusalem, they built the Dome of the Rock as well as the Al-Aqsa Mosque. It is important to note that there are various restrictions to visit: it is only open at specific times of the day, it is closed Friday & Saturday and visitors cannot bring any sacred Jewish objects. Also, as a woman you need to be dressed very modestly or you'll be asked to cover up with garments they provide. Last, unless you are muslim, do not attempt to enter any of the structures in it.
Church of the Holy Sepulcher: the church contains the two holiest sites in Christianity: the site where Jesus of Nazareth was crucified and Jesus's empty tomb, where he is said to have been buried and resurrected. Entry is free.
Tower of David (Citadel): this ancient citadel in Jerusalem which contains important archeological findings from multiple periods, some which are 2000 years old.
Old City Market (Arab Souk): the Arab market is located in the Christian and Muslim Quarters of the Old City and is an intricate labyrinth of alleyways lined with shops selling everything from handmade jewelry and exotic scarves to hookahs, spices and ceramics.
Via Dolorosa: a processional route within Jerusalem's Old City, believed to be the path that Jesus walked on the way to his crucifixion. The winding route is 600m and extends from the Antonia Fortress west to the Church of the Holy Sepulcher and it is marked by the Stations of the Cross.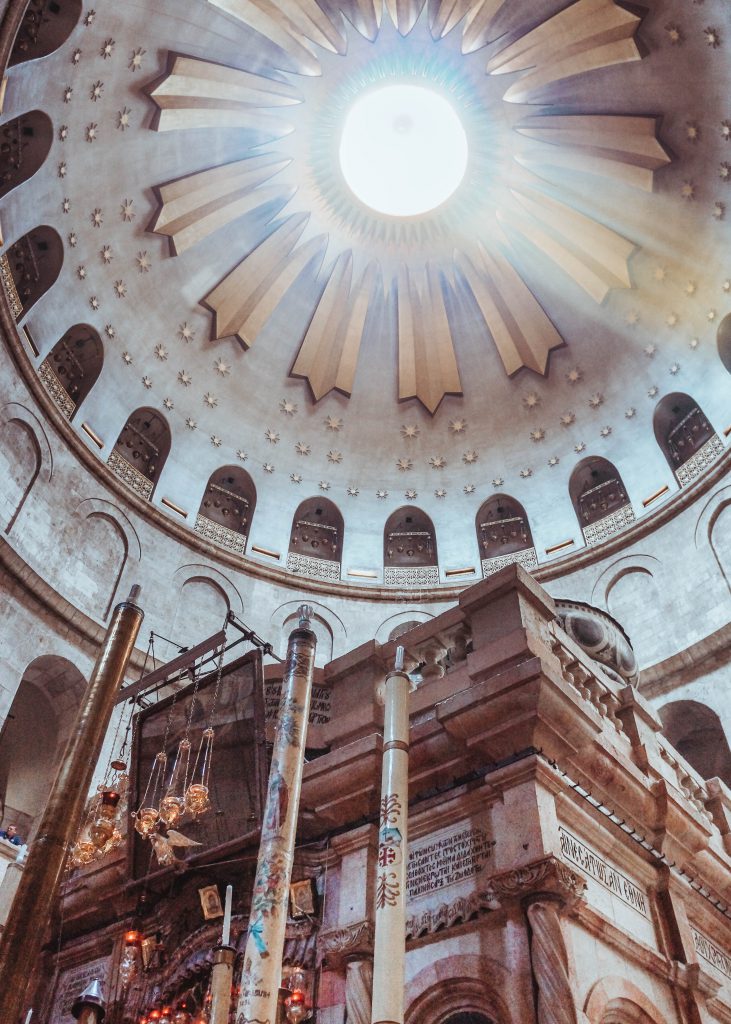 Visit Machane Yehuda Market
This market in Jerusalem, often referred as the "shuk" has over 250 vendors selling fresh fruits and vegetables; baked goods; fish, meat and cheeses; nuts, seeds, and spices; wines and liquors; clothing and shoes; and housewares, textiles, and Judaica. In and around the market you'll find falafel, shawarma, kibbeh, kebab, shashlik, kanafeh, baklava, halva, zalabiya and Jerusalem mixed grill stands, juice bars, cafes, and restaurants. You'll also find new more trendy stands selling modern or international foods such as sushi, woks, burgers, craft beer, etc. There are also various bars which means nightlife is also part of this market. Visiting the market on a Thursday night right before Shabbat is fun, the market is most alive as this time with everybody either shopping or having a good time right before going quiet.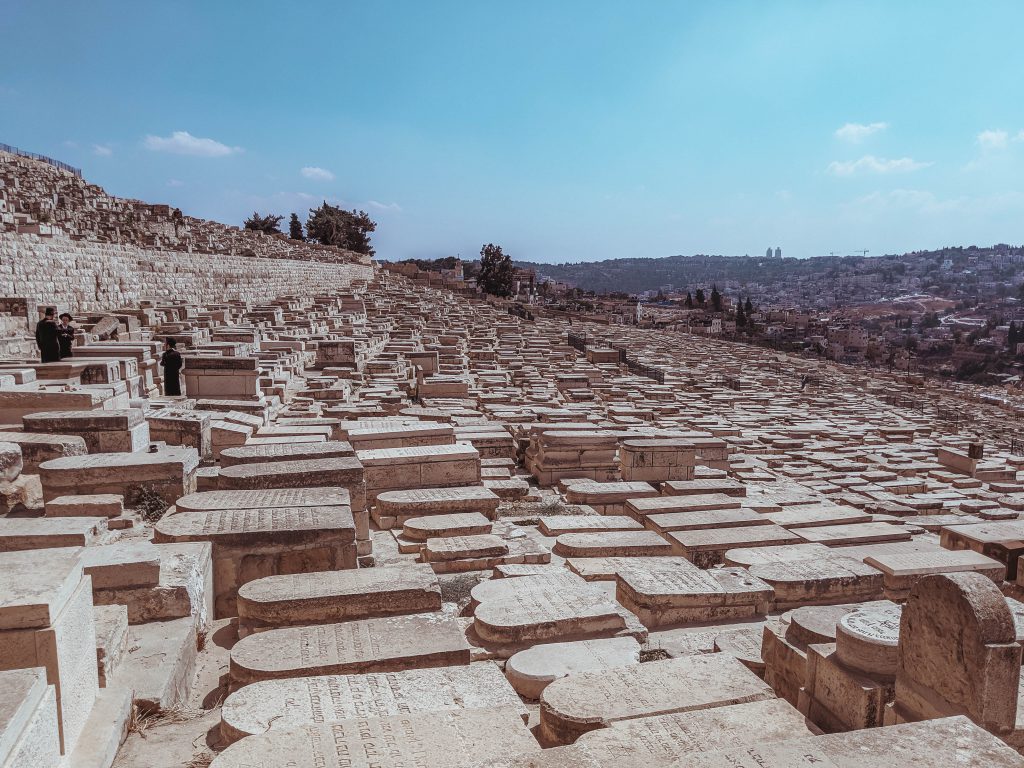 Walk around the Mount of Olives
The Mount of Olives is a mountain ridge adjacent to the Old City of Jerusalem. The mount has been used as a Jewish cemetery for over 3,000 years and holds approximately 150,000 graves. Several key events in the life of Jesus, took place on the Mount of Olives. It is also described as the place from which Jesus ascended to heaven. Known landmarks within the mount are the Gethsemane and the Church of Maria Magdalene. You can easily get to the mount by foot from the Old City.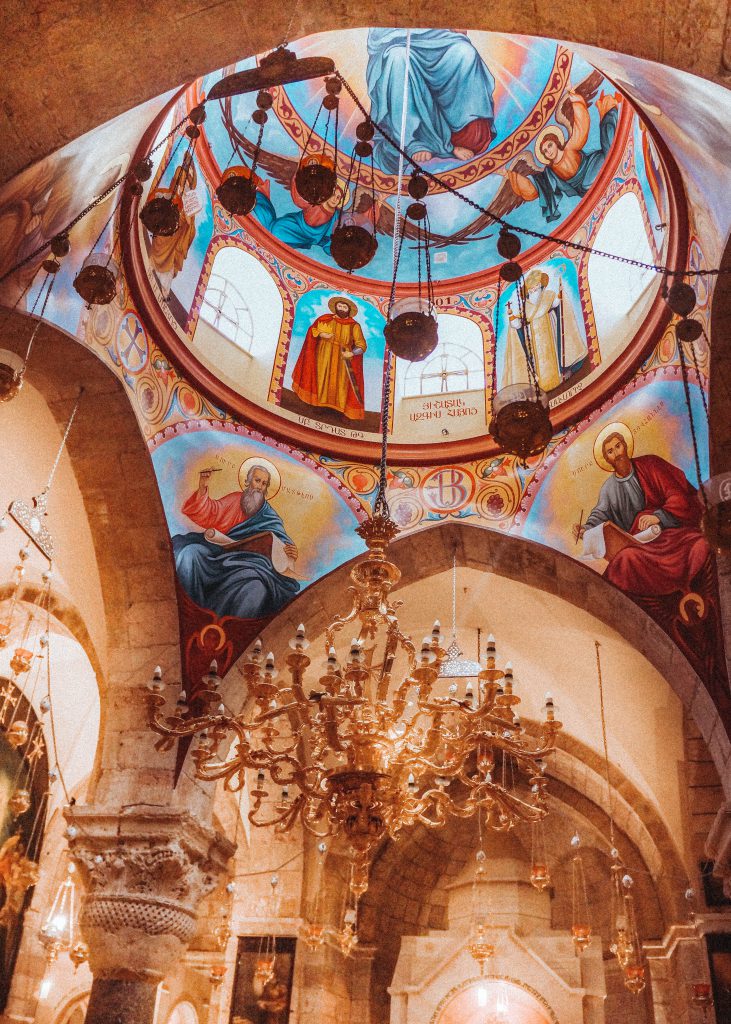 Take the Best of the West Bank Tour
Want to benefit from Jerusalem's proximity to Palestine to see it? If so, don't miss out on doing this tour which takes you to Jericho, Ramallah & Betlehem among other stops and provides another side to the story of the Israeli-Palestine conflict. You can learn more about it here.
Ascend Mount Zion & visit the Cenacle
Mount Zion is the highest point in ancient Jerusalem, is the broad hill south of the Old City's Armenian Quarter. Several important Christian events are likely to have occurred in Mount Zion, among them the Last Supper of Jesus and his disciples, and the coming of the Holy Spirit on the disciples. Both are believed to have been on the site of the Cenacle. King David's Tomb is also in Mt Zion and is an important place of worship for Jews. A lot happened in Mount Zion, so it is best visited with a tour so you can know more about the history of this place.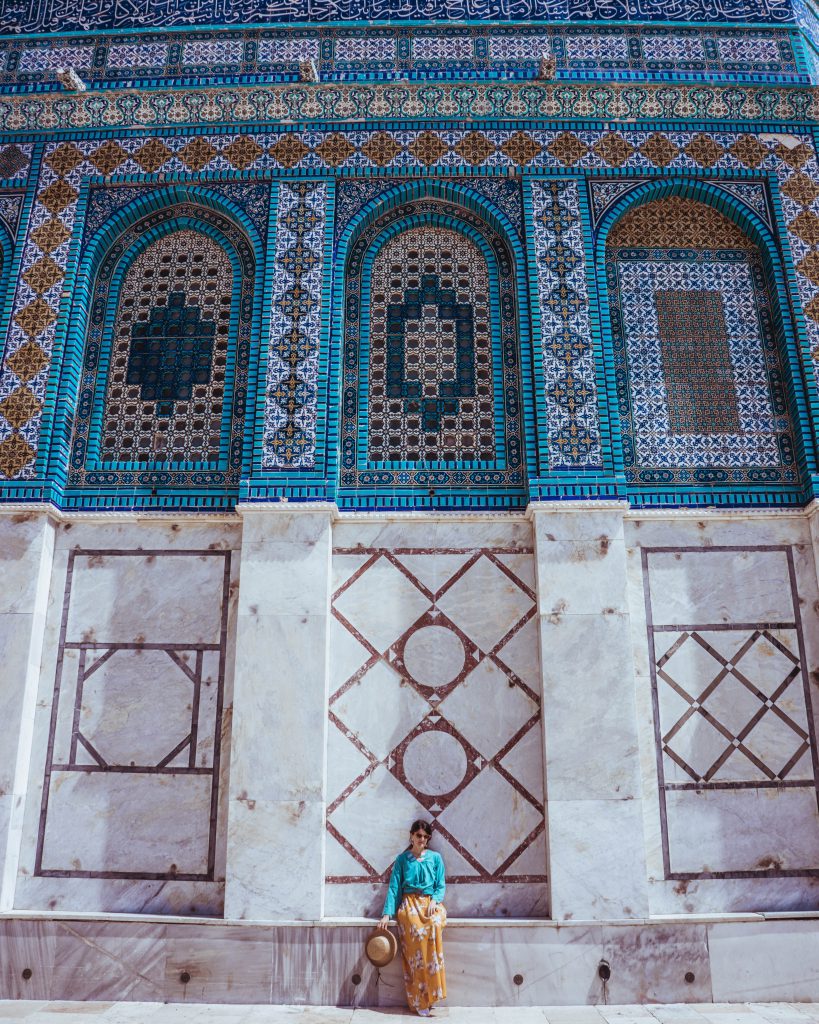 Visit Yad Vashem
Yad Vashem is Israel's official memorial to the victims of the Holocaust. It is dedicated to preserving the memory of the dead; honoring Jews who fought against Nazi oppressors and Gentiles who aided Jews in need; and researching the Holocaust phenomenon and genocide in general, with the aim of avoiding such events in the future. Yad Vashem is situated on the Mount of Remembrance in Jerusalem and you can reach it by bus, train or via a tour.
How to dress for Jerusalem
Jerusalem's main attractions are religious sites and as such it's smart to dress modestly. Women should wear preferably lose skirts or pants over the knees as well as 3/4 sleeves. It's going to be very hot so find yourself a nice and light maxi dress. Men need not worry.
Where to stay in Jerusalem
I stayed in three completely different accommodations in Jerusalem with completely different styles:
Golda Jerusalem
Golda Jerusalem was the first hotel I stayed in. I stayed in the Pink Apartment which was Instagram heaven! The apartment has modern decoration with lots of pink details. It has a fully equipped kitchen, two double beds, a TV, AC, espresso machine and a balcony with a beautiful view. It's perfect for a family or friends/couples and worthy of an Instagram photoshoot. Complimentary fruits, cookies and milk are provided on check-in. The location is perfect close to trendy restaurants and a short walk from the Old City. You can book the Pink Apartment or any of the Golda Jerusalem apartments here.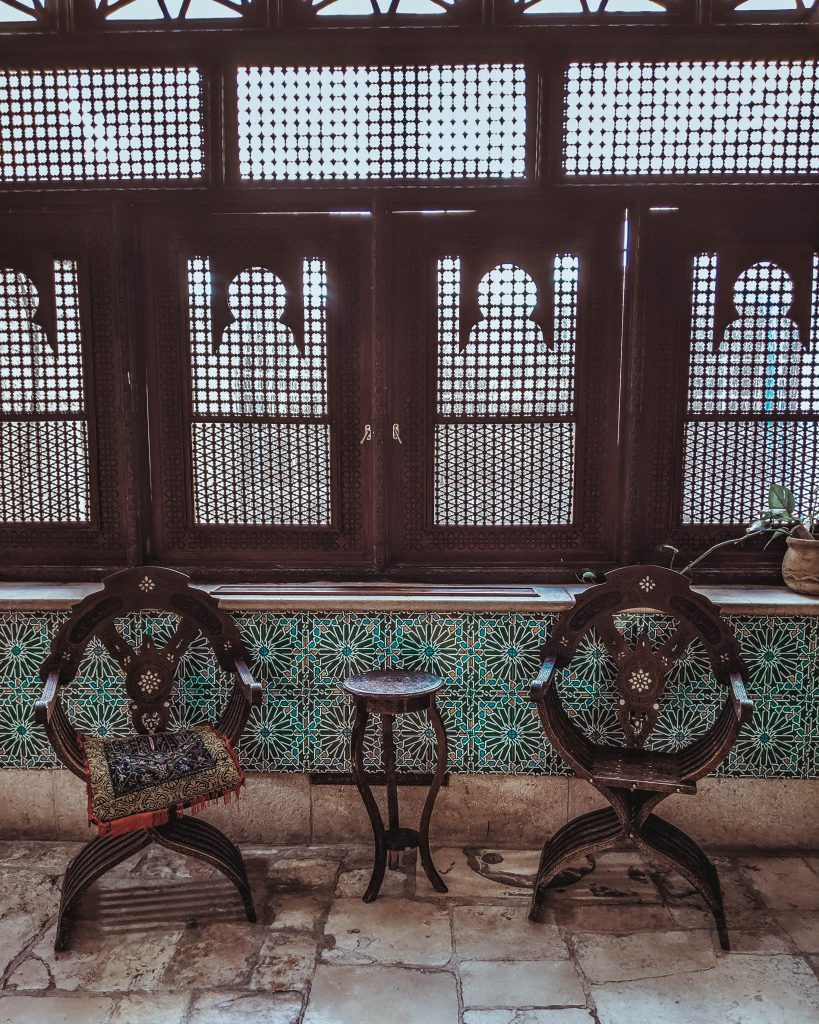 The Jerusalem Hotel
The Jerusalem Hotel where I stayed second was one-of-a-kind. This family run hotel was a Byzantine church, a police station and a school before becoming a hotel. Today the hotel is decorated in an Islamic & Andalusian style, with every piece of furniture being hand carved and truly unique. The Jerusalem Hotel rooms are spacious and equipped with AC, TV, a kettle with tea and coffee and mine had a balcony overlooking the Old City. Breakfast in its beautiful front terrace is included, and the same area works as a restaurant at night. The location is also perfect as it's right outside Damascus Gate, so it's perfect for visiting the Old City. You can book The Jerusalem Hotel here.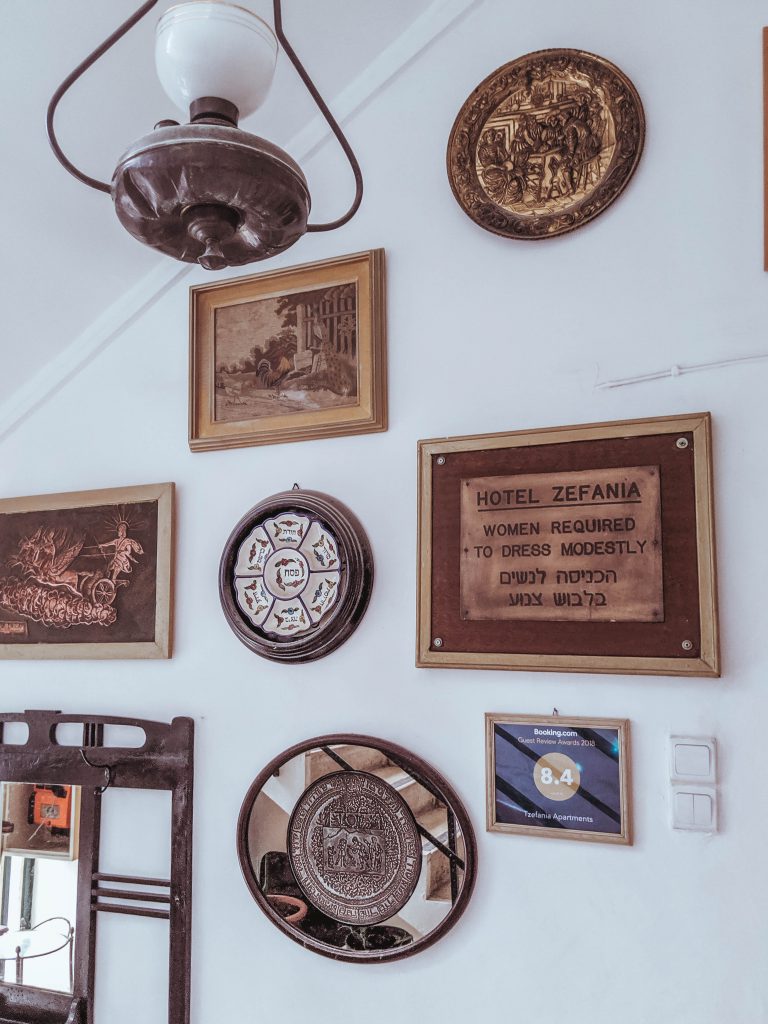 Tzefania Apartments Hotel
Tzefania ApartHotel is a long-standing establishment of Jerusalem. Founded as early as 1947, Tzefania ApartHotel has been run by three consecutive family generations. The rooms are a mix of new and old, with a modern layout mixed with antique decorative items. Rooms are equipped with a kettle, tea/coffee and a microwave. The common areas of the hotel look like a museum, with pieces of antique Jewish art & memorabilia displayed allover which add to its charm. One of the best things about Tzefania ApartHotel is that it's located in Geula neighborhood, an ultra orthodox neighborhood in Jerusalem, which makes staying there quite an experience. You must dress modestly though, or you might disrespect the local residents. As it's quite affordable, Tzefania ApartHotel is great value-for-money. It might not be super close to the Old City but it's still within walking distance. You can book Tzefania ApartHotel here.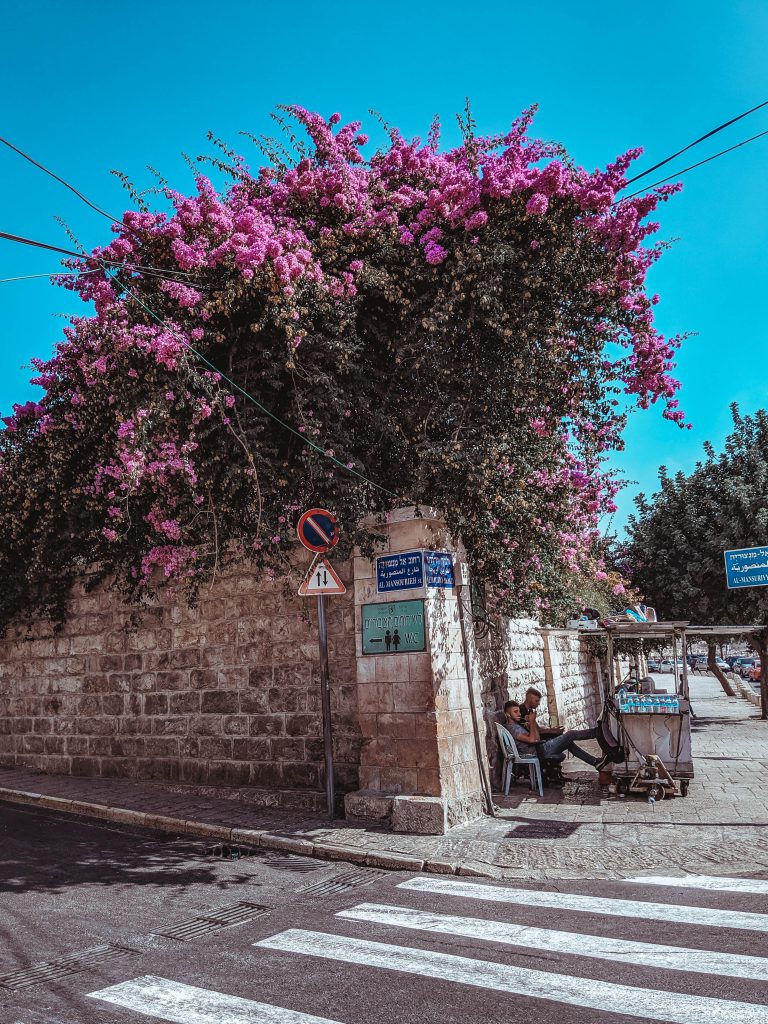 How to get to and around Jerusalem
To get to Jerusalem, catch a flight to Ben Gurion Airport in Tel Aviv. Get the cheapest flights to Tel Aviv using Momondo and Skyscanner. From the airport, there is public transport to Jerusalem every day except on Shabbat where you'll have to take a taxi or a shared shuttle (Nesher Sherut).
Within Jerusalem the best way to get around is by foot. If you have to go somewhere a bit further a way then you can use the bus system or take a taxi. The best way to order a taxi in Israel is using the Gett app, get up to £15 off by adding promo code GTLEOYF.
Enjoyed this article? Support my work by buying me an oat capuccino. Otherwise, do me a great favor of leaving a comment and following me on Instagram (@travelwithpau). Feel free to say 'Hello!' I don't bite. And make sure you save the article for later!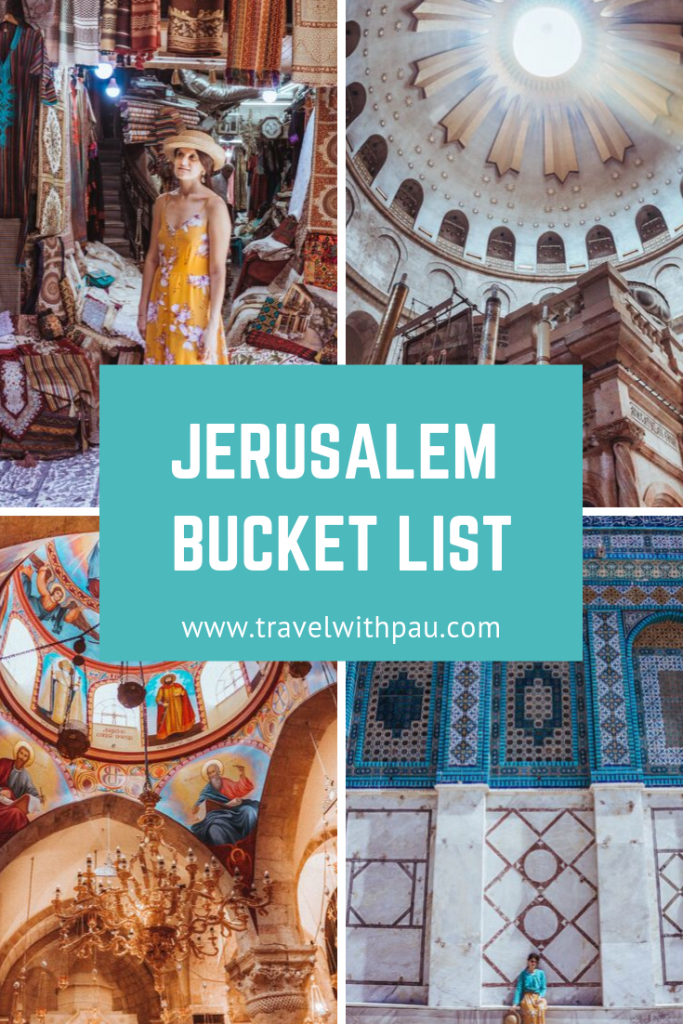 This post contains affiliate links. If you click on one and make a purchase, I might make a small commission, at no extra cost to you in order to help support my blog.