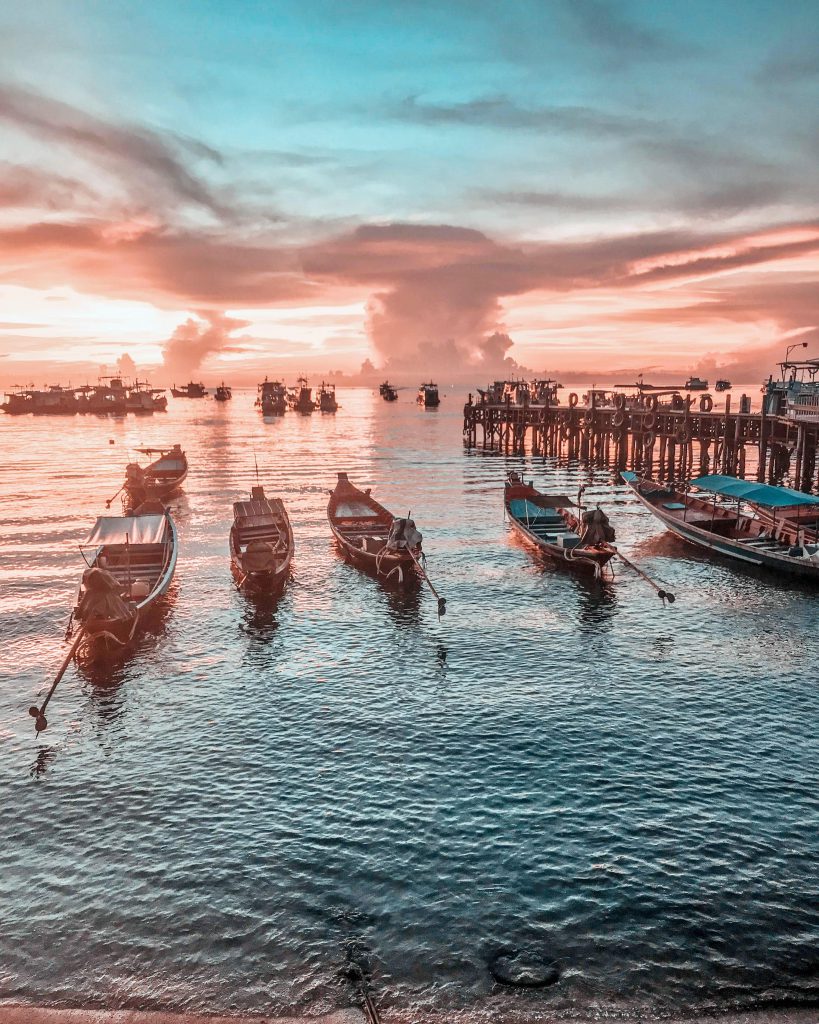 Koh Tao was my favourite island in Thailand. I loved all of them, but Koh Tao has a perfect size, beautiful beaches, outstanding diving and snorkeling, as well as the perfect amount of partying – there is some but it's not at the crazy annoying level. These are my favourite things to do in the island.
Do a diving course
This is probably the number one reason people come to Koh Tao, and that's because Koh Tao has a the perfect combination: amazing snorkel, and really low prices. So a lot of people will come here just to do the PADI Certification. I didn't do mine because I had already done it somewhere else, but I've heard Ocean Sound is good.
Hike to Freedom Beach view point
Koh Tao has many beautiful viewpoints. My favourite is Freedom Beach viewpoint. You can get to it walking from the centre of Koh Tao, it's approximately a 40 minute walk in total, or by scooter. You need to pay 100 baht when you come in, but it's worth it, and at least it includes a bottle of water you can get at the restaurant. The hike is short and easy, approximately 20 mins although the top is a bit rocky, so it's more comfy if you don't do it in flip flops. Make sure you stay at the beach afterwards, it's beautiful, empty, and you can do a bit of snorkeling while you are there as well.
Other viewpoints you might want to check out in Koh Tao are Love @ Koh Tao and Mango Bay.
Visit Koh Nang Yuan
Nang Yuan is a small island really close to Koh Tao which is a must visit. It has a viewpoint, and it's really three small islands connected by a strip of sand so it actually looks really cool, specially from the viewpoint. There are taxi boats that take you there from Koh Tao. You can also kayak to it from Koh Tao or visit as part of a day tour which is what I did. The island is protected so there is no town but a small restaurant and a dive resort.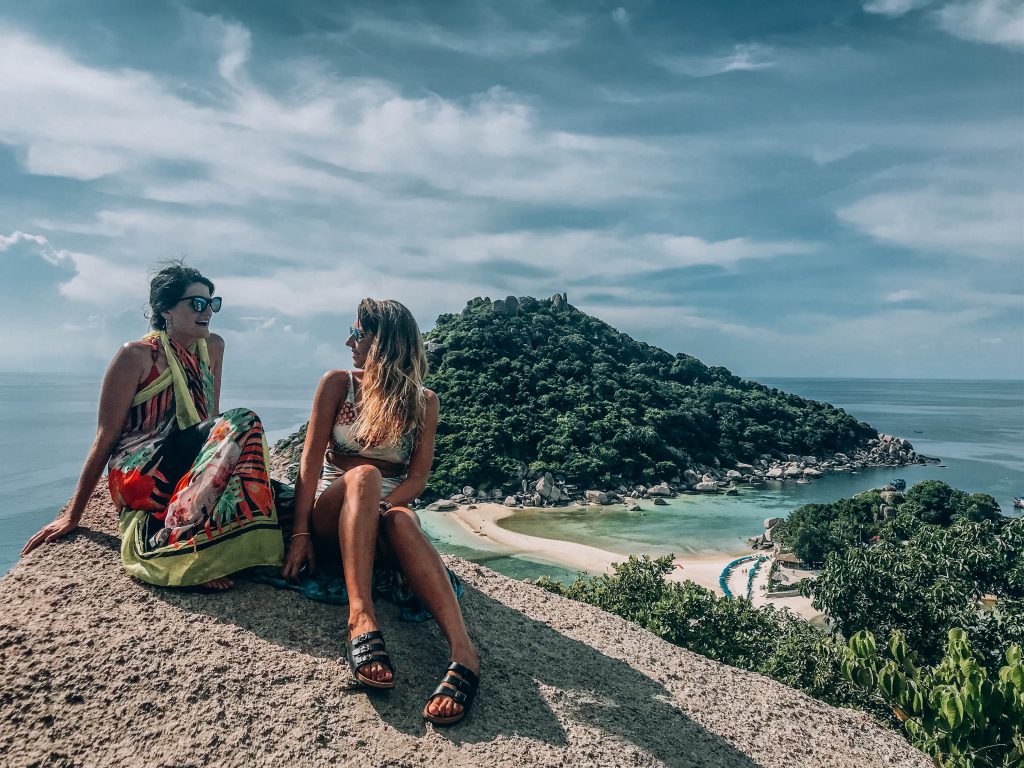 Take an entire day boat tour
This one is a must, I would say if you only have one day in Koh Tao, do this one! We booked an all day tour from Diamond Tours which was brilliant, total value for money, and loads of fun. It covered pick up from our hotel in Koh Tao and it took us to Shark Bay, Aow Leuk and Hing Wong Bay snorkelling which was one just better than the other one. After that our last stop was a couple of hours in Koh Nang Yuan.
Hike from Mae Haad Pier to Chalok Bay
A must to do if you want to get off the beaten path when in Koh Tao. It is accessible for every level of fitness. You will get to swim in remote bays, pass through beautiful resorts, enjoy great views, walk through a palm tree forest and skinny dip on a deserted beach. Yes, all that.
From the Mae Haad pier in Koh Tao walk south and leave the sea on your right side. Pass through Sensi Paradise Resort and up to Charm Churee Resort. Then head down to the beach, you'll reach Jansom Bay. Jansom Bay is only a 15-minute walk from the Mae Haad pier and is so picturesque. There are rafts a few minutes away from the shore that you can float on. So cool! Leave Jansom Bay and continue towards Sai Nuan Beach. It can be crowded at midday, but tourists leave around sunset so this deserted bay will be all yours and is a great spot to take pictures. Just around the corner there is Sai Nuan 2, known for its Banana Rock restaurant. And this place it's not known for its food but for providing to those who want to spend the afternoon smoking grass.
Continue uphill and walk inland for a bit. Once reaching the top of the hill you have two options: on your right you can go down to Tao Thong Bay and on your left you'll see signs saying Skybar. If you choose Skybar, go uphill for 5 minutes and you will find a bar with a fantastic vibe and view. Definitely recommend it.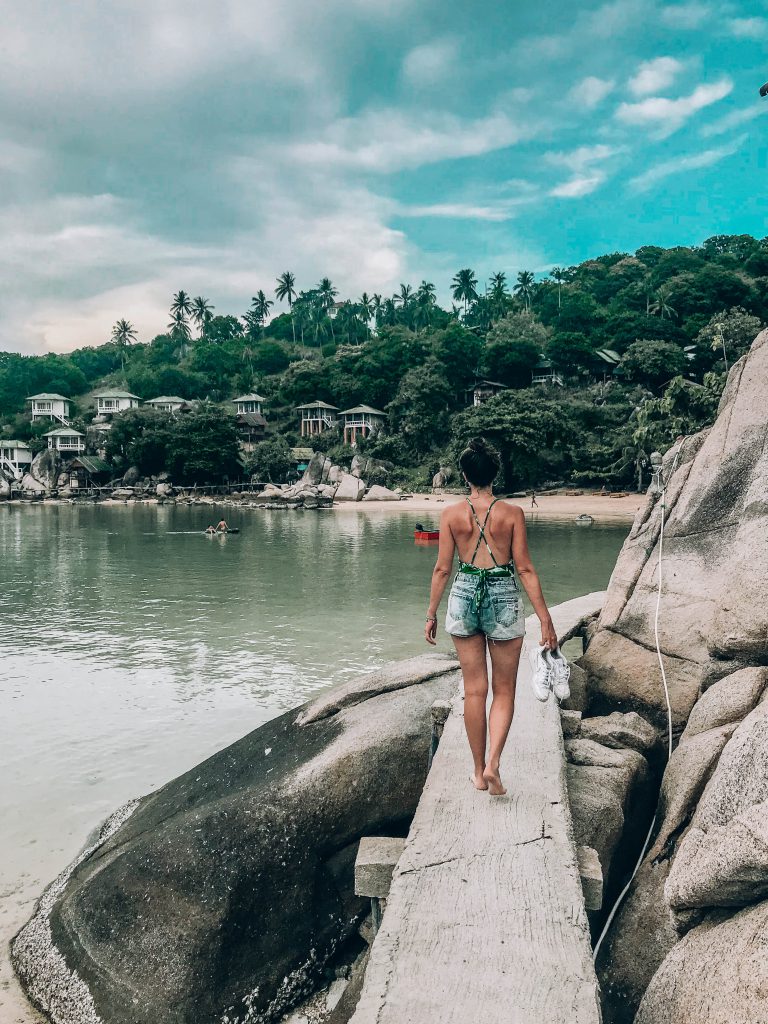 Watch the sunset
Part of why Koh Tao was my favorite island in Thailand was its sunsets. They are absolutely unreal. As the sun goes down clouds get darker but in the horizon a red fiery strong glow remains. A popular place where to watch the sunset in Koh Tao is Mango Bay Viewpoint, but if you are not feeling like hiking up there, then Sairee Beach would also work. I watched the sunset at the beach close to a bar coincidentally called Sunset while having a beer and it was one of those moments where you go "Wow, I'm literally so lucky right now that I can see this!" To see the sunset we hiked from Chalok Bay up to View Point Resort and then down to Sunset bar. It was magical.
Party in Sairee Beach
When the sun goes down in Koh Tao, the fun is not over. Head to Sairee Beach for a little bit of partying. If the night is successful you might even end up refreshing yourself on the sea under the stars.
Where to stay in Koh Tao
I really enjoyed my stay at The Beach Club Koh Tao. The hotel is on the beach, and it's actually beautiful to watch the sunset from there. Maybe depending on where your room is you can even watch it from your balcony. The rooms are spacious, there is complimentary water, tea & coffee and the aircon works wonderfully. But my favourite thing was the pool. It's of a strong green, a really unique colour for a pool, and it's huge. It also makes the hotel look great as it's right in the middle surrounded by trees and by the rooms. Refreshing on the pool in the afternoons after going to the beach was the best. Last, it's really close to Mae Haad where you'll find most of the best restaurants in Koh Tao for dinner or breakfast. You can book The Beach Club Koh Tao here.
Traveling to Thailand? Check other Thailand posts here. If you liked this article please leave a comment and follow us on Instagram.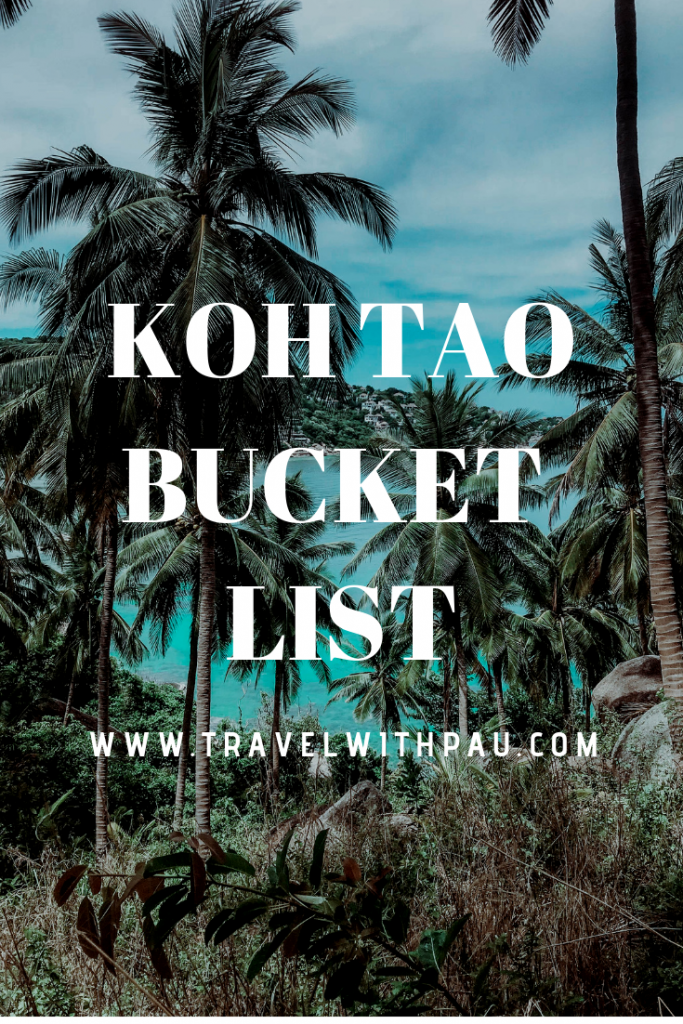 This post contains affiliate links. If you click on one and make a purchase, I might make a small commission, at no extra cost to you in order to help support my blog. My stay at The Beach Club Koh Tao was complimentary however as always my opinions are my own.