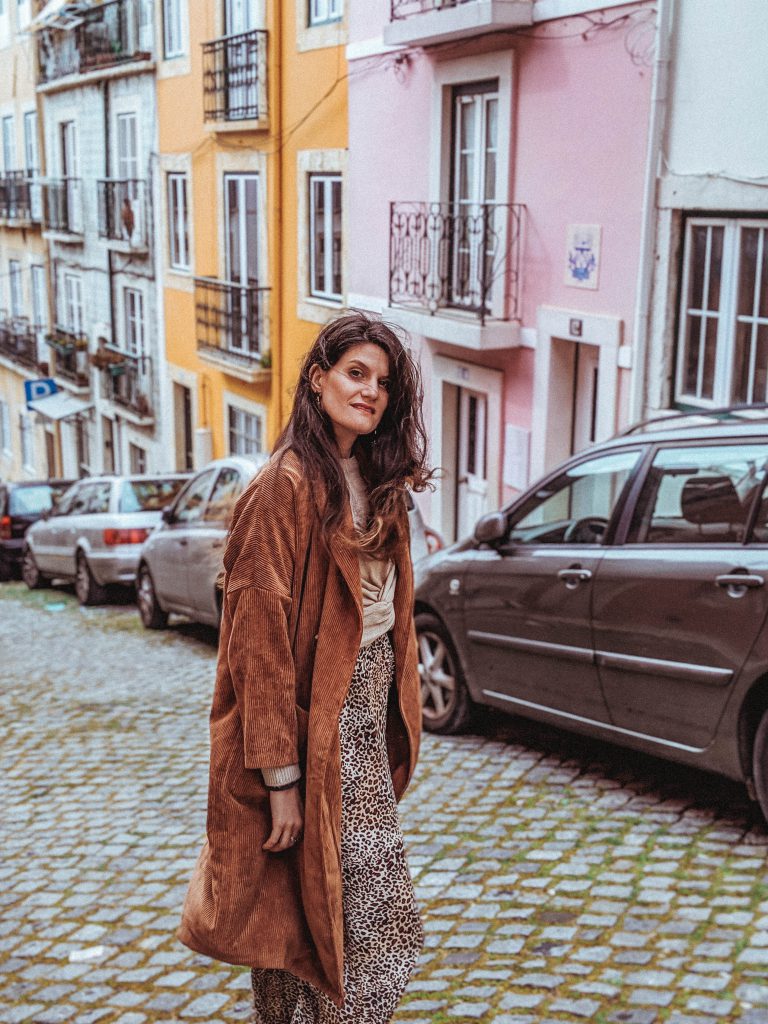 Lisbon was the first stop from my Portugal nine day trip. As soon as I got out from the metro in Chiado, I fell in love with the city! The colors, the light bathing the atmosphere, the tiles. I think it's impossible not to love Lisbon. Anyways, in this post you'll find everything about Lisbon: what to do and eat, where to stay and how to get around.
Lisbon Bucket List: The Best Things To Do In Lisbon
Start with a free walking tour
As soon as you get to Lisbon, take a free walking tour to get a grasp of what the city has to offer, the main sights and some insider tips from the tour guides that live there. It will help organise how you'll spend the rest of your time in the city, and you can ask all the questions you want.
Ride Tram 28
Tram 28 is one of the best ways to explore the Lisbon's old city, its historic heritage and typical neighbourhoods. The entire route from Martim Moniz to Campo de Ourique / Prazeres takes approximately one hour. It's really fun as the tram goes up and down Lisbon's hills and winding streets. It's a popular tourist attraction, but at the same time the tram is used by locals as one of their main means of transport. Board the tram at Martim Moniz. It's cheaper to purchase a single trip or a 24hr ticket, in case you plan to hop on and off the tram, from a Metro station in a Viva Viagem card than paying or the tram to the driver when you get in.
Take a snap in a pink street
There is a very instagrammable pink street in Lisbon! Save it on Google Maps and remember to snap one for the gram here.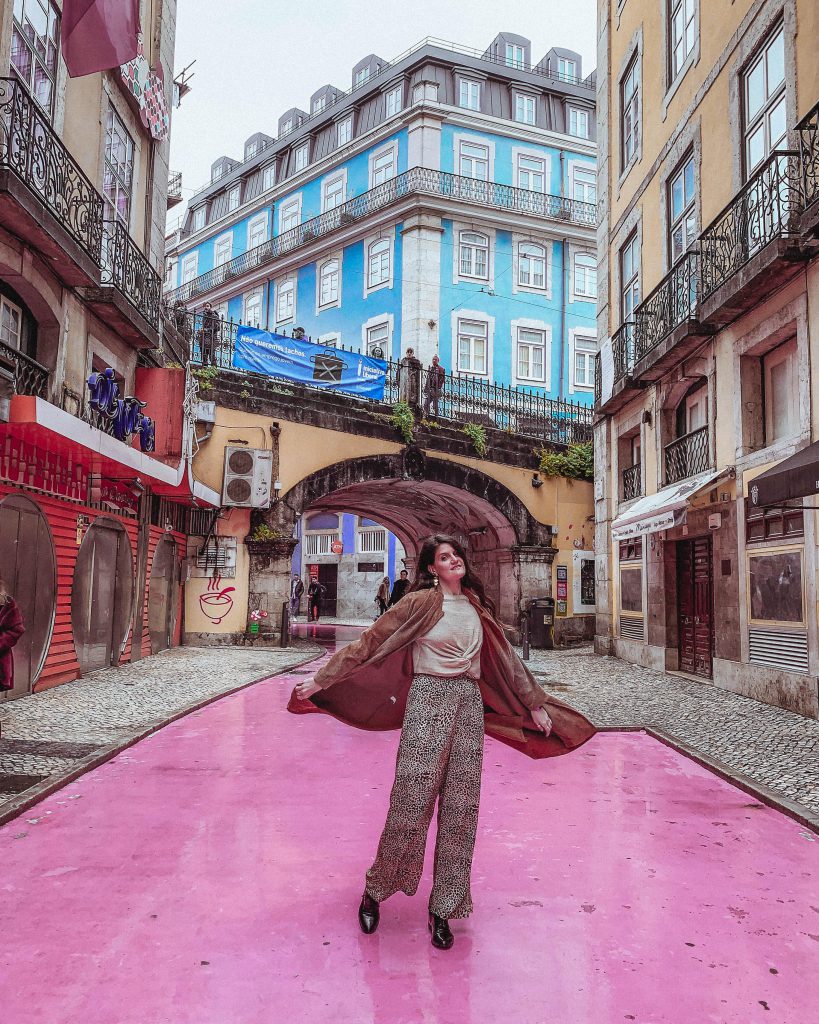 Delve into the winding streets of Alfama
Alfama is one of the oldest districts of Lisbon. It's streets are a delightful maze of narrow cobbled streets and ancient houses. It is the best place in Lisbon to listen to Fado in the evening, and contains many historic buildings such as the Se Cathedral, Castelo Sao Jorge, the National Pantheon and Saint Anthony's Church.
Go shopping at Chiado
Chiado is Lisbon's most popular shopping and theatre district. It has a very elegant slightly bohemian vibe, it's colorful, tiled buildings and façades are very well taken care of. On its streets you'll find well known international brands as well as many restaurants and cafes. If you want to go on a shopping spree, Armazens do Chiado is a big shopping mall right in the heart of Chiado.
Have a bica at Cafe A Brasileira
Cafe A Brasileira is one of the oldest and most famous cafés in the old quarter of Lisbon. The cafe opened to sell Brazilian coffee in the 19th century, then a rarity, has over time been a meeting point for intellectuals, artists, writers and free-thinkers. A sculpture of Fernando Pessoa, one of Portugal's most famous poets and writers and a usual visitor of the cafe, sits outside it.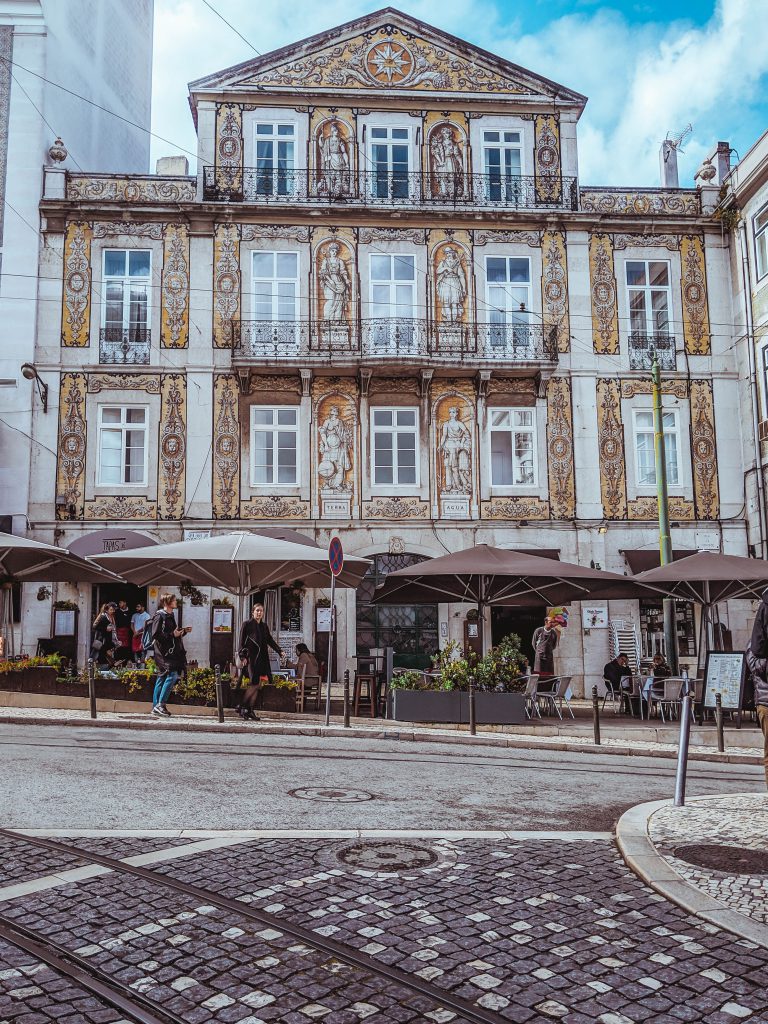 Marvel at Jeronimo's Monastery in Belem
The Mosteiro dos Jeronimos is a highly ornate monastery that is situated in the Belem district of Lisbon. It's a UNESCO World Heritage site and a Lisbon attraction you won't regret investing in, as it's absolutely beautiful. Belem is only a short train ride away from the center of Lisbon. Get your ticket in advance here, or below:
Eat pasteis de nata
Pastéis de nata were created before the 18th century by Catholic monks at the Jerónimos Monastery. Monasteries used large quantities of egg-whites for starching clothes and they used the leftover yolks to make pastries. In 1834, the monastery was closed and the recipe was sold to a sugar refinery, whose owners in 1837 opened the Fábrica de Pastéis de Belém. The Pastéis de Belém were mentioned by The Guardian as the 15th most tasty delicacy in the world so make sure to visit it when in the Belem district of Lisbon.

Admire Belem Tower
This fortified tower is a UNESCO World Heritage Site and a Lisbon icon. Once you get to it you'll realise why it's famous, it's beautiful by itself but the fact that it's standing on the water makes it even more. Enjoy it from outside or inside, but purchase this skip the line ticket as the queue can get very long.
Do a street art tour
Discover the street art of Lisbon on this cheap private guided tour and encounter graffiti and urban art from large scale installations to political and social murals.
Have a night out at Bairro Alto
You won't find much going on in Barrio Alto during the day, but at night the streets of this Lisbon neighborhood will flood with people of all ages who come to catch up, have a drink or party.
Visit all the miradouros
One of Lisbon's charms is that the city is built on seven hills, and hence there are many viewpoints (miradouros in Portuguese). The top miradouros are: Miradouro da Nossa Senhora do Monte, Miradouro de Santa Catarina, Miradouro de São Pedro de Alcântara and Miradouro das Portas do Sol. Save them in Google Maps and visit them all!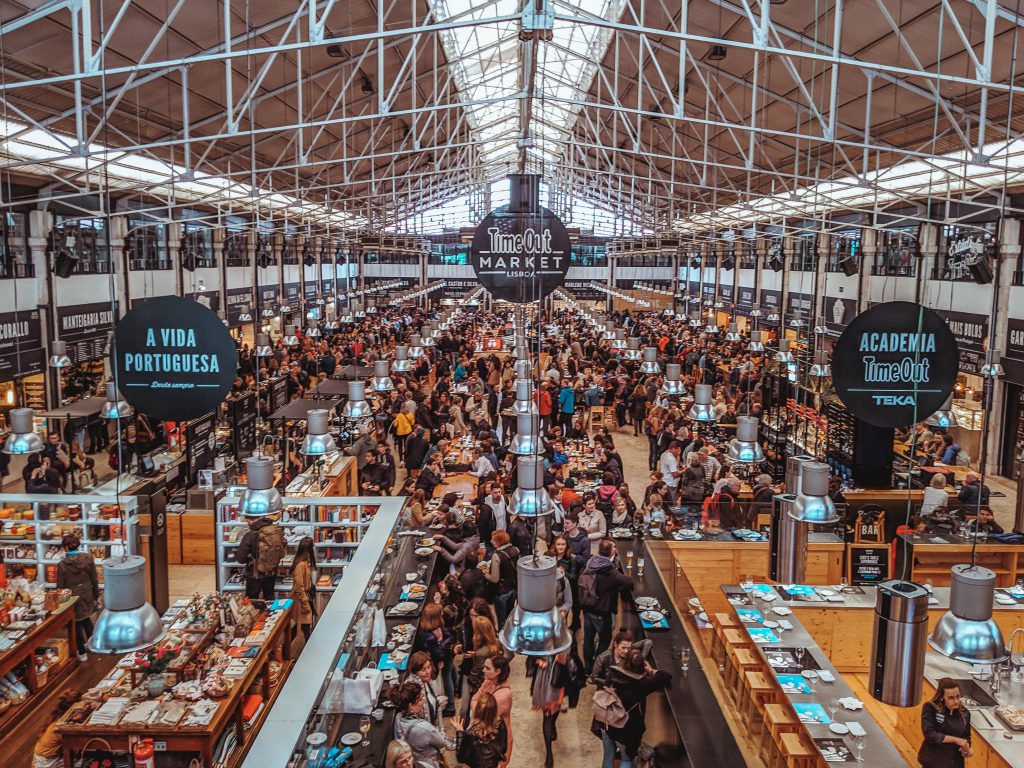 Spend a day in Sintra
Sintra is a city in Greater Lisbon which is an absolute gem, and one of my favorite memories of my trip to Portugal. Make sure you spend at least an entire day there and visit Pena Palace, the Moorish Castle and Quinta Da Regaleira. Read my article on how to best visit Sintra.
Have lunch at the Time Out market
The Time Out market in Lisbon is a pretty original concept: an amazing food and groceries market, curated by the editorial team of the world famous magazine, Time Out. The food is amazing. Vegan options are scarce, but good.
Drink a ginjinha
Ginja is a sweet cherry liqueur that originated in Lisbon. Try it in the traditional bar A Ginjinha. It is thought to cure all illnesses!
Experience traditional Fado
Fado is a Portuguese music genre that can be traced back to the 1820s and to Lisbon. It is characterised for being profoundly melancholic and is usually played in restaurants and bars. The best places to listen to Fado in Lisbon are: Clube de Fado, Senhor Vinho, Parreirinha de Alfama, Tasca do Chico & Tasca Bela.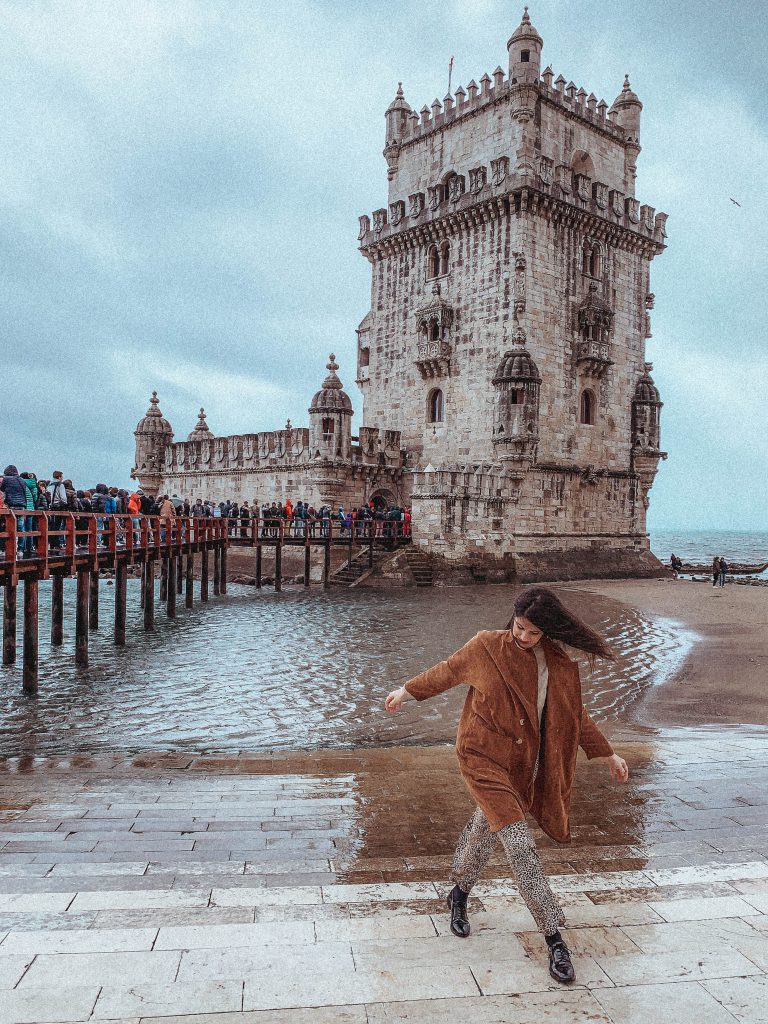 Walk the Praça do Comercio
The Praça do Comércio is the largest of Lisbon's mighty plazas and is located on the edge of the Tagus estuary. It's certainly very beautiful and worth a visit.
Step inside the National tile museum
Love tiles? Then do not miss the National Azulejo Museum when in Lisbon.
Admire the 360 degrees views from Castelo de São Jorge
The Castelo de São Jorge is a Moorish Castle located at the top of one of Lisbon's hills, overlooking the old city of Lisbon. A place full of history, but also another spot to get great views.
Have a drink with a view at Park Bar
Get more great views of Lisbon while you sip on a cocktail and maybe have a snack at the elevated garden terrace of Park Bar, you won't regret it!
Cross the Ponte 25 de Abril Bridge
This massive Lisbon bridge might not be Golden Gate but it's really close. There are many ways to cross the bridge, whether it's by car, bus, motorcycle (you can rent an eCooltra) or train. Walking through it is not possible. You can also admire it from land!
Admire the Convento do Carmo
This Catholic convent in Lisbon is a Gothic architecture marvel.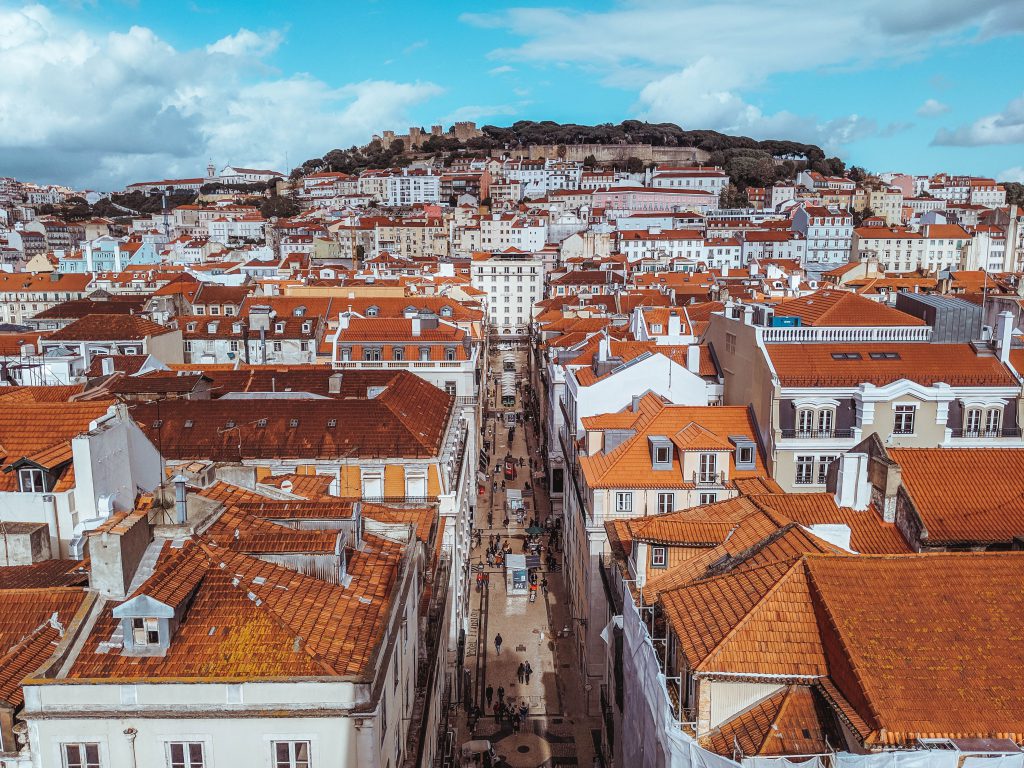 See Lisbon from the top of Santa Justa Elevator
This rather unique elevator connects Lisbon's Baixa with Carmo Square. More great views guaranteed.
Go to LX Factory
LX FACTORY Lisbon is an abandoned industrial site has been turned into a creative, cultural and gastronomic area in restored factory buildings. It's a super cool place to hang out.
Where To Stay In Lisbon
I dare you to stay in Dare Lisbon House located in Chiado! This is where I stayed and really enjoyed it. This daring establishment houses 23 apartments, in a beautiful renovated building with 200 years of history which can be glimpsed in certain corners and details of the decoration. The rooms are spacious and also beautifully decorated. They also include a fully equipped kitchen.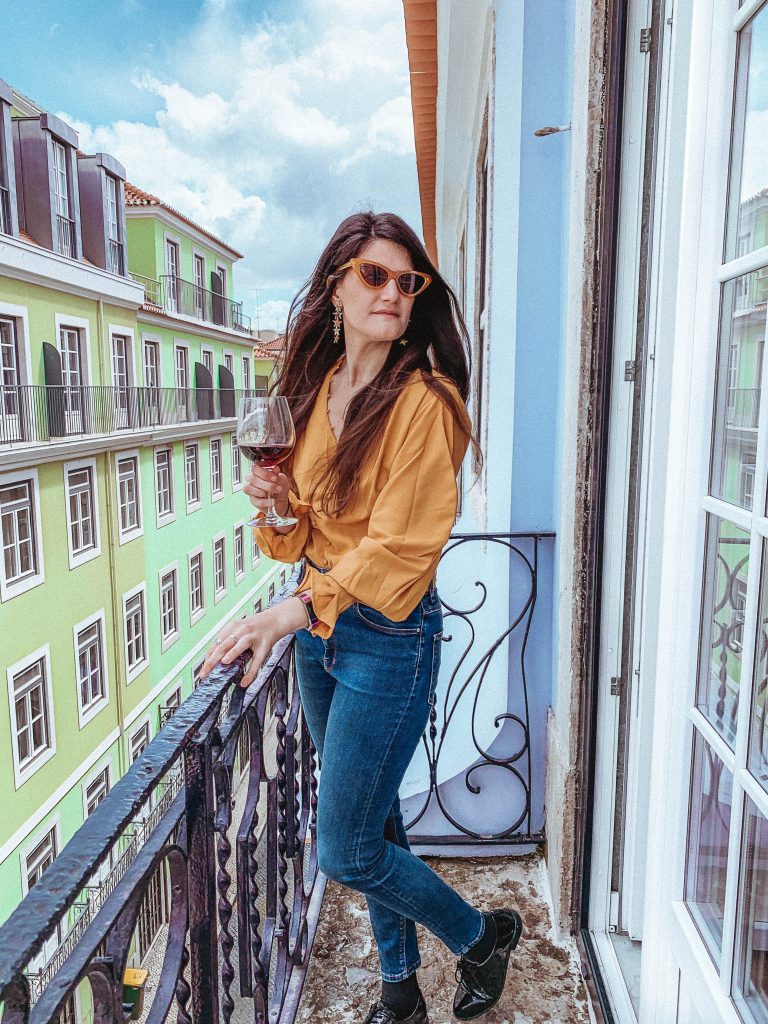 Dare Lisbon House has an interesting concept of DIY breakfast where all the breakfast ingredients are left in the room, with the exception of bread which is provided every morning, and you use them to prepare breakfast. I found that very original and frankly quite good for me as I'm vegan so I could buy one or two extra things in the supermarket to make myself a proper vegan breakfast.
My room had lots of light and two beautiful balconies where I could enjoy beautiful views of Chiado. Last, there is a 24hr reception and complimentary wine offered in the lobby. The location itself couldn't have been more perfect. You can book Dare Lisbon House here.
How To Get To And Around Lisbon
I booked my flight to Lisbon through Momondo, where I always find the best prices. I found flights to Portugal slightly more expensive than other Europe locations, so my recommendation is to book in advance.
Getting around Lisbon is super easy, you just need a Viva Viagem card which is worth cents and which you can purchase on automatic ticket machines in the airport or in many places around Lisbon. More info about this here.
Best Tours in Lisbon
I kind of like being shown around, don't we all? Here are Lisbon's best tours:
Where To Store Your Luggage In Lisbon
Need to store your luggage in Lisbon? I've partnered with Luggage Hero, an awesome company that works with local shops to help you store your luggage safely and securely. Either for an hour, or the entire day, luggage hero has you covered. Your bags will be insured too! Book your luggage storage in Lisbon here.
Portugal is so much more than just Lisbon. Read all my Portugal posts here.
If you liked this article please leave a comment and follow @travelwithpau on Instagram.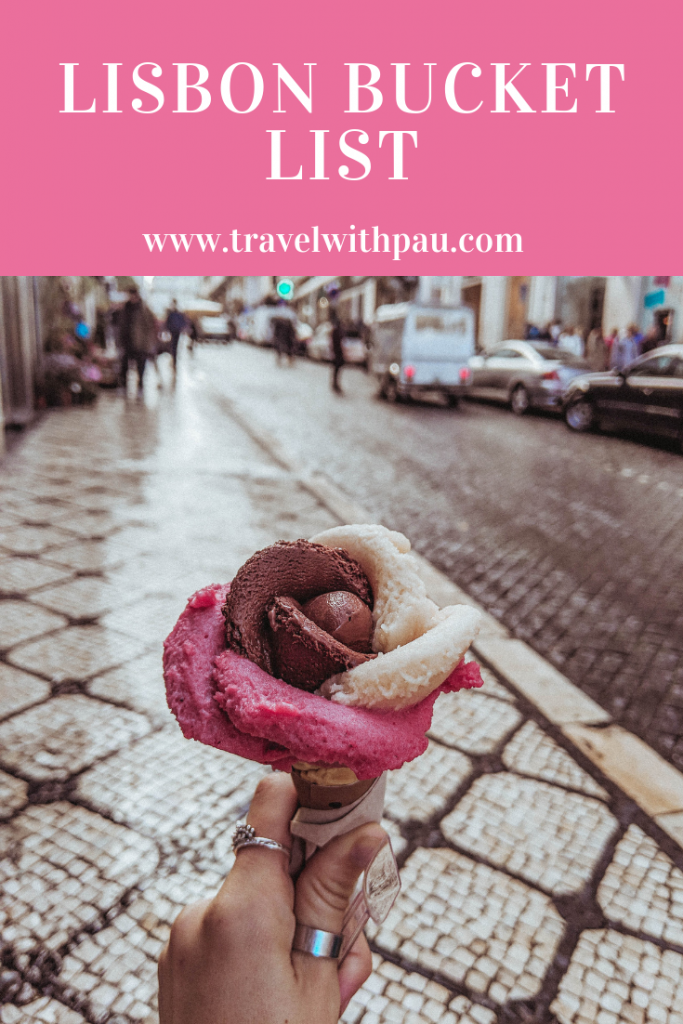 This post contains affiliate links. If you click on one and make a purchase, I might make a small commission, at no extra cost to you in order to help support my blog.