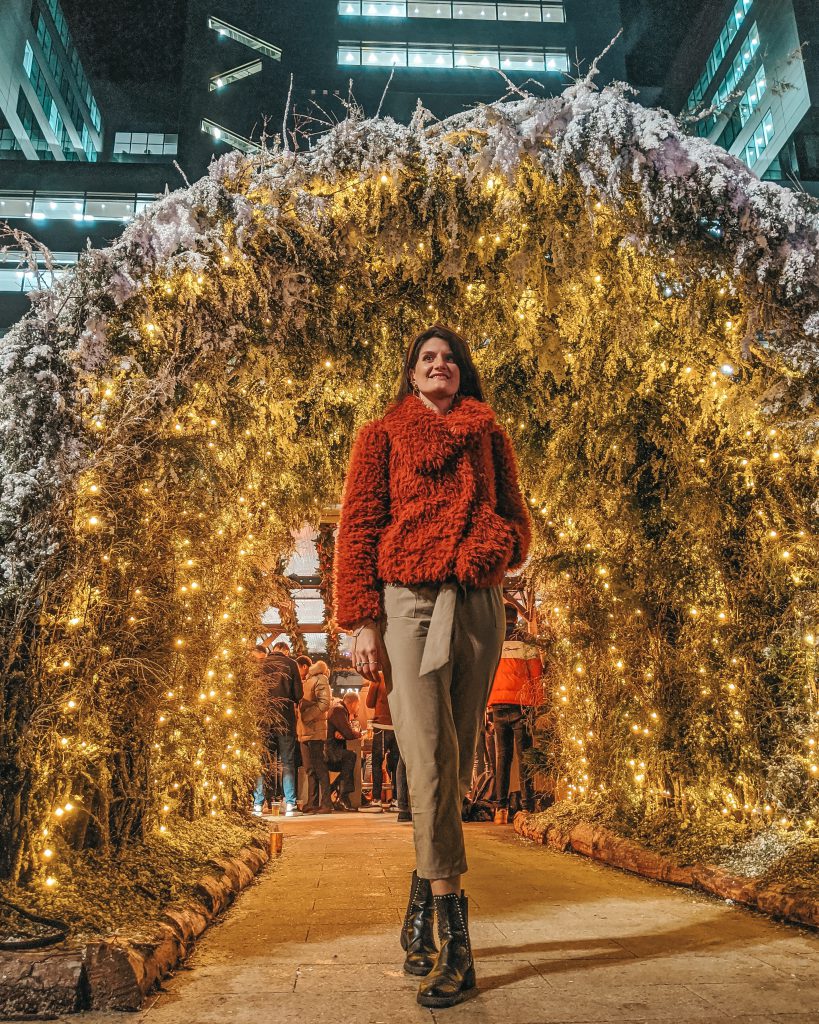 London is one of the most amazing places to visit every Christmas. The list of things to do just gets longer and longer every year, so prioritisation is key! Below are the most beautiful and therefore instagrammable Christmas spots in London for this year. Many of this are reopen every year for the time around Christmas but some don't so I'll make sure to keep the list updated!
London's Christmas Markets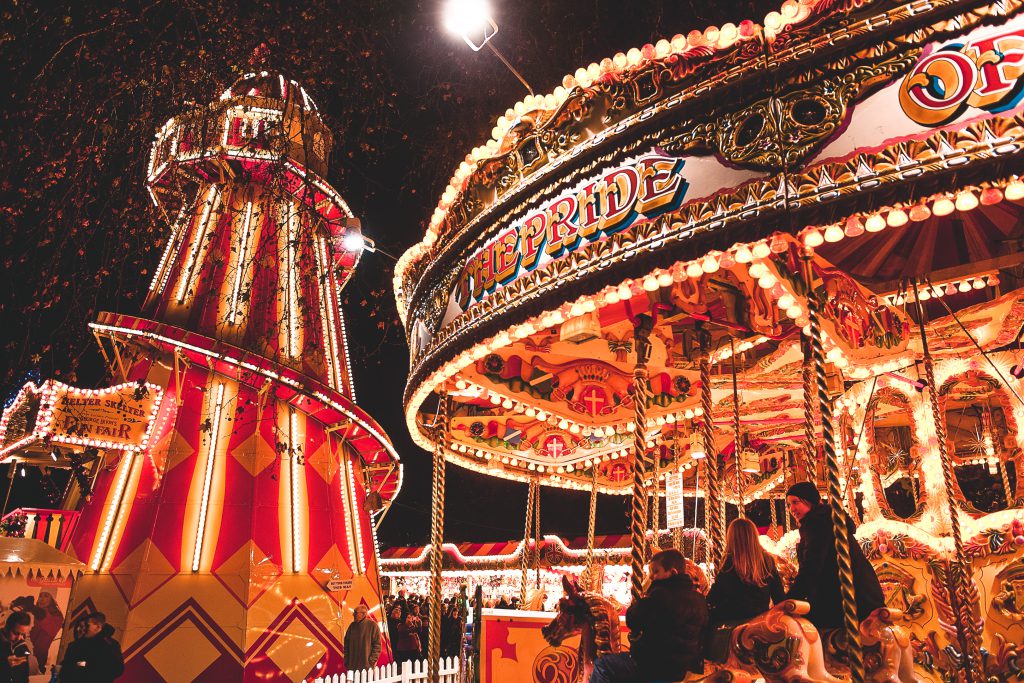 Winter Wonderland
Every year Winter Wonderland, London's biggest Christmas market, opens in Hyde Park. The market has a multitude of festive food stalls, restaurants, fun rides, and over 200 wooden cabins selling Christmas gifts and crafts. Amongst the rides, there is a giant observation wheel where you can get great views of London, an outdoor ice rink, rollercoasters, carrousels, and more. There is also a Bavarian village which is a German style Christmas market.
I have Winter Wonderland at the top of the list because it's one you must not miss. Best time to visit is early morning and late evening on weekdays. Entrance is free, but food and rides are paid.
Check Winter Wonderland's website for opening times.
The Winter Forest at Broadgate Circle
This is a Nordic inspired Christmas pop up in London within Broadgate Circle in Liverpool Street. Its layout changes every year but it always has beautiful snow covered pine trees and a lighted arch. It gets really busy on weekdays after work as there are lots of offices around.
Check The Winter Forest at Broadgate website for opening times.
Southbank Centre Winter Market
Every year the London's river Thames south bank becomes a Christmas wonderland. It has a beautiful Christmas market and also free events and performances across December.
Check the Southbank Centre's website for opening times.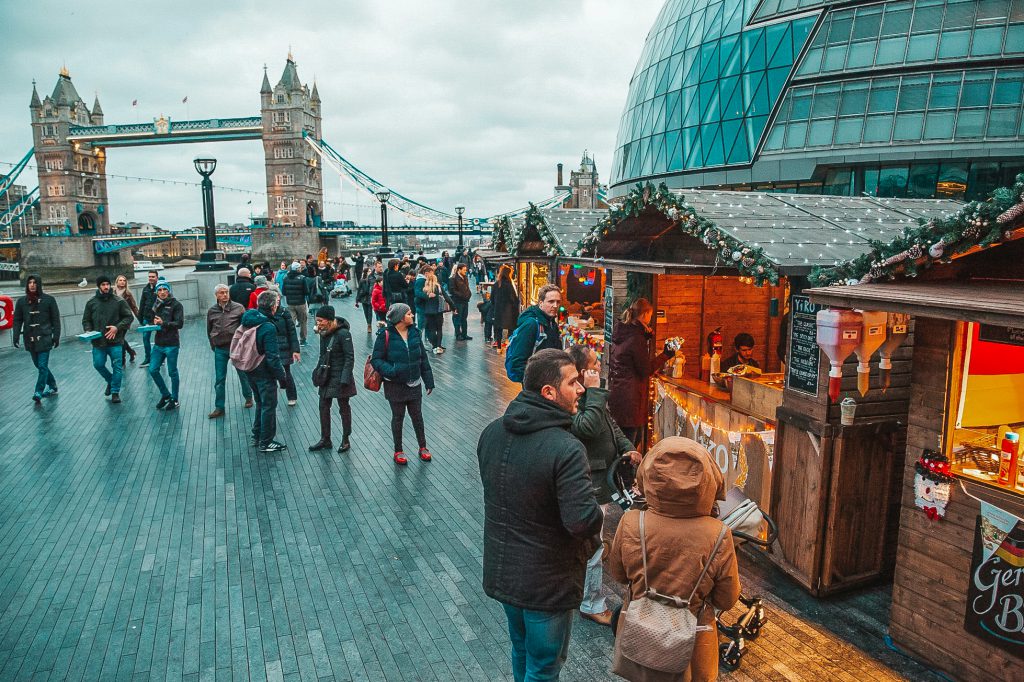 Christmas by the River at London Bridge City
A Christmas market with a beautiful backdrop of Tower Bridge and the London city skyline. This year's theme is vintage ski.
Check the London Bridge City website for opening times.
Leicester Square Christmas Market
This sparkling Christmas market is at the very heart of London's tourist district. The are beautiful food and gift stalls as well as the Spiegeltent – host to a bunch of award-winning performances.
Check the Leicester Square Christmas website for opening times.
Christmas at Flat Iron Square
London's Flat Iron Square hosts an Apres Ski Lodge for the winter where you can snuggle up in an armchair while you munch on candied pecans and warm up with Apres Ski drinks from around the world. You can also have food from one of many street vendors, take part in holiday workshops or catch one of their free weekly festive film screenings!
Check the Flat Iron Square website for opening times.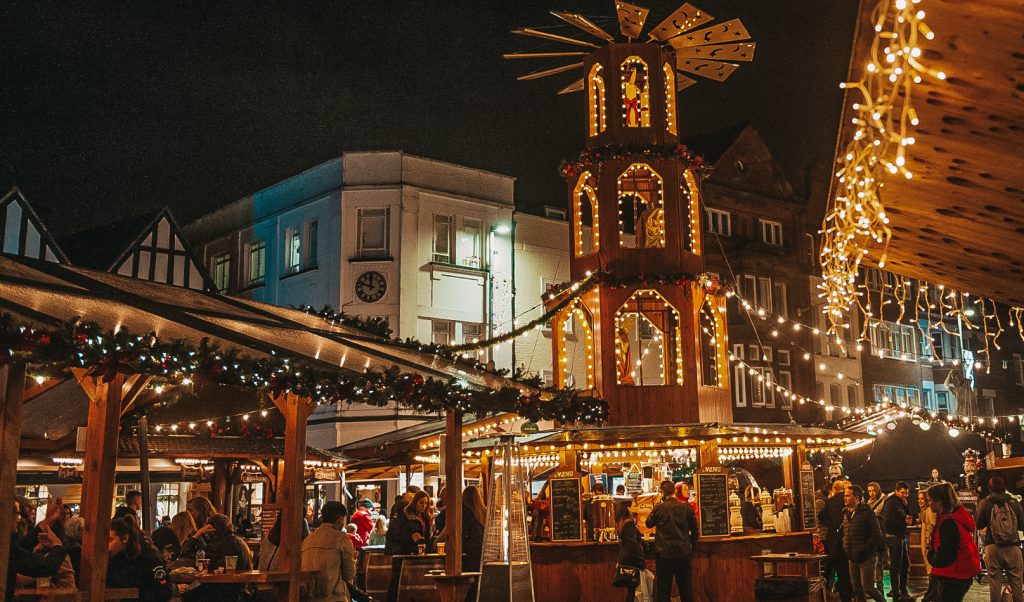 Kingston Christmas Market
Kingston's town centre becomes festive thanks to Kingston's traditional Christmas Market which has hand-crafted gifts and mulled wine galore. The market stalls are lovely wooden cabins adorned with Christmas decorations.
Check Kingston's website for opening times.
Christmas at Greenwich Market
London's Greenwich Market is cool all year round, but with mulled wine and twinkling lights allover it becomes irresistible and festive AF.
Check the Greenwich Market website for opening times.
Christmas at Camden Market
In 2019 London's Camden Market has transformed its North Yard into an illuminated North Pole. This year the market has opened its very first ice rink!
Check Camden Market's website for opening times.
London's Christmas Pop Ups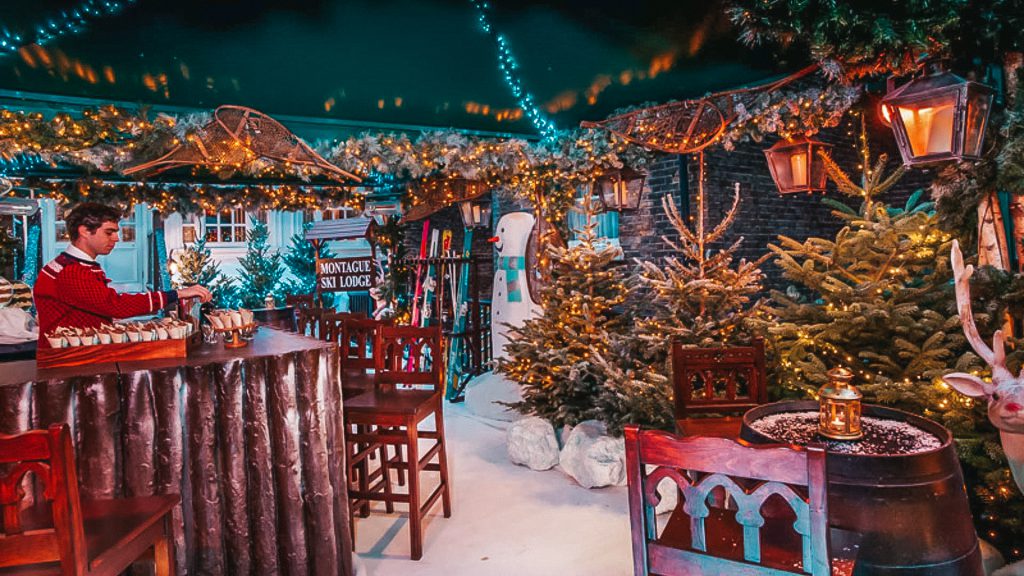 The Montague Ski Lodge and Lanson Winter Lodge
The Montague's Hotel has set up an adorable ski lodge with an alpine-themed bar. With fake snow, a flickering fire, steaming hot chocolate cocktails, big woolly rugs and even skis set up against the charming wooden lodge you'll feel like you're in Banff rather than Bloomsbury. The Montague has also transformed their Garden Terrace into an elegant all-white Lanson Winter Lodge, an atmospheric space to enjoy a drink in front of a flickering fire.
Check opening times and book the Montague Ski Lodge here and the Lanson Winter Lodge experience here.
Jimmy's Lodge and Snow Globes
Also on the Southbank you will find Jimmy's Lodge, or Jimmy's ever expanding festive den. There's a wooden lodge serving up warm Martin Miller's Gin cocktails and indulgent fondue, an outdoor bar (heated of course) and the show stopping Snow Globes that sit on the side of the Thames. If you just want to enjoy some hot cocktails and street food, there is no need to book.
Learn about opening times or make a booking in their website.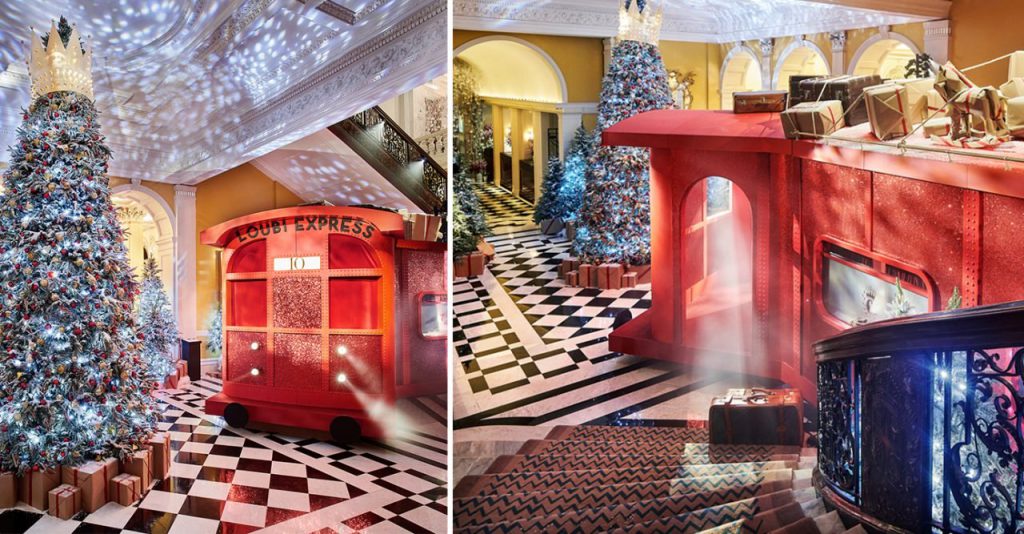 Claridge's Christmas Tree and Loubi Express
Every year London's Claridge's hotel enlists a top fashion designer to reimagine their famous Christmas tree. Past years have seen John Galliano, Karl Lagerfeld, Dolce & Gabbana and in 2019, Christian Louboutin. This year the tree is accompanied by The Loubi Express, a glittering red train stationed in the hotel's lobby. The train will 'transport you' from London to Paris while you enjoy champagne, cocktails inspired by Christian Loboutin and canapès. It's first-come, first-served.
Check opening times in Claridge's website.
Winterland
This London Christmas pop up allows you to escape to a magical Alpine paradise where you can drink in a winter lodge, dine in wooden cabins or igloos, play games, or relax in a hot tub while you drink a glass of prosecco. Plenty of photo opps here too.
Learn more in Winterland's website.
London's Christmas Restaurants
34 Mayfair
London's Mayfair restaurant has gone big in 2019 with the restaurant's walls and ceiling being covered in over 14,000 decorations, including 8,400 baubles – installed by acclaimed florist Jane Wadham. I'm pretty sure this was done with Instagram in mind.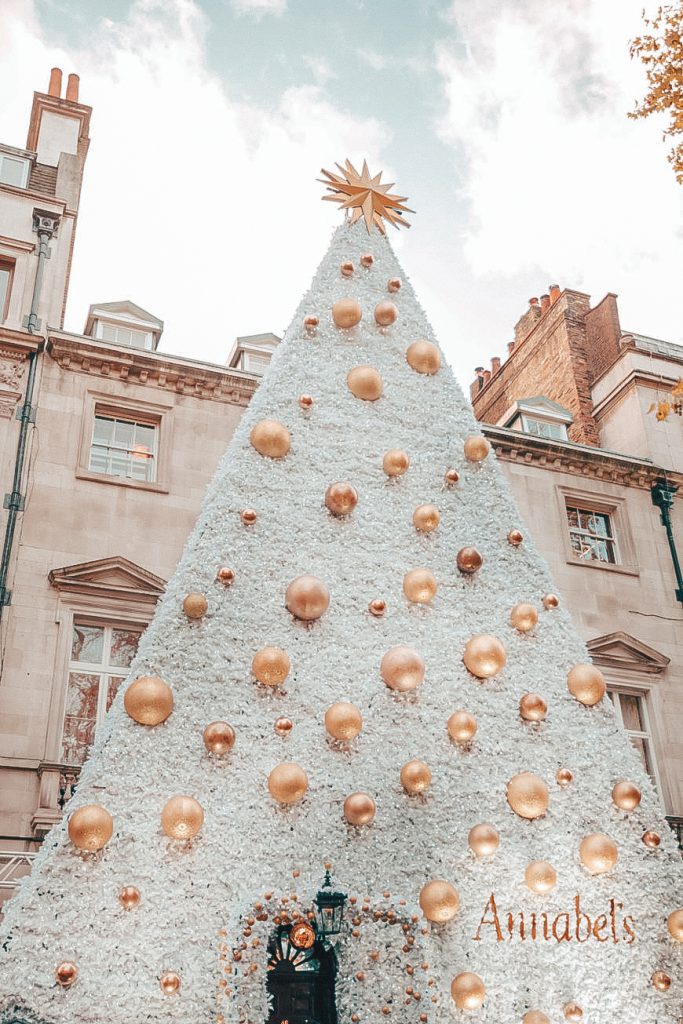 Annabel's
Talking about photo opportunities, luxury London members' club Annabel's pull out the best Christmas decors every year. Even if you don't have a membership it's worth walking past for a nose and an Insta snap at the very least.
Balthazar
London's restaurant Balthazar have a candy covered gingerbread house and gingerbread man covering their entrance for Christmas in 2019 which just begs for a snap.
Coppa Club Igloos
London's obsession with dining in igloos has resulted in restaurant Coppa Club a few overlooking the Thames permanently. And obviously, these super instagrammable igloos have been dressed up for the Christmas season. Book your igloo table here.
Coq D'Argent
Head over to London's French restaurant, bar and terrace Coq d'Argent and be transported to a chic cabin in the Alps. The cabins can be booked out privately for up to eight guests.
Learn more here.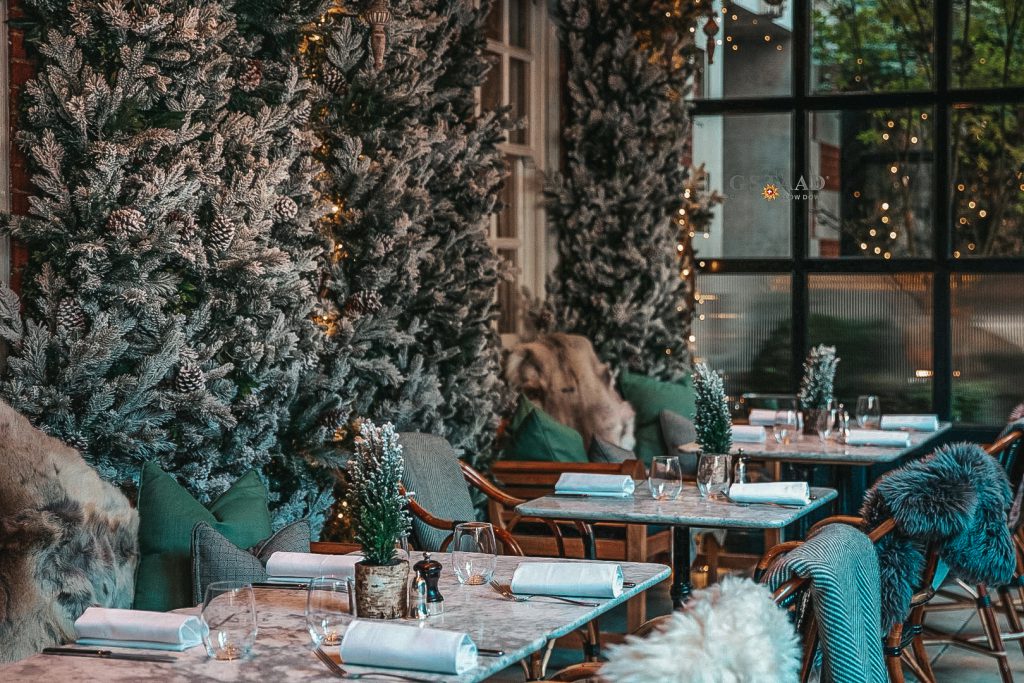 Dalloway Terrace
The pretty terrace reinvents itself throughout the year to suit the season and is now decked out in Narnia-style with twinkling lights, snow sprinkled ferns and faux furs. Book a table here.
Visit The Ivy's website to find all their locations.
Sexy Fish
This Mayfair restaurant has decorated its entrance with a sea inspired Christmas display. In it, the baubles are bubbles and, witfully, they don't wish you a Merry Christmas but a Sexy Fishmas.
Sketch
This famous restaurant, bar and tea house is famous for a reason. It has incredibly creative interiors, including the probably most famous toilets in London. The toilets get decorated for every season, including Christmas. The 2019 toilet decorations are certainly….interesting. I'm not a huge fan of the food, but definitely pop in for a drink.
The Ivy Restaurants
The Ivy's Restaurants always fully dress up for Christmas. In 2019 The Ivy Chelsea Garden has taken the stage with a full on Narnia-inspired wonderland. However, all the restaurants have stunning decorations as well: The Ivy Market Grill has giant nutckrackers, The Ivy Soho has lots of colorful baubles, and so on!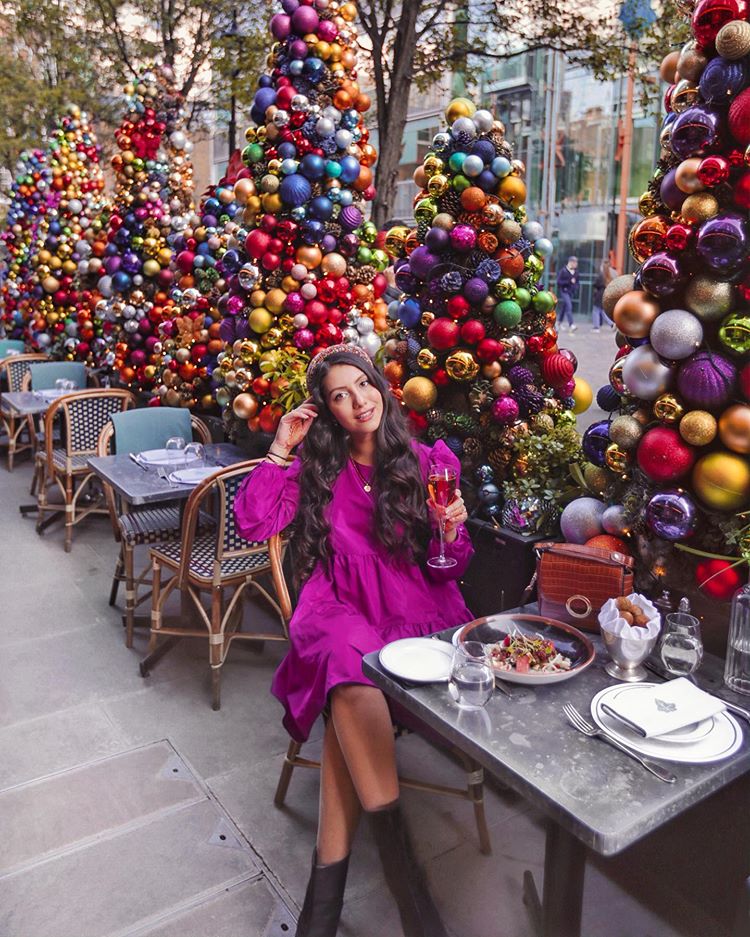 London's Christmas Shops, Department Stores & Shopping Arcades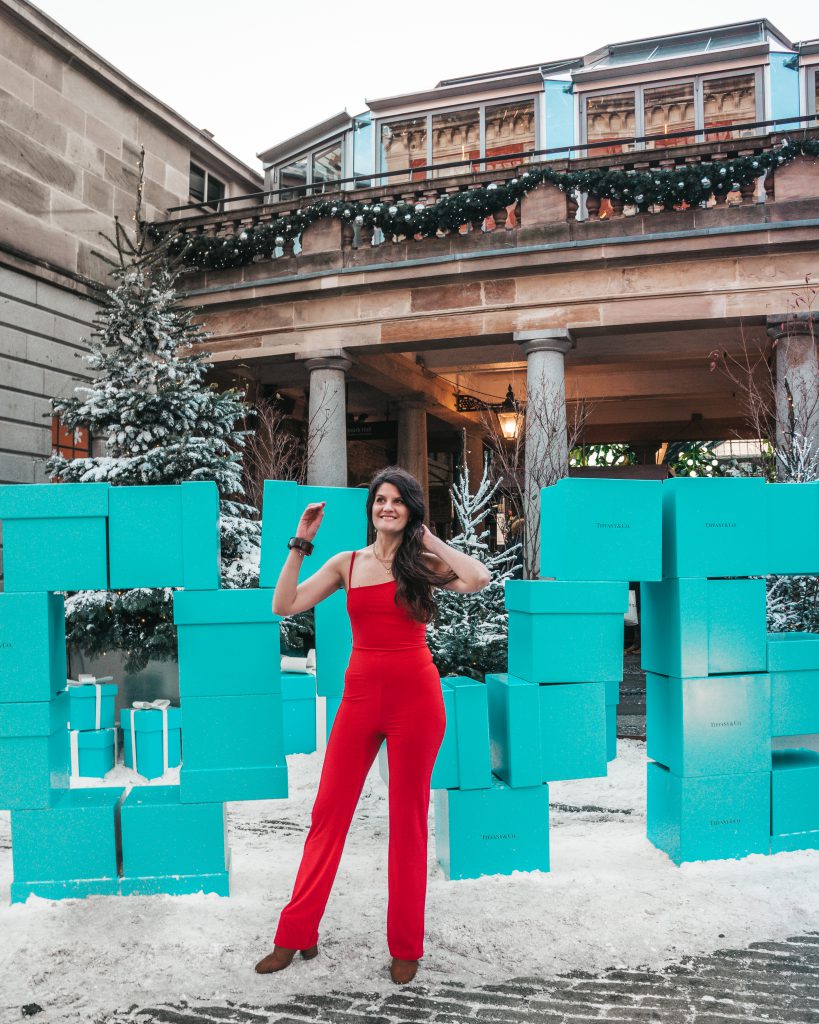 Covent Garden Market
Covent Garden transforms itself to a Christmas wonderland every year for the holiday season. This includes a huge Christmas tree, pop up decorations and in 2019 a free small ice rink. Tiffany's is sponsoring the pop up this year with snowed Christmas trees and Tiffany Blue giant presents.
Harrods
Harrods is London's most popular department store and also the biggest one in Europe. The best time to visit Harrods is in the early evening, to see the store lit up and sparkle. Its Christmas luxury decorations and window displays are also pretty spectacular, and definitely photo worthy.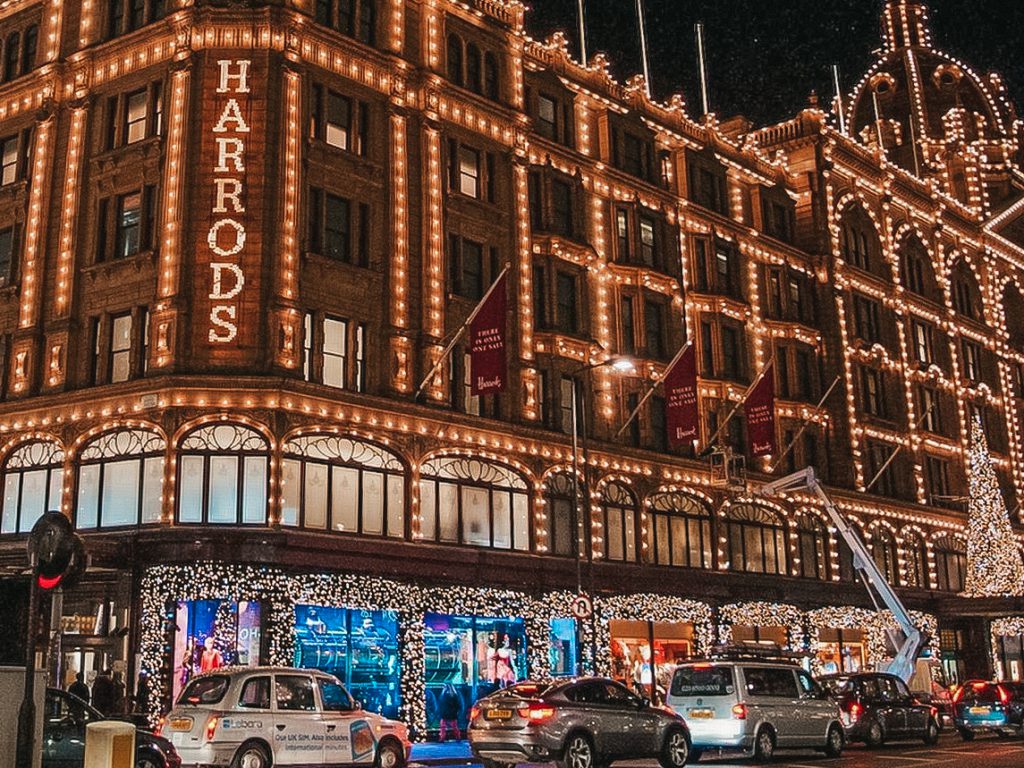 Maddox Gallery
Maddox Gallery in Mayfair has the most spectacular windows displays throughout the year, and Christmas is not an exception. Get an insta snap and pop in to admire the contemporary and modern art on sale.
Royal Arcade
This covered shopping arcade located in London's Mayfair is a true hidden beauty. Hosting luxury stores, its Christmas decor always hits the spot and combined with the inherent beauty of the arcade's architecture makes stunning photos. It gets really busy so best to go right when it opens.
Burlington Arcade
Burlington Arcade is another covered shopping arcade and also located in London's Mayfair. The gallery spans 179m from Picadilly to Burlington Gardens. It has been celebrating Christmas for over 200 years, so as you can imagine its decorations are also on point.
Leadenhall Market
This covered market located in the historic centre of the City of London financial district is one of London's oldest markets. Its interior is a thing of beauty and feels a bit like magic, no wonder it was the inspiration for Harry Potter's Diagon Alley. During Christmas it becomes even more wonderful with a big Christmas tree adorning its centre.
Fortnum & Mason
This upmarket department store in London's Picaddilly is a favorite for everyone who wants to buy both an impressive and good quality Christmas present. The store has amazing decoration all year round and really shines during the Christmas season. Don't forget to photograph the store's beautiful staircase.
London's Christmas Streets
Elizabeth Street
Elizabeth Street, London's most instagrammable street, has stunning displays all year round and obviously gets gorgeous ones for Christmas. It's the perfect place to create lots of content in one go. Check out this article to see which store displays to focus on.
Carnaby Street
Carnaby is a very popular London shopping destination which becomes even more popular during Christmas. Each year its streets are lighted with a unique theme, and the day the lights turn on is a pretty big deal. In 2019 the theme is conservation, where Carnaby has partnered with ocean conservation charity Project 0 for a sustainable display.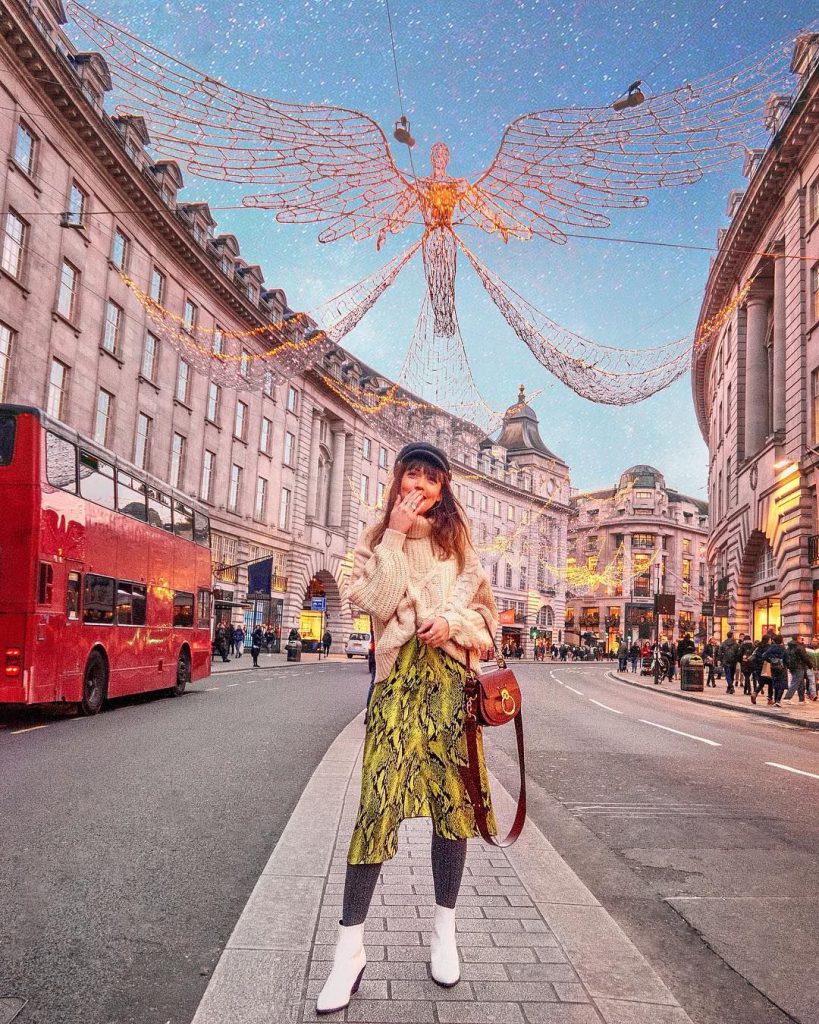 Oxford & Regent Streets
Oxford & Regent Street Christmas lights are also extremely famous. Regent street has London's longest Christmas light display which in 2019 is made of suspended spirits inspired by Regent's Street 1954 Christmas lights. Also look out for the stores in both these streets as they also tend to have beautiful Christmas displays.
New & Old Bond Streets
These London's streets are also home to various types of shops which tend to have some seriously impressive festive displays. But if it's those pretty Christmas lights you're after, head to the fancy shops of Old Bond Street, towards the Piccadilly end of the high-end thoroughfare. It's peacock lights for 2019!
Seven Dials
The central Seven Dials pillar is the main focus of the Seven Dials Christmas lights, although they're also scattered among the surrounding streets. There's a star theme for 2019.
Enjoyed this article? Support my work by buying me an oat capuccino. Otherwise, do me a great favor of leaving a comment and following me on Instagram (@travelwithpau). Feel free to say 'Hello!' I don't bite. And make sure you save the article for later!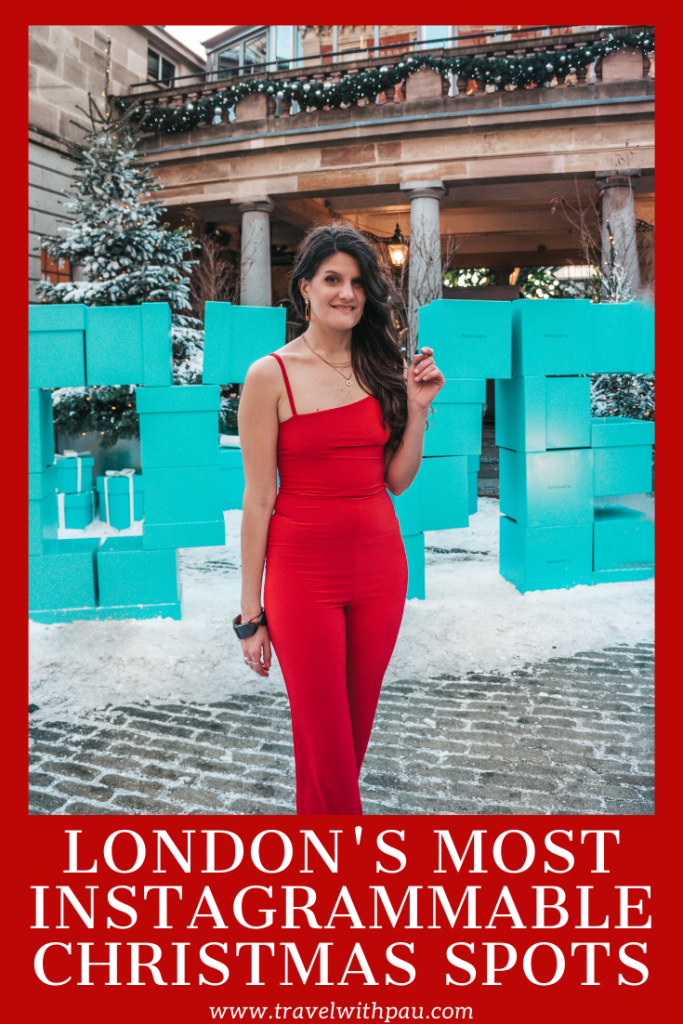 This post contains affiliate links. If you click on one and make a purchase, I might make a small commission, at no extra cost to you in order to help support my blog.