Looking for immersive experiences in London? Well, good, because I'm a London immersive experience expert. Whenever an immersive experience launches in London, I'm there no matter how weird it is.
Below London's best immersive experiences that I have tried and tested, organised by type. This article gets updated regularly, check the last published date for the latest update time.
THIS MONTH'S IMMERSIVE EXPERIENCE HIGHLIGHTS
Bloodbath by Screamworks
This experience will immerse you in the sinister plot of a cunning serial killer as he tries to find the parts he needs to complete his Great Work. As a guest, you'll be blindfolded and taken to the scary family home of Jack and Abel in Bethnal Green, where nothing is as it seems and your fate will lie in the balance. While this event is not for the faint-hearted, it is more of a psychological thriller than a traditional 'haunted house' attraction. You will be made to feel like you are the main character in your favourite horror movie. Book it here.
HiddenCity
This month, I finished the last one of all the HiddenCity games, which are marvellous treasure hunt type games where you solve a trail of clues, sent to your phone, as you journey across the city. During the game, you'll interact with characters and the physical world around you including asking for clues in bars, cafes and restaurants and finding some in unexpected places. It's a super fun weekend day plan and a nice way to explore the city avoiding the very touristy spots. Book it here.
WeJam Studio
Known as the 'immersive rockstar experience' WeJam invites you to get a couple of friends over to this studio in Camden to form a band. You'll pick your instrument and, believe it or not, will play songs together as a band while competing with each other. The easiest way to describe it is: a Guitar Hero but with real instruments. No musical experience needed. Book it here.
LONDON'S ALL-ENCOMPASSING IMMERSIVE EXPERIENCES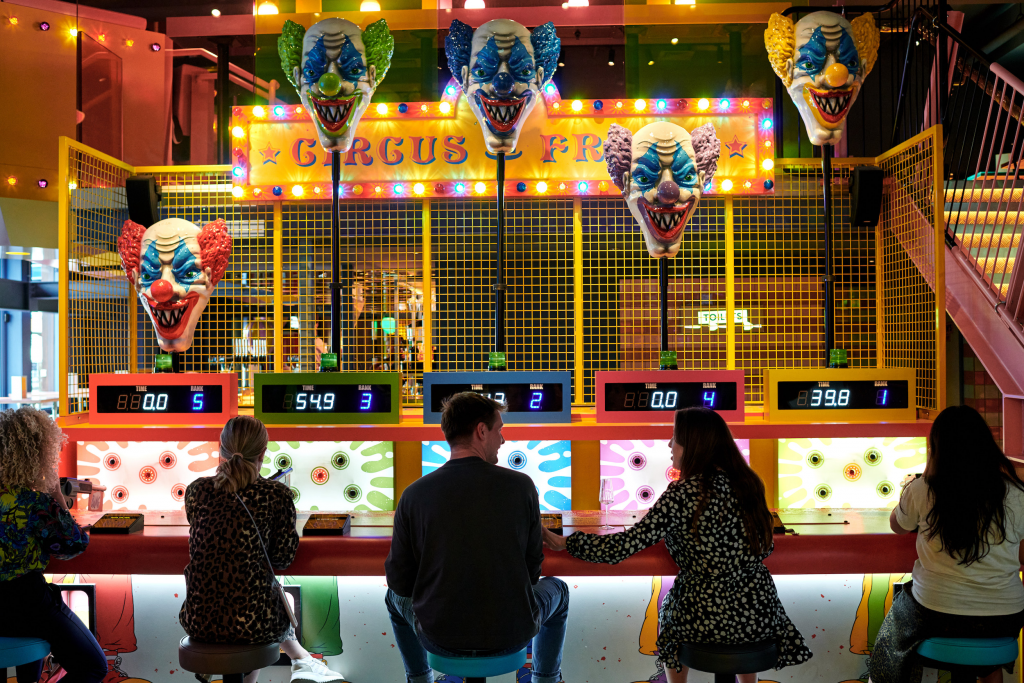 London's immersive experiences where it's about the experience itself rather than the drinks or food (even if they are available).
Burnt City by Punchdrunk
Punchdrunk, the world's leading immersive theatre company, is back in London. You will explore a complete sensory world at your own pace, experiencing scenes in a non-linear way as the story unfolds around you. The story this time is the fall of Troy, where you will witness a mythical world of Gods and mortals who rise from the ashes. It has been one of the most immersive immersive experiences that I've ever been to and unlike anything I had seen before, noting it was my first time at a Punchdrunk show. Tips to enjoy: do some research before going, go early to maximise the time in the venue, ditch your group and explore on your own, go more than once! Book it here.
Candlelight
Concerts illuminated by candlelight? I'm definitely in! Fever has recently launched Candlelight, affordable and intimate concerts performed by live musicians in some of the most iconic venues in London that transport you to a fairytale. I had the chance to attend a concert in the beautiful conservatory in Syon Park to listen to City String Ensemble play Movie Soundtrack Disney classics, and I might have shed a tear or two. Book it here.
Clays Bar
Clays brings all the fun of clay target shooting out of the country into the heart of the City. Grab a bunch of friends, dress up (or not) in your best shooting attire and get ready to hold a realistic (heavy) rifle and smash those clay targets. There are many games to choose from and keep you entertained while you enjoy a few drinks and nibbles. There are now two locations: Moorgate & Canary Wharf. Book it here.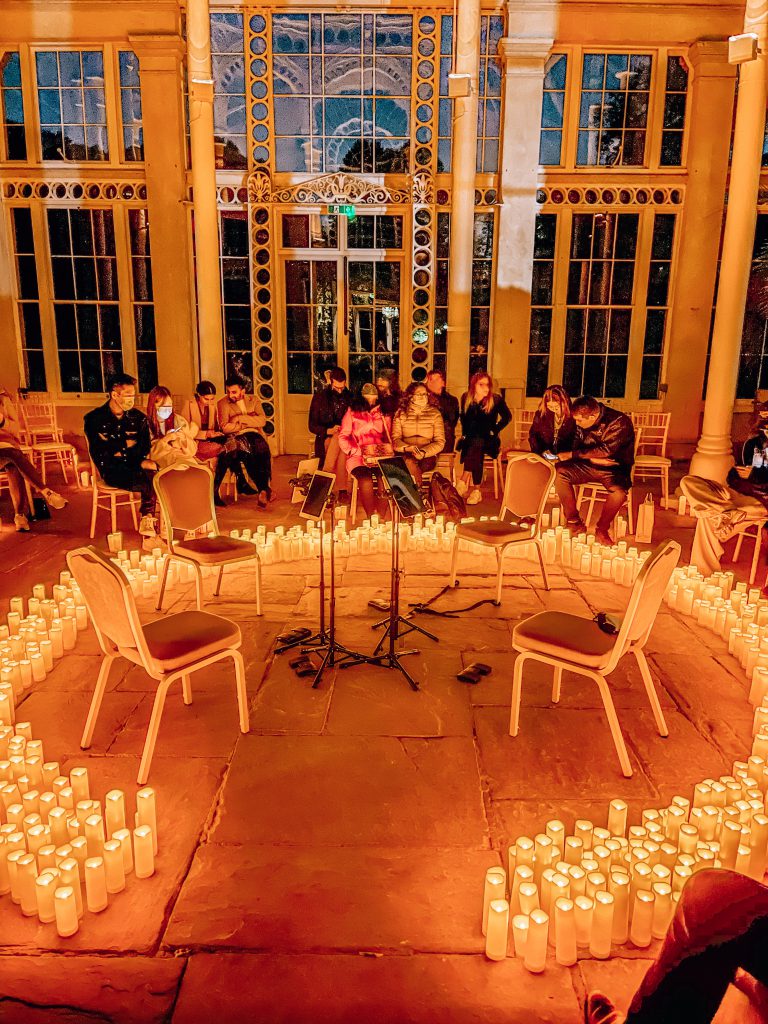 DARKFIELD
DARKFIELD create immersive experiences at the forefront of technology and theatre. As their name implies, most of their experiences involve being completely in the dark with binaural sound headphones, as well as movement to help ignite your other senses (touch, smell) and in turn your imagination. Their shows are held in containers, and are on & off throughout the year in key cultural moments like the BFI London Film Festival. I strongly recommend COMA, EULOGY, FLIGHT & SEANCE. I encourage you to sign to the newsletter to be the first to know when they are on.
Fairgame
I saw Fairgame by chance when visiting Canary Wharf, and I had to go! I call it 'a childhood immersive experience' because you'll get to play all the games you did as a kid but as a grownup, with alcohol and no kids around you. It's epic, to say the least, and the fee is affordable for what you get: 75 minutes to play all the games twice. It makes a great first date and an even better team event. Book it here.
Frameless
Frameless is a brand new culturally rich, immersive, multi-dimensional art experience, and the biggest of its kind in the UK! Inside Frameless, art seeps into every inch of space: in front of you, behind you, above and below you. You will journey through four distinctive galleries, experiencing a different type of immersive technology in each one. You'll see timeless art pieces you'll recognise presented in ways you have never seen or felt before. Tip to enjoy: sit down, lie down, let the art really reach you. Book it here.
Gunpowder Plot
Gunpowder Plot will take you on a journey back in time and experience London as it was in 1605. You're not just witnessing history, you are living it. Using a combination of live theatre and the latest digital technology you'll be transported into the heart of a story in which you are the protagonist. You're thrown into the world the plotters inhabited, immersed in an unforgettable, fully 360 environment. Book it here.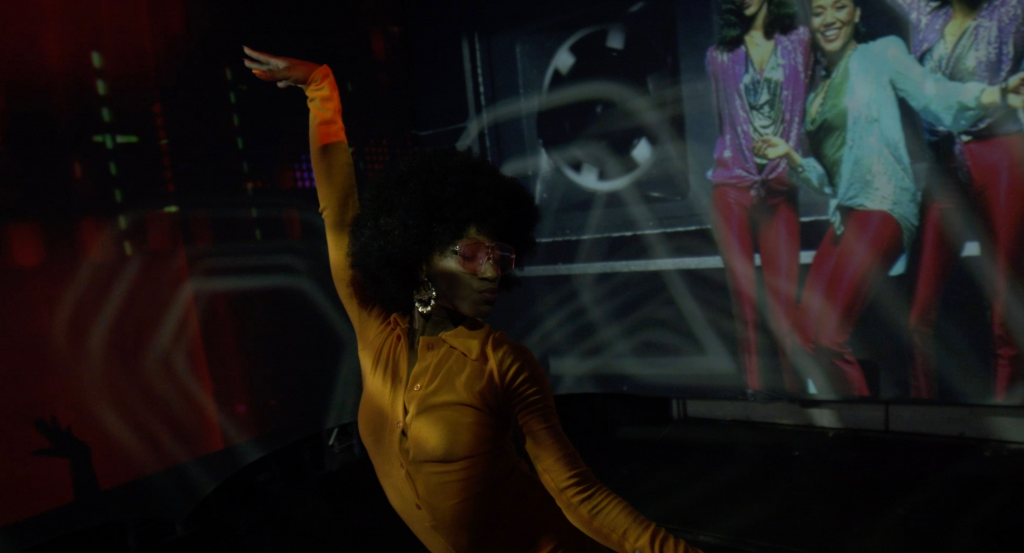 LexTempus
Aures London has launched LexTempus, a 90-minute full sensory docu-musical, which is running until May 2023. During the experience you are a passenger that's transported to the defining eras of Black American music. A first of its kind, the digital time machine is a celebration and education of Black music that stimulates all five senses with live performance, state-of-the-art technology and banging cocktails! The experience is a bit slow at the beginning, but it builds up and trust me – you'll end up on the dancefloor! Book it here.
meetspaceVR
meetspaceVR is one of the world's greatest VR experiences and much unlike any I've been before. It involves a free roam multi-player experience. You can bring up to 8 friends, put on your kits and kill Zombies or save a spaceship from enemies. Because the room where everything happens is huge you can roam and walk around which makes it even more immersive than other VR experiences available in London. All you need to worry about is having fun (and not bumping into the walls!). Book it here.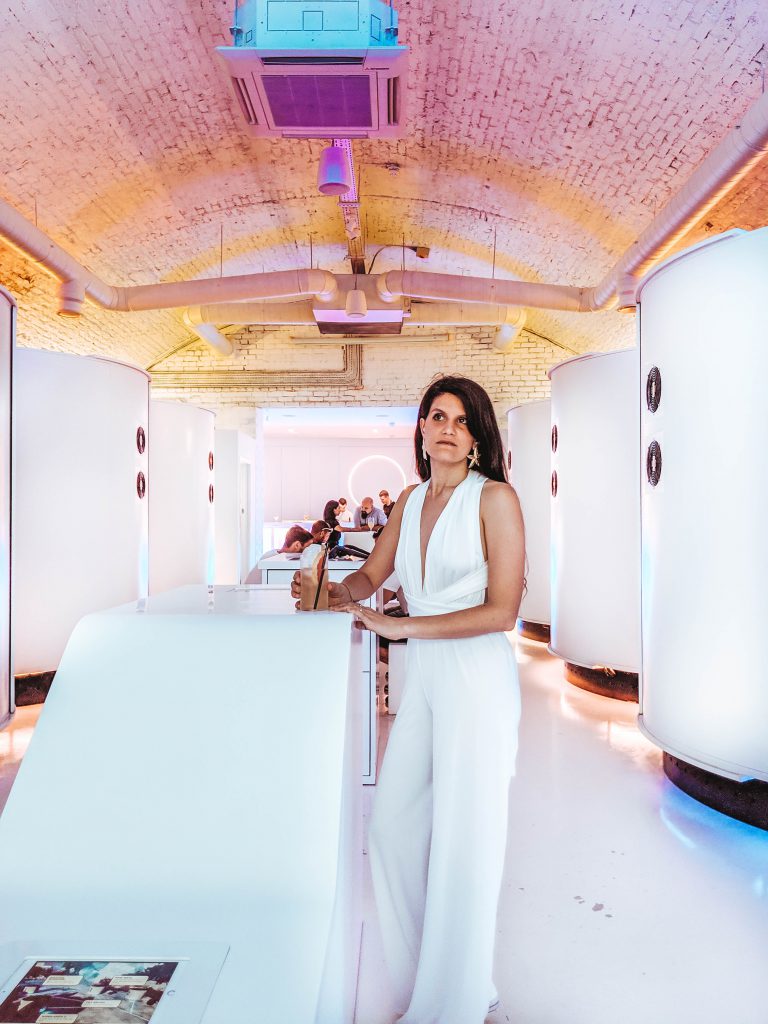 Otherworld
Otherworld is a virtual reality immersive experience where you step into a beautiful parallel world, an island. In this world you can choose any from sixteen very fun VR experiences. And it's 4D which means you'll be able to feel the heat from the sun was you emerge from a cave, or the wind as you gush down a tunnel. Once you are done adventuring, you can enjoy one of their exotic cocktails in a futuristic setting. Book it here.
Peaky Blinders: The Rise
Producers Immersive Everywhere (from The Great Gatsby & Doctor Who) have launched this immersive theatrical show that places you, the spectator, in the heart of one of the world's most popular TV series. You are invited to get dressed up and fully immersed in Tommy Shelby's world. As the story unfolds you will experience live sets, unmissable character interactions and ultimately determine whether Tommy Shelby and his family succeed in their ambition to take London. It's incredibly lovely and engaging! Book it here.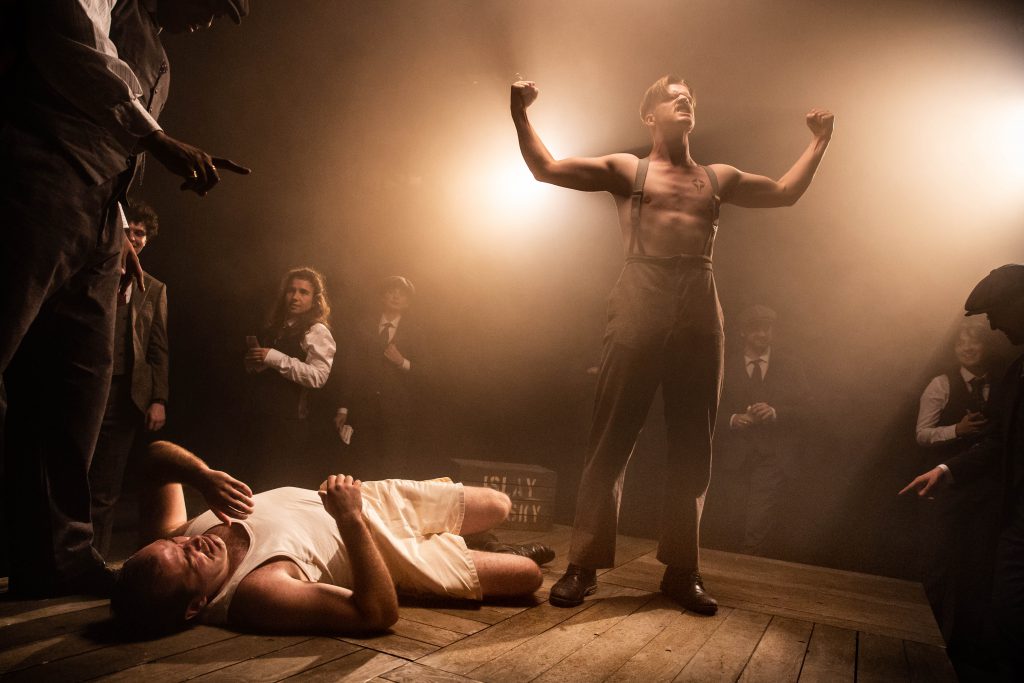 Saint Jude by Swamp Motel
AI is so in right now… and guess what! This immersive experience uses innovative AI technology to take you on a unique hour-long journey into someone else's mind. Saint Jude is the world's first organisation that allows you to communicate with people trapped in lifelong, irreversible comas. Using cutting-edge technology, you'll be able to talk to 'Sleepers' – hopeless coma patients lost to the depths of unconsciousness. Saint Jude's innovative software translates the Sleeper's brain patterns into speech in a split second, allowing you to communicate with them directly from the coma. Book it here.
Secret Cinema
The mother of immersive experiences in London, Secret Cinema was founded in 2007 and specialises in immersive theatrical experiences based on film and television, combining film screenings with interactive performances in purpose-built bespoke sets. In simpler terms, imagine being able to step into your favourite film, to interact with the characters, dressed as one of them and hence becoming part of the story yourself. That's Secret Cinema! It has been held on movies like Back to the Future, Star Wars, Casino Royale and currently, on Stranger Things. Book it here.
Squid Game at Immersive Gamebox
Immersive Gamebox is an immersive, digital adventure you can try with friends. The experience consists in stepping into the Gamebox: a fully-private, interactive digital room featuring projection mapping, touch screens, motion tracking and surround sound to enjoy a hyper-immersive 60 minute adventure. It is unlike any other immersive gaming experiences I've tried! This week they have launched a new game where you can try your luck at playing Squid Game without *actually* dying and see if you survive…! It's super fun even if I died almost immediately at red light, green light. The available games change all the time, and new are launched pretty frequently which is great because you'll want to come back for sure. Book it here.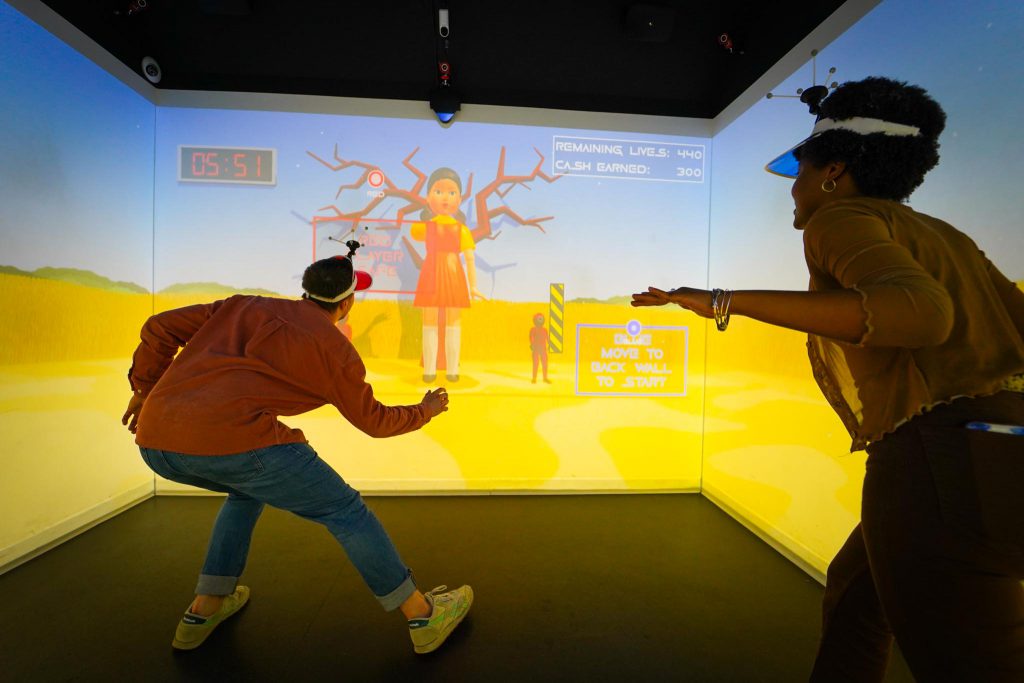 The Great Gatsby
From Olivier Award winning producers, London's longest running immersive theatre production The Great Gatsby is now playing in the West End. In this immersive play, Jay Gatsby invites you to one of his infamous parties. Learn more here.
Twist Museum
Developed in collaboration with artists, neuroscientists and philosophers, Twist Museum is an immersive experience that explores – and puts to the test – the power of your mind in experiencing the world around you. Explore the joy and wonder of illusion. Step into mind-altering immersive rooms, get up close and personal with unexpected interactive illusions, and discover how your brain interprets reality. Book it here.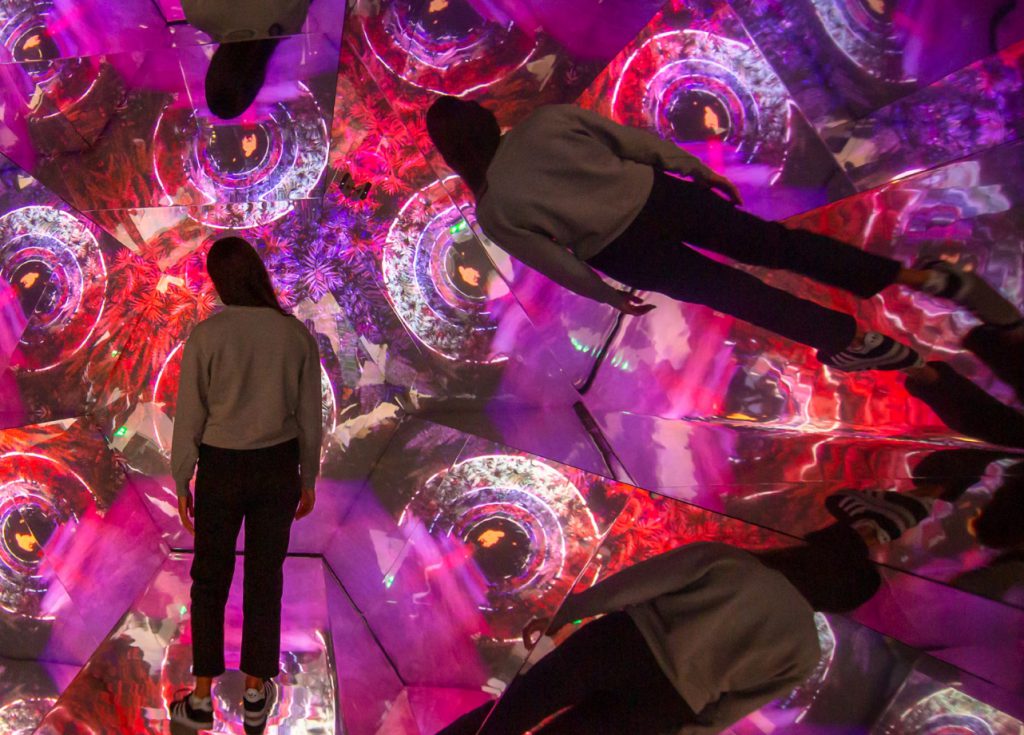 LONDON'S IMMERSIVE EXHIBITIONS
Van Gogh The Immersive Experience
Step into the works of Vincent Van Gogh at this truly breathtaking art experience, which uses 360-degree video projection to bring the artist's works to life. You'll be able to look up at a Starry Night, or see the birds fly through Wheatfield with Crows. Don't miss out on the very good VR experience, which invites you to wander through Arles and see the inspiration for Van Gogh's paintings unfold before you. It's an entirely new way to experience art, and one of London's finest immersive experiences. Book it here.
LONDON'S COCKTAIL IMMERSIVE EXPERIENCES
London's immersive experiences where you drink delicious cocktails while you have immersive fun!
ABQ
ABQ is the immersive experience where you prepare and drink molecular cocktails from an RV dressed in a hazmat suit. Did it take you back to Breaking Bad? Well that's the point. Learn more here.
Alcotraz
This cocktail immersive experience has been around for a long while, and it's now open in two London locations: Shoreditch & Covent Garden. Drink cocktails from a prison cell with your in-mates (pun intended). You need to sneak in your own booze thought, past the warden. Book Alcotraz here.
Avora
Avora is a first of its kind cocktail adventure where guests can discover a brand-new world engulfed in mystery and wonder, brought to life through awe-inspiring theatrical sets, unique cocktails and a cast of talented actors. Step through the newly discovered gateway into the magical world of Avora where you'll get to meet the locals and explore the world to discover the ingredients to three extraordinary cocktails you will enjoy. Book it here.
Cahoots
Cahoots it's a 1946 tube-themed cocktail bar, so get ready for some underground fun! It's also been around for a while but has only more recently expanded its usual venue to include a Tickets Hall & Control Room, for more fun. Learn more about Cahoots here.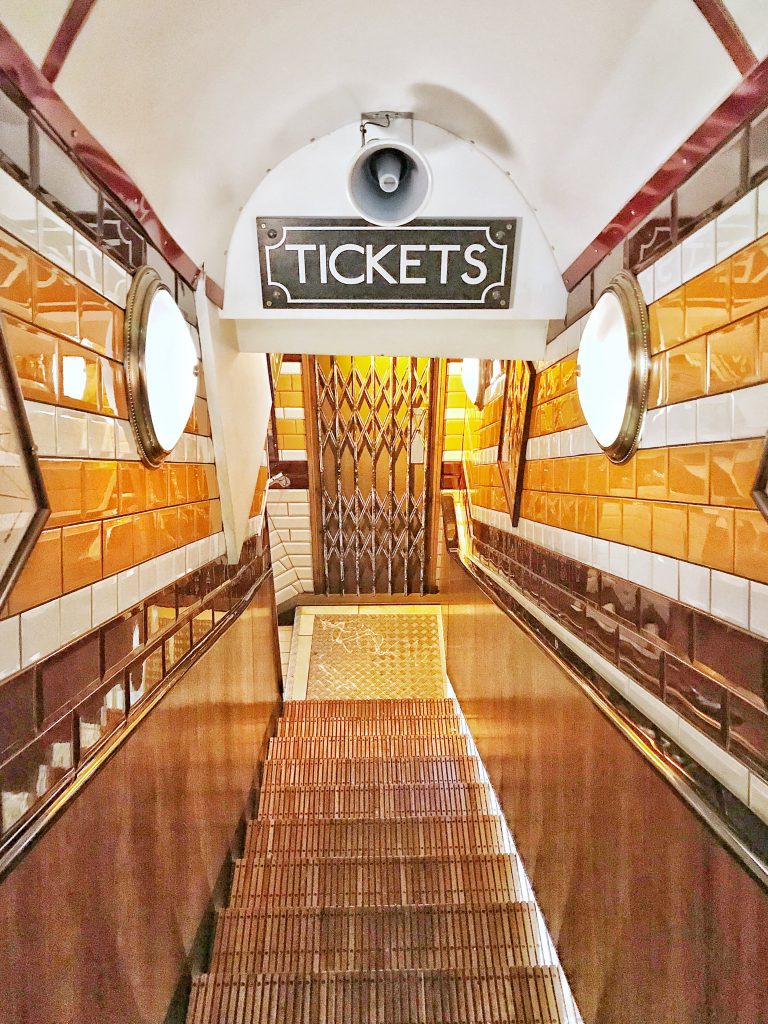 H-Division
Enter a bar which relives the Victorian London era and venture into Jack The Ripper's mind using both traditional and modern investigation methods. Hats, capes, typewriters, telegrams and of course cocktails are in order! Book it here.
Moonshine Saloon
To all the cowboys out there, Moonshine Saloon is where you get to drink delicious cocktails in a Wild West Saloon. You'll have a cowboy hat and jacket, obvs, and you need to bring your own liquor. Just make sure the sheriff doesn't find out. Learn more here.
Mr Foggs Pawnbrokers
Mr Foggs has done it again with its newest immersive bar, inspired in the mysterious pawn shop of Frank Fogg. Frank has opened the doors to his Victorian pawn shop, showcasing a display of unique artefacts collected from around the world and eccentric cocktails to match his collection. My favourites were Fools Gold and Priceless Heirloom. Book your drinks table here.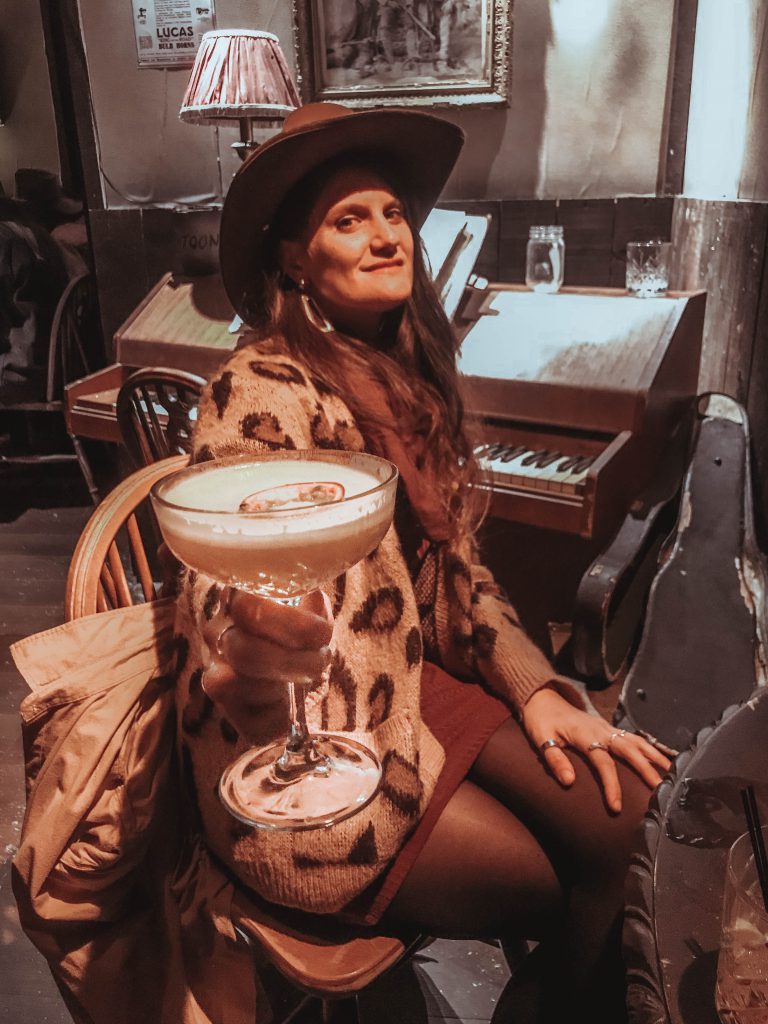 Mr Foggs
Mr Fogg's have various Insta-worthy adventurous bars, each with different themes, inspired by Phileas Fogg's incredible journey around the world. The concept behind Mr Fogg's bars is Jules Verne's famous novel, Around the World in 80 Days. The bars are stuffed with things Mr Fogg might collect during his journey. Maps and charts, flags and stuffed animals, old bicycles, bird cages, antique clocks and telescopes. It's not just the decoration that reflects Mr Fogg's Victorian world. Each Mr Fogg's venue offers different cocktail menu tailored to the bar's specific theme helping you stepping into the novel's pages and completely immerse into the fantasy novel. Check it out here.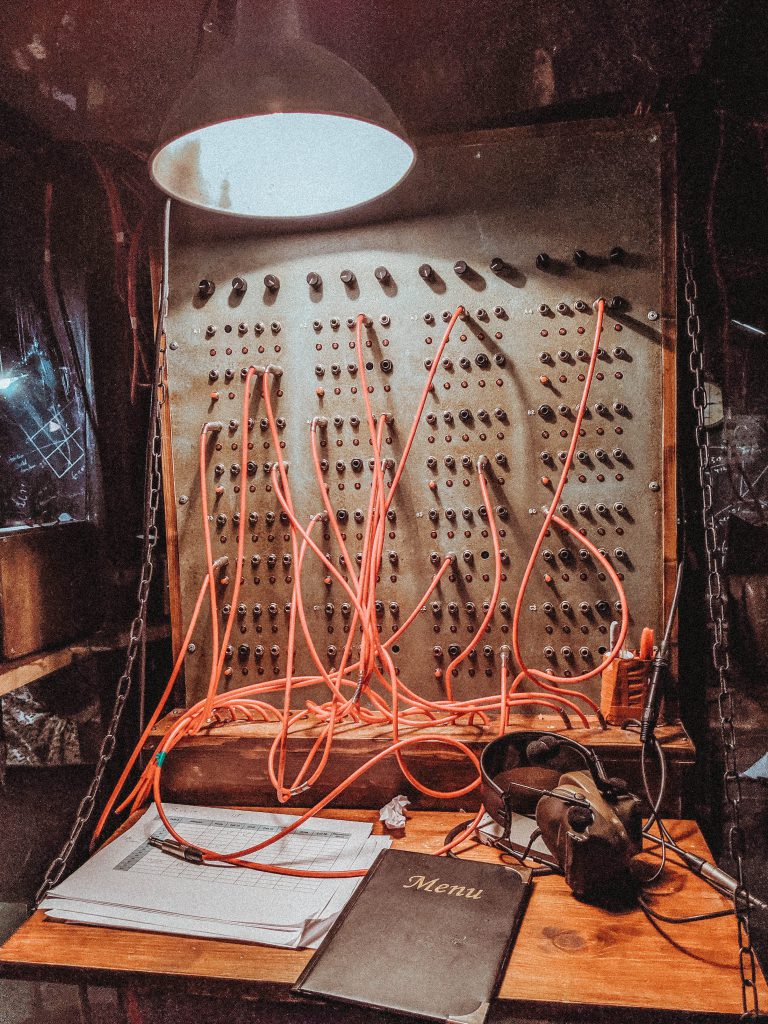 The Bletchley
Are you into solving cryptic missions? The Bletchley involves drinking cocktails while solving secret missions and decoding encrypted messages using a WWII enigma machine! You'll also get to wear a secret agent jacket while you are at it. Also did I mention that the cocktails you are made, are specifically tailored to your unique taste and personality? Book it here, and when you are done grab dinner at Jolie which is just upstairs and it's de-li-cious. You'll finish the evening saying: Oh, what a night, what a night, what a night!
The Cauldron
In The Cauldron you become a wizard in an immersive & interactive potions class where you make "magic" cocktails using a cauldron and a magic wand with special properties (and cough cough, science). Harry Potter fan or not, you'll love it! Learn more here.
The Grid
The Grid is a sci-fi meets escape room immersive experience, you'll be a recruit who needs to free the world from an evil AI algorithm using nothing but your wits. It's lots of fun, and you get to create your own cocktail at the end of it. Saving the world will make you thirsty, that's for sure. Book it here.
LONDON'S DINING IMMERSIVE EXPERIENCES
London's immersive experiences where multi-course dining is part of the experience to spark all the senses!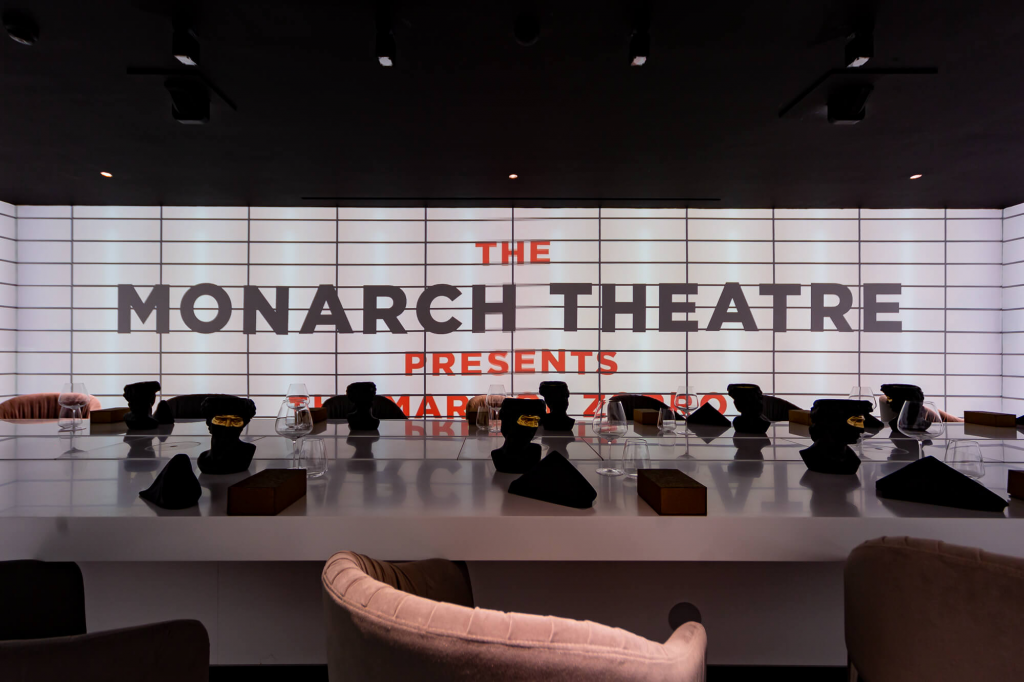 Monarch Theatre
Probably the world's best immersive dining experience right now, Monarch Theatre will take you on a culinary and visual journey with the help of floor-to-ceiling screens and 360-degree projection mapping. Truly a one-of-a-kind gastronomic show, with carefully crafted staging and immersive courses that play with the senses. The experience is abundantly rich in storytelling, of characters good, evil and the blurred lines in between. And some of the courses are out of this world: one of them levitates. Book it here.
Dans Le Noir
In Dans Le Noir you enjoy a multi-course dinner in the dark. Yes, pitch black, probably the darkest dark you have ever been in. It's something I believe everyone should do at least once, it's an unforgettable experience, which simply can't be explained. You need to experience it yourself! There are various menu choices available, with or without wine pairing. Book it here.
Faulty Towers Dining Experience
Faulty Towers The Dining Experience, is a critically acclaimed international immersive phenomenon that celebrated its tenth birthday in London's West End! It is a highly interactive experience, where audiences enjoy a 3-course meal and 5-star comedy. A loving tribute to the BBC's classic TV series, the show has been seen by over a million people worldwide since it was born in Australia in 1997 and is London's longest running immersive show. It is loads of fun! Book it here.
Supperclub.tube
Come and join Bea and the Supperclub team in a food journey from Mexico to Patagonia. Three nights a week, a tube carriage is transformed into a dining space where a carefully curated playlist and dimmed lights set the atmosphere for an amazing dinner. The menu changes frequently, but always has one thing in common, it's delicious! Book it here.
The Murdér Express Part Deux – Jewel of The Empire
The famous immersive dining 'whodunnit' experience 'The Murder Express' is back with a sequel with a refreshed story and new bespoke menu. Travel to Pedley Street Station and hop into The Murdér Express for a train journey and delicious 4-course meal while you also work on solving a murder that happens on board. This London immersive dining experience is funny, exquisite and loads of fun. Book it here.
PAST LONDON IMMERSIVE EXPERIENCES
A section dedicated to London's immersive experiences that no longer are. I love to keep a record for my own sake!
Army of The Dead – Viva Las Vengeance
Zombies in Westfield? Viva Las Vengeance was an immersive VR experience unlike others. After being checked-in you would join the Viva Las Vengeance crew to shoot the 'shamblers' (their name for zombies) from a truck. Learn more here.
Dr Who Time Fracture
Dr Who Time fracture was a ground breaking experience that transported you to the universe of Dr Who. You were commanded to fix a time fracture and save the world transported through multiple rooms with movie like production value and invited to solve different challenges by actors. More info.
ECHOES by Colab Theatre
The renowned immersive experience company Colab Theatre is back this year with a new horror experience! If you love a horror production and a bit of a scare (a small scare, not a huge scare, don't worry!) then you'll love Echoes. You'll have to do some detective work, and fetching of items in a dark basement though… steering clear from a ghost, that is. The acting is impeccable! More info.
Journey At Chelsea Funhouse
Journey at Chelsea Funhouse was an immersive restaurant set to take you on a taste and flavour voyage through different parts of the world. The concept was based around a 2hr food and drink tasting experience with flavours inspired by famous journeys and routes around the globe.
Journey to the Underworld
Similar to The Murdér Express, Journey to the Underworld was an immersive dining experience where you hopped into a train while enjoying delicious food. But the train went somewhere rather daunting: the Underworld. Learn more here.
Lightopia
Lightopia is an award-winning and visually spectacular lantern and light festival which pops around the holidays. Learn more here.
Lost Origin
Situated at Hoxton Docks, Lost Origin was a mixed-reality experience in which participants explored parallel worlds, uncovered vital evidence and discovered intriguing secrets. The experience was extremely fun and one-of-it's-kind given how it integrated augmented reality. The production values were some of the best I have ever seen in the immersive industry for the short period of time it ran. Learn more here.
Mexican Geniuses: A Frida & Diego Immersive Experience
Mexican Geniuses is a 360º digital art exhibition that invites you to step into the incomparable universe of Frida Kahlo and Diego Rivera, two of the most inspiring and revolutionary artists of the 20th century. You'll hear explanations and details on the life of these two iconic artists, and learn about the influence they had on each other, see many of their portraits and paintings, enjoy a 360 digital show (the best bit!) and a fun VR immersive experience. Book it here.
Mulan Rouge
Renowned immersive dining venue The Vaults is bringing us a new exciting show this autumn! Mulan Rouge sees Mulan and Moulin Rouge collide to create a drag-tastic parody performance, fuelled with comedy, burlesque and a four-course feast. You will see gender walls taken down, eat delicious food and have lots and lots of fun! Book it here.
Meet Vincent
In this experience you could listen to Vincent Van Gogh speaking directly to you and learn about his hope, his despair, his inspiration and his friendships in a magical and emotional journey through his life. The experience spoke to all of your senses. Touching everything was not only allowed but encouraged.
Money Heist
Money Heist: The Experience was a first-person immersive heist on an international scale. In this adventure, you would take part in a heist on one of the most emblematic locations in London. It all started in an auction and gets, well, complicated. Let's say you ended up in a red jumpsuit amongst criminals! More info.
Murder Mystery: Murder on the Undeground
This experience was about finding the murderer of London's Postal Museum manager… in the actual Postal Museum! You got to interview suspects and ride the postal train in the process. Learn more here.
One Night Records
One Night Records was UK's First Immersive Music venue. It was not just a gig but an adventure through the ages: from the glitz and glamour of 1920's Jazz to the neons of 1950's Rock n Roll, you could immerse yourself in beautifully designed spaces, set across a 30,000 sq ft venue in London Bridge. Learn more here.
Pirates of the Hidden Spirit
Drinking cocktails in a real boat docked somewhere in central London dressed as a pirate. Didn't think that was possible? Well in London it was! Learn more here.
The Drop by Swamp Motel
The Drop was an interactive, immersive escape experience from award-winning entertainment company Swamp Motel. Your private group became the main actors in an intriguing story of betrayal, solving puzzles to escape and retrieve a long lost book. What I loved about The Drop is that each experience was unique, and took place in multiple venues (some public), making it truly immersive. Book it here.
The Grand Expedition
Gingerline's The Grand Expedition was an unmissable 5-course, culinary journey around the world. It's a fusion of live animation, dance display, flavoursome delights and exquisite set design. Might be hard to believe, but this experience happened within one room, with performances, interactions and animations all around you. Learn more here.
The Great Feast
The Great Feast is a new food and music festival which features Michelin-starred plates, creative cocktails, decadent desserts, live music and a special immersive tasting experience. You can buy an entry ticket which includes a welcome cocktail, or go full on with a tasting experience, or simply focus on their immersive experience called Joyride. It depends how hungry a person you are! Book it here.
The Little Mermaid Cocktail Experience
The Little Mermaid was a production by Fever, where you got to relive the world known in a theatrical cocktail experience. Fever had a modern (and fun!) take on Hans Christian Andersen story as well as amazing actors, singing, delicious cocktails and an unforgettable wardrobe. Learn more here.
The Medieval Banquet Experience
One of the most fun immersive experiences I've been to, The Medieval Banquet Experience had you sitting in a long table in medieval attire while you ate, drank and acted as if you were in medieval times; cheering up the multiple performances occurring through the evening. On top of the drinking and eating, there was dancing and singing involved.
The Witches of Oz
Following the success of Mulan Rouge, The Witches of Oz was an immersive experience combining
comedy, cabaret, dining, and a sprinkle of political rivalry. One of the most well-respected creatives on the
East London drag and queer scene, ShayShay directed a technicolour marvel inspired by L. Frank Baum's
iconic world of witches, rainbows, and magical slippers. As a mixed race, Japanese American/Irish queer person,
ShayShay's original work celebrated themes of identity, gender diversity and Asian experiences as well as wider
social issues. More info.
If you liked this article, do me the great favor of leaving a comment and following me on Instagram (@travelwithpau). Feel free to say 'Hello!' I don't bite 🙂