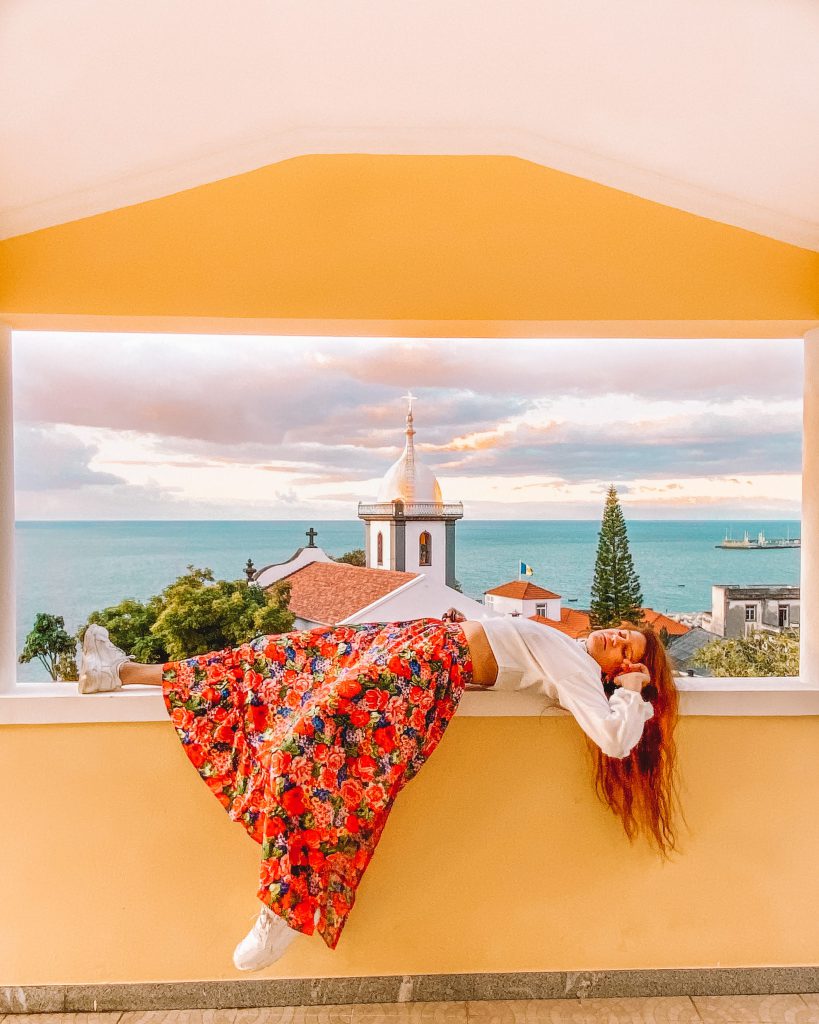 MADEIRA BUCKET LIST & TRAVEL GUIDE
WHY TO VISIT MADEIRA
Simple, Madeira is known as the "island of eternal spring"! The reason it's known that way is that Madeira's subtropical climate makes it a great destination to visit all year round. August and September are the hottest months when temperatures reach around 26 degrees centigrade but it's a popular spot to seek out winter sunshine as temperatures hover around 19 degrees in January and February. So if you want to avoid the crowds, visit on those months! But it's not only the weather, Madeira has been deemed the Hawaii of Europe. There's a lot to do, the main thing being hiking which is the best way to enjoy the breathtaking scenery.
HOW TO GET TO AND AROUND MADEIRA
Madeira is part of Portugal but this island is closer to Africa than it is to Europe. It is a four-hour flight away from London and Paris. I took a direct flight to Madeira from London which I found using Skyscanner and there are direct flights from Europe's main cities.
Renting a car is a good way to get around Madeira but not absolutely necessary. Tours are cheap, so if you stay in Funchal you can just take day tours and explore Funchal on foot. Some hikes are accesible by bus as well.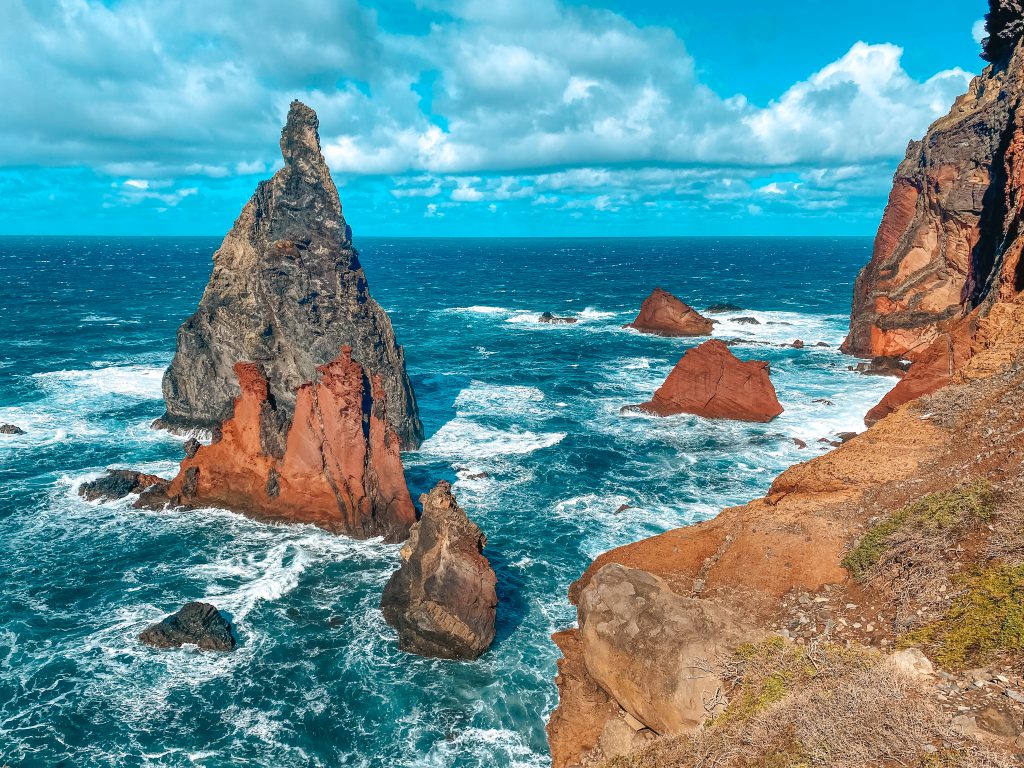 HOW LONG TO STAY IN MADEIRA
This is a tough question to answer! I traveled to Madeira for 6 full days and I feel like it could have been more. My recommendation is that you spend 5-6 days if you don't hike, and 7 days or more if you are into hiking. Why? One of the main attractions of Madeira is the Levada Walks. I explain what these are in the things to do, but there are over 30 hiking trails in the island so there's plenty to fill the days with.
WHERE TO STAY IN MADEIRA
I would strongly recommend that you stay in Funchal, despite the rest of the island being beautiful it's in Funchal where you'll find the best hotels, restaurants and bars. When it comes to hotels, I stayed in Quinta Belo Sao Tiago. It's an old style, elegant hotel located in a quiet area of Funchal. It features an outdoor heated pool surrounded by tropical gardens, and the balcony from the lobby has an absolutely incredible view. It is also a short walk away from right the middle of the center. Last, you can enjoy relaxing massage treatments, a hot tub, Turkish bath and a sauna at the wellness centre. For the gym junkies (like me) there's a fitness centre available. Honestly, a stroll in the tropical gardens, followed by a dip in the pool is a perfect end to the day! Breakfast is quite lovely too. You can book Quinta Belo Sao Tiago here.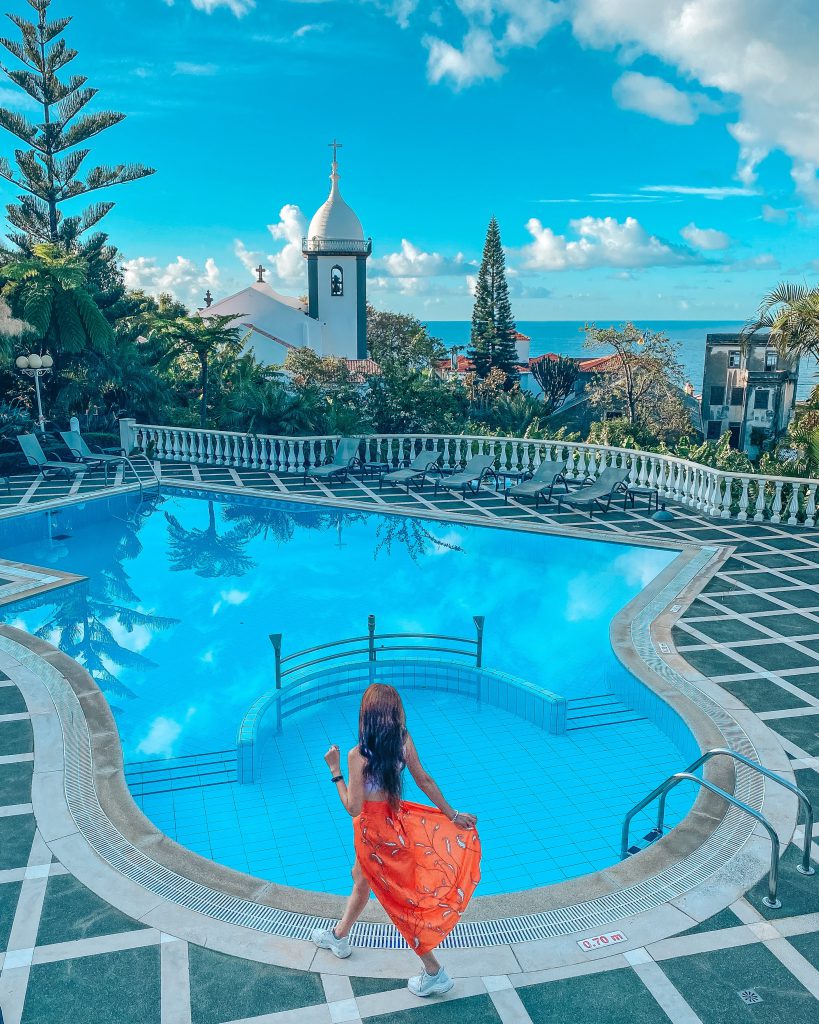 THINGS TO DO IN MADEIRA
Do many Levada Walks!
Levada walks are almost unarguably one of the best things to do in Madeira. "Levada" is a Portuguese word that derives from "levar", which means to carry. They are mini water canals. The levadas were originally created in the 16th Century to bring water from the rainy north of the island to the sun soaked south where crops such as sugar, bananas and grapes grow. The original settlers chipped away at the cliffs and tunnelled through solid rock to make channels and tunnels all with a slight slope so that the water meandered down towards its destination. To this day, the Levadeiro remains one of the oldest jobs on the island. Levadeiros are in charge of opening and closing the gates which control the flow of the levadas. In total there are 2500 kms of levadas on the island and many were created even before the first roads! So, Levada walks are very popular in Madeira as the way is cleared by maintained paths running along the water making it a calming experience with a scenic background of nature at its most lush. It also allows access to many parts not available to those driving.
It's recommended to have a guide for the Levada walks, and you are also helping the local economy by doing so! The best levada walks are Rabaçal and the 25 Fountains, Caldeirão Verde, Levada do Norte and Serra da Agua.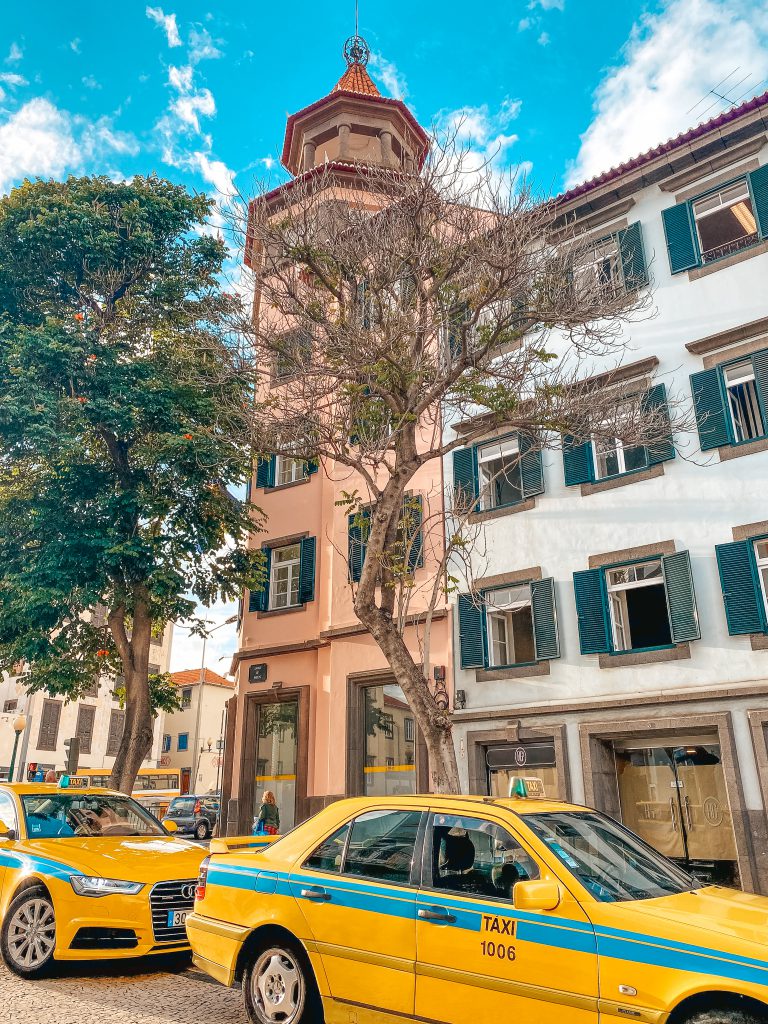 Do a walking tour of Funchal
Funchal is the Capital of the Archipelago of Madeira, the first place the Portuguese settled overseas in the 15th, in the Age of Discoveries. It was a very important harbor in the Atlantic, as many ships stopped over to get supplies. It was in Madeira that the mass production of sugar started. Madeira supplied sugar to Europe in the 15th, 16th and part of the 17th Century. Christopher Colombus was in Madeira for the first time in 1478 due to a sugar trade and then lived on the Archipelago for about 2 years, as he married a local. With the decline of sugar trade in Madeira, wine took over. Funchal is also the hometown of the Football superstar Cristiano Ronaldo. As you can see, Funchal has interesting history and there are lots more interesting details you'll only find out from a local so I recommend you do a walking tour. Don't want to walk? Then do a tour in a Tukxi!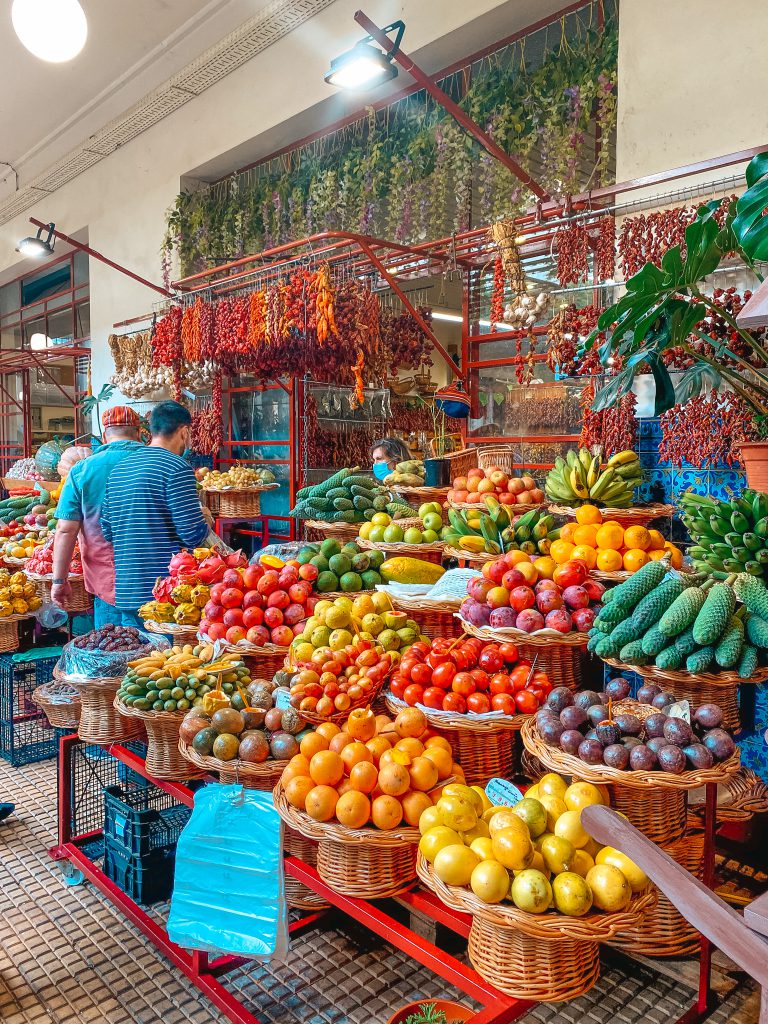 Buy fruits at Mercado dos Lavradores
This market is located right in the center of Funchal and it's literally called 'Farmers Market'. It is a fruit, vegetable, flower and fish market that is located in a historic building opened on 1940, which is covered in Portuguese tiles. Everyone working in the market is dressed in traditional attire which is quite cute. The most fun thing to do in this market is buy fruits! There are so many types of passion fruit, and the famous 'banana pineapple' fruit, the fruit from the Monstera Deliciosa plant.
Take the funicular up to Monte
Visiting Monte is one of the most popular things to do in Funchal. Following the route of an old steam railway line is a modern cable car system whisking you up from Almirante Reis to Funchal's upper suburb of Monte. The journey takes 15-20 minutes so you'll have plenty of time to soak up the views of the ocean and the terraced mountainsides clustered with white and colourful houses. Once in Monte, walk a few minutes and visit the Monte Palace Tropical Garden, the Church of our Lady of Monte and definitely, definitely take a Monte sledge down! If you have a bit more time, then also visit the Botanical Gardens of Madeira. If you want to eat something in Monte, the cafe in Monte Palace Tropical Garden does lovely brunch type food.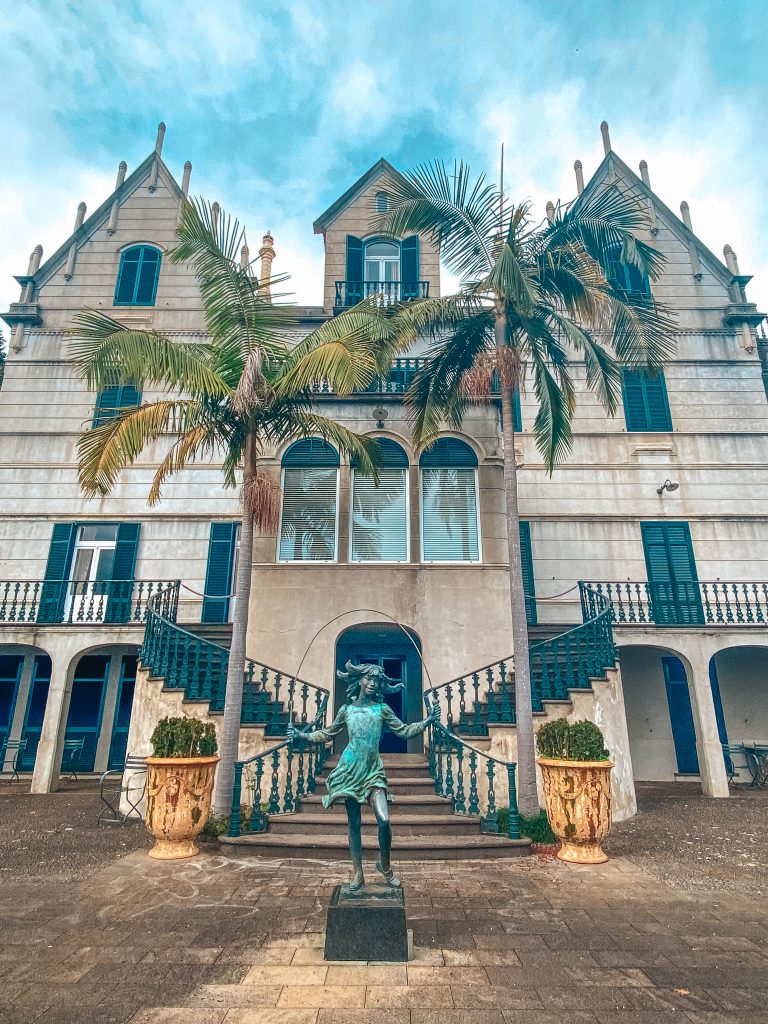 Take the wicker basket Monte sledge down
Ok, so you won't go down from Monte in the cable car, you'll take a wicker basket sled ride down! Look out for men dressed in white, close to the Church of our Lady of Monte. They pull push you down the steep winding streets inside a wicker basket. This is by far Madeira's most original tourist attraction and it was so much fun. Prices are around 25-40 EUR depending on how many people you are. Do not, I repeat, do not miss this. And if you are wondering, yes the sledge uses the same streets as the cars but there are spotters making sure you stay safe.
Have a Poncha
Poncha is the national drink of Madeira and the traditional version is made of rum, honey, sugar, and lemon or orange. It's quite punchy! Poncha is muddled together with a unique tool created in Madeira called a mexelote. There's also Poncha with fruit flavours now like strawberry, passion fruit, etc. which are a bit less punchy than the traditional one. You can find Poncha everywhere. In Funchal, try Rei da Poncha.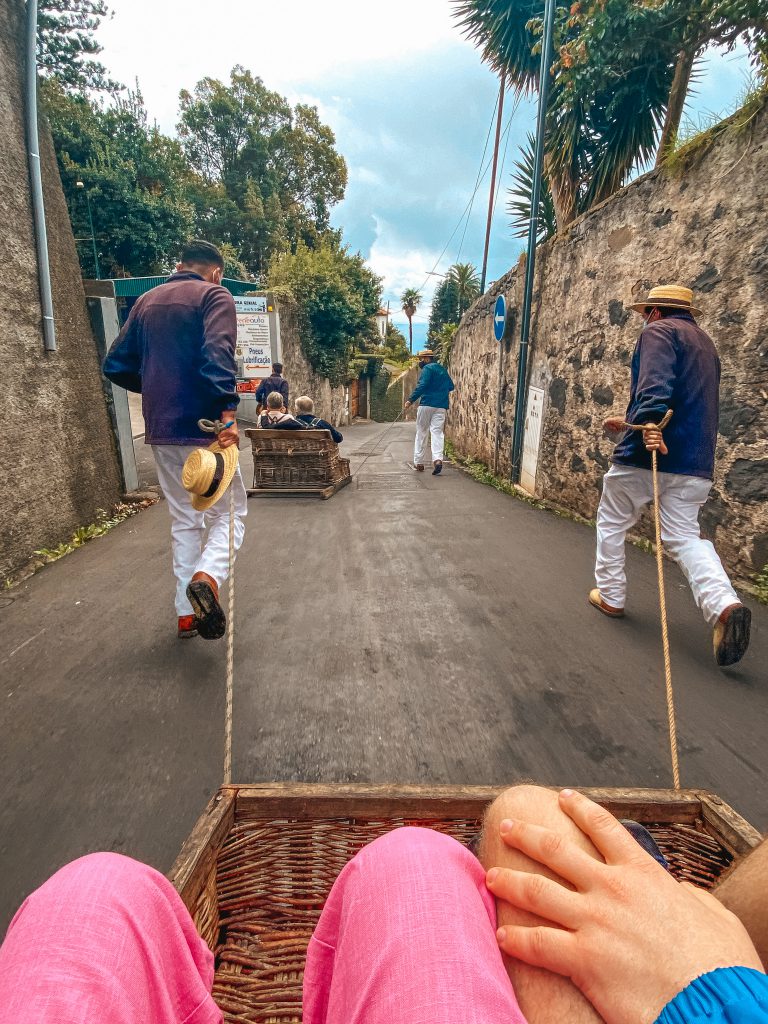 Eat traditional Madeiran food
You can't skip on some traditional Madeiran food when in Madeira! Some typical Madeiran food dishes are: Tomato and onion soup (with a poached egg on top!), tuna steak with fried maize, black Scabbard fish fillet with Banana, "Espetada" (beef on a skewer with salt, garlic and bay leaves) and "bolo do caco" (the regular Madeiran bread, made with sweet potatoes, flour, baking powder, salt, and water). The best restaurants in Funchal to have some of these are Taberna Madeira, Restaurante Santa Maria Funchal, Restaurante Taberna Ruel. If you want to properly try out some food I recommend the Funchal Food & Wine Walking Tour.
Drink loads of Madeira Wine
With the decline of the sugar trades in Madeira, the Wine industry took over. The fortified Madeira Wine is known worldwide and, according to Thomas Jefferson, it is the wine of every civilized man! It was the Wine George Washington chose to celebrate the Declaration of Independence. And it's absolutely delicious. This Funchal Food & Wine Walking Tour, includes wine tasting in Blandys which is the most iconic Madeira wine producer. If you want just wine and no food, head to Blandys and try to reserve a tour in their shop.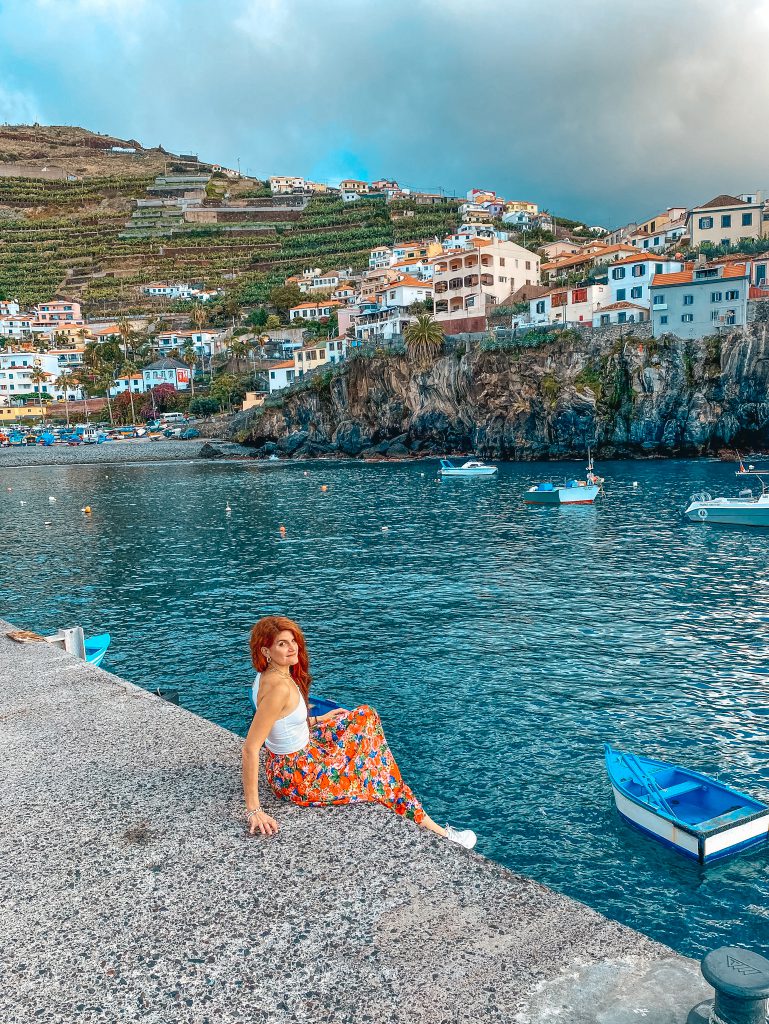 Try Bolo de Mel
Keeping on the topic of food and drinks, my last recommendation is for you to try Bolo de Mel or Madeira Honey Cake. The Madeira Honey Cake is one of the most traditional delicacies of Madeiran gastronomy. It is made with honey from local sugar cane and it can be preserved and eaten even weeks after being made. The best place to get this cake and other local delicacies is Fabrica Santo Antonio.
Visit the island's East, West & North
There are lots of attractions scattered across the island you won't really be able to visit unless you have a car. You can either rent a car and do these yourself, but this isn't really necessary. There are very affordable bus day tours that include a guide and take you to all of these!
Start with the Best of the West tour. If you do only one, make it this one! This tour takes you to the beautiful village of Câmara de Lobos, then to Cabo Girão Skywalk, Europe's highest cliff skywalk at 589m followed by a visit to the town of Ribeira Brava and north through the deep and narrow valleys of Serra D'Água. The tour then reaches Encumeada at the top of the valley, in order for you to enjoy an incredible view of the south and north coast of the island. Next, you will visit São Vicente on Madeira's north coast and the beautiful village of Porto Moniz where you'll admire the volcanic swimming pools. You will end it by exploring Paul da Serra, one of the biggest natural reserves in the world.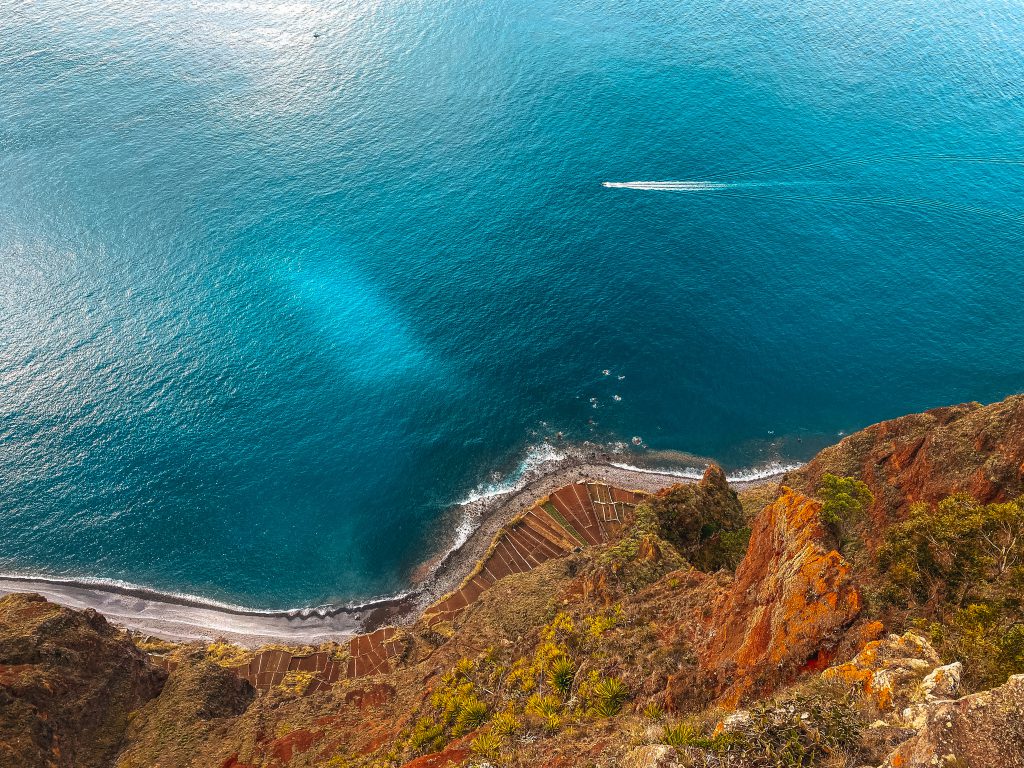 Next in your priority list should be the Best of the East tour. This tour will take you to Pico do Arieiro one of the highest peaks of the island for breathtaking views (I recommend you hike this one further below) and then to Santana, characterized by its small, thatched triangular and colorful houses. You will then visit Ponta de São Lourenço, situated in the eastern part of the island and Machico, a view point where you can look over the bay and the golden sandy beach.
Last (but not least) in your priority list is visiting the North. This tour will drive you to Porto da Cruz, stop at the unique village of Cabanas de São Jorge, the picturesque village of Ponta Delgada and São Vicente where you will visit the best underground volcanic feature on the island at the São Vicente Caves.
Hike Pico Areiro to Pico Ruivo
One of the best hikes that is not a Levada walk is the one to Pico Ruivo peak the highest point in Madeira. Enjoy spectacular views, and a beautiful walk past volcanic rock embellished with lava veins, jagged peaks and incredible flowers. This hike is best done with a guide and you can book it here.
Hike Ponta de São Lourenço
Another beautiful hike in Madeira is the Ponta de São Lourenço one. It's one of the most scenic hikes in the island where you can enjoy views of the rugged coast as you walk a 3.5-kilometer trail to the eastern most point of the island. Highlights are the fabulous seascapes, as well as the contrast between the calm south sea and the rough sea of the north. You can do this hike yourself, but beware, it can get super windy to the point I was scared at points (and I'm pretty hardcore). You can do this hike yourself or take a guided one in order to learn about the flora and fauna, and understand the volcanic origins of the island which can be seen here.
Go Dolphin & Whale watching
One of the most memorable experiences possibly of my life was the Dolphin & Whale watching boat tour I did in Madeira. I saw tens of dolphins, two humpback whales and two sperm whales. The humpback whales even put on a little show, we could see a rainbow on the little fountain that happened as they exhaled. It was magical! I recommend you book with Magic Dolphin which is the agency I used. They are the best rated one, my tour guide was a marine biologist and I've never seen someone so passionate about their job. You can choose the speedboat or the catamaran, we did the speedboat as it was the only one available that day and loved it. Book it below:
Visit Funchal's unusual Livraria Esperança
Founded in 1886 by Jacintho Figueira de Sousa, Livraria Esperança is a cultural and historic part of the Madeira Island. The bookshop has been in the same family for several generations with Jorge Figueira de Sousa taking over the business in 1996. This sixteenth century palace is a labyrinth of books with more than 70 different literacy sections around the store, all housed in more than 20 internal rooms. There's over 100,000 covers available in store, but what makes this bookshop especially unusual is that they display every book by cover, not spine!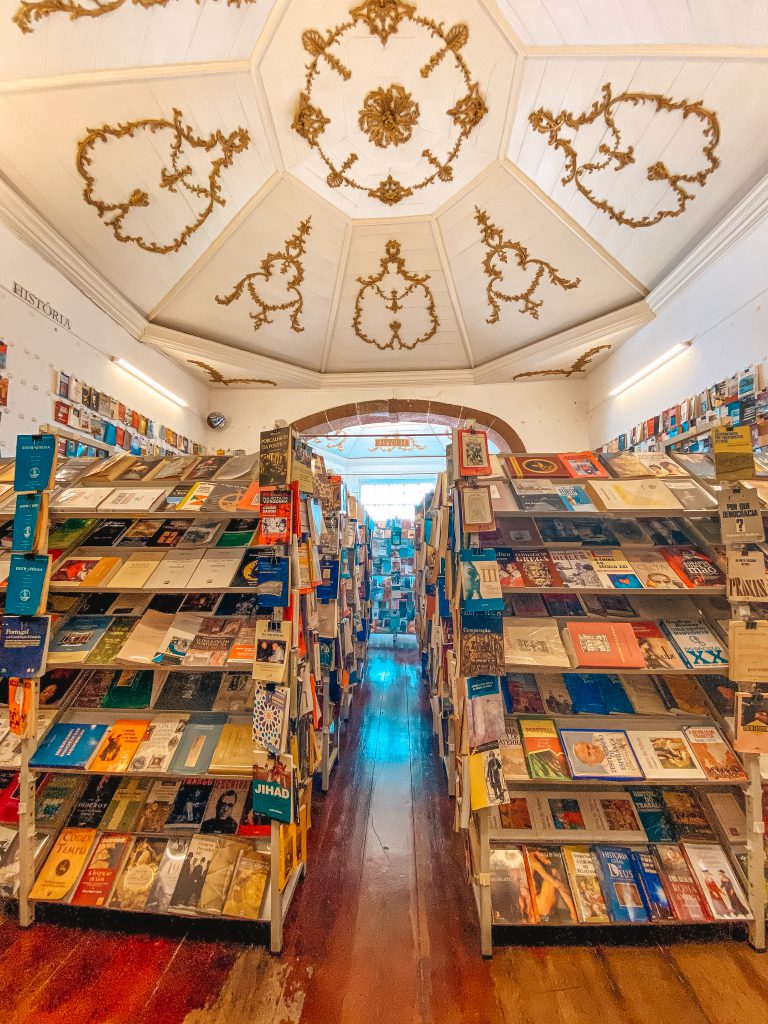 Visit the Valley of the Nuns
Being an island in the middle of the Atlantic brings many perils, historically speaking, the island of Madeira had to worry about pirates raiding the island as they terrorized the oceans. Curral des Freiras is located centrally on the island nestled between mountains, more or less isolated from the rest of the island, and it was traditionally inaccessible. Its isolation made it the perfect place for the islands' nuns to seek refuge from the marauding pirates and keep the convents' treasures safe, hence the name Valley of the Nuns. Nowadays, the village is accessible via a mountain tunnel, the dramatic scenery and high up viewpoints make it a stunning place to visit. There is an annual chestnut festival, with plenty of music, food, and wine to enjoy. To visit, take this highly rated, incredibly cheap tour.
Admire the painted doors of Rua Santa Maria
Rua de Santa Maria is one of oldest and most colourful streets in Funchal on the Portuguese island of Madeira. This narrow street, which dates back to 1430 as a thoroughfare up to the church, has recently become one of Funchal's most popular tourist attractions after the local council came up with an ingenious initiative in an attempt to revamp the slightly run down and dilapidated area. In 2014, the street was turned into a public art space, as local artists were invited to paint on over two hundred of the street's doors. The result is beautiful!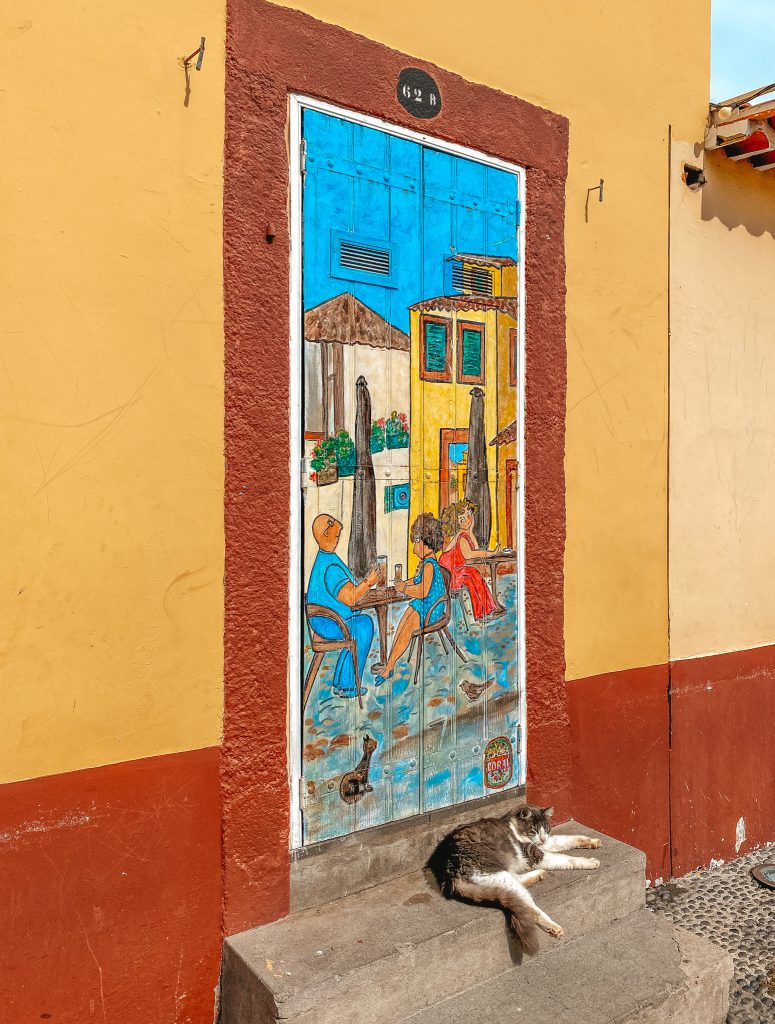 BEST TOURS IN MADEIRA
Some of Madeira's best rated tours some listed above, summarised below:
Enjoyed this article? Support my work by buying me an oat capuccino. Otherwise, do me a great favor of leaving a comment and following me on Instagram (@travelwithpau). Feel free to say 'Hello!' I don't bite. And make sure you save the article for later!

This post contains affiliate links. If you click on one and make a purchase, I might make a small commission, at no extra cost to you in order to help support my blog.