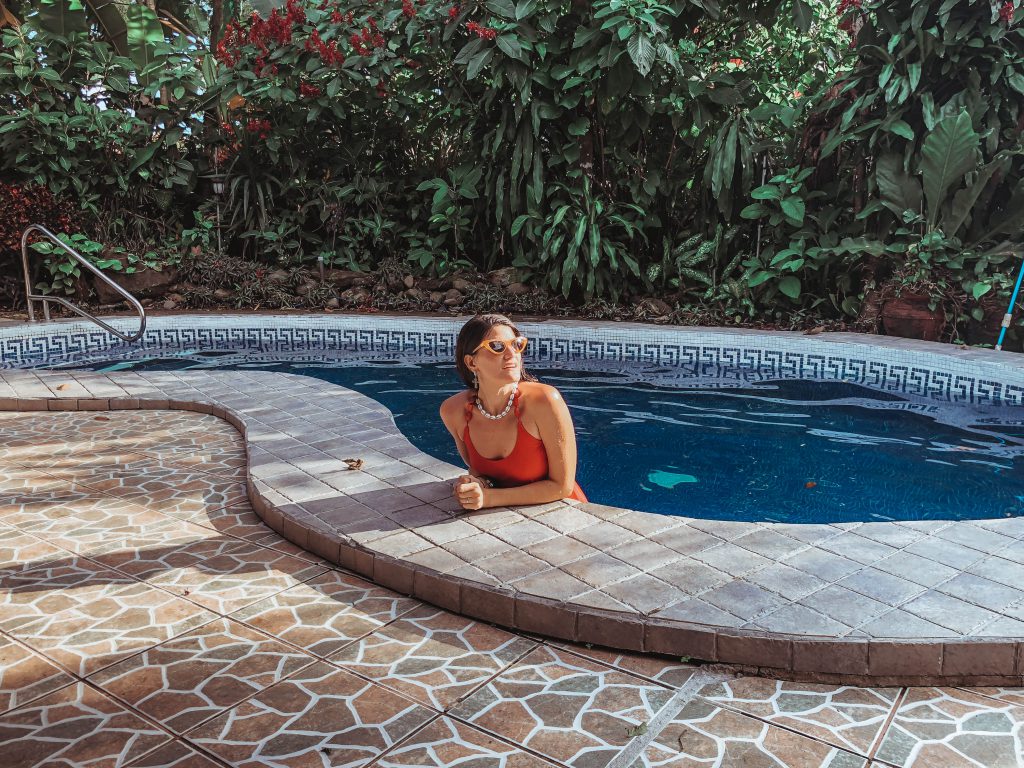 Manuel Antonio was my last stop in Costa Rica, and probably one of the places I was most intrigued about due to its popularity amongst travelers. I had a great time there both exploring the area as well as staying in Tico Tico Villas. Below the best things to do in Manuel Antonio, a review of my accommodation as well as recommendations on where to eat and how to get there.
Things to do in Manuel Antonio
Manuel Antonio National Park
Manuel Antonio National Park is the top attraction in Manuel Antonio, and there is a reason for that. The park is just perfect: it combines diversity of flora with a ton of wildlife and beautiful beaches. This is the park in Costa Rica where I saw most wildlife, including sloths for the first time! There is such abundance in this park, I absolutely loved it.
However, visiting it is not as straightforward as I had thought so. Hence, I've written a separate post with everything you need to know before visiting.
Espadilla Beach
Espadilla beach is just outside Manuel Antonio National Park. It's a very nice beach and the good thing is that you don't have to worry about monkeys or raccoons stealing your valuables, something that happens in the beaches of the national park. You can stay some time enjoying this beach after visiting the park. Sunset from this beach is also amazing. The sky gets orange and looks like a painting.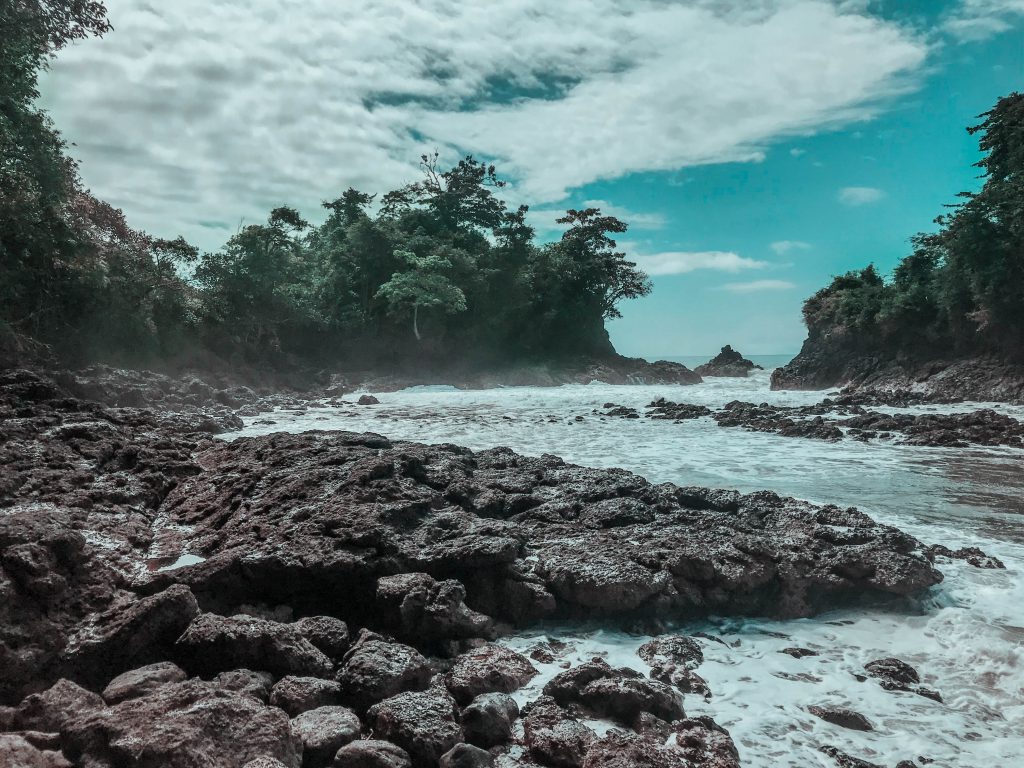 Biezans Beach
Biezans Beach is a small cove located at the bottom of a hill. To get there, you need to walk a few minutes downhill and then uphill when leaving. It is a lot less crowded than the beaches on the Manuel Antonio National Park. The water is much calmer than in the park as the beach is within a cove. You could potentially snorkel here although visibility is not always great. If you are going by car and plan to park nearby, you'll be charged around 2000 colones.
White water rafting
This was my second favorite thing to do in Manuel Antonio after the national park. After having spent most of our time in Costa Rica hiking National Parks and wildlife watching, we were ready for something different. I had never done rafting before, but Pablo had and was keen to do it again. With little notice, we booked a rafting experience at Los Naranjos River with Los Amigos Del Rio. Los Amigos Del Rio was top rated for rafting in Manuel Antonio so I thought we couldn't go wrong. And we were right! It was amazing. As we were visiting in low season, it was just 6 people going out to the river that morning.
The morning slot for Naranjo river starts at 7AM with breakfast at their office in Manuel Antonio which was conveniently 300m from Tico Tico Villas. We had gallo pinto, fruits, eggs, and great coffee. After that we were on our way. There were three guides coming with us as well as a photographer, and the driver. Upon arrival we were divided in two rafts, the two of us going in a smaller one. Nico, our guide, gave all of us a security brief and we were on our way.
The rafting was seriously so much fun and I never felt unsafe. I did fall at some point rather inexplicably as it wasn't in a tricky place but I was back on the boat two seconds later. We spent around two hours in the water. It was fun and also exhausting!
After packing up and driving back, we had a nice traditional lunch and had the entire afternoon to continue exploring Manuel Antonio. Visit this page to book the Naranjo river experience with Amigos del Rio.
Kayak on Damas Island Mangrove
Damas Island Mangrove is a great place to watch wildlife. There are boat tours, but it is is fun and environmentally friendly to do it in a kayak as you won't disturb animals with a motor. You'll be able to different animals to those from the National Park as the mangrove is a different habitat as well as relax while gliding through the water. Book your mangrove tour here.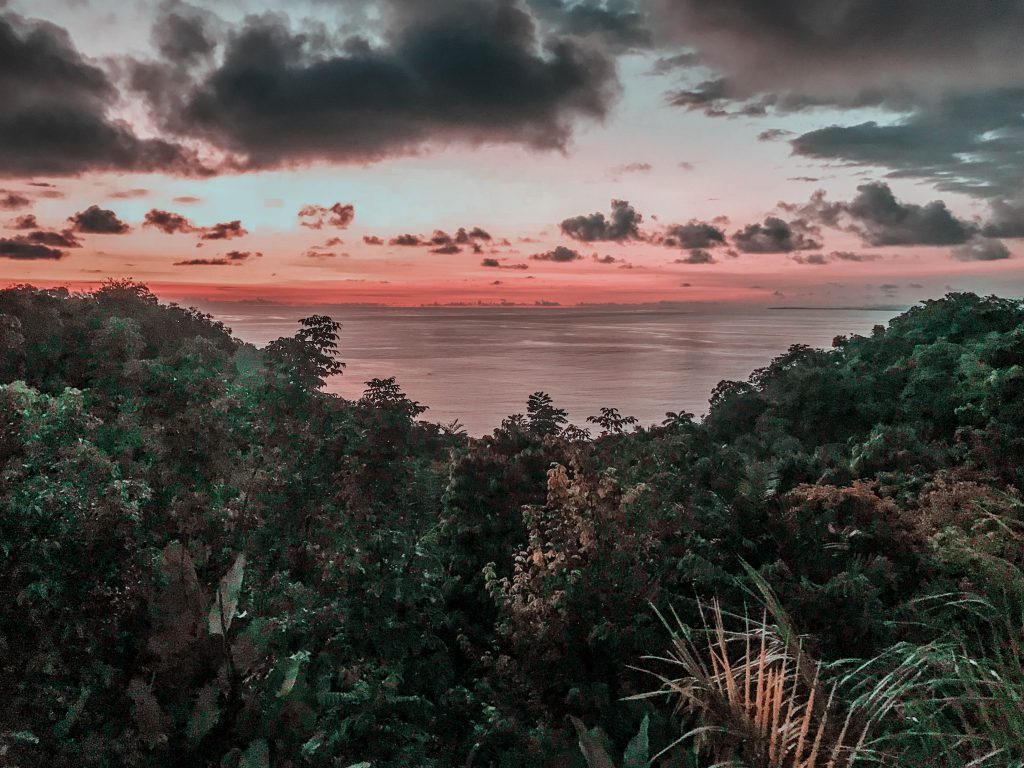 Watch the sunset, sip on a cocktail
The best places to watch the sunset in Manuel Antonio happen to also be bars & restaurants. Watch the sun go down and the skies turn orange from Barba Roja, Ronny's Place or Gaia Hotel. The first two are rather casual, with the caveat that while Barba Roja is in the main road, Ronny's Place is a bit out of the way. Won't be an issue if you have a car. The third one, Gaia Hotel, is for those looking for a something a bit more fancy, Good thing is Gaia Hotel does discount on drinks at sunset in the Ambar Lounge.
Take a day trip to Dominical or Uvita
Dominical and Uvita are two beach towns not far from Manuel Antonio. Dominical is 45 minutes from Manuel Antonio, while Uvita is little over an hour away.
If you plan to visit Dominical you may want to visit Nauyaca Waterfalls. They are absolutely beautiful. The caveat here is that you need to hike 1 hour to get to them, and it's steep. Don't worry, if you don't want to walk you can go by horse or in a truck. Full details about visiting Nauyaca Waterfalls in this post. Uvita is famous because of a natural phenomenon where, due to converging currents, the sand and rocks on the coast are shaped like a whale's tail if viewed from above. It is actually funny, because Uvita is a great place to do whale watching as well. If you want to do whale watching from Manuel Antonio, this tour may come in handy.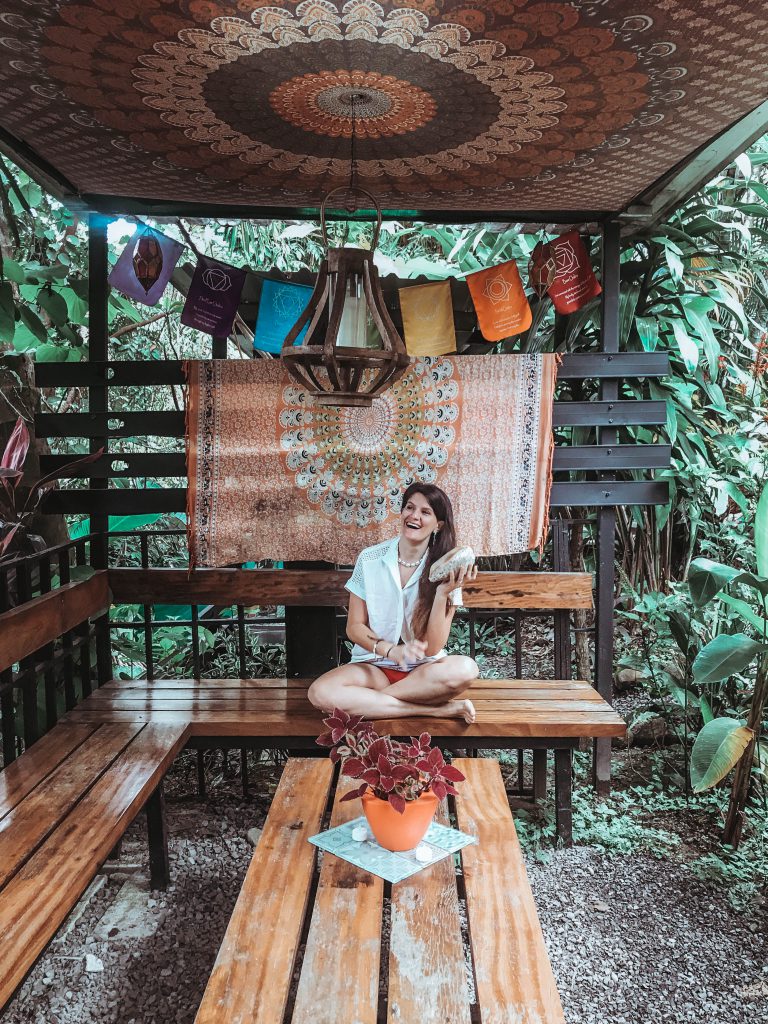 Where to stay in Manuel Antonio
I stayed at Tico Tico Villas in Manuel Antonio.Tico Tico Villas are adult only studio apartments suitable both for holidays or short term accommodation. They are the perfect place for digital nomads or those staying temporarily in Manuel Antonio.
We stayed in Manuel Antonio and Tico Tico Villas for three nights. Tico Tico Villas is located in Manuel Antonio's main street, just a short drive from the national park and beaches. There are restaurants and stores at walking distance and there's also a bus stop right outside.
Upon our arrival we were greeted by Vernita, the property manager, who brought us to our room. Our doble room was divided into two spaces, a living room and kitchen and a bedroom with a double bed and air conditioner. The bed was comfy and the property is really quiet so we had a great sleep in it. The room has two terraced areas, one besides the room and another one just in front of the pathway to the room. We used the latter to be on our laptops while enjoying being al fresco at the same time.
At first, we thought we wouldn't use the kitchen but we ended up using it, a lot. It is small but fully equipped, and really comfortable to use. There's even a blender. I was quite impressed! There were also some snacks and really good coffee included.
Last, there is also a garden with a beautiful blue tiled pool, which was perfect for a little bit of relax after an action filled day. We were told that sometimes sloths and monkeys also visit the property.
I loved staying at Tico Tico Villas and wholeheartedly recommend it. You can book your stay here.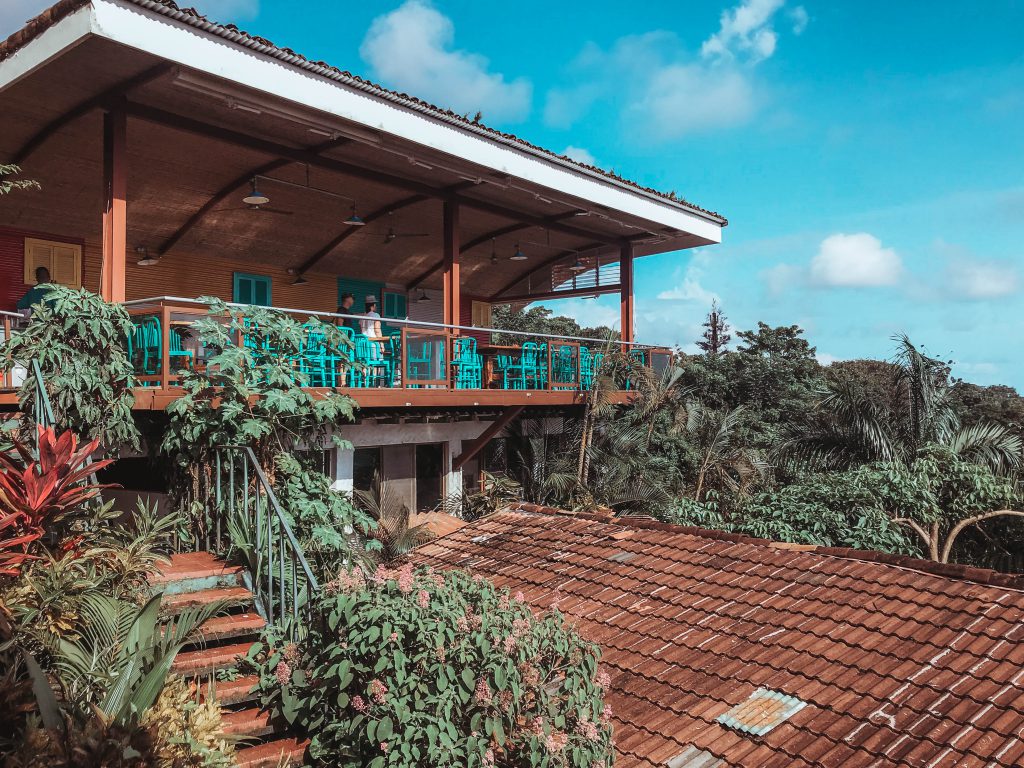 Where to eat in Manuel Antonio
Our restaurant favorites were:
All of these, except El Avión, were both vegan friendly (while offering meat).
How to get to Manuel Antonio
The easiest and fastest way to get to Manuel Antonio is by car, the roads are good and you get to see a lot along the way. For peace of mind, I recommend you rent a 4×4 when in Costa Rica. Depending where you'll visit, you might need it. Rentalcars provided the cheapest rates with full insurance included which you'll want.
For buses and private transfers, check this site.
If you liked this article please leave a comment and follow us on Instagram.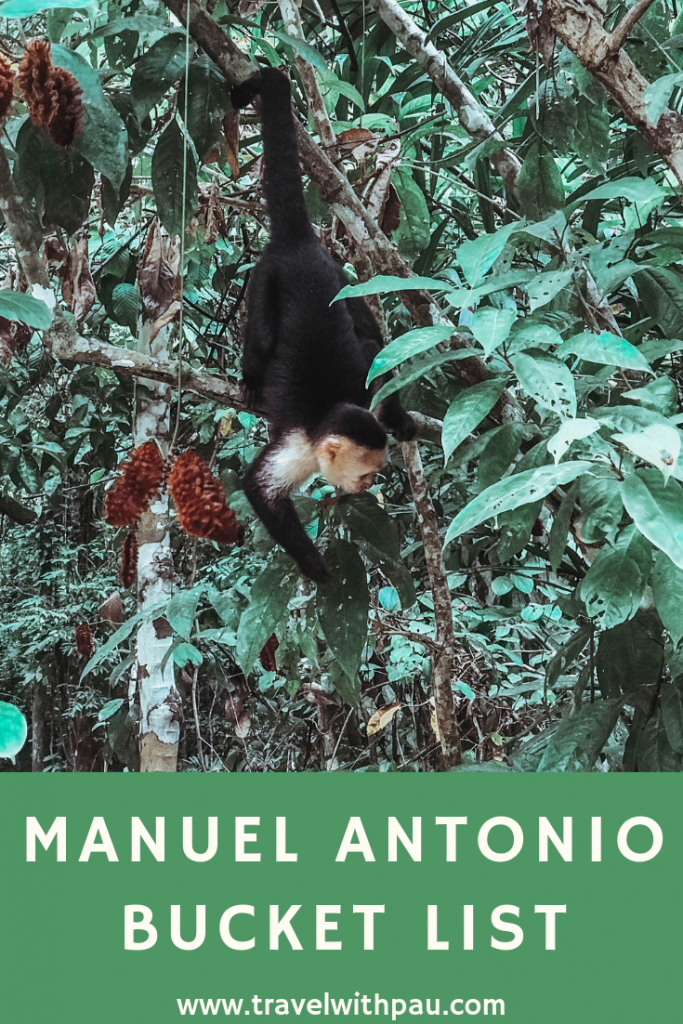 This post contains affiliate links. If you click on one and make a purchase, I might make a small commission, at no extra cost to you in order to help support my blog. My stay at Tico Tico Villas was complimentary however as always my opinions are my own.