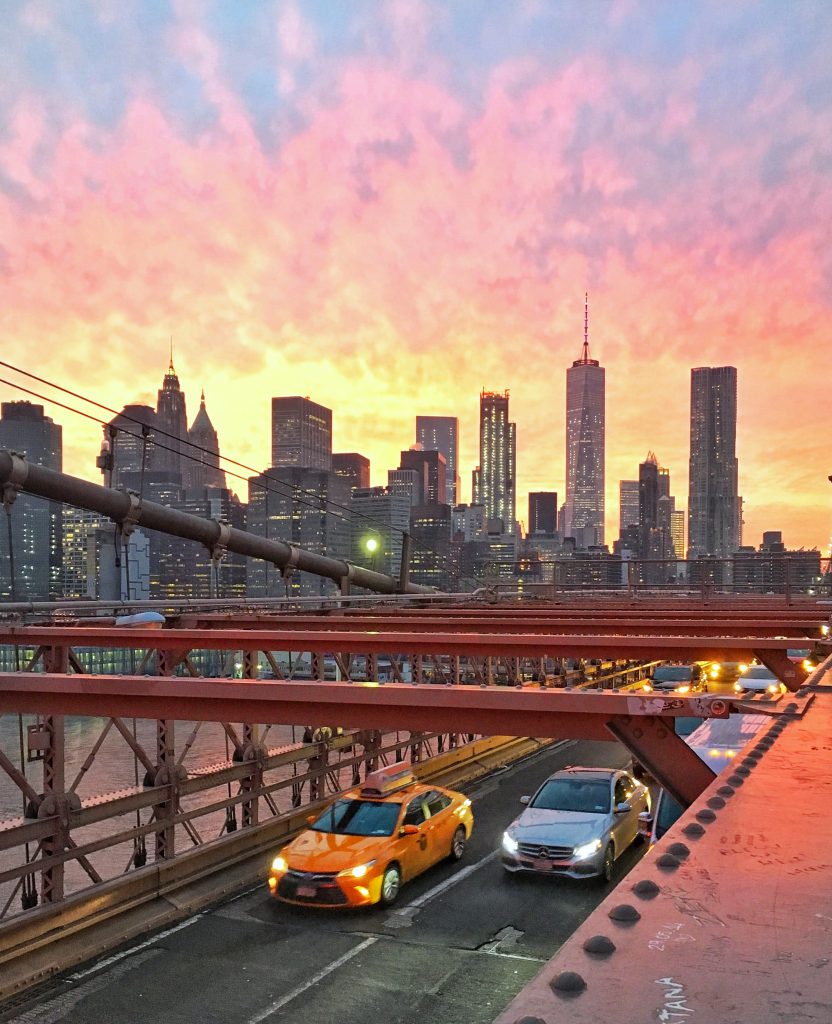 New York is the only city I feel compares to my darling London. Both are undoubtedly the capitals of the western world and because of this, the things to do in them are just absolutely endless! I have visited New York various times and gathered a few experiences you definitely shouldn't miss in the city. Some of them, I would repeat many times while others are ok to do just once. So what are you waiting for? Get exploring!
1. Stroll the High Line
The High Line is a railway which has been converted into a uniquely shaped public park that runs across 2.3 kilometres. It is green and beautiful. One of my favorite things to do in New York because of how peaceful it is up there compared to the city's busy streets.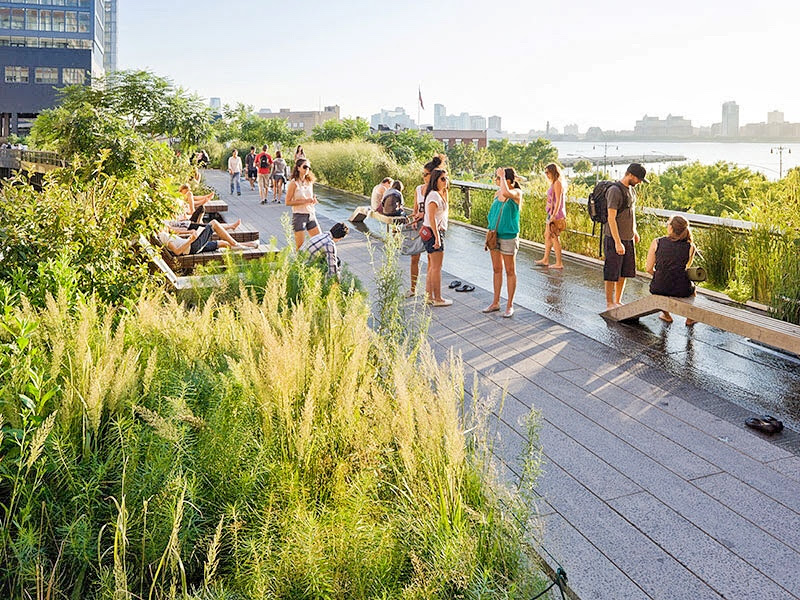 2. Cross the Brooklyn Bridge at sunset
If you are lucky, you'll get a fiery orange sunset and hence, stunning shots! Be mindful of the cyclists who are just trying to commute across.
3. Get something matcha at Cha Cha Matcha
Cha Cha Matcha is a very instagrammable cafe with everything made of matcha!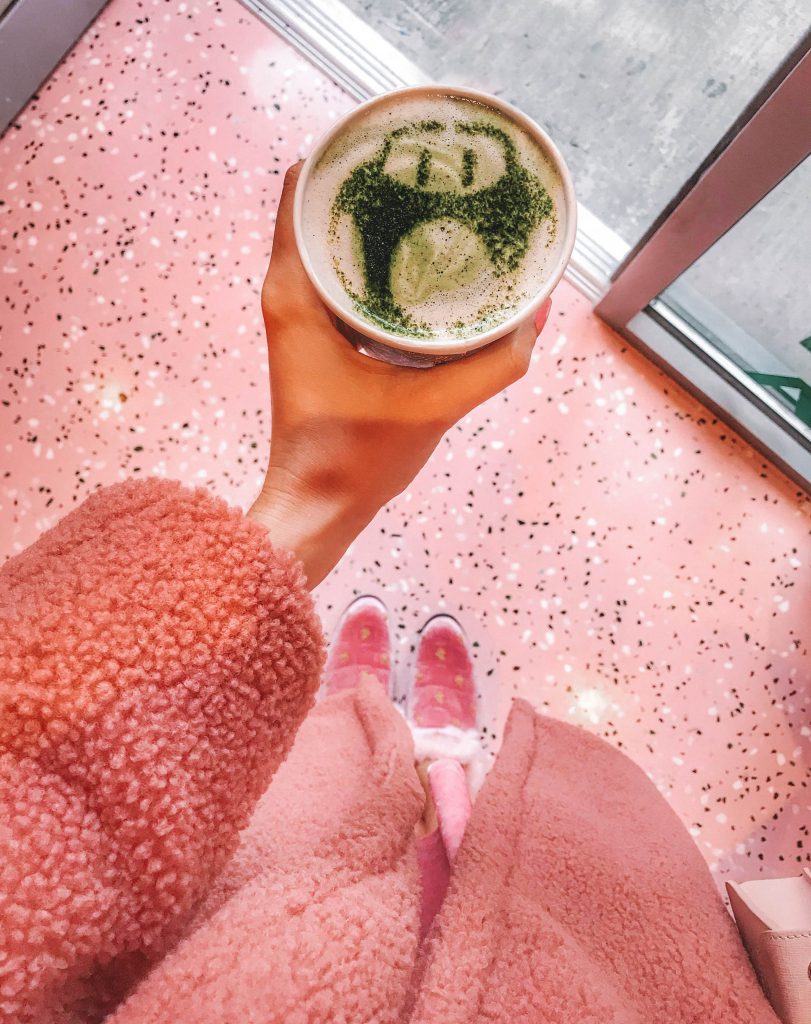 4. Admire modern American art the Whitney Museum
The Whitney focuses on artists of the 20th & 21st century American art, with special focus on artists that are alive. If you enjoy modern art the most, then you mustn't miss it.
5. Grab a snack at Gansevoort Market
A food market with a great selection, stop by for a quick lunch. You can check the vendors here.
6. Walk, run or row at the Central Park
One of the most famous parks in the world, we've all seen it in the movies! It's big though so you'll need a good amount of time and energy to walk through it all. Stop at the The Loeb Boathouse for a snack or drink.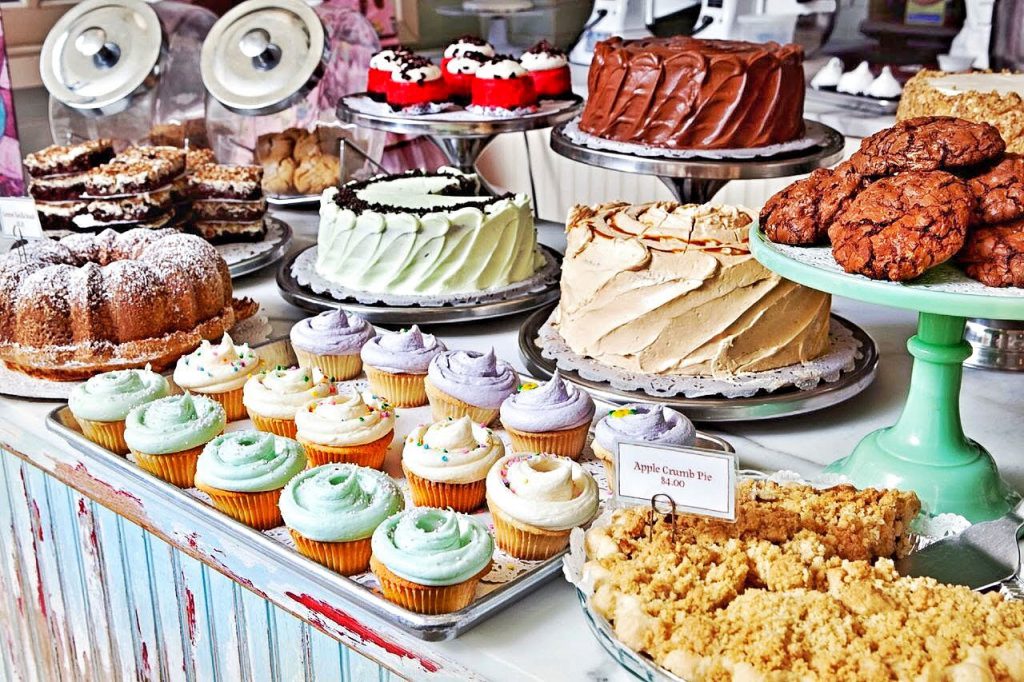 7. Grab a cupcake at Magnolia Bakery
This famous bakery which was featured in several movies and series such as Sex And The City and The Devil Wears Prada also does the yummiest cupcakes!
8. Listen to music on Washington Square Park
There is always something going on in this park! But most of the time it's people jamming or singing with no reason. The park with the best vibe in Manhattan.
9. Get yummy food at Smorgasburg Market
This food market is held on Saturdays and Sundays, but on a different location each day. It has very creative and interesting options for everyone (including vegans). More info here.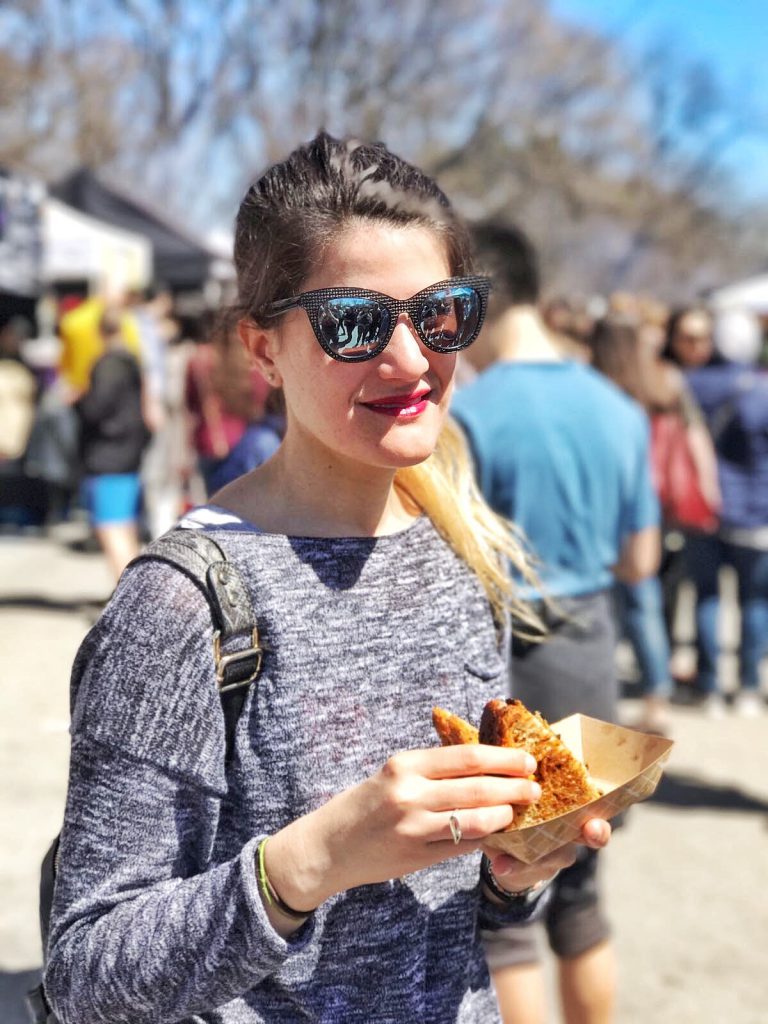 10. Stroll through Greenwich Village
My favorite neighborhood in New York, and the cutest . The house fronts are to die for, and it's also home for the most trendy shops and eateries. While you are here, you can stop at the "Friends" apartment, and also at Carrie Bradshaw's house! The original Magnolia Bakery is also here.
11. Munch on a bagel
Brought to the city by eastern european jews in the 1880s, New York boast some of the best bagels you'll ever find. Try Absolute Bagels who do sixteen different types, or Murray's Bagels whose slogan is "We don't toast" as a testament of the freshness of its bagels. If these are out of your way, grab a bagel from the carts scattered across the city, like office workers do.
12. Walk NYC's less known Prospect Park
It's normally all about Central Park, but Prospect Park is also beautiful and deserves a visit! The Brooklyn Botanic Garden is also right by it if you want to visit. Smorgasburg (mentioned in 9) is also held here on Sunday's.
13. Spend a few hours at the MoMa
New York's Museum of Modern Art and paradise for modern art lovers. It deserves at least a good three hours.
14. Treat yourself at Chelsea Market
If it's either a gift or food, Chelsea Market is the right place. The market itself is also so beautiful I encourage you to visit even if you don't want anything! I'll doubt you'll leave with your hands (or stomach) empty.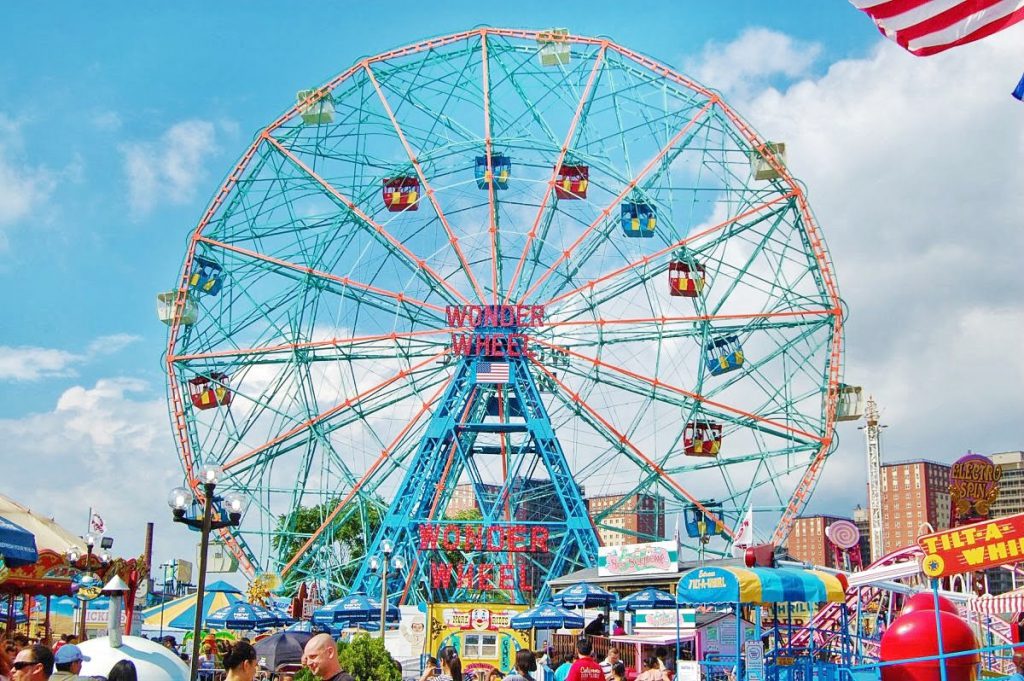 15. Reconnect with your inner child at Coney Island
We've all seen it in the movies! You need to visit this old school amusement park at least once in your life. Ride a ride, play a carnival game, and don't forget to take pictures!
16. Get a good view of the statue of Liberty
A staple of New York City and a worldwide symbol of freedom, you can chose to view it from afar or actually go in it. I personally prefer to view it from afar, here are 10 options for it!
17. Honor John Lennon at the Strawberry Fields memorial
Located in Central Park at the spot where he was assassinated, if you are a Beatles fan then you probably want to visit it.
18. Try the best New York cheesecake
Junior's whose slogan is "you haven't really lived until you've had a cheesecake from Junior's" is at the top of the list. Beware, portions are huge! Eileen's also ranks with her Nolita store where you can get one of 20 flavors including dulce de leche, yum!
19. Enjoy a play on Broadway
All theatre-lovers know Broadway is the place to be! It's home for 41 theaters that have seen productions such as Phantom of The Opera, Wicked, Miss Saigon, Cats and many more. There are always fantastic productions coming to stage. Just pick one, sit back, relax and enjoy.

20. Get overwhelmed at Times Square
Lights, billboards, people, screens, stores. One of the world's busiest intersections. Approximately 330,000 people pass it daily! It is definitely a one of a kind sight, I remember how mind blown I was the first time I went there. All around, there are loads of fun stores to browse such as M&M's world, Disney Store, Forever 21, or the Hard Rock Cafe New York.
21. Eat amazing food at Little Italy
Lots of Italians immigrated to New York in the 1800s and Little Italy was born. Today, this area still honors its name by housing great quality and delicious food and food products. Have meatballs or parmigiana di melanzane at Parm, loaded steamed artichoke at Rubirosa, and lasagna at Forlini's. New York's first and best pizzeria Lombardi's is also here. Finish it off with cannoli at Ferrara Bakery.
22. Get great views at the Top of The Rock
Get views from above of the Central Park and Manhattan from the Top of the Rock observation deck at the Rockefeller Center.
23. Walk around Chinatown
Manhattan's Chinatown is home to the highest concentration of Chinese people in the western hemisphere. As such, there is a lot to see, eat and do. Shop at Aji Ichiban where you can buy all kinds of sweets and savories. Products are sold individually, so you can buy only one if the flavor sounds too weird. Eat dim sum at Jing Fong, 456 Shanghai Cuisine or Nom Wah Tea Parlor. The latter is NYC's oldest dim sum parlor and despite its recent refurbishment still has the charm of old times. Last, visit the Mahayana Buddhist Temple. It's free and open to the public.
24. Go up the

Empire State Building
With its unique slim pencil shape, this building is also a staple of the city. At least once (once is enough) you should go up the elevator to the 86th floor to check out the views, or why not get even further up at the 102nd floor observatory.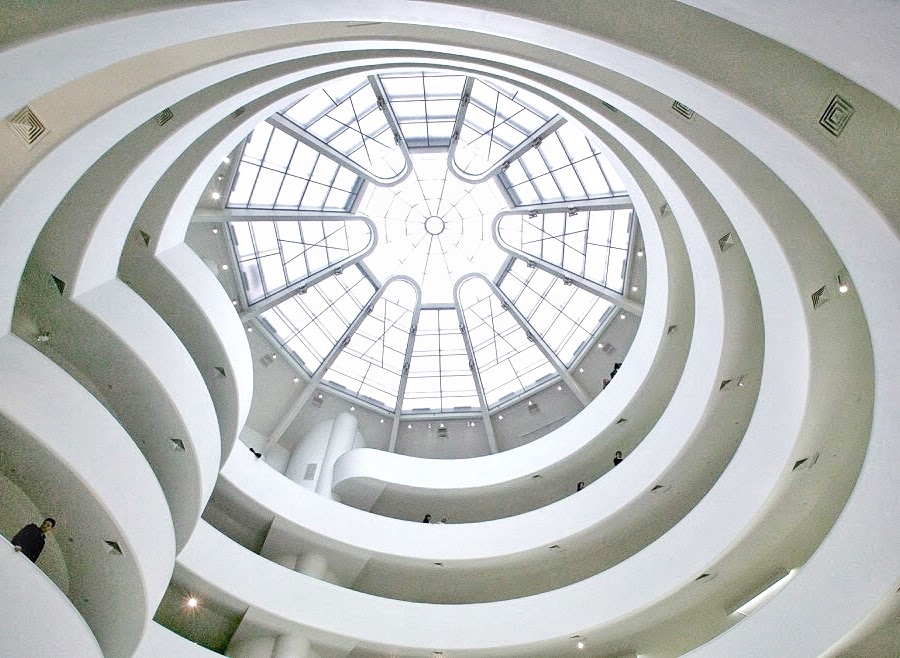 25. Walk the spiral ramp of the Guggenheim museum
One of the few museums where the artwork and collection compete with the building itself. Built by Frank Lloyd Wright in 1959, the museum building is a piece of artwork itself. The collection is wonderful too!
26. Visit the 9/11 memorial
This memorial was built to honor the lives of the almost 3000 people who were killed in the 2001 terrorist attacks. It is located where the World Trade Center's Twin Towers used to be. It houses big water fountains and lots of trees. The names of all the victims are engraved in the memorial.
27. Eat NYC's best pizza
Newyorkers obsession with pizza began a long time ago. It began exactly when Lombardi's – which you must visit – opened the very first pizza shop in the United States in 1905. Another great pizza joint is Roberta's who do large wood-fired pizzas and are located in a quiet backstreet in hipster Brooklyn.
28. Admire the architecture of the Grand Central Terminal
Even if you don't need to catch a train, this terminal is so pretty that it deserves a stop.

29. Stroll through Brooklyn Height's Promenade
I visited by pure coincidence, and was very positively surprised. You can enjoy lovely views of the Hudson river, specially at sunset, while you stroll by it. There are great views of Brooklyn Bridge here as well.
30. Try one of NYC's best vegan restaurants
My favourite is The Butcher's Daughter, a small restaurant covered in plants where no reservations are required and food is served fast. For a grab and go vegan meal, visit by CHLOE, for vegan comfort food Red Bamboo. Last if you are craving a crepe Little Choc Apothecary, New York's first vegan creperie has got you covered!
31. Do a food tour
New York has amazing food, for everyone! If you are a foodie, you might want to take a food tour to try some of New York's culinary gems. Check out this Flatiron Food, History & Architecture tour, this 2 hour cupcake tour, this Greenwich Village Food Tour or this 3 hour tour Manhattan Tenements, Tastes & Tales tour which navigates across New York's different immigrant groups, their stories & foods.