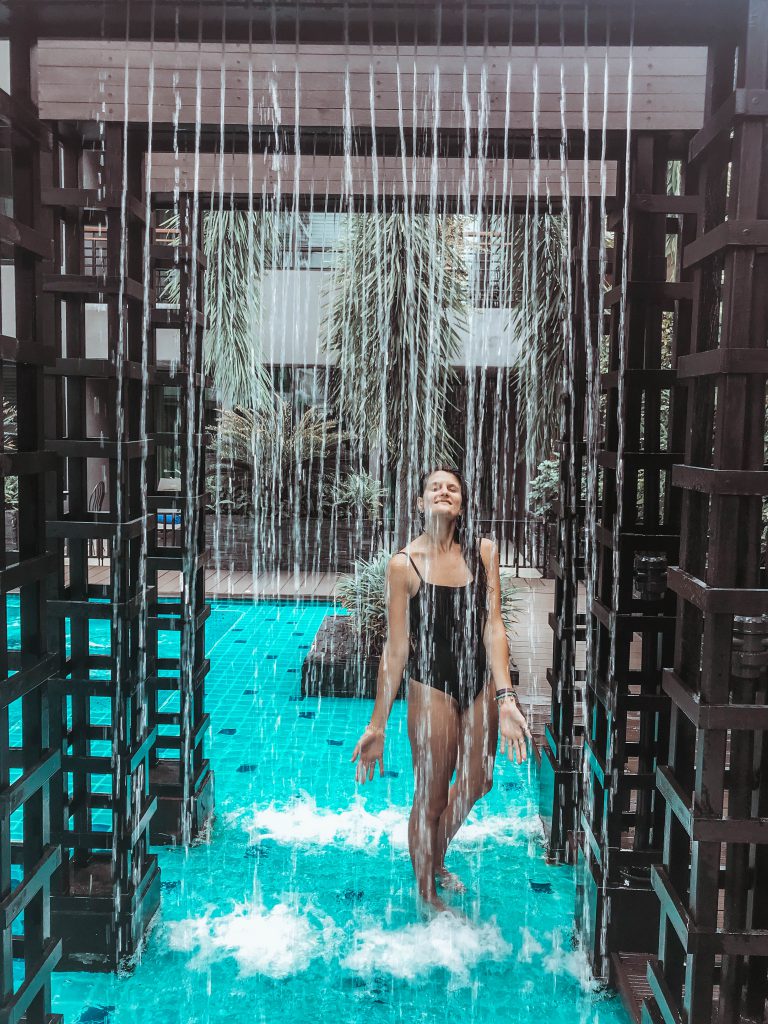 This was round two of Bangkok for me. I had never stayed in Sukhumvit before so I was quite excited about my stay in Solitaire Bangkok Sukhumvit. And I was not disappointed!
The location
The hotel is located in the trendy neighborhood of Sukhumvit, in Sukhumvit 11. This area has a ton of nice restaurants, and surprisingly most of them are actually not Thai. It is one of the few places I've seen where there are a lot of options when it comes to food: Japanese, Peruvian, Mexican, Italian, burger joints, and the list goes on. I even found an Argentinean grill! The area is very alive specially at night, where you'll see a lot of tourists from everywhere in the world enjoying themselves. There also are many cool rooftop bars a short walk from the restaurant. As a warning, it's a pricy area for eating out specially if you are aiming for nice places but there are are cheap options if you look around and there are many street food stalls where you can get cheap Thai food if you just want to get a quick meal.
When it comes to transport, the hotel is located 8 minutes away from Nana BTS station and 20 minutes from the Skytrain which takes you to the airport. A Grab taxi to the airport from the hotel is also only 250-400 baht and it takes around 30 minutes without much traffic.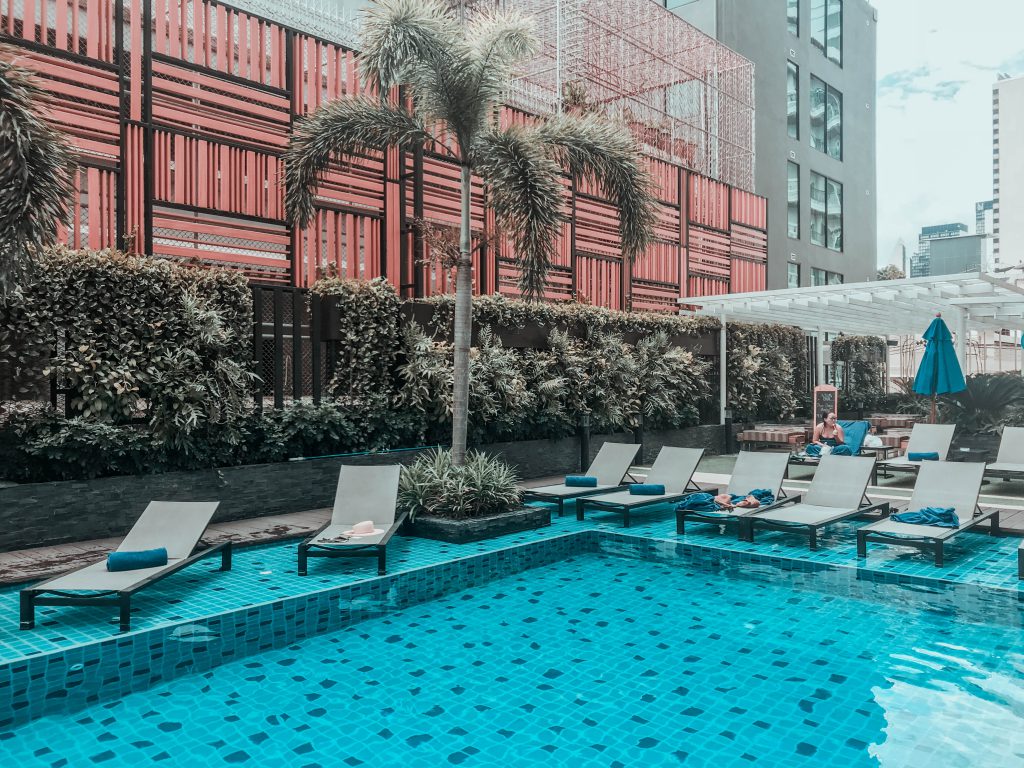 The hotel
The hotel is a sleek tall building. The decoration is luxurious but sober at the same time, beige is the most predominant color across the hotel, in common areas and in the rooms. I also noticed circles are used a lot for decoration again in common spaces and rooms.
The hotel has everything you need both for a leisure or business trip. On one floor you'll find the fitness room, a steam room to sweat everything off and a lovely pool where you'll find structures with falling water which are fun to play with. It was the only pool in Thailand I've been in where the water was actually refreshing. In the rest of the pools I've been in the water was just so warm it didn't really have any effect against Thailand's hot weather. The pool area also has a bar. Pool towels are provided on the sun chairs or in baskets right before entering the pool.
Solitaire also has a restaurant which is open almost all day, and a bar. Breakfast is offered in the restaurant every morning and it's amazing. It's a buffet with I believe everything you could possibly want! There is tea coffee, natural fruit juices, fruits, cereals, muesli, different kinds of pastries, waffles, pancakes, different types of breads and a hot food section with Thai, Indian & Japanese food. So no matter what your nationality is you'll definitely find what you need here. Some interesting items were miso soup, chicken fried rice and paratha bread among many others. I surely did enjoy it.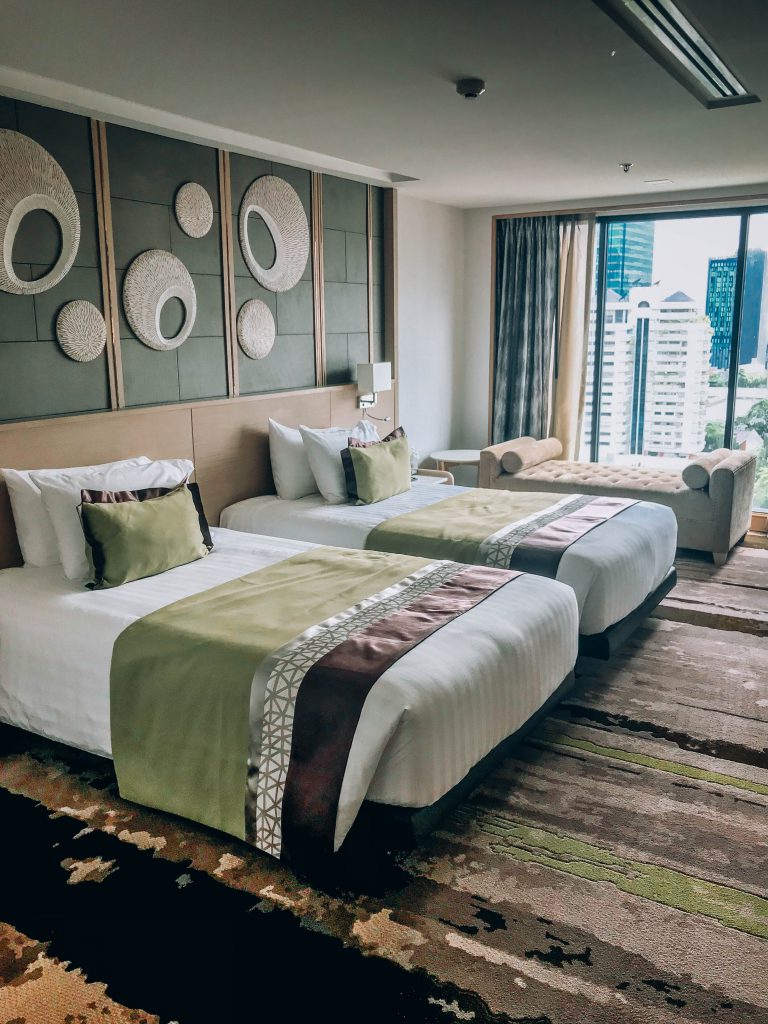 The rooms
The rooms also share the same line of decoration of the hotel, with beige being again the most predominant color. Our twin room had two very comfy beds, a wardrobe and desk area, a very well equipped minibar, complimentary water, tea & coffee and even an espresso coffee machine. A big flat screen TV always turned on when we entered the room showing the news, the TV also features information of the hotel which you can navigate with your remote.
Slippers, robes, a shoe care set, a much needed iron and a security box could be find inside the wardrobe. Most hotels right now don't have an iron and I always need one! Also, there were power sockets everywhere but most importantly on both bedside tables and they had two USB entries each, something that should almost be compulsory at this day and age. Last, wi-fi in the room had great speed.
The bathroom was spacious and the shower had great pressure, toiletries including toothbrushes and even a nail file were provided as well.
The service
My check-in experience was great, we got to the hotel around 8:00 and checked us in at 10:00 even when check-in was actually at 14:00. Staff was friendly, quick and efficient. Our bellboy was super nice, he even gave us recommendations about where to see shows in Bangkok and offered to book us tickets. There is also concierge service for everything you might need. The concierge was really attentive, every time we left the hotel he asked us if we needed a taxi or help with booking a tour. The hotel also has reception staff 24/7.
Last, if you post an Instagram picture and tag #solitairebangkok11 they'll print the picture you posted for you. I did it and next morning I found the picture waiting for me in the lobby, and it was actually a sticker as well. Such a great idea and souvenir!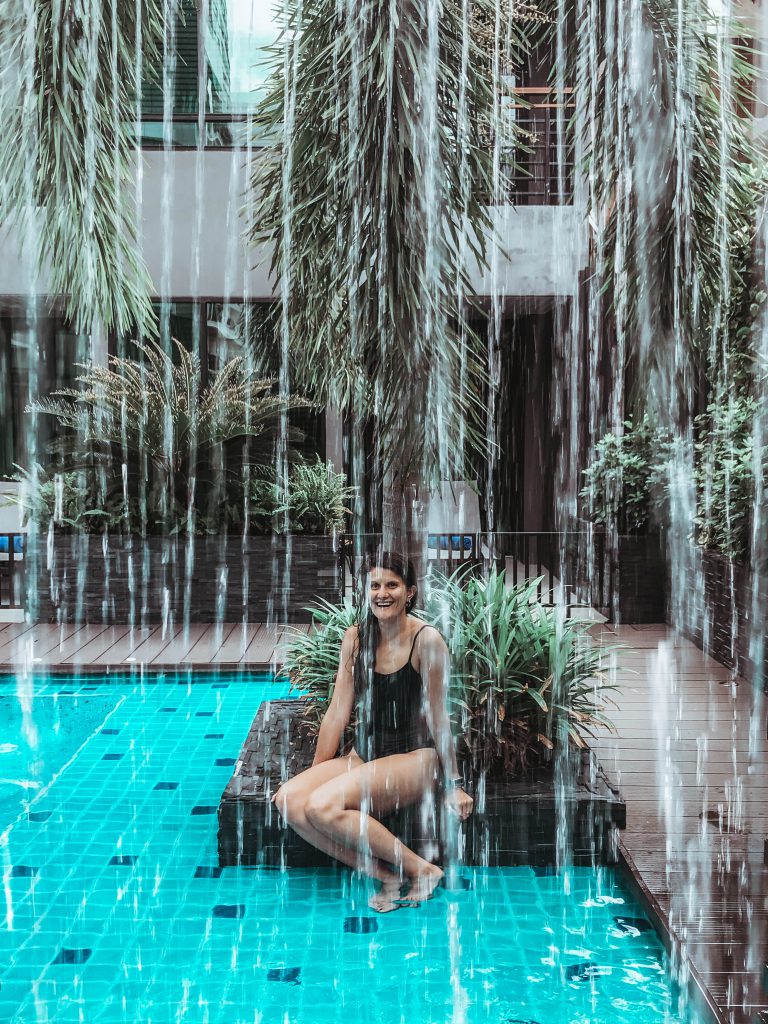 Stay here if…
You want to experience a bit of luxury for good value, you want a great place to relax that's in a trendy  area where you can hang out with fellow tourists. It doesn't matter if you are visiting Bangkok for business or for pleasure.
If you are coming to Bangkok for business I wouldn't doubt staying here because it has just everything you need, plus great restaurants to eat in and relax after work a short walk away. If you are visiting for pleasure and you want a great pool to relax on, an amazing breakfast, and you plan to visit the city's rooftops, trendy cocktail bars as well as eat gourmet food then Solitaire is also for you!
If you want to stay at Solitaire Bangkok book your stay here or visit their website (you can also book there).
Disclaimer: My stay at Solitaire Bangkok was complimentary however as always my opinions are my own. Additionally, this post contains affiliate links. If you click on one and make a purchase, I might make a small commission, at no extra cost to you in order to help support my blog.