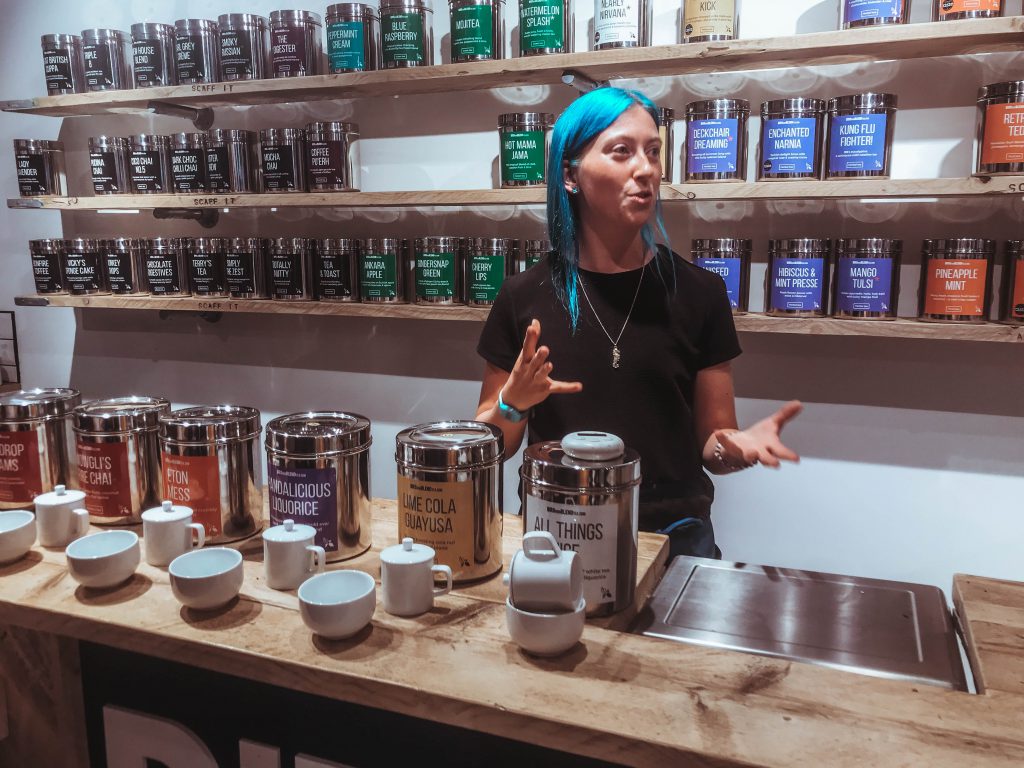 This year as part of Pablo's birthday gifts, I got him a 2.5 hour tea workshop in London. A friend of mine had been to it and told me it was awesome so I went ahead and booked it. After over a month wait – yes  all other the workshops were fully booked – the day of the workshop arrived. I really enjoyed the experience so sharing it with you guys.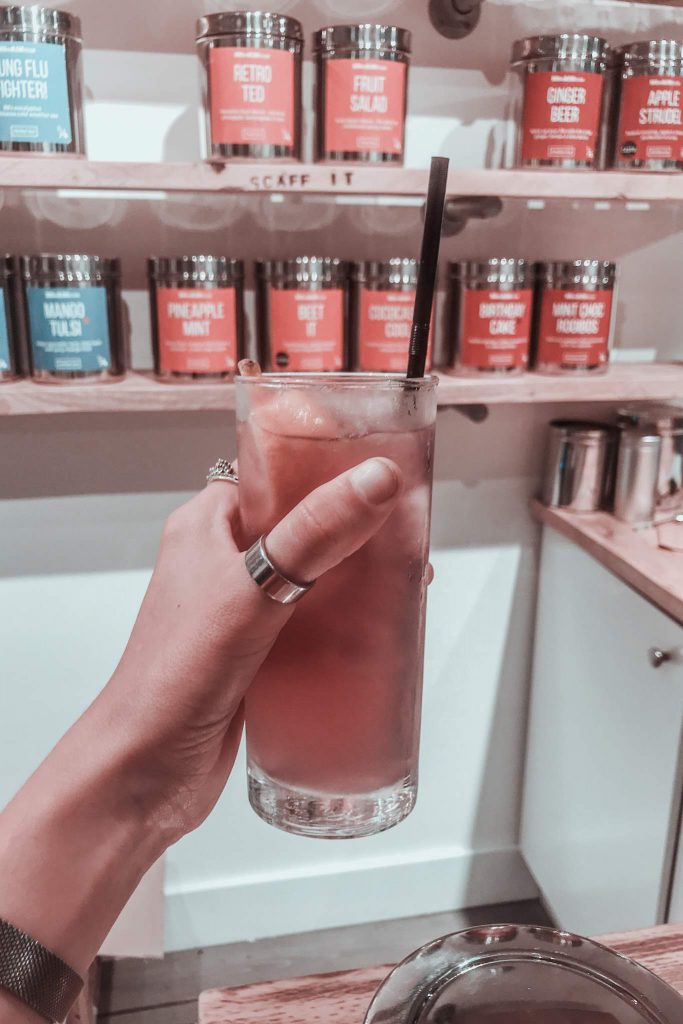 Part 1: Discovering And Learning About Tea
Upon our arrival we were offered a tea based drink, either plain tea, tea lattes or tea cocktails! Being a Friday, of course we went for the cocktails which were delish, I ordered the Strawberry Lemonade, The Wobbly Unicorn and Pablo had the Mojitea. What you should know is that this workshop includes unlimited amounts of tea to drink while there, and that includes cocktails!
We were sitting in a crowd of around 8 people, and small bowls with loose tea had been distributed across the tables together with different labels with tea names. Our first activity was to try and match the labels with the bowls. I was surprised to find mate – the Argentinean/Uruguayan drink – was one of the teas. We did the best as a group to try and match them and then Becky, our tea instructor, proceeded to validate our choices as well as talk about every kind of tea, where and how it is made. It was really interesting. I thought I knew a lot about the tea but after this class I realised I didn't. My highlight from this section is when we came to matcha, Becky brought over ten matcha blend pots, some I can recall were Black Matcha, Apple & Pear Matcha, Turmeric Matcha, and my favorite, the Ice Cream Matcha.
Becky also told us the story of the Bird & Blend brand, and how it came to be. It was really interesting, they really do experiment with mixing the different kinds of tea and that can be seen in all the different teas with funky names the store has on offer, many of the seasonal or limited edition. Coming back to matcha, they actually have the biggest matcha blend collection in the world.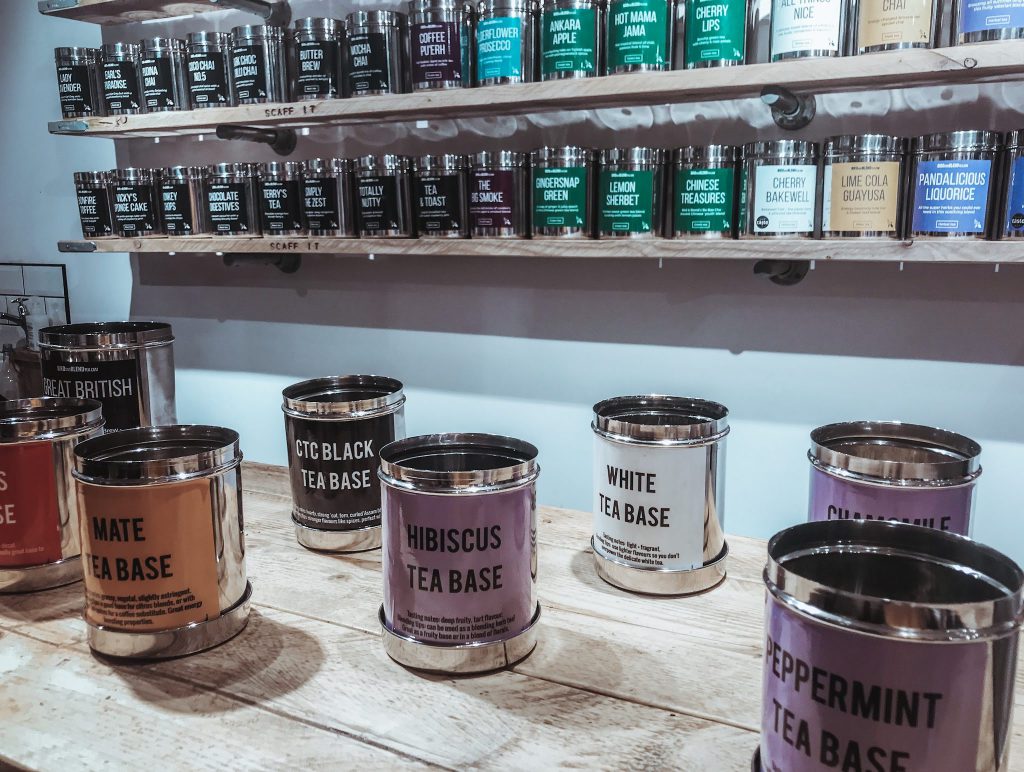 Part 2: Tea Tasting
After a toilet and cocktail break, it was time to taste tea! The Bird & Blend team selected around 12 of their tea blends for us to taste. All of the tea bases were covered: Black Tea, Fruit Infusion, Green Tea, Rooibos Tea, Pu-erh Tea, White Tea, Oolong Tea & Yerba Mate. All of them were interesting, and the teas looked so pretty! Many of them were colorful, some of them had whole flower buds. We smelled the tea leaves first, and then took a slurp of the infusion. Apparently the noisier, and longer the slurp, the more you can taste the tea.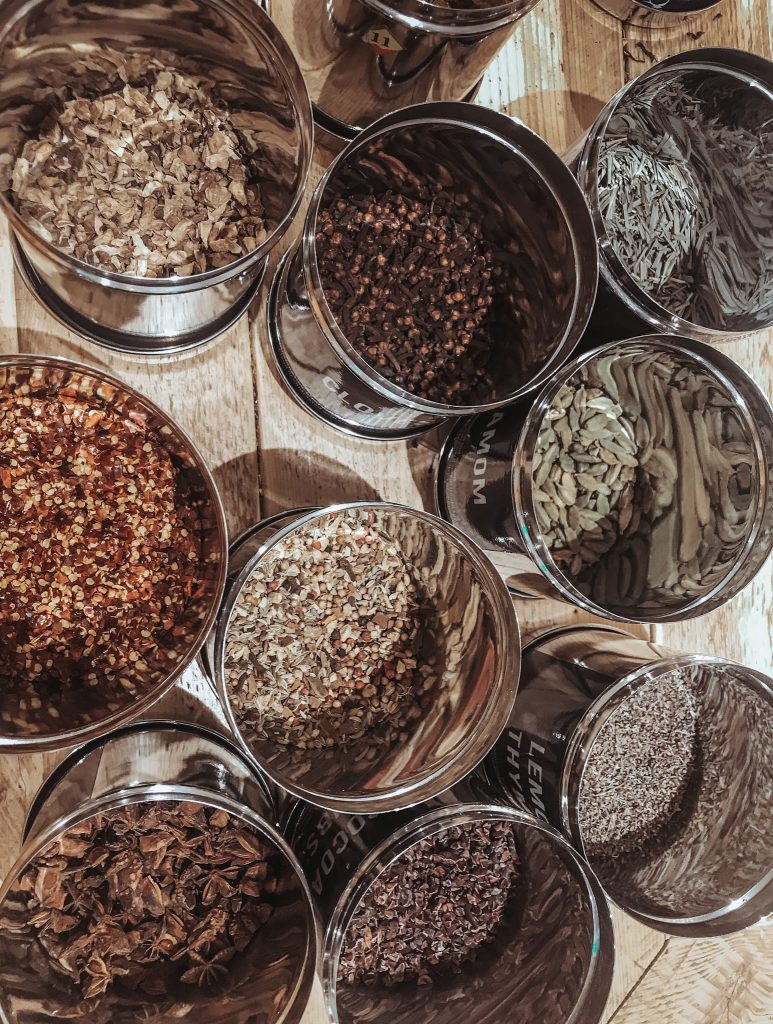 Part 3: Tea Blending
And yes, now it was the time to blend our own tea! We were given three pouchs to create our own, unique tea blends. We had to choose the base (Black, Green, White, Rooibos, etc) and then add other ingredients such as clove, lavender, dried lime, lemongrass, lemon & thyme, among many others. I made three teas. The first one was black tea with chai mix, coconut, cacao and cinnamon. The second one was english breakfast tea with cacao, coconut and cardamom. And the last one was chamomile with lavender, hibiscus and lime. We took them home together with a beautiful canvas Bird & Blend branded canvas bag!
The end
The workshop was over but we couldn't be happier, we had nice drinks, we learned about tea and we took our own tea blends home. It was perfect.
If you want to book this tea workshop in London you can do so here on  from the Bird & Blend website. They also have stores in other cities in the UK, in case you are not based in London.
Liked this? Check out other cool, non touristy things to do in London in this post.