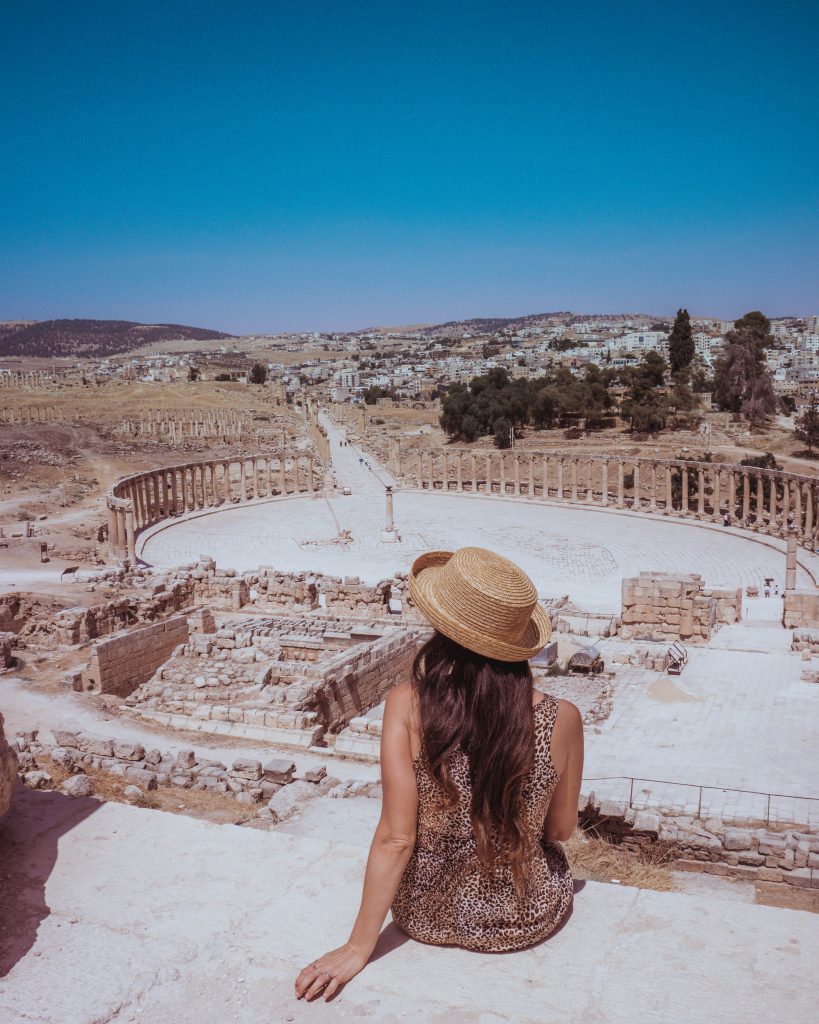 I decided to visit Israel and Jordan in 2 weeks and planned this 2 week Israel & Jordan itinerary using information from other bloggers and it turned out to be a lot better than expected. I loved every place I visited and every hotel I stayed on! See a break down of the Israel & Jordan itinerary as well as recommendations on what to do each day below. Heads up that it includes a super fun road trip.
2 weeks in Israel and Jordan – Daily Breakdown
Days 1 & 2: Jerusalem
It might seem weird not to start the Israel trip in Tel Aviv, but I actually arrived to Tel Aviv's Ben Gurion airport during Shabbat and took a Nesher Sherut to Jerusalem directly which takes around an hour.
For the next two days, I explored Jerusalem! I felt like this was enough time for us to get a good grasp of the city and the religions that co-exist here in harmony. I've written a separate post with my Jerusalem Bucket List. There is a lot to do, so pick and choose.
Stay at: Golda Jerusalem or The Jerusalem Hotel.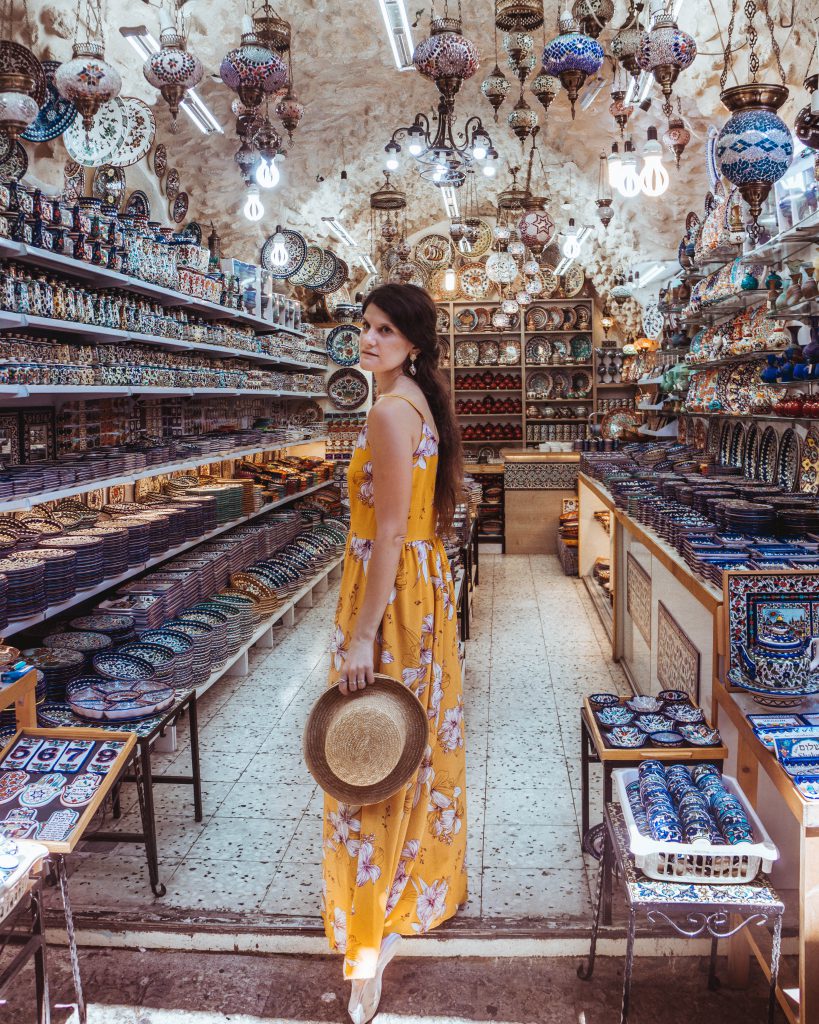 Day 3: Best of the West Bank Tour from Jerusalem
I kind of coincidentally ran into this Best of the West Bank Tour which takes you to Palestine for the day from Jerusalem. I wanted to visit Betlehem which is in Palestine, and this tour takes you to Betlehem, however I ended up visiting other cities and getting a good grasp from Palestine, and the Palestine-Israel conflict. I've reviewed the tour in detail here.
Book: Best of the West Bank Tour from Jerusalem, below:
Stay at: Tzefania ApartHotel
Days 4, 5 & 6: Jordan with Abraham Tours
I spent the next 3 days of the 2 week trip in Jordan. After much hesitation, I decided to do it via a tour instead of independently. And it was grand! I've reviewed the 3 day Petra & Wadi Rum Tour I did with Abraham Tours in detail here. Give it a read and consider it, it's definitely value for money!
Book: 3 Day Petra & Wadi Rum (Jordan) Tour from Jerusalem
Day 7: Tel Aviv
After Jordan, I went directly to Tel Aviv to pick up a rental car from the airport and start the road trip! I got the rental from Rentalcars and it was awesome, and also cheap.
I took the chance to stay one night in Tel Aviv to start checking off some of the items of my Tel Aviv Bucket List.
Book: a rental car using Rentalcars
Stay at: ISLA Tel Aviv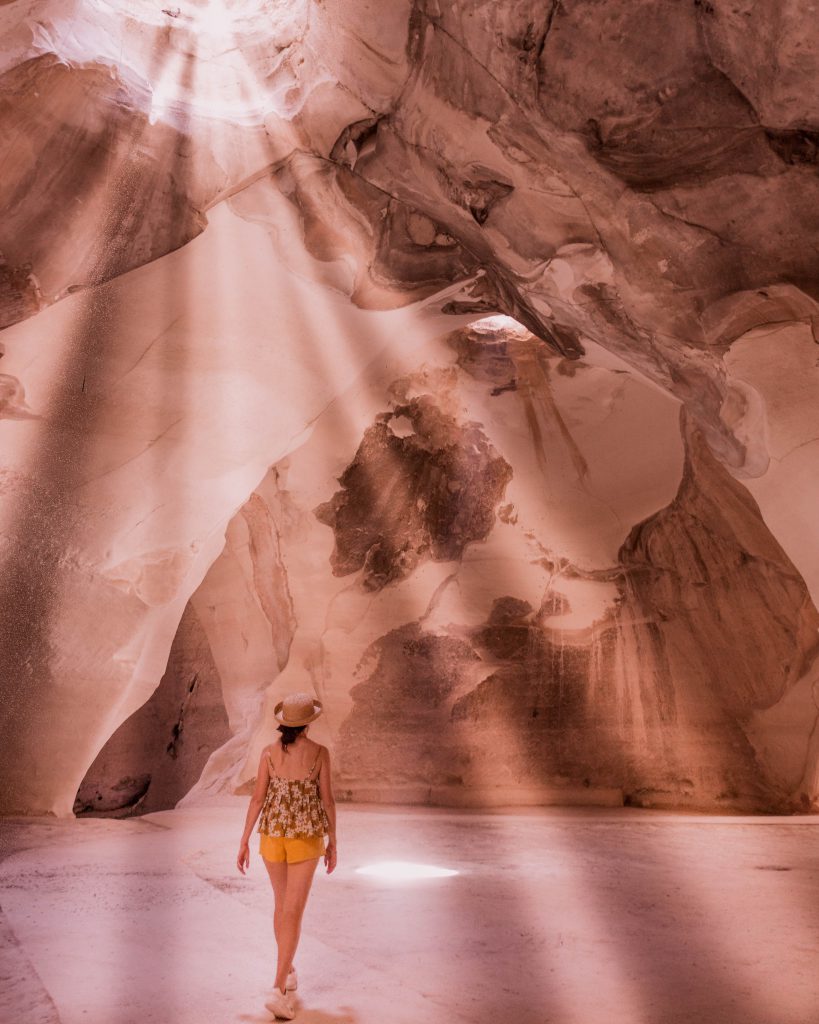 Day 8: Beit Guvrin, Ein Gedi, Ein Bokek & Arad
The next day I woke up early in Tel Aviv and arrived in Beit Guvrin-Maresha National Park just after 9. Beit Guvrin-Maresha National Park encompassesthe ruins of Maresha, one of the important towns of Judah during the time of the First Temple, and Beit Guvrin, an important town in the Roman era, known as Eleutheropolis.
I explored Beit Guvrin-Maresha for over two hours with the car, I didn't walk through the entire park instead stopped at every parking lot, saw the sites and then got back into the car as it was really hot. The highlights of the park were The Maze Cave and The Bell Caves. Note there are Roman ruins across the highway you can also visit with the same ticket. This park is nothing out of this world but definitely worth a quick stop if you are passing by. Remember to purchase a money saving ticket vs a single ticket if you'll be visiting various National Parks! The Israel National Parks Authority has money saving tickets if you plan to visit 3, 6 or more national parks. These can't be bought online.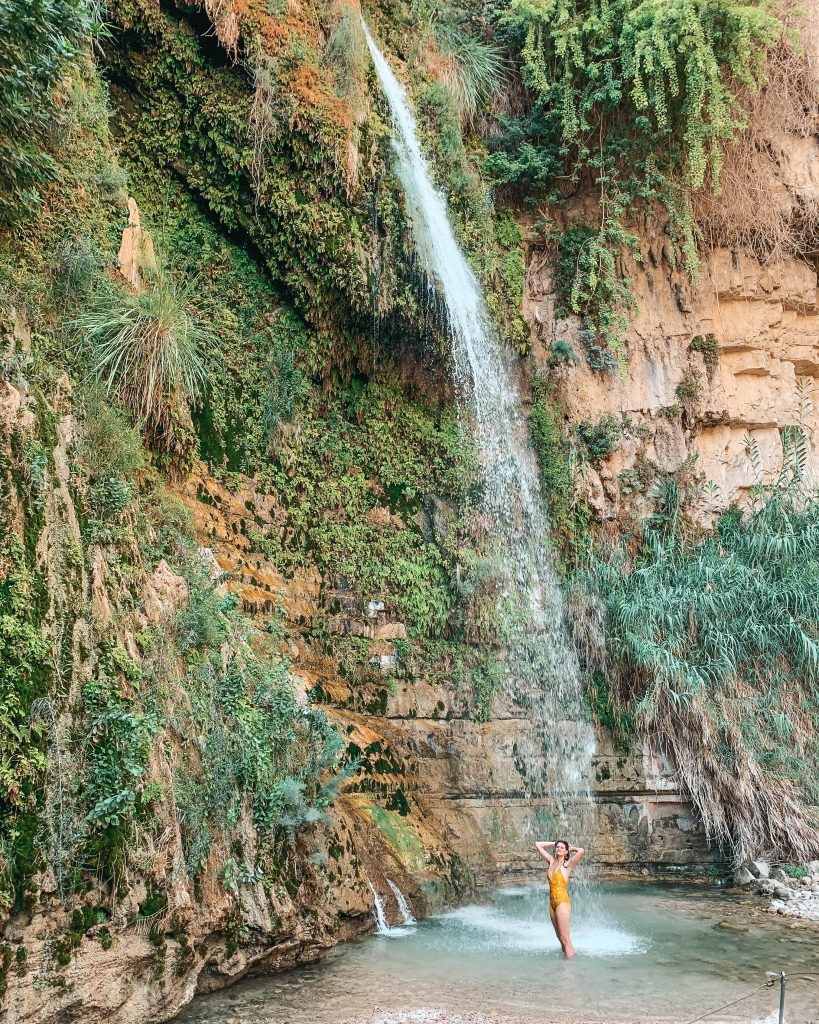 Next I drove to Arad for lunch at Muza, which was OK and continued to Ein Gedi. In Ein Gedi the plan was to visit the Ein Gedi Nature Reserve and swim on the Dead Sea but soon learned it's not possible to do so due to dangerous sinkholes. Ein Gedi Public Beach is closed, literally in ruins, and not accessible by car. I wouldn't recommend that you even try to get there.
The visit to Ein Gedi Nature Reserve was wonderful but brief because I arrived rather late to it. I only got to do the trail to David Waterfall which is advertised as 1hr but took us 45mins. If I had known what the trails were in advance and the hours you needed to do them by, would have skipped lunch / rushed the day to get to the reserve early. Unfortunately, the Israel National Parks Authority doesn't post it's map online! There are hikes as long as 7-8hrs for which you must arrive to the reserve when it opens at 8AM. I would have liked to do a hike to David Waterfall, Shulamit's Spring, Dodim's Cave & Ein Gedi Spring which is 3-4hrs.
I left Ein Gedi by 15.45 and stopped by Ein Bokek Public Beach to swim in the Dead Sea. This beach is completely free and it's great. There are showers and drinking water available. Swimming in the Dead Sea is a unique experience. I debunked so many myths when I did: I was able to flip forwards and backwards easily, my hair got wet with its water and didn't fall off, my swimsuit didn't get ruined, I had various open cuts and they stung only a tiny bit. What's true is that you float so much it feels like you are constantly in a floaty when you are not and tasting the water is not a good idea. It doesn't taste salty, it tastes poisonous.
Left around 5.30 towards Arad to head to the accommodation for the night: Desert Call. I wanted to get something quick to prepare in the B&B as I knew it had a kitchenette and the only supermarkets open (it was Shabbat) seemed to be Russian! There is a small Russian community in Arad and they have mostly Russian products for sale, it's pretty crazy.
Got to Desert Call and met lovely Dafna who checked us in. This B&B is amazing, it's a studio apartment with everything you need, a kitchen counter with sink and equipment including a microwave and kitchenette, fridge, bathroom with toiletries a comfy bed and even a jacuzzi which I obviously used. But what makes this place extra special is its location: it is set up on the edge of Arad overlooking the desert and therefore you can enjoy the most beautiful sunrises and sunsets from here. I'm glad I stayed in Desert Call and not in the massive commercial hotels in Ein Bokek!
Stay at: Desert Call
Day 9 – Masada & Eilat Coral Nature Reserve
I woke up at 6am and watched the sunrise from Desert Call and soon left to Masada. Desert Call is closest to the West entrance of Masada so it's only a 25 min drive and a 25 min hike to the top. The sun was almost up when I got there but it was nice to do Masada in the morning. I spent around two hours exploring the city and learning about it's unique history. Masada is the city where the Judean rebels did a siege to prevent the Romans conquering them, living in that Masada up in the mountain for around a year!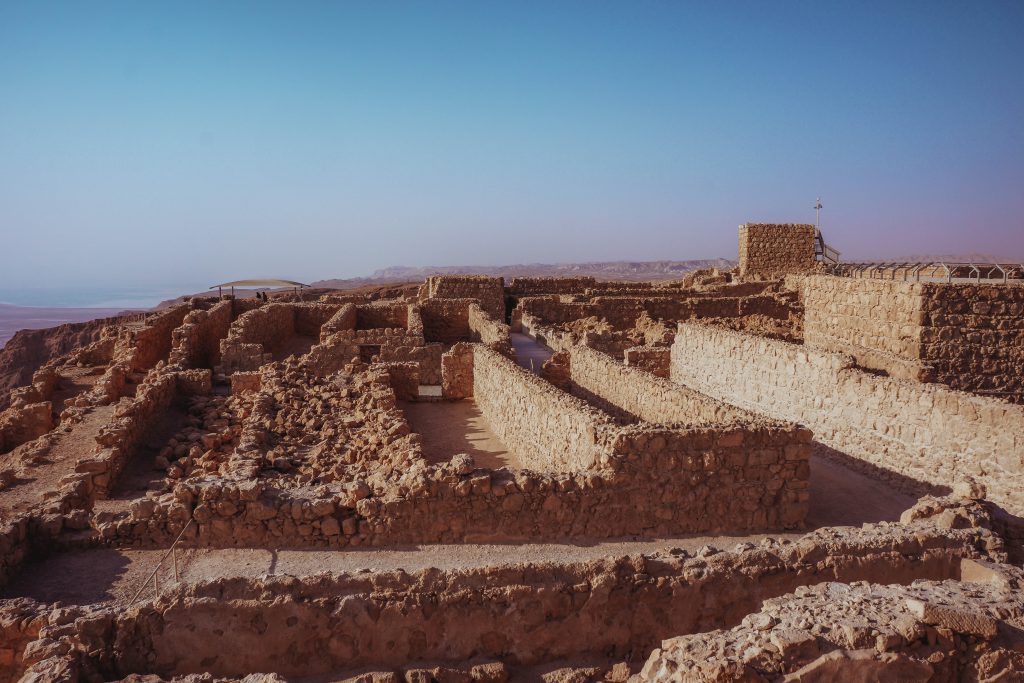 After that it was time to leave for Eilat as the plan was to explore the Eilat Coral Nature Reserve during the afternoon. I ate in the car and drove for a couple of hours, then reached the nature reserve around 1pm. I didn't pay entrance as I already had the money saving ticket card but rented masks, snorkel & fins for about 40 ILS each. I spent the whole day snorkeling and relaxing at the beach. After all, this reserve is literally a protected beach with wonderful snorkel right by the coast.
Around 5pm, left the reserve to go the accommodation for the evening, Americana Hotel Eilat. I was skeptical about this place because the reviews weren't the best but it was amazing! The rooms are basic but clean, there is a safe in the room and they provide tea/coffee, towels and bath robes. There is a nice big pool and it also has a spa with a jacuzzi, sauna & massage.
Went out for a beer in a local brewery called Soof and then headed back to Americana Hotel Eilat for dinner. Dinner was amazing! So many options and so many vegan ones. Ate too much, and went for a walk to see the town of Eilat. It was quite nice, more of an upmarket beach town with lots of malls and stores.
Stay at: Americana Hotel Eilat
Day 10 – Mitzpe Ramon
Woke up at 6.30AM and had breakfast at the Americana Hotel Eilat. Breakfast was even more amazing than dinner with all sorts of foods: salads, hummus, sausages, lots of grilled vegetables, various types of cheese, cereal, cakes, scrambled & boiled eggs, halva, pancakes and so much more. Honestly it was one of the most complete breakfasts I've ever seen, they even had pasta and an omelette / fried egg station with these made to order.
Had a long drive ahead today as well as I were visiting the Makthesh Ramon Crater. It is the world's largest erosion cirque. It is 40 km long, 2–10 km wide and 500 meters deep, and is shaped like an elongated heart.
The drive was nice, I passed through what seemed some military sites and a town called Neot Smadar. Didn't stop but I later did some research and found that it's an organic community featuring architecturally unique buildings with passive cooling towers. Would have liked to stop.
Got to the Mitzpe Ramon visitor center around 10am and asked for help on hikes. I decided to do a 3hr hike around Mount Ardon. I drove there from the center, which meant driving back and also driving 4×4 tracks although i didn't have a 4×4 but the road wasn't that terrible.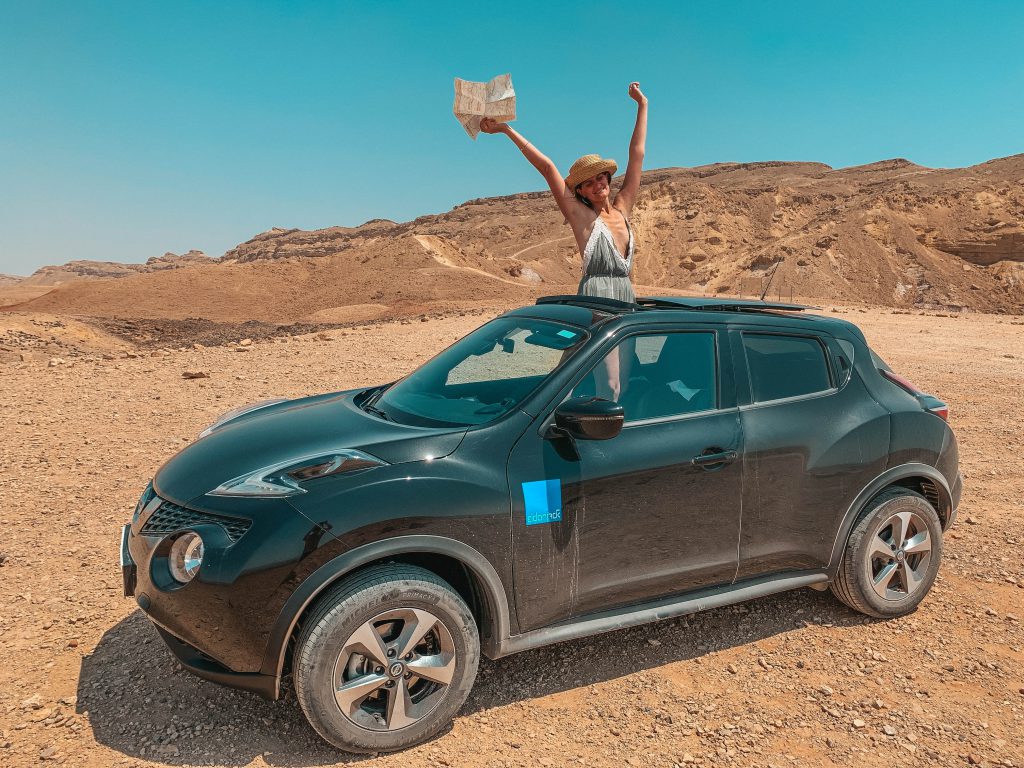 The hike I did was all encompassing and for this reason I thoroughly recommend it! You need to park the car at the Mt. Ardon parking then follow the blue trail for about 2hrs and then take the green trail once it intersects the blue trail. This is paramount as the complete blue trail hike is 5-7hrs which is more that you want on a summer day in the desert. The hike is hard but not exhaustingly hard. The most strenuous part is actually going down Mt. Ardon as it's a steep descent through rocks. The hike is complete as it passes through so many geological landscapes, different kinds and colors of rock, rocky floor, sand, etc. I saw manure but didn't see any animals. Also, there are poop shaped rocks.
After the hike I bought some food and headed to Vila Nahal Faran 32. I was enthusiastic about staying in this Villa in the middle of the desert and it met my expectations! The Villa is on the edge of the city of Mitspe Ramon overlooking the desert and has 4 double bedrooms, a pool, hot tub, outdoor lounge area, grill, and all the kitchen equipment you could need. The Villa is spread across two floors, with two bedrooms in each floor and 4 bathrooms in total, three in the ground floor and one on the first floor. The first floor also features a nice outdoor terrace with another lounge area overlooking the desert. Spent the afternoon relaxing in the pool and later the hot tub while watching the sun go down and in the evening made a BBQ in the grill.
I must say, that one day in Mitspe Ramon is definitely not enough. There is so much to do including multiple hikes, star gazing, 4×4 exploration and more. If you try to replicate this trip definitely add more time to it.
Stay at: Vila Nahal Faran 32
Day 11 – Caesarea, Haifa & Accre
Although it was heartbreaking, the next day I had to leave Vila Nahal Faran 32 early to head to the next destination: Caesarea National Park.
Caesarea National Park houses Caesarea Maritima, a city and harbour built under Herod the Great during c. 22–10 or 9 BCE. In simpler words, an ancient city on the sea shore which makes it visually appealing and particularly interesting. The site mixes ruins with high-end shops and restaurants.
Spent the rest of afternoon in Aqueduct Beach, a beach with a Roman aqueduct behind it and then stopped by Habonim Beach Nature Reserve, a quiet protected beach.
Towards the end of the day got to the city of Haifa which in all honesty, I didn't like. I got a strange vibe from it and found it to be dirty with a rather industrial feel and way too many stray cats. If you follow me on Instagram, you know my cat is my favorite thing and seeing so many cats in a not very good condition in Haifa put me off. Thankfully, I chose to stay in Bat Galim Boutique Hotel that night which was my good vibes oasis! This hotel was tastefully decorated, clean and felt like home. That's thanks to its lovely host Anna, who does so many little things to make guests feel cared for: there is tea, coffee, water, cookies and dates at all times at reception as well as a telephone where you can call for help after hours.
At night, found a cool area towards the port full of restaurants and bars.
Stay at: Bat Galim Boutique Hotel
Day 12 – Haifa, Nazareth & Sea of Galilee
The next day had a delightful breakfast at Bat Galim Boutique Hotel and went to visit Haifa's icon: the Bahá'í Gardens or Hanging Gardens of Haifa made up of eighteen terraces which span almost the entire city. They are an impressive monument although hard to visit as not all areas are accesible and hard to photograph as they are incredibly massive.
Then it was back on the road towards Nazareth. I had visited the place where Jesus was born (Betlehem) and the place where Jesus carried the cross, died and resurrected (Jerusalem). I was missing the place where Jesus grew up: Nazareth.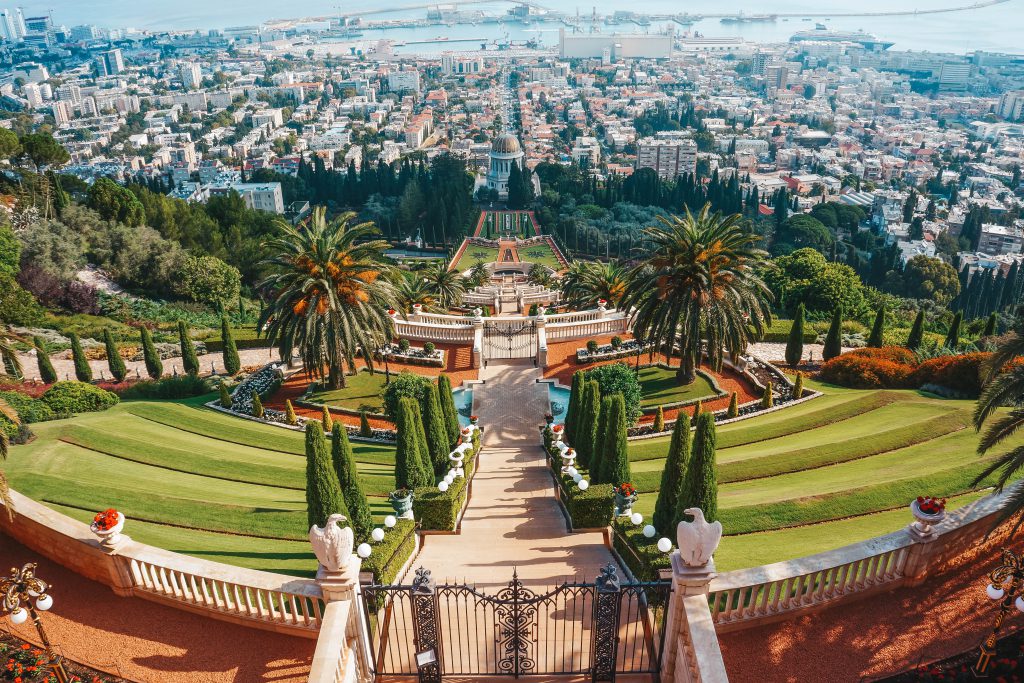 In Nazareth I visited the Church of Annunciation, where angel Gabriel appeared to Mary and announced that she would conceive and bear Jesus. Outside of being a holy place, this church was unique in shape and also featured multiple murals donated by countries around the world. I walked around Nazareth to see more, but there were no highlights other than the Church.
Next I would go to where Jesus walked on the water: Sea of Galilee. This is where I would be staying for the rest of this day. The Sea of Galilee or Lake Kinneret is the lowest freshwater lake in the world and second lowest lake in the world after the Dead Sea. It is also the only natural freshwater lake in Israel.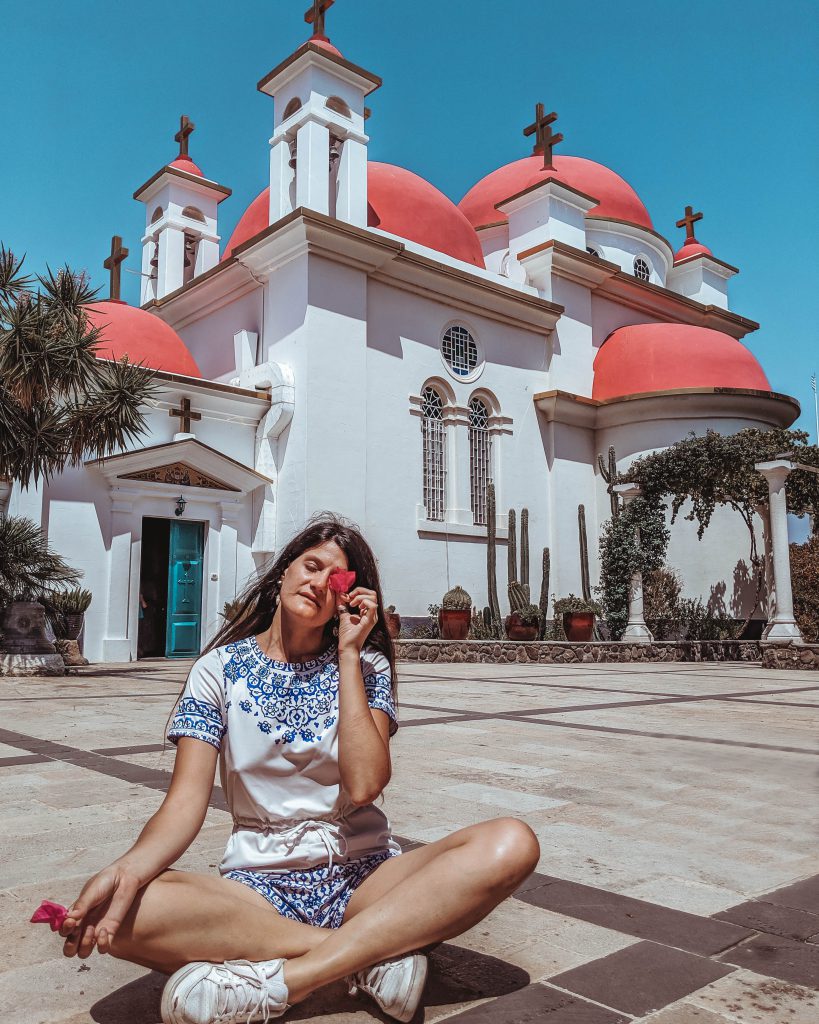 I spent the rest of the day driving around the lake and visiting its various attractions such as:
After some sightseeing I spent the rest afternoon relaxing in Nino Magdala Resort where I had booked an apartment with a private pool in its balcony. The apartment is sparkling clean, equipped with everything you might need including a barbecue. But if I have to be honest I spent most of the time outside in the balcony just relaxing and enjoying the breathtaking views. It was a lot nicer and better than expected and the price is very reasonable.
Days 13, 14, 15 – Tel Aviv
The next day I woke up and saw the sunrise from the pool in the balcony at Nino Magdala Resort. I didn't want to leave, but unfortunately had to. I soon arrive in Tel Aviv where I spent the remaining three days continuing to explore the city and checking off the items of my Tel Aviv Bucket List.
How to get to and around Israel
To get to Israel you'll need to fly to Ben Gurion Airport in Tel Aviv. Get the cheapest flights to Tel Aviv using Momondo and Skyscanner. If you are flying from London, definitely check out British Airways. It might not look cheap at first but when you factor in the luggage that's included + comfort + cost of travel to the airport it sometimes ends up being best.
To get around Israel, I recommend you book a rental car. Driving in Israel is a breeze! Book your car through Rentalcars who always have the best deals. You can get insurance through them, which I've actually used and it works! In the even you have an accident they reimburse you pretty quickly.
Enjoyed this article? Support my work by buying me an oat capuccino. Otherwise, do me a great favor of leaving a comment and following me on Instagram (@travelwithpau). Feel free to say 'Hello!' I don't bite. And make sure you save the article for later!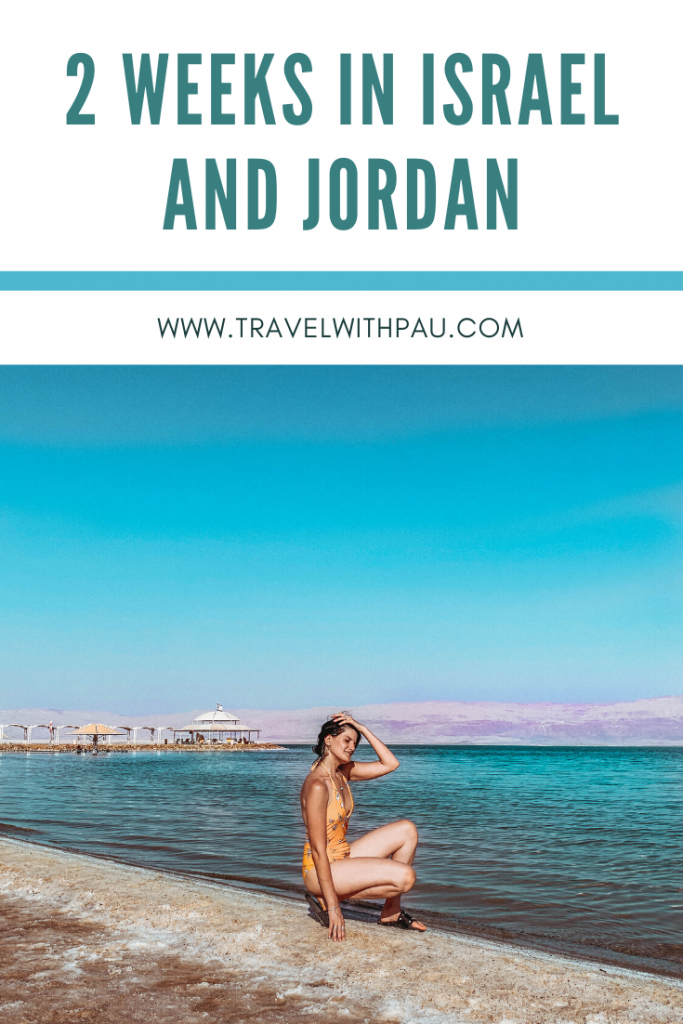 This post contains affiliate links. If you click on one and make a purchase, I might make a small commission, at no extra cost to you in order to help support my blog.