WHY VISIT BIRMINGHAM, UK
I've visited Birmingham from London more than seven times already and lived there for a couple of weeks while I was renovating my Airbnb. When I asked in my Instagram stories I realised no one really visits Birmingham, but it's quite an interesting city! Some of the things that make it special are that it's actually the second largest city in the UK and also the youngest city with over 40% of the population being under 25 (fun! right?).
Also, Birmingham is home to more canal waterways than Venice and is home to the Bullring Shopping Centre which is one of the biggest shopping centres in Europe. If you ask me personally, I really like the industrial vibe of Birmingham, the mix of old and new architecture and the artsy vibe the neighbourhood of Digbeth breathes. On top of that, Birmingham boasts of fine arts, fine dining and greenery. It is the home for some of the most ground breaking music in the world (metal was born here!), Cadbury's chocolate factory and the Peaky Blinders!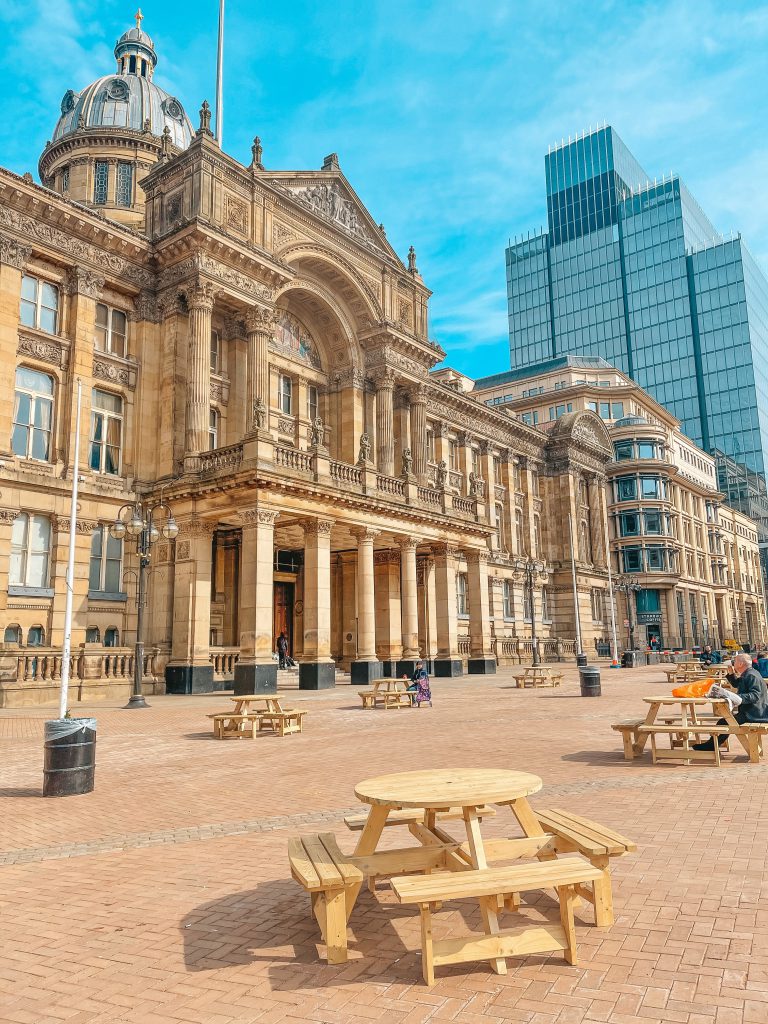 BIRMINGHAM BUCKET LIST: THINGS TO DO IN BIRMINGHAM UK
Take a walking tour
Find out how Birmingham grew from a small market town to the second largest city in the country on this guided walking tour of the city center. Gain authentic insights into modern life in the city and explore some hidden gems along the way. Book it here, or below:
Explore the Bullring
Birmingham has been a marketplace since the 12th century, and this legacy has ownly grown with the years. The Bullring is the shopping area around the Grand Central station, and it includes various department stores as well as shopping arcades. The most iconic building featured is the Selfridges, which looks like a spaceship, but my favourite one is the Western Arcade for its splendid architecture and its independent stores. If you are looking for something fancy visit The Mailbox, a shopping centre for luxury brands.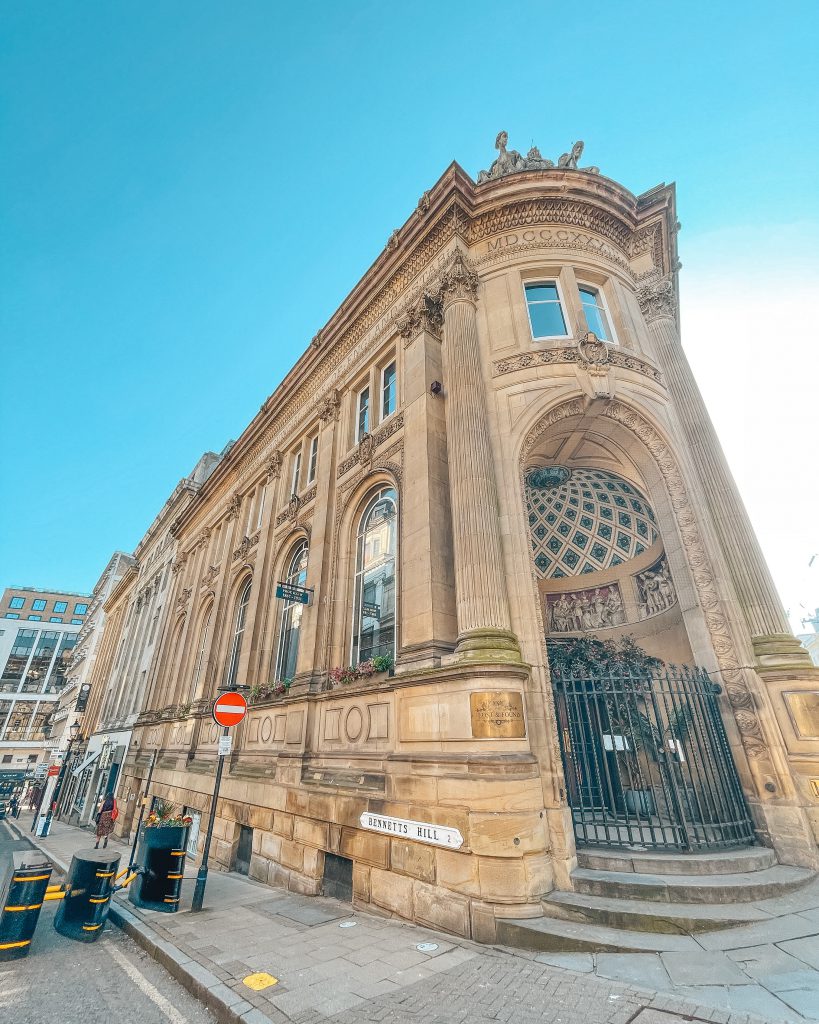 Take a selfie with The Bull
The Bull is a 6 tonne sculpture by artist Laurence Broderick which symbolises the importance of the Bullring for Birmingham. Located in Rotunda Square, it's undoubtedly the most photographed spot in the city. If you want to prove you've been in Birmingham you need a photo with it!
Be part of the famous sitcom FRIENDS
Immerse yourself in the world of FRIENDS™ like never before with interactive set recreations, like Joey and Chandler's apartment, Monica and Rachel's apartment, and Central Perk. After tremendous success overseas, this unique experience makes its way to Birmingham until 18 August only! Book it here.
Go to a sneaker festival
Do you love sneakers? Crepe City Sneaker Festival is the leading event in Europe and is returning to Birmingham this summer! Join the UK's top sneaker vendors showcasing the rarest and most desirable pairs of trainers. If you are a sneakerhead or a streetwear fan, you can't miss this. Takes place July 22nd 2023, so make sure you book your tickets.
Explore the canal quarter and Brindleyplace
Birmingham's vibrant canal quarter houses the city's best bars, restaurants, and views and just makes for a lovely stroll! Within the canal quarter you'll find the National Sealife Centre, the IKON Gallery, as well as Brindleyplace a beautiful square with restaurants, bars, shops and cafes.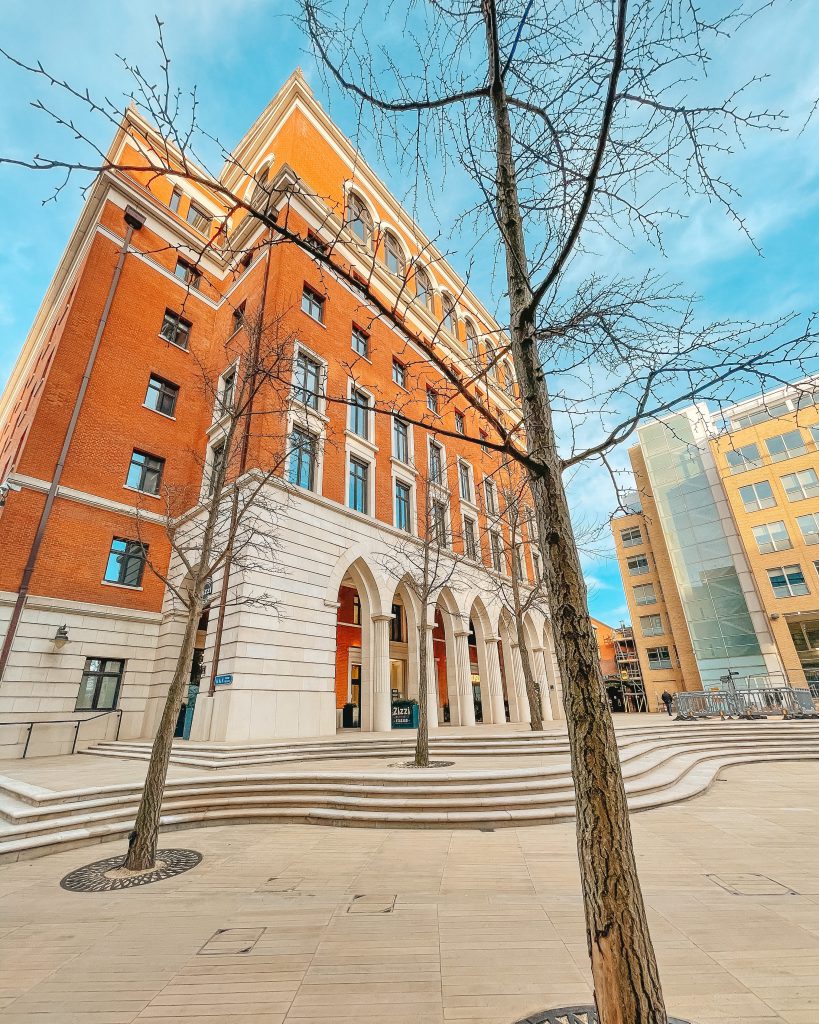 Admire Victoria Square and discover the treasures of Birmingham Museum and Art Gallery
Victoria Square is best described as the Trafalgar Square of Birmingham. At its edge you'll find the Birmingham Museum and Art Gallery, home to the largest collection of pre-Raphaelite paintings in the world and occupying one of the city's finest buildings. A must visit for art fans.
Look up at the frescoes of Picadilly Arcade
Located opposite New Street Station, this picturesque arcade offers beautiful architecture and an eclectic mix of independent stores. But what called my attention is its handpainted ceilings which are rather unusual. Don't take my word for it, see it for yourself!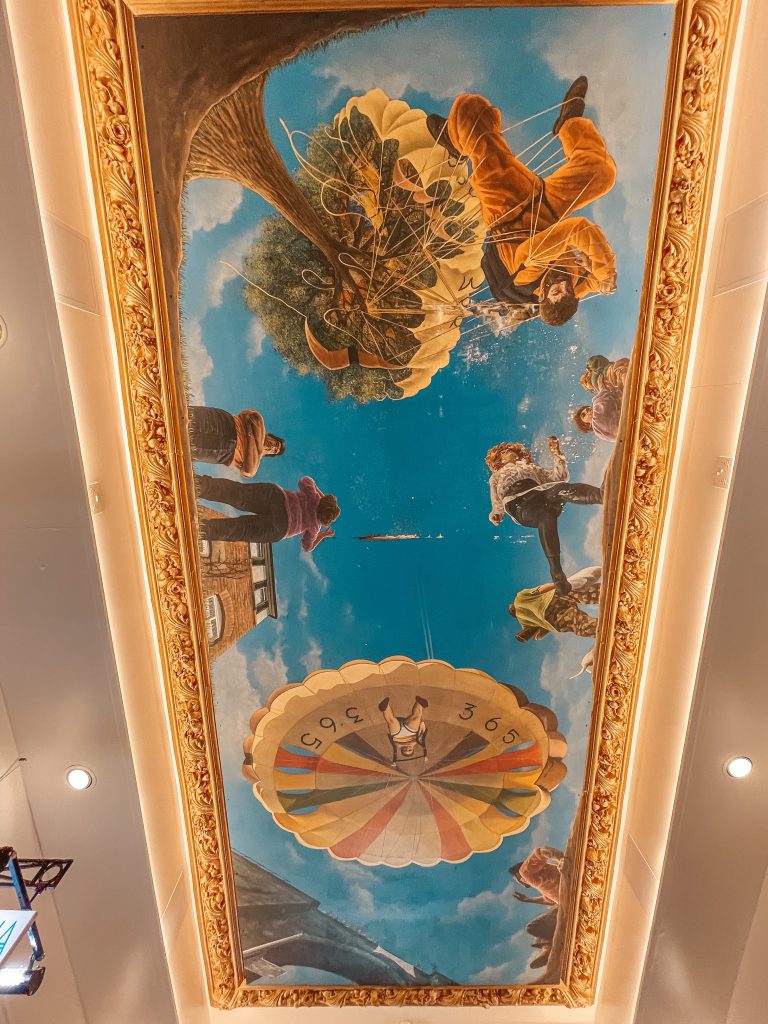 See Tolkien's inspiration for 'The Lord of the Rings': the Moseley Boga
The Moseley Boga is a green idyl on the fringes of the city on the site of an old millpond. JRR Tolkien, 'The Lord of the Rings' author grew up around Moseley Boga in the 1890s, and it's said to be the inspiration for hobbit-hangout The Shire. Down the road in Edgbaston, a Victorian waterworks is said to have formed the basis for the evil Sauron's towering lair. Wander around this nature reserve full of plants, animals and insects, gnarled old trees and gorgeous carpets of bluebells each spring. The site also has great archeological interest, having two burnt mounds, the remains such of an old mill dam and the foundations of Victorian greenhouses.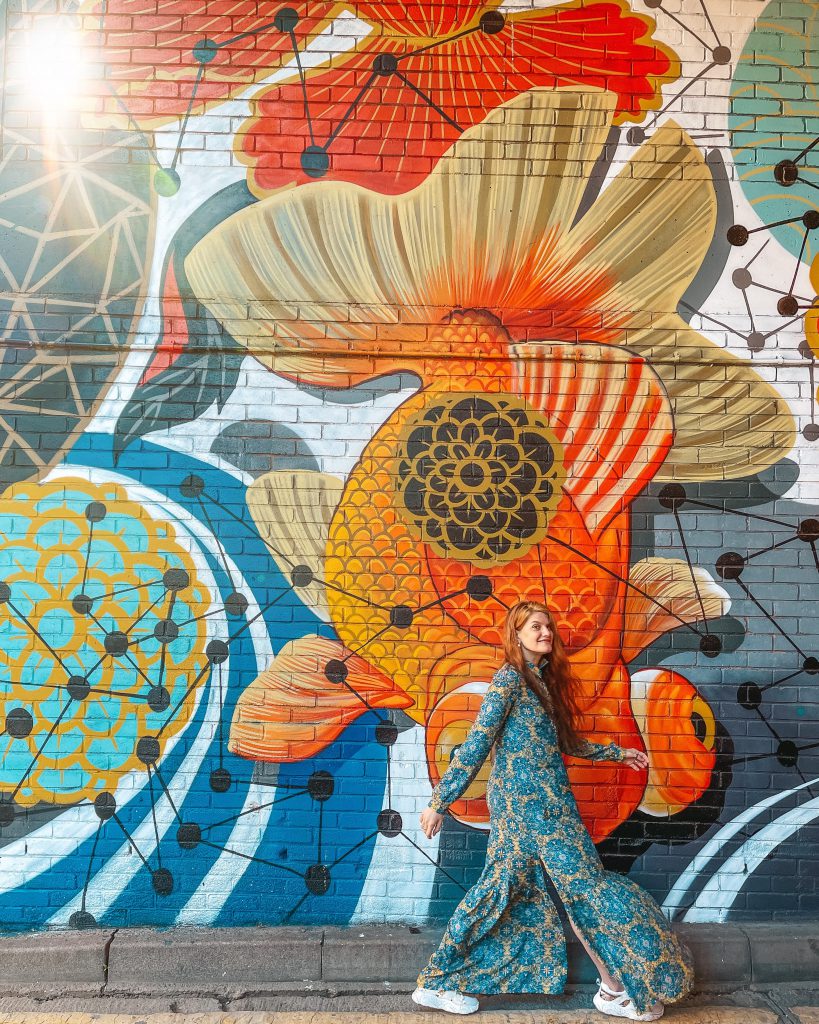 Admire the street art in Digbeth, Birmingham's hip neighbourhood
Recently named the Coolest Neighbourhood in Britain by the Sunday Times, Digbeth less than ten minutes walk from Bullring & Grand Central. Head to the Custard Factory to hit one of its cafes, independent shops, cinemas and arts venues, and the district's weekly food and drink festival, Digbeth Dining Club. Digbeth is also Birmingham's street art hotspot which makes a walk around it double fun!
Eat & drink from one of Birmingham's craft breweries
If you follow me, you know I'm a craft beer fan! My proud discovery is Indian Brewery in Snowhill a craft brewery that created the Birmingham Lager. But the brewery is not the only thing good about this place, the food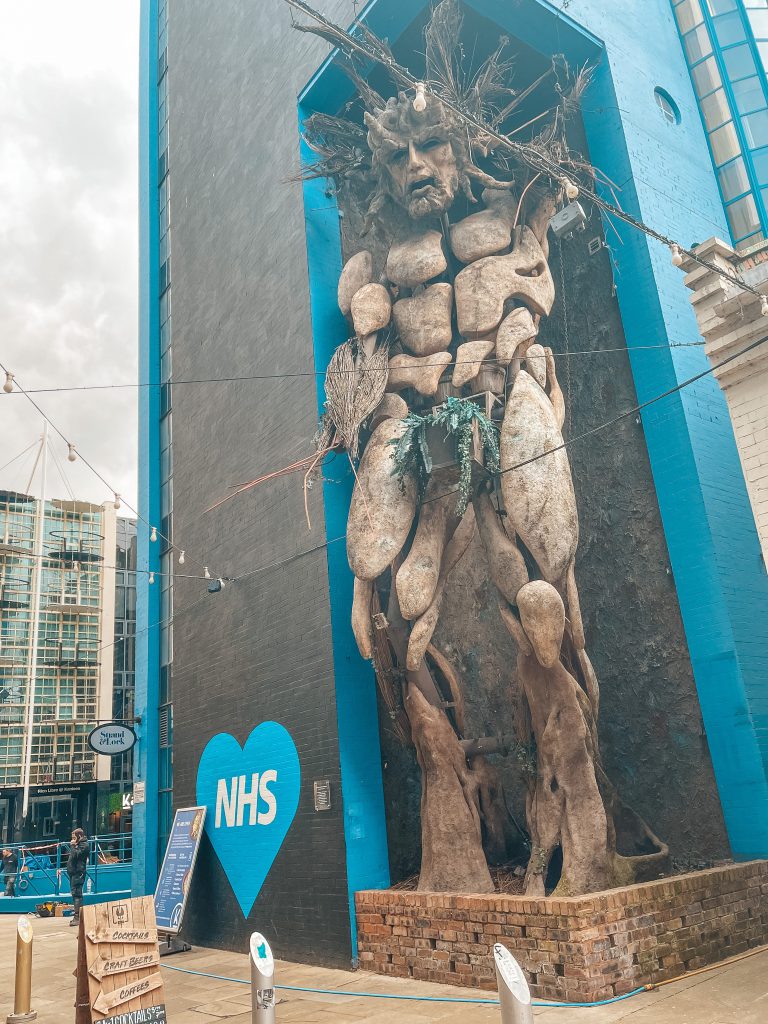 Visit Birmingham's oldest pub, The Old Crown
The Old Crown is Birmingham's oldest secular building and has existed since 1368. Having stood the test of time during the English civil war the pub & events garden now stands proud in the heart of Digbeth, Birmingham's thriving creative quarter. Fun fact: it has the coolest, most original bar snacks!
Feel like Charlie at the Chocolate Factory in Cadbury World
A chocolate-focused attraction? I'm in! Only 13 minutes by train from New Street will take you to the red-brick, old-world Bournville village which was built for the workers of what was the centre of England's chocolate empire, Cadbury. There are tours available and you can have your Willy Wonka experience in the demonstration area (molten chocolate is involved; and you get to eat it). But that's not all, the world's biggest Cadbury store also awaits, boasting concoctions unavailable anywhere else.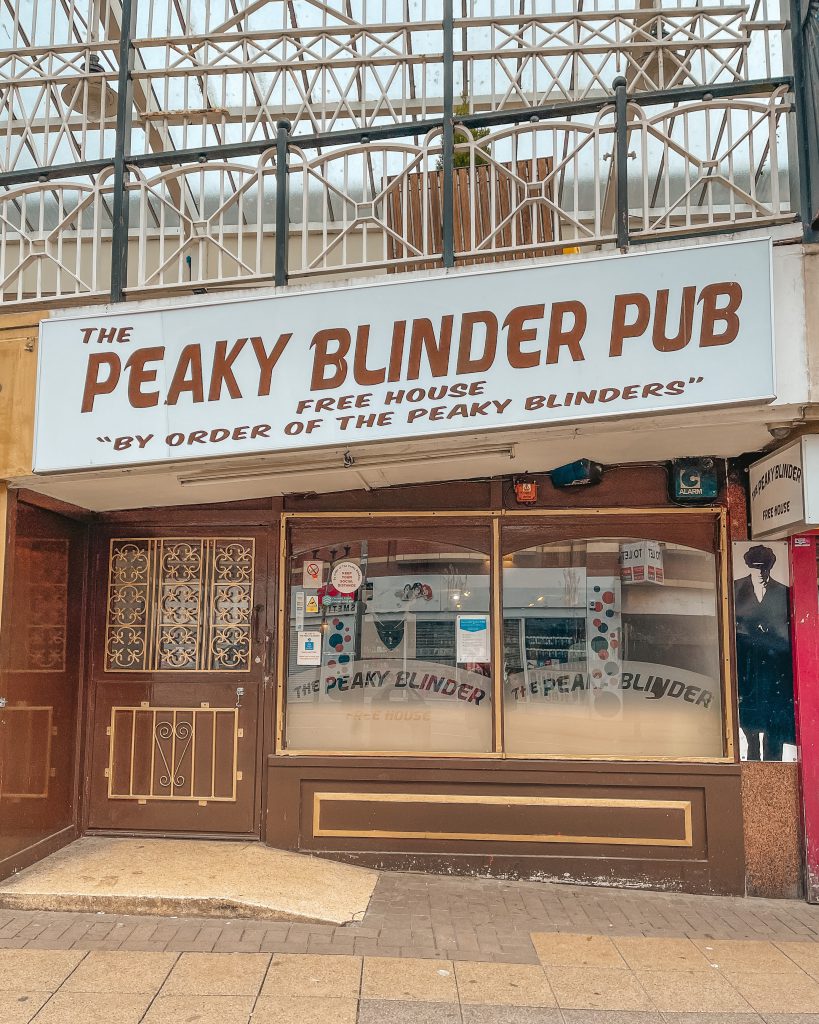 Follow the footsteps of Birmingham's meanest gang on the Peaky Blinders tour
Learn about the real Peaky Blinders in this tour, where you'll get to stalk the very same streets the gang frequented.
Visit a music album cover fine art gallery
St Pauls Gallery is the World's leading retailer in signed limited edition album cover fine art. With well over 100 signed prints on permanent show and sale, the gallery is a place not to be missed if music is your passion. Also on show are exclusive collections of signed limited edition musician portrait photographs and fine art prints. The gallery is pretty mad, specially if you are into 60s or 70s rock, with prints signed by Pink Floyd, Deep Purple and many others being sold here.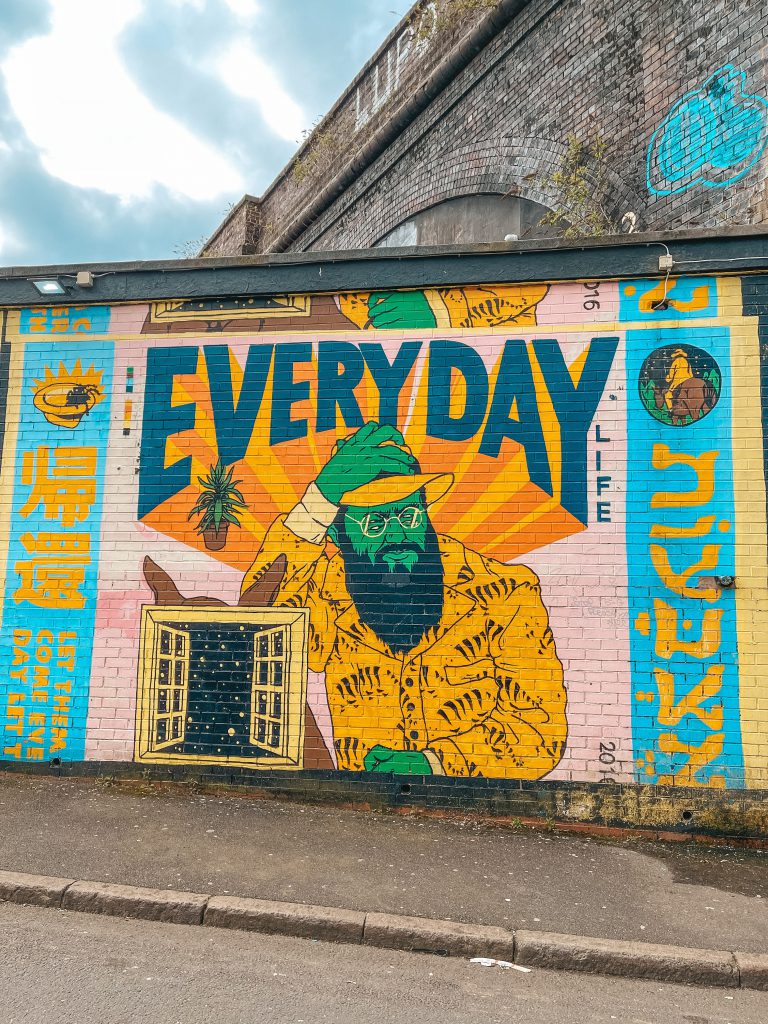 Sip a clandestine cocktail in the city's speakeasies
Some of Birmingham's best bars are hidden behind unassuming storefronts and doorways which makes it all the more exciting to have a cocktail in one. Channeling that 1920s American prohibition spirit is the super-cool 18/81 (somewhere on Thorp Street, just ring the bell) and 40 St Pauls (there's no sign, look for the door with number 40 off St Paul's Square).
Have a curry!
Birmingham is the original home of the Balti. The Birmingham Balti originated in the city during the late 70s, when curry chefs started to make their dishes lighter, healthier and served faster to suit Western tastes. There's even an area called the Balti Triangle, just to the south of the city centre along Ladypool Road, Stoney Lane and Stratford Road, which was named for the number of eateries serving up curries using the balti method. Try Opheem, Lasan, Raja Monkey, Asha's, Itihaas, Tamatanga or Rajdoot and you won't be disappointed.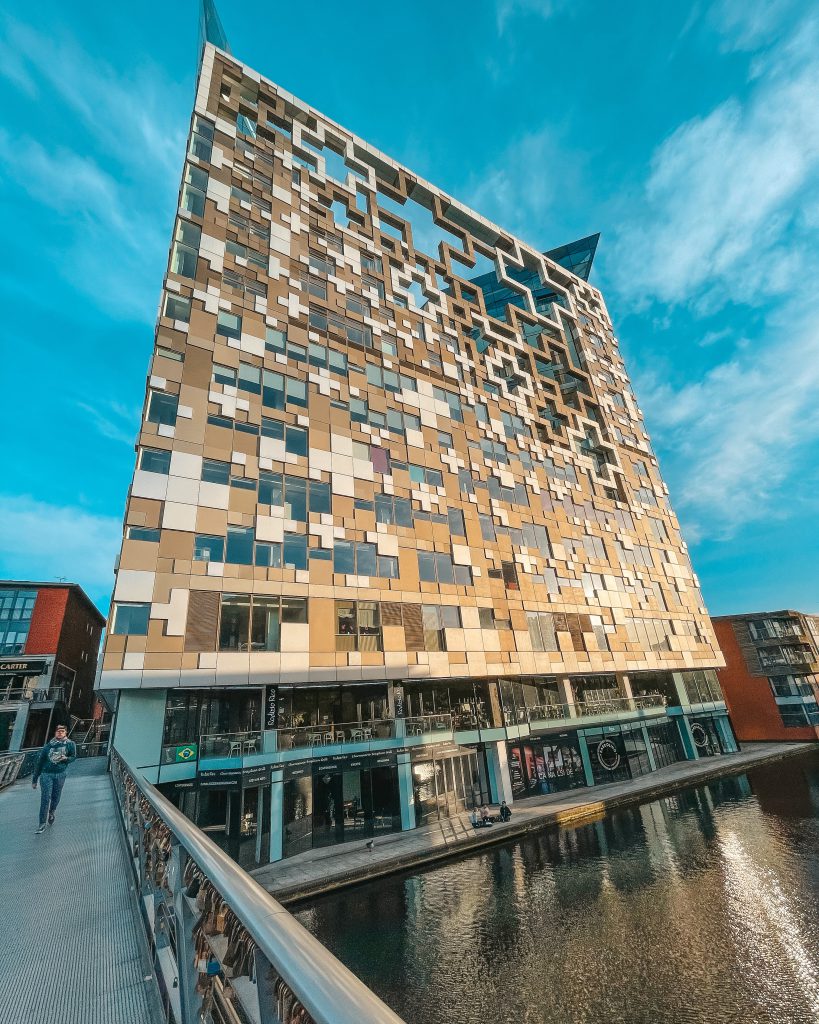 BIRMINGHAM BUCKET LIST: ONE DAY ITINERARY
If you only have one day, my suggestion is to start at The Bullring, stroll around making sure to visit both arcades (Picadilly & Western Arcade), then walk through the canal quarter and drop in St Paul's Gallery, then have a curry for lunch, then head to Digbeth for another stroll some drinks and food in the evening at Digbeth Dining Club and make sure to pop by The Old Crown. All these activities are described above.
If you make a weekend of it (which I recommend) use the second day to visit the Moseley Boga, Cadbury World and the Peaky Blinder's tour.
WHERE TO STAY IN BIRMINGHAM, UK
Make a weekend of it! Why not get to Birmingham on a Friday and stay over Saturday to have two full days of exploring? If you do, then stay at my Airbnb which is awesome and has the best location. I personally refurbished it so make me proud and book it, and if you have any feedback on the decorations or finish send them my way. It's literally 1 minute fron Birmingham's Central Station so perfect for exploring and then hopping on the train wasting zero time.
Is it booked? Then you can find other options here, sorted by best reviewed and cheapest.
HOW TO GET TO AND AROUND BIRMINGHAM, UK
You can take a bus or train from wherever you are in England. Use Trainline that shows you bus and train options in the same search so you can choose the cheapest, fastest option. You can also rent a car which means you'll get more flexibility!
WHAT TO EAT IN BIRMINGHAM
Enjoyed this article? Support my work by buying me an oat capuccino. Otherwise, do me a great favor of leaving a comment and following me on Instagram (@travelwithpau). Feel free to say 'Hello!' I don't bite. And make sure you save the article for later!

This post contains affiliate links. If you click on one and make a purchase, I might make a small commission, at no extra cost to you in order to help support my blog.