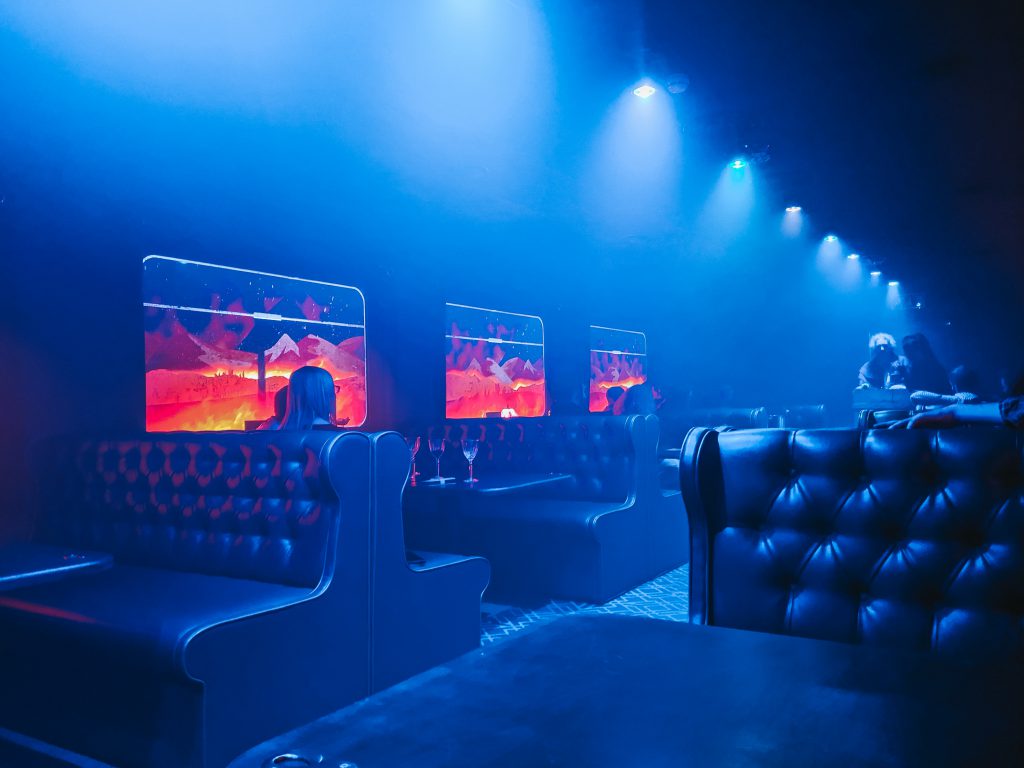 Journey to the Underworld was the first Funicular Productions immersive experience I went to. As an immersive experience lover, I have this itch to attend all of them and Journey to the Underworld had great reviews. Also, I had peeked the menu in their website and it looked amazing. And they are able to cater for vegans!
I arrived to Pedley Street Station in Hackney where the experience was to take place and was greeted by a rather zombie-like man in the ticket office who gave us the ticket so that we could shortly board the train. His assistant monsters took our coats and bags.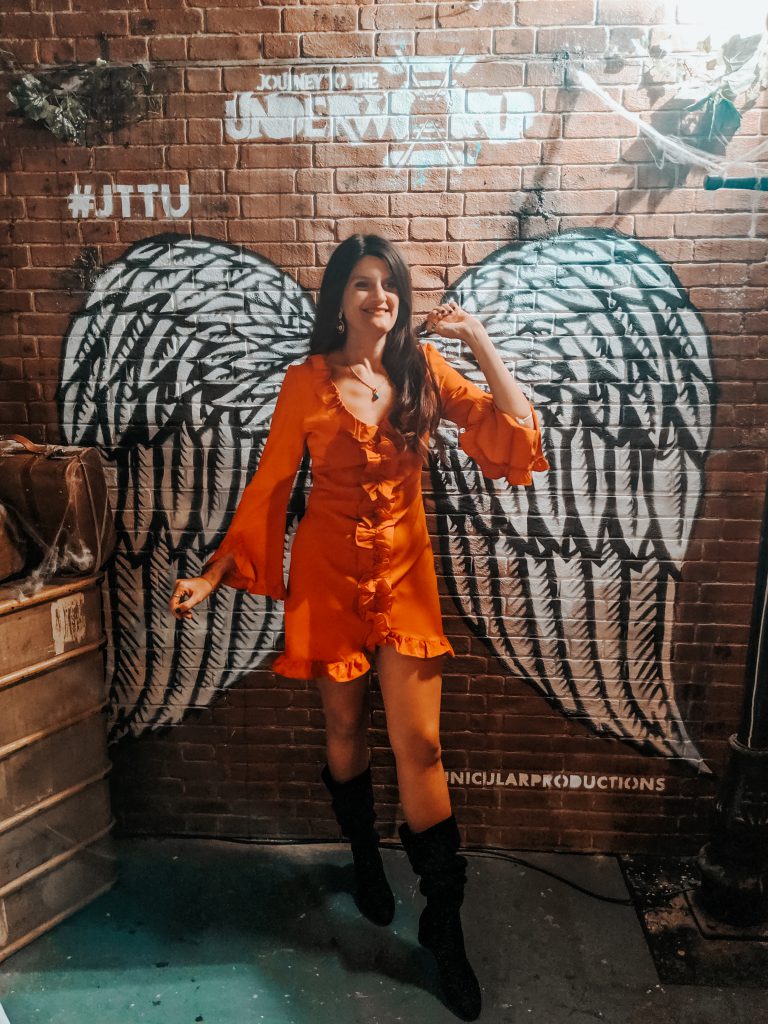 We moved into the train platform to get some drinks before boarding our train. By how the waiting area looked, we knew it was going to be a rather scary train ride!
Soon after we were introduced to the why we were there by one of the main characters of the story, Claude. We then boarded the train in his instruction and were sat on our carriage. To give you an idea of what kind of train I'm talking about, we were surrounded in fog and helpless beings where warning us to get out by writing in the windows from outside!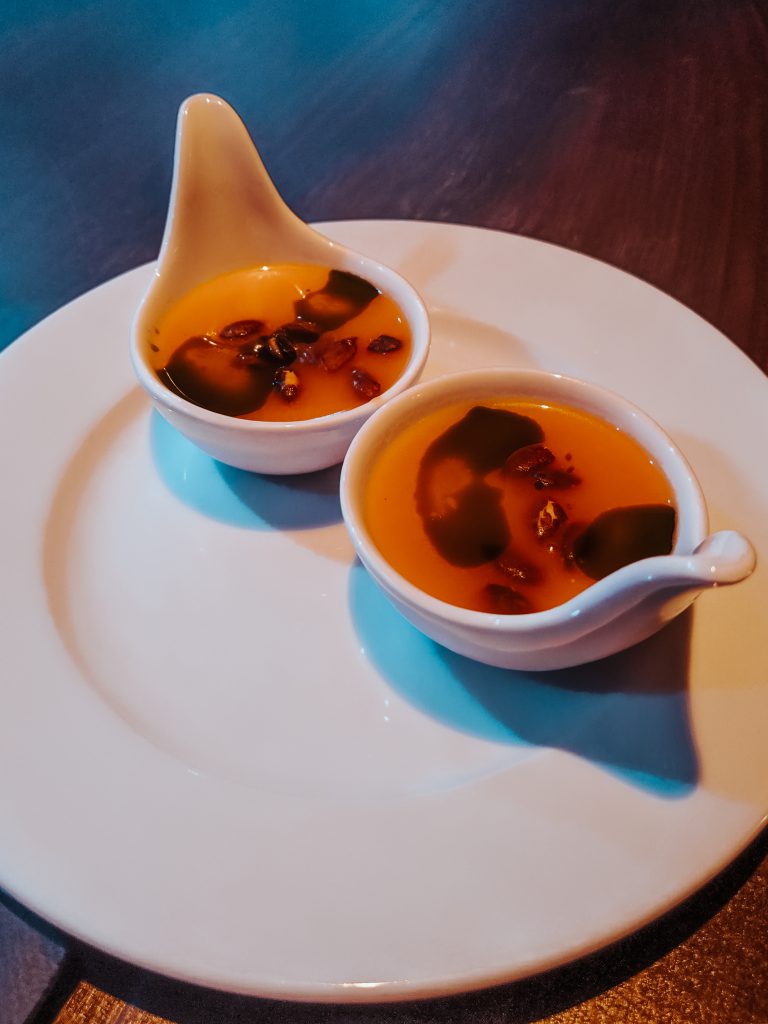 Soon we were brought our amuse bouche: butternut squash volute, toasted pumpkin seeds & chive oil. It was delicious, but the portion was a big spoon. It was so good I wished I could have had more.
The story continued to unfold with different characters being brought in and out. My favorite scene involved the gatekeeper of the Underworld, a very tall, handsome, androgynous man who stripped and danced to Velvet Underground's Venus in Furs.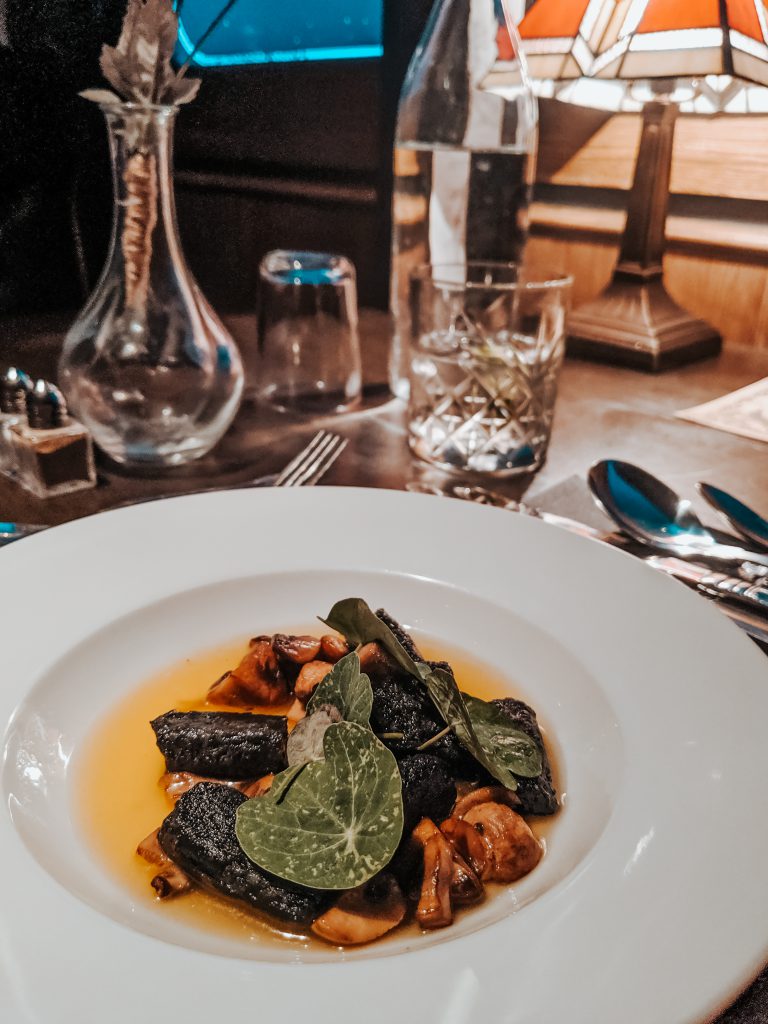 The next course was black garlic gnocchi, sautéed wild mushrooms, truffle and nasturtium. I might be biased by the fact that I love mushrooms and truffle but it was also absolutely amazing in terms of taste and textures.
The main was salt baked celeriac and leek pearl barley served with potato crisp and an apple foam. This dish was OK. I liked it, but I wasn't really a fan of this one partly because I'm not really fond of celeriac but also because I thought it was too puree-y for a main in my opinion.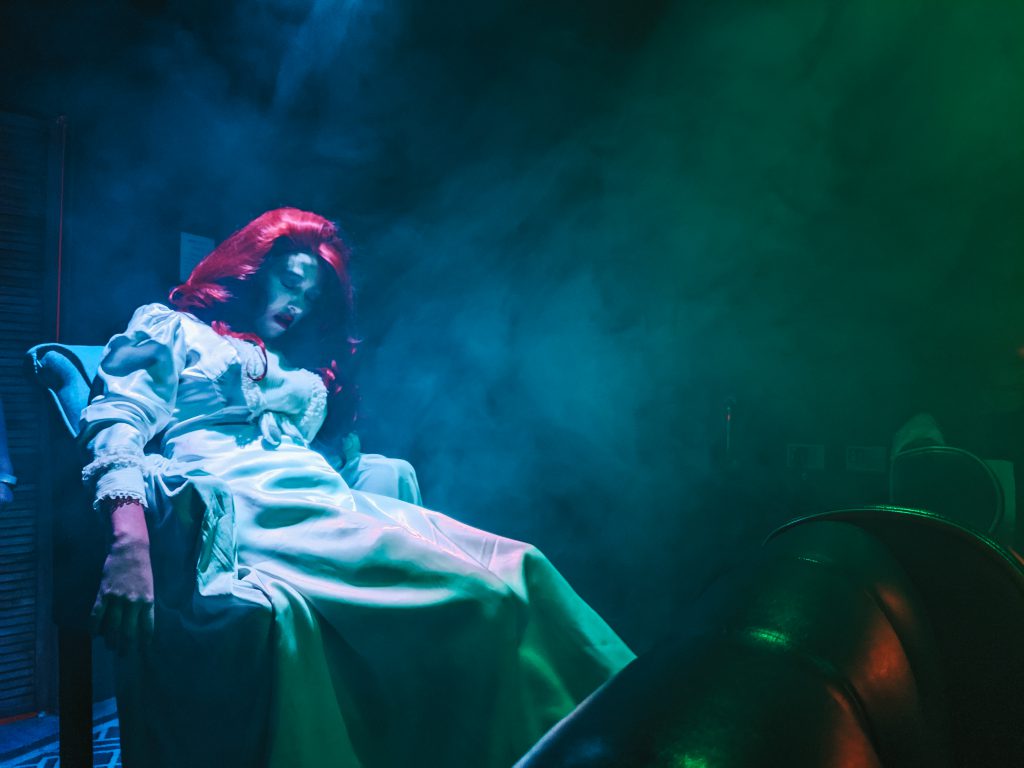 The loved story based plot continued to unfold and the public continued to be engaged in order to finish our mission which was to get Claude's lover, and us, back to the land of the living.
Luckily we made it and we did so right on time for dessert. My dessert was a chocolate ganache and ice cream. As a vegan the desserts in set menus I tend to get are sorbets and this one was a 'real dessert' the one I kind of wish I always get but almost never do. And also, I don't think an omni would have noticed it was vegan.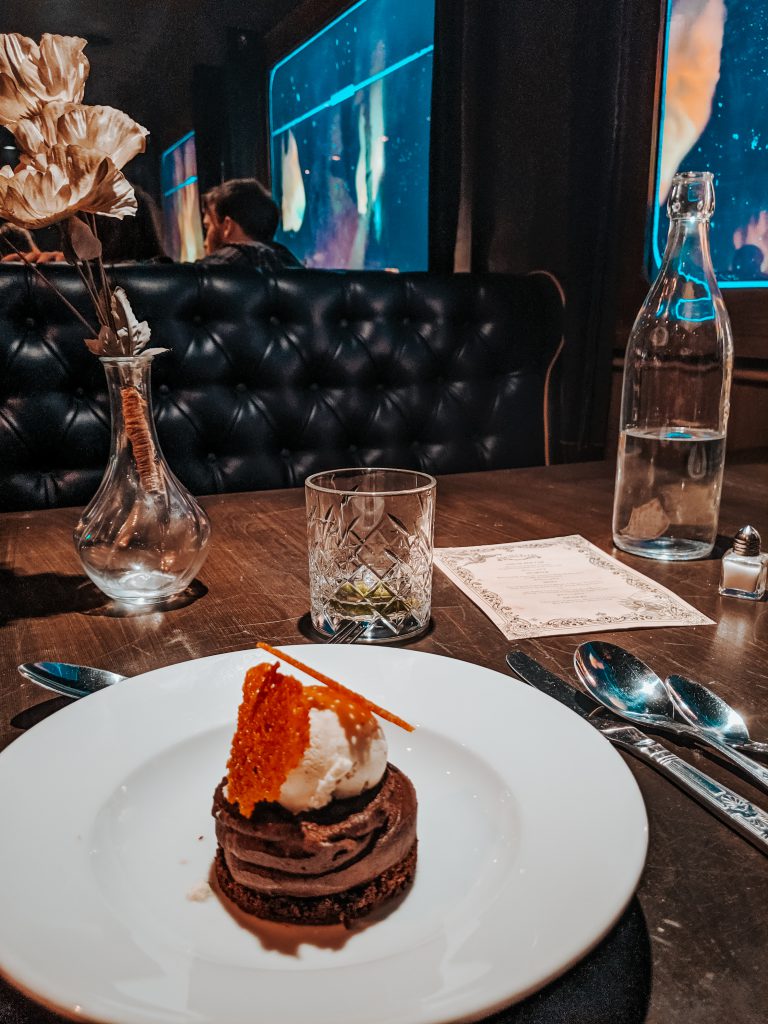 Dessert marked the end of our train ride and meant we were back in the land of the living.
Looking back to this experience, I must say I truly enjoyed it. The food is delicious and almost already worth it by itself. The decoration is perfect, acting is OK and it has just the right balance of immersiveness to also allow you to enjoy your food.
You can book Journey to The Underworld here. Hurry! It finishes November 10.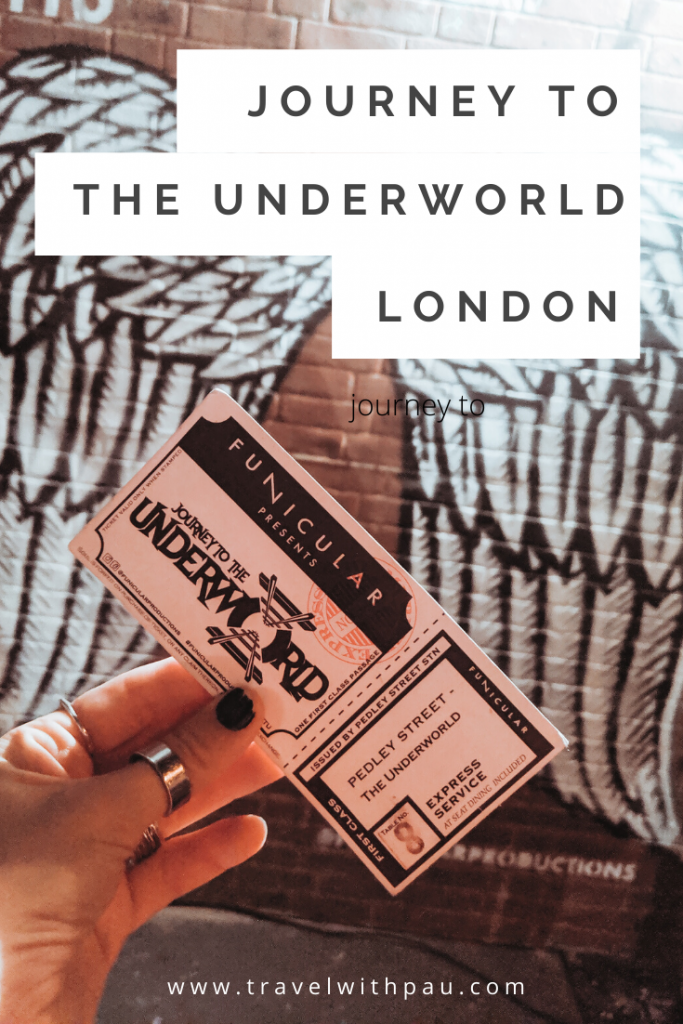 Enjoyed this article? Support my work by buying me an oat capuccino. Otherwise, do me a great favor of leaving a comment and following me on Instagram (@travelwithpau). Feel free to say 'Hello!' I don't bite. And make sure you save the article for later!