Around over two hours from London by car, the Jurassic Coast makes a wonderful day or weekend trip from London if you are looking for stunning seaside views and cute towns.
Wait! Jurassic Coast? Am I going to see dinosaurs?
You wish! The 154km long Jurassic Coast is a World Heritage Site on the English Channel coast of southern England. It spans from Exmouth in East Devon to Studland Bay in Dorset.
Why is it called Jurassic Coast? Well, this site has around 185 million years of geological history. Erosion in the coast has exposed rock formations from the Triassic, Jurassic and Cretaceous periods, and this is why it is a World Heritage Site. The fossils of the various creatures who lived here have been preserved in the rocks. You can actually see sea shells, and who knows what else, encrusted in them.
Jurassic Coast Attractions
There are a ton of things to do in the Jurassic Coast which span from coastal walks to visiting quarry caves with bats. Remember it spans across 154km! But if your time is limited and you are only going for 1-2 days, stick to the county of Dorset. There are a few things you can explore: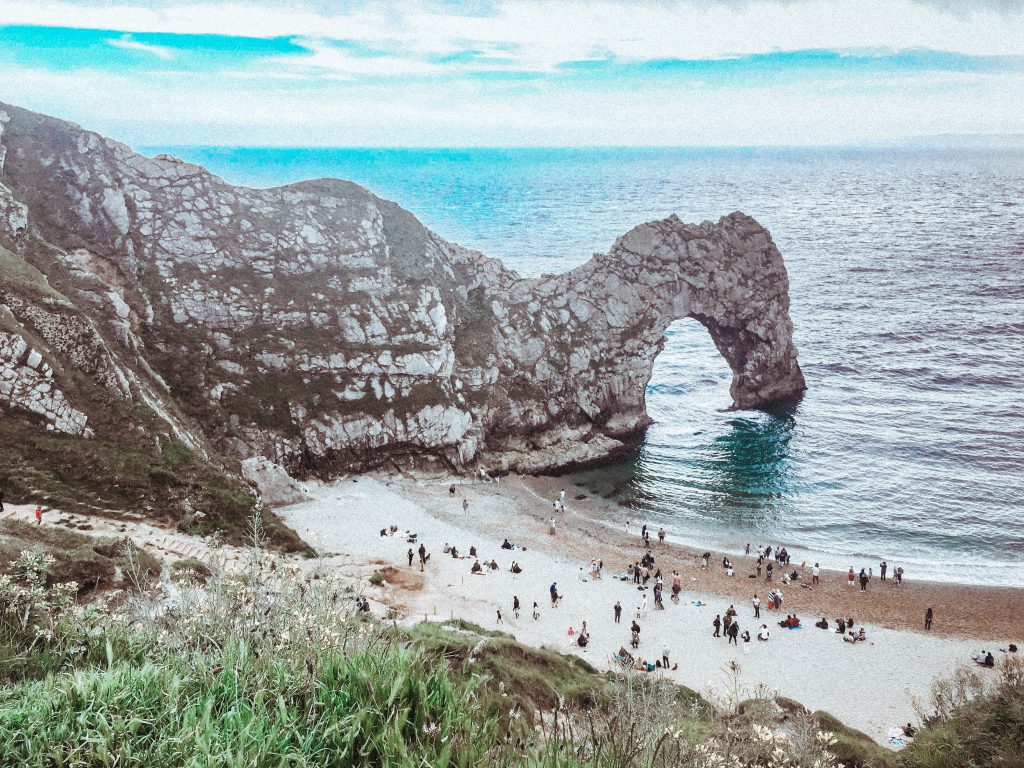 Durdle Door
Undoubtedly the icon of the Jurassic Coast, Durdle Door is a limestone arch which is product of erosion in the coast. And it's gorgeous! This natural wonder is the reason I wanted to come to the Jurassic Coast on the first place.
There are a few paths to walk through and take some snaps and also a lovely pebble beach if you want to chill for some time. Depending on when you go, it can be busy! So best are early mornings, specially if you are going on a weekend.
Lulworth Cove
This beautiful cove is basically a textbook example of this interesting landform. It is just besides Durdle Door, you can walk from one site to the other in only half an hour, enjoying the stunning views. Once there you can explore the beach and hike up the hills at both ends of the cove. The color of the water is amazing! After your hike, you can enjoy a coffee, some fudge or ice cream on the lovely town right outside the cove which has some super quaint cottages with small cute ponds.
Weymouth
Weymouth is a seaside town in Dorset and it stands halfway on the Jurassic Coast. Visiting it was a great idea! I basically walked all of the center admiring the quaint english houses and everything going on around the harbor. It has nice cafes and restaurants if you want to grab a bite and interesting stores. Once you head towards the seafront you'll find an esplanade which runs along Weymouth Beach. I personally enjoyed spending some time at the arcades along the esplanade playing with the coin cascades – but that's because I may still be a child.
When you have finished roaming Weymouth, time to go to the Isle of Portland. The road that connects the Isle with the mainland runs a long Chesil Beach. This 29km "beach" is actually not a beach but a tombolo (although recent research has discovered it's a barrier beach). The point is, you'll definitely learn geology on the Jurassic Coast – and Chesil Beach looks awesome.
Isle of Portland
This isle is the home of Portland stone. Portland stone has been used in Britain (mainly London) and all over the world for important buildings such as Buckingham Palace and St Paul's Cathedral. More geology!
Once you've crossed the long beach road, you can pop by Portland Castle. After, head to Portland Bill Lighthouse and on your way stop by the Olympic Rings Stone Sculpture. The sculpture isn't much but the views from Portland and Chesil Beach from above there are stunning.
Continue towards the lighthouse, paying attention to the houses and cottages on our side: they are the cutest and the quaintest.
Once in the lighthouse, park your car and go for a walk on the rocks close to the seaside. The lighthouse is located where Bill quarry was so you'll see the cut rocks' remains all around. Have some fun climbing Pulpit Rock: an artificial stack of rock set by quarrymen. It mimics a slanted bible leaning on a pulpit, hence it's name. Also, don't forget to pay attention at the rocks and the fossils that are inside them!
How to get there and around
How to get there and around
The best way to get there and around is by car. I got a rental car in London and that made the trip super smooth and enjoyable. I recommend that you book your car via Rentalcars to get the best deal.
If car is not an option for you, there are trains to Weymouth from London Waterloo which you should book in advance to get the best price. Alternatively you could also get a bus from National Express to Bornemouth Coach Station which would be the cheapest option.
From there, you can book a day tour. This Lulworth Cove and Durdle Door Coach Trip will take you to Lulworth Cove and Durdle Door, click here to book it, or explore availability below:
If you are looking to visit a few more things, this Jurassic Coast & Isle of Purbeck Full Day Tour covers the aforementioned ones plus a bunch more such as a ferry to the Isle of Purbeck and a visit to the village and ruins of Corfe Castle. You can book it here.
Where to stay
I camped when visiting the Jurassic Coast because I love camping. But if it's not your cup of tea – I've pre-filtered the best hotels across the Jurassic Coast, choose the one that fits your budget and book here. If you'd rather stay in Dorset, I've also pre-filtered the best hotels in Dorset.
If you liked this article please leave a comment and follow @travelwithpau on Instagram.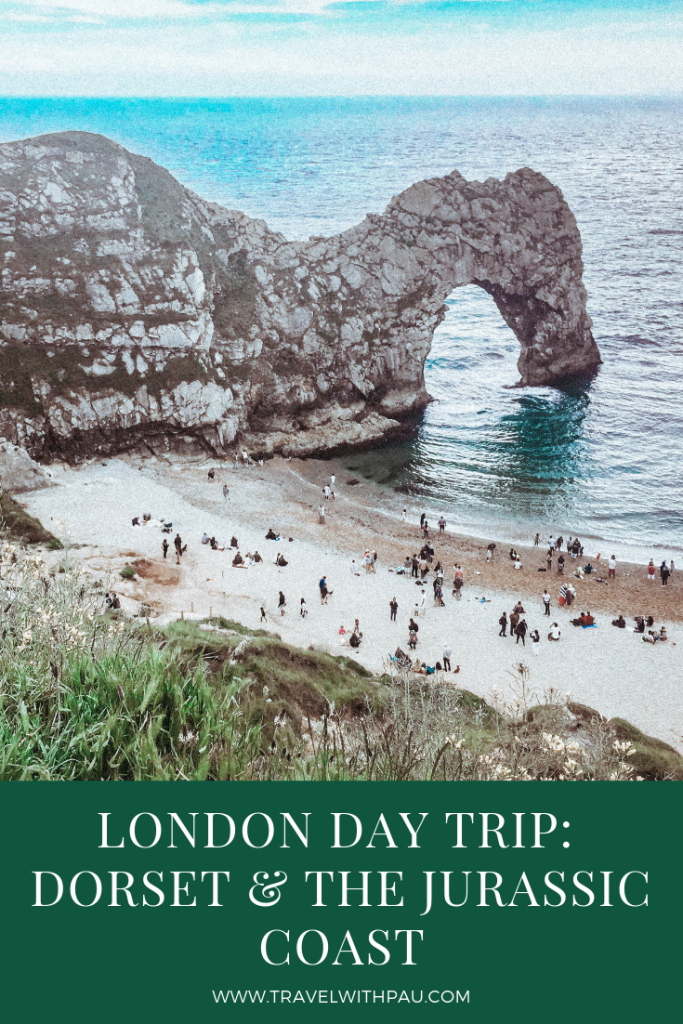 This post contains affiliate links. If you click on one and make a purchase, I might make a small commission, at no extra cost to you in order to help support my blog.