Looking to take many gorgeous pictures in London in little time? Then definitely hit up Elizabeth Street in Belgravia by Victoria Station, London's most instagrammable street!
So what makes Elizabeth Street in Belgravia the most instagrammable street in London? Well, it might have started with patisserie Peggy Porschen making cute cakes and cupcakes as well as calling everyone's attention with it's pinkness and floral displays. Many other stores followed making this Belgravia street the go-to one for London's influencers and Instagrammers.
So here's the run down of the most insta-worthy places on Belgravia's Elizabeth Street.
Note: most of my outfits featured in this post can be found in my 21buttons account.
Dominique Ansel Bakery
This bakery in Belgravia is responsible for inventing the Cronut and is on this list because of its seasonally changing flower arch and flower terrace. It also does innovative afternoon teas that are so incredibly instagrammable. Book an afternoon tea, or pop in for a take away item, everything they do is extremely instagrammable!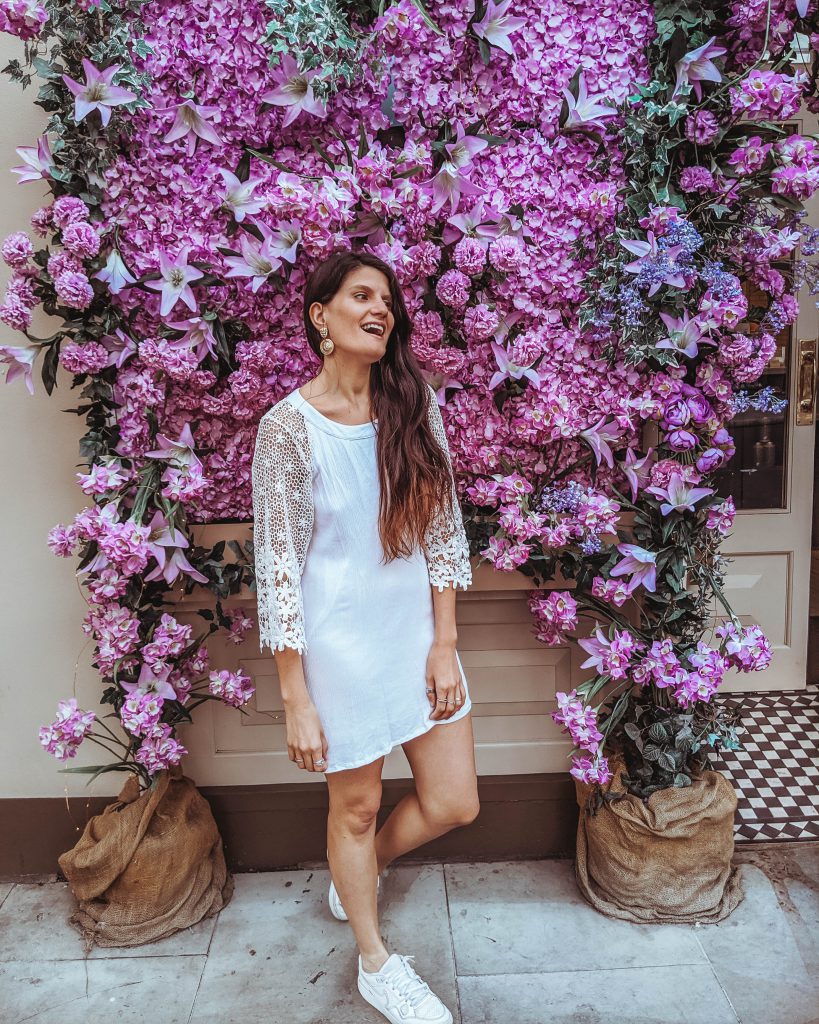 ---
Jo Loves
Jo Loves is the store of fragrance guru Jo Malone where she sells her world known perfumes and scented candles. Her store's window is always framed with flowers making it a lovely place for a photo.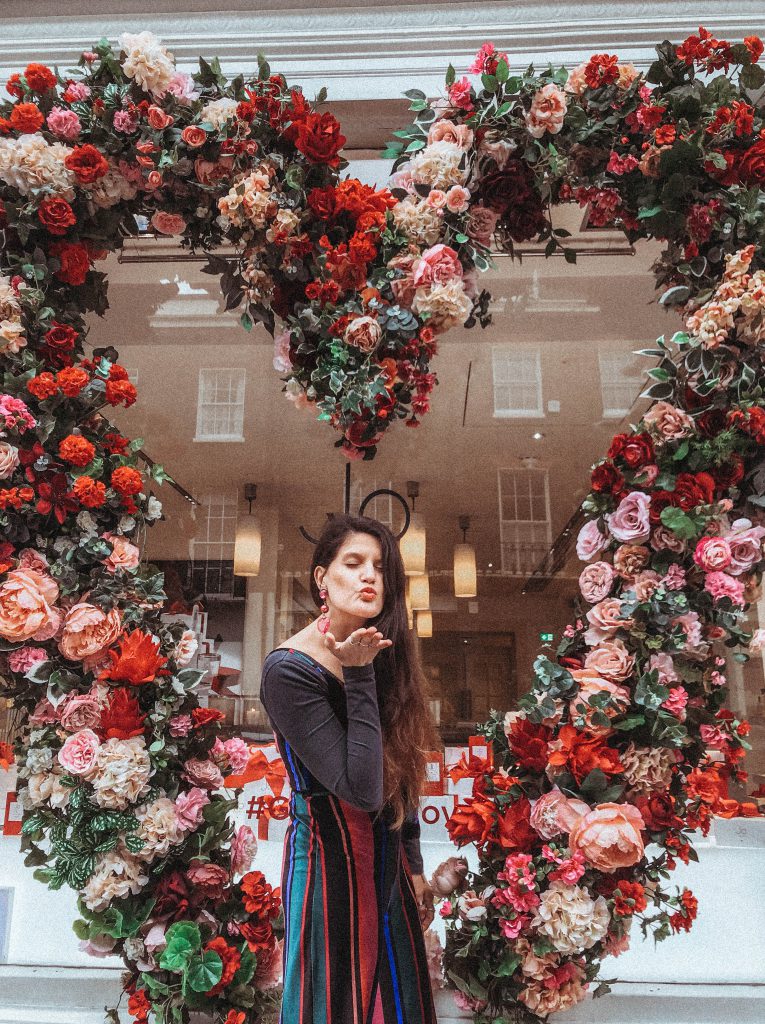 ---
Pepa & Co
Pepa & Co is a store which sells high quality and good taste baby and children clothing and which has jumped into Belgravia's bandwagon of cute window displays.
---
Peggy Porschen Cakes
Peggy Porschen is one of Elizabeth Street's favorites because of its beautiful fairytale pastel pink Parlour and its edible works of art. Pop in for some of their an award-winning, freshly baked collection of cupcakes, layer cakes and pastel coloured confections. This boutique bakery also offers an exquisite selection of artisan teas, coffees and champagnes. To get the best shot, score an outside table!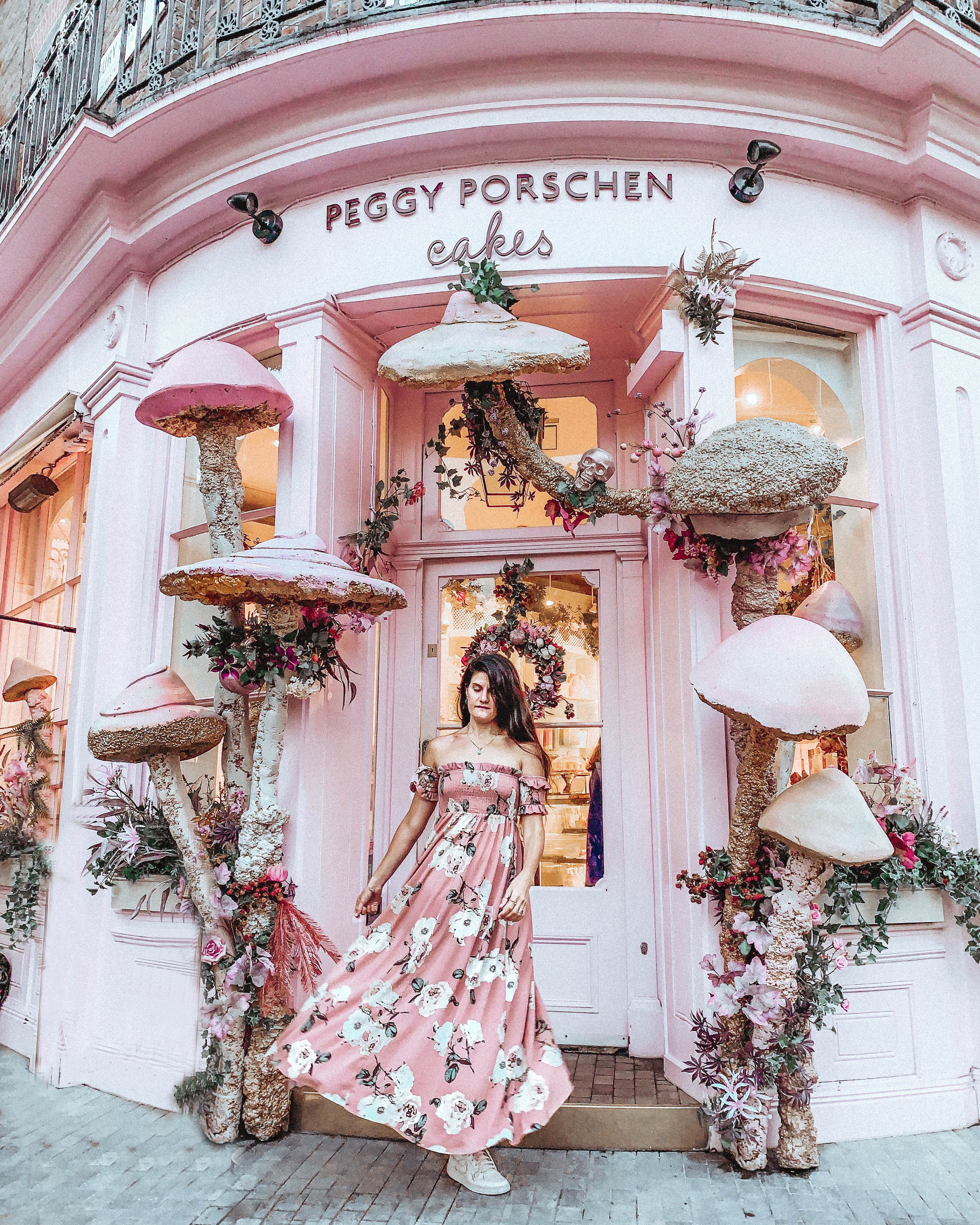 ---
Moyses Stevens Flowers
Moyses Stevens is a flower shop which has existed 1876 and has won two royal warrants. As such it not only delivers the highest standard of bouquets and flowers but also keeps it's shop beautiful and inspirational every day of the year. Make sure to go inside, the ceiling is covered in flowers.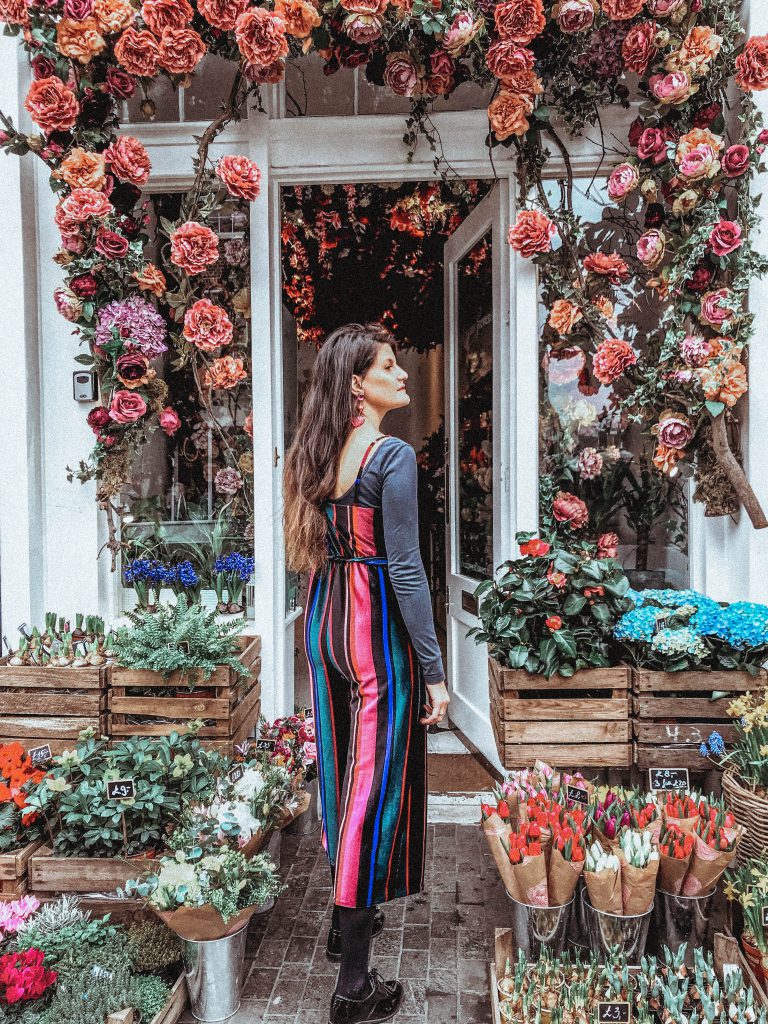 ---
Les Senteurs
Les Senteurs is London's oldest independent perfumery, around since 1984. Today it's a place to discover you dream perfume or to take a picture with its ever stunning window decor.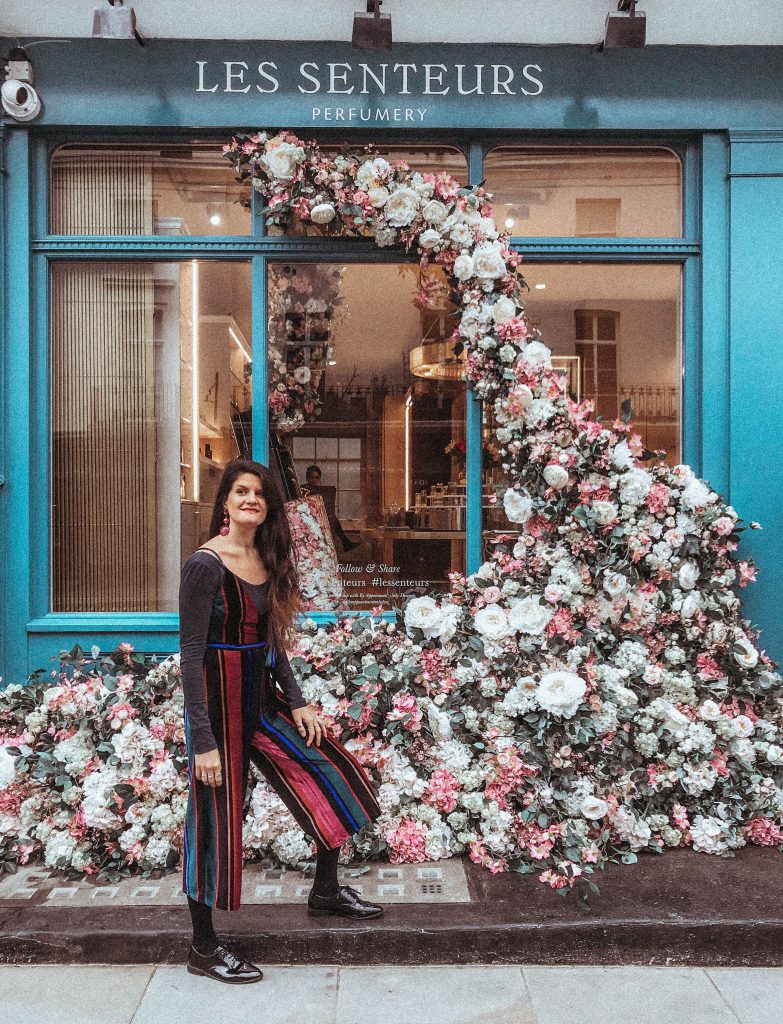 ---
Eccleston Yards
Belgravia's Eccleston Yards is not in Elizabeth Street but right by it. Inside, away from the hustle and bustle, you'll find a whole bunch of independent businesses, from wine bars to yoga classes, and everything in between including this amazing Frida Kahlo Mural!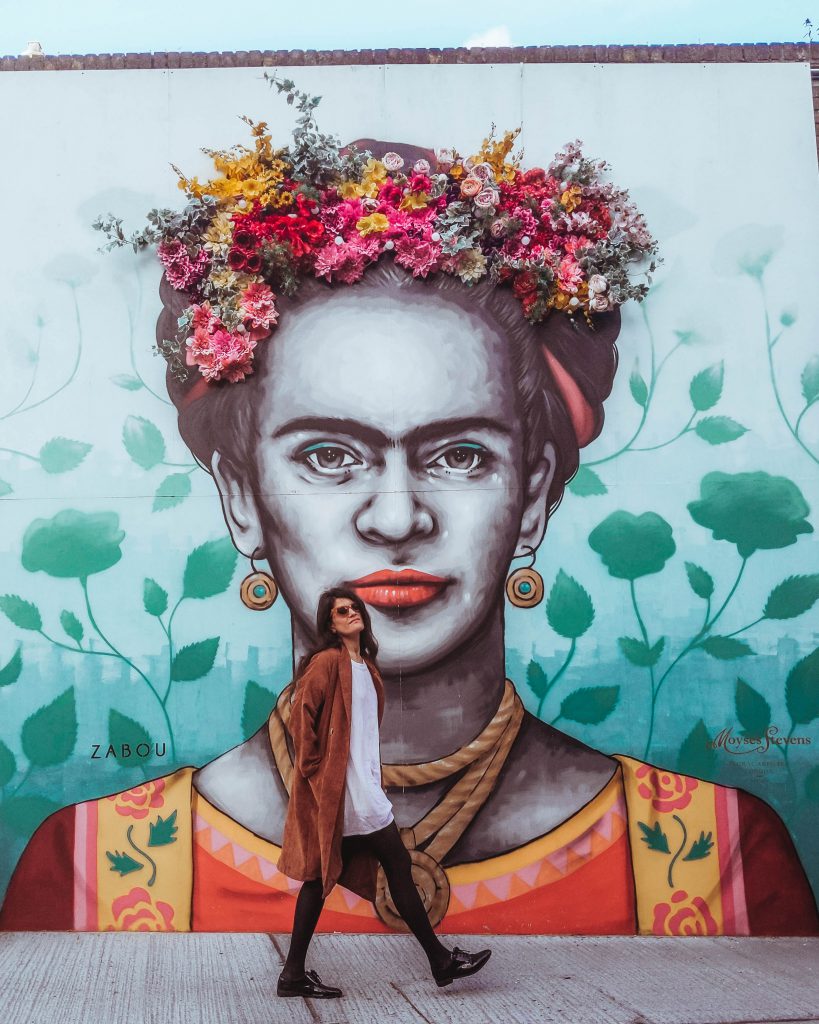 Enjoyed this article? Support my work by buying me an oat capuccino. Otherwise, do me a great favor of leaving a comment and following me on Instagram (@travelwithpau). Feel free to say 'Hello!' I don't bite. And make sure you save the article for later!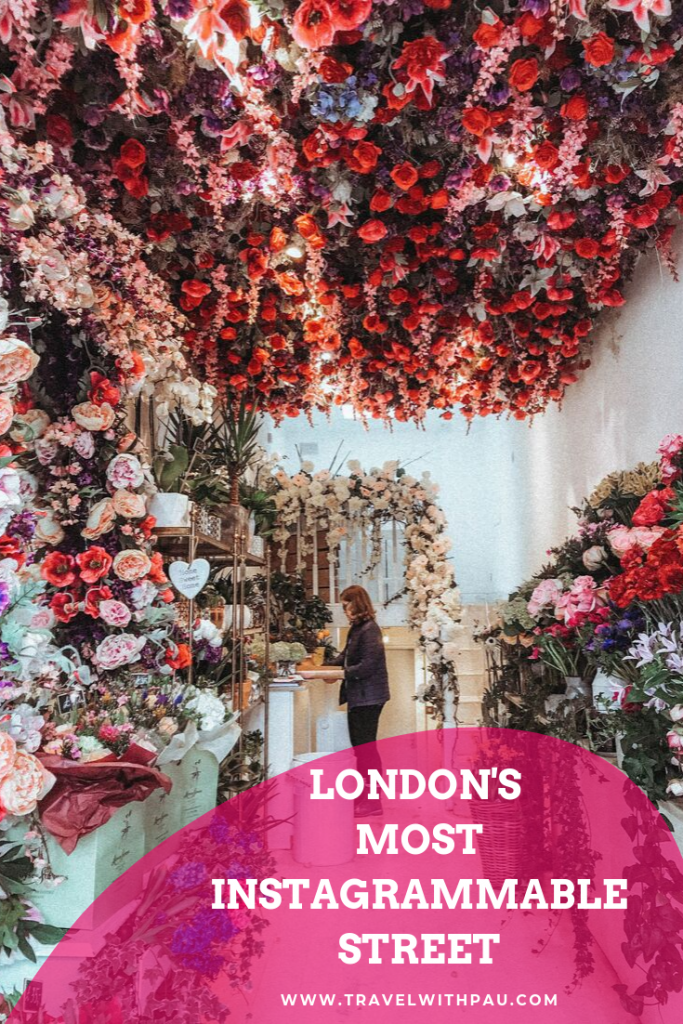 This post contains affiliate links. If you click on one and make a purchase, I might make a small commission, at no extra cost to you in order to help support my blog.