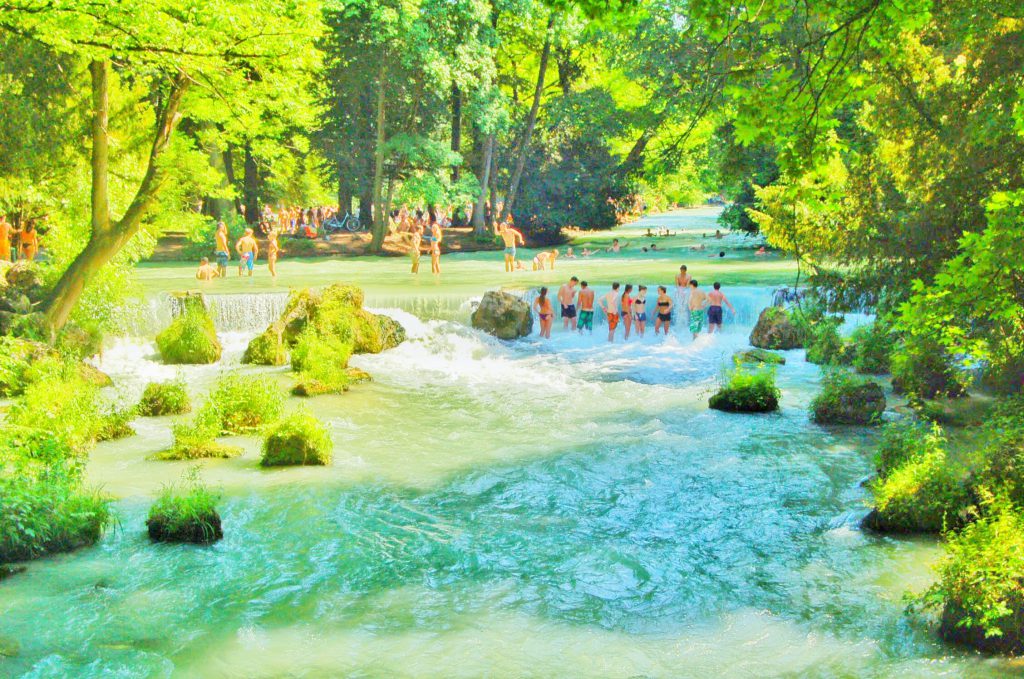 If you've been to Berlin, Munich will surprise you! They are literally day and night. Munich is posh, clean and "golden". I say "golden" because all buildings are kind of cream colored with golden details and to me that makes the city look fancy. I would say Berlin is very alternative while Munich is very traditional.
Munich is also in Bavaria and is the home of Oktoberfest, hence beer is a HUGE thing there. Munich in summer is one my favourite European experiences, so if you can chose to go in June or July, you are guaranteed to have a nice time. Now – let's see what Munich has to offer. Here's your bucket list!
1. Drink multiple liters of Helles or Weizen
If you didn't know already, beer is probably one of the most important things to Bavarians. Hence, their annual per capita consumption of beer is amongst the highest in the world! Helles being a light lager and Weizen a wheat beer are the most popular types of beer in Bavaria. The big breweries in Munich are Augustiner, Hofbräu, Paulaner, Hacker-Pschorr, Löwenbräu, Spaten and Franziskaner. Visiting Hofbräuhaus is a must, although I must say my favourite is Augustiner-Keller. If you are on an empty stomach, pair your beer with a Pretzel. Augustiner also does amazing Schnitzels!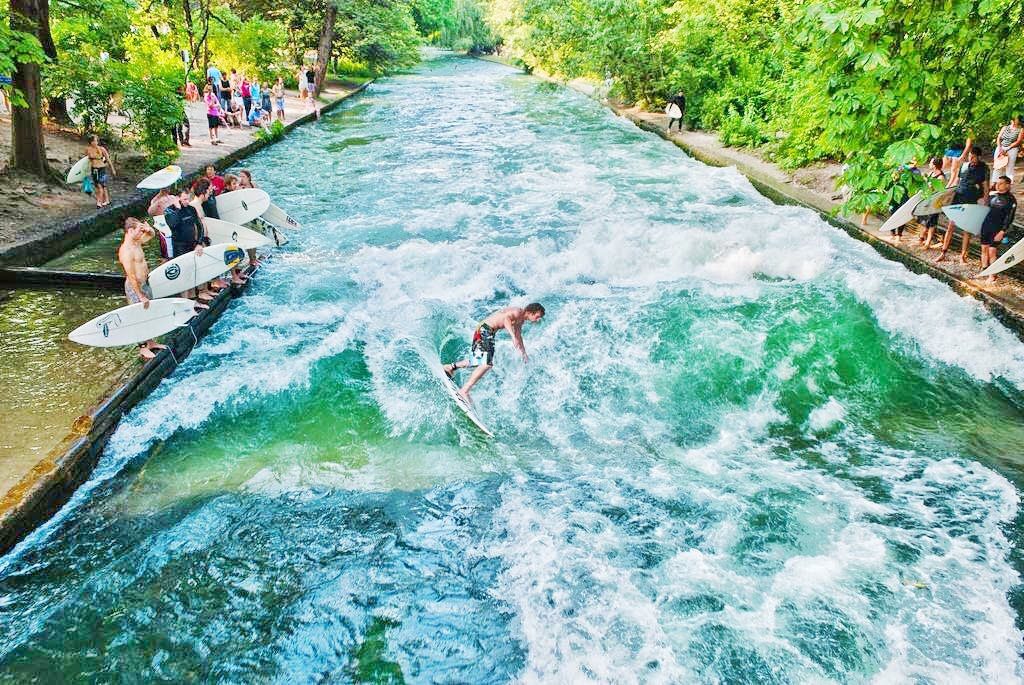 2. Walk, swim or surf at the Englischer Garten
The Englischer Garten is one of the most awesome parks I've ever visited and one of the largest urban parks in the world. It's bigger than New York's Central Park and it's so cool. It has a Chinese Tower, which is important because right besides it there is a beer garden. So, if in need of beer, just follow the tower. Also, it has a stream with mini waterfalls. In summer, you can also swim in the stream and get dragged by the current. It's really fun. If you are even more adventurous, you can actually surf in one of the streams! Even if you don't feel like surfing just walk by to take a look.
3. Marienplatz and climbing St Peter's church
When I think of Munich I think of Marienplatz. The architecture in this square and its surroundings is amongst the best I've ever seen. The neo gothic Neues Rathaus (new city hall) is marvelous and so is the show  of the Glockenspiel in the Rathaus, which happens daily at 11am and 12pm. Walking around here is a must. Finally, for a good view of the Rathaus and Marienplatz, climb the 306 steps of St Peter's church tower. Best done in the morning.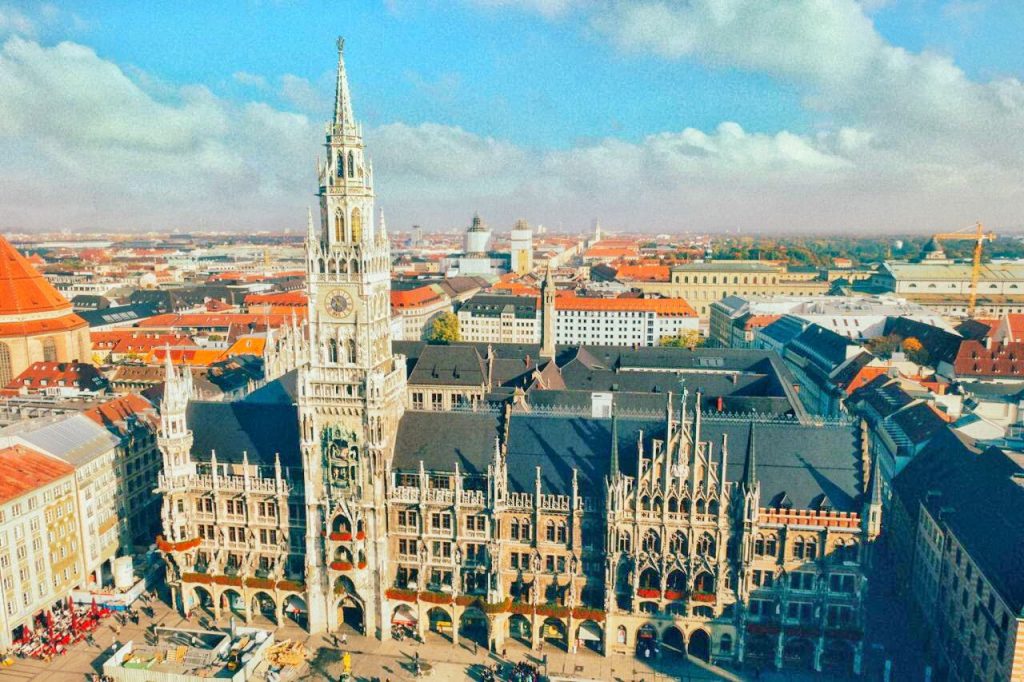 4. Take a walking tour
You may already be familiar with the New Europe free walking tours. They are the best way to get a first glance of the city and some history. They operate daily and most noteworthy, they are free. Reserve a spot here.
5. Grab a bite in the Viktualienmarkt
A gourmet market right in the middle of the city. Frequented by tourists but also by Münchners, you can get fresh food as well as delicatessens in this market. Or, why not, an Oktoberfest ginger bread cookie!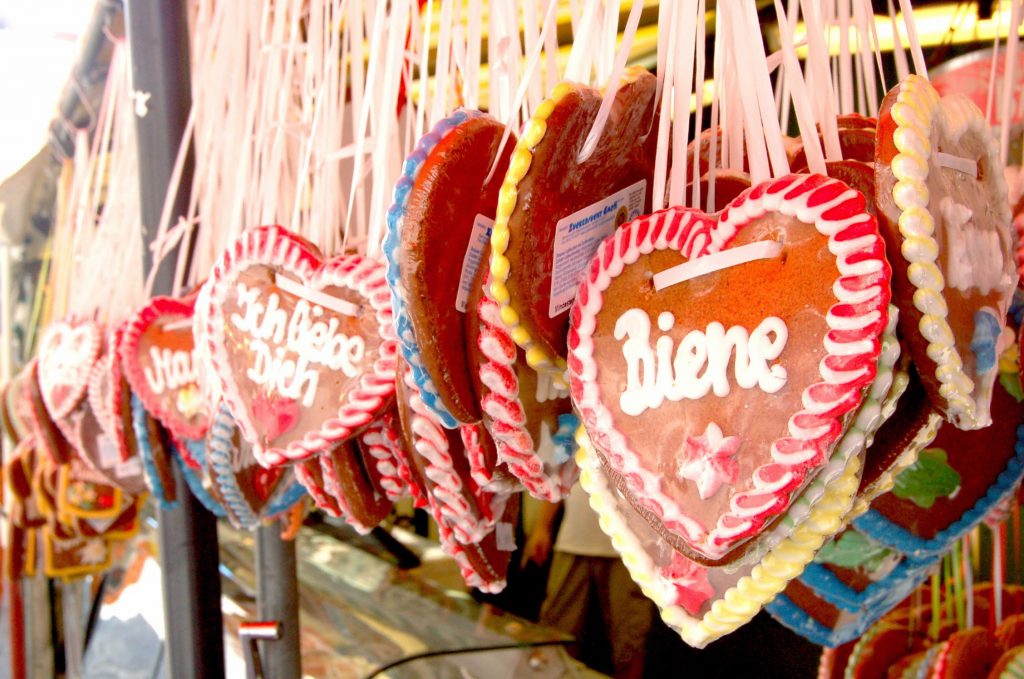 6. Visit the BMW museum
A must for car lovers. This museum features exhibits about the history of BMW cars and motorcycles with historic vehicles and prototypes, in addition to displays on alternative fuel and traffic management. It's a bit out of the way but if you like cars then you must go. Admission is 10 EUR.
7. Have lunch at a cat café
Now, if you are a cat lover, then you must not miss this cafe! Katzentempel, the first cat cafe in Germany, allows you to enjoy a meal surrounded by 6 beautiful kittens. The cafe is also vegan-vegetarian (only non vegan item is organic cow milk). Our visit involved a kitty jumping to our lap and lots of "awww".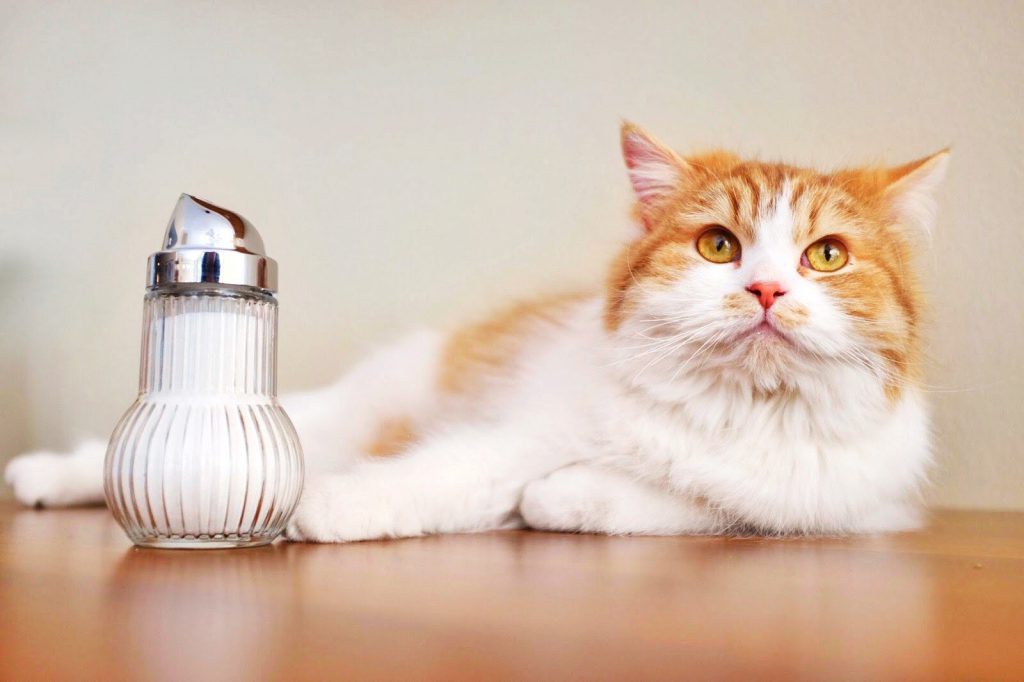 8. Get to Dachau Concentration Camp
This camp was the first concentration camp in Nazi Germany. It's a sad visit, but allows us to remind ourselves of what happened, hopefully to prevent it from ever happening again. It's located outside Munich. Visit takes a whole day and entry is free. New Europe also organises a tour to the camp.
9. Have a picnic at the Olympic Park
Olympiapark, built for the 1972 Olympics, features lakes, meadows and futuristic buildings. Good for a stroll, to admire the – very advanced for its time – architecture or for a picnic in the grass.
10. Have a coffee at Vorhoelzer forum
This cafe is located in the roof terrace of the Arquitecture Dept of the Technische Universität München. Drop by for a quick coffee and enjoy the amazing views of the city it has to offer! Best time to visit: sunset.
11. Visit Nymphemburg Palace
This gorgeous baroque palace was the summer residence of Bavaria's royalty. Inside, you will enjoy lavish and intricate decoration. The rooms are beautiful. Outside, the palace is surrounded by extensive gardens. Admission is 11.50 EUR (Apr to mid Oct) or 8.50 EUR(Oct-Mar).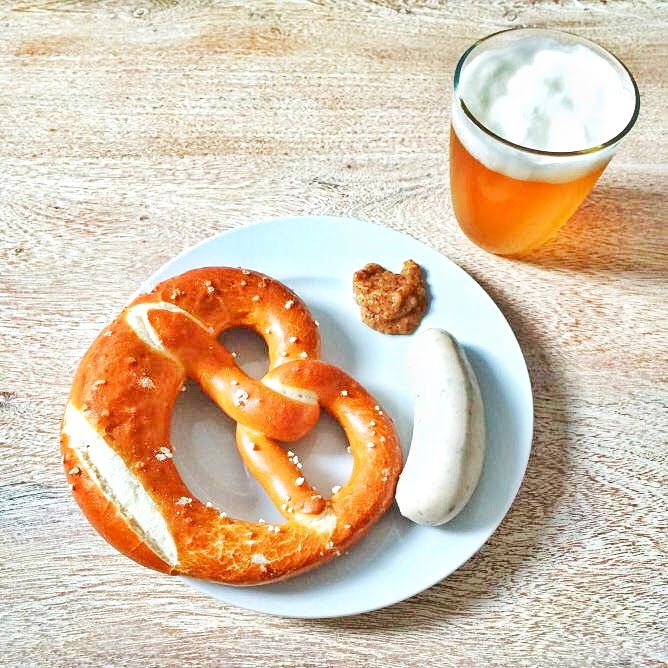 12. Have Weißwurst for breakfast
Weißwurst or, literally, white sausage is a traditional veal and pork sausage. Weißwürste may only be served and eaten until midday because preservatives are not used. So why not have a traditional Bavarian breakfast: Weißwurst, pretzel, sweet mustard and… You guessed it. Beer! You can find the best one in Weisses Brauhaus.
13. Check out the Alte Pinakothek, Deutsches Museum and more
You might want to visit some museums in Munich. The Alte Pinakothek is an art museum and one of the oldest galleries in the world featuring art from the Middle Ages to the Rococo period. If you would rather enjoy more contemporary stuff, then you might want to visit the Pinakothek der Moderne. Furthermore, the Deutsches Museum is the world's largest museum of science and technology. All of them have paid admission.
14. Admire Munich's beautiful Kirches
There are various churches in Munich but two called my attention. The Asamkirche for being tremendously flamboyant. The Theatinerkirche did so for the absolute contrary. It has beautiful details but it's all white. Mark them on your map, they'll be on your way to other places.
15. Try ice cream Der Verrückte Eismacher
Beer tasting ice cream sound weird? Think "Spinach", "Schnitzel and chips", "Potato Salad". These are only some of the flavors the crazy ice cream maker in Der Verrückte Eismacher has to offer. If these flavors are not interesting to you don't worry, he also has tons of normal-ish flavors you can try,  some suitable for veggies and vegans as well. Plus, to make it more fun, the place is decorated like Alice in Wonderland.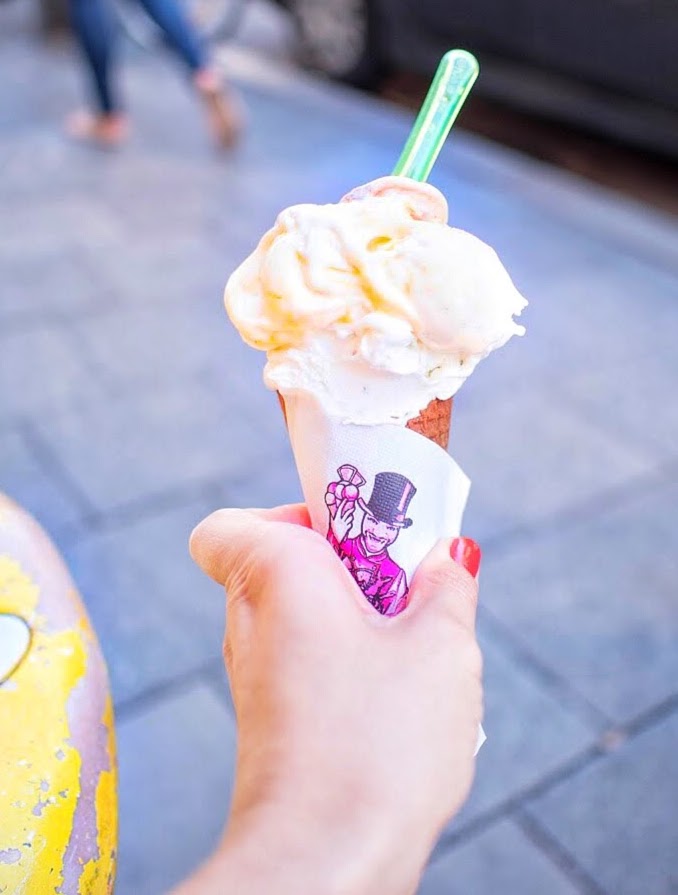 16. Shop at Kaufingerstrasse
Kaufingerstrasse is one of the oldest and busiest streets in Munich. It's also the street for shopping! Even if you don't want to shop, just walk through it, maybe stop for a drink or snack.
Psst…looking for hotels in Munich? Wombats is one of the most awesome hostels I've stayed in! If you are looking for something else, you can search for the best rated Munich hotels here.
Visiting Germany? You might be interested in this Berlin travel guide which has all you need to know about the city.