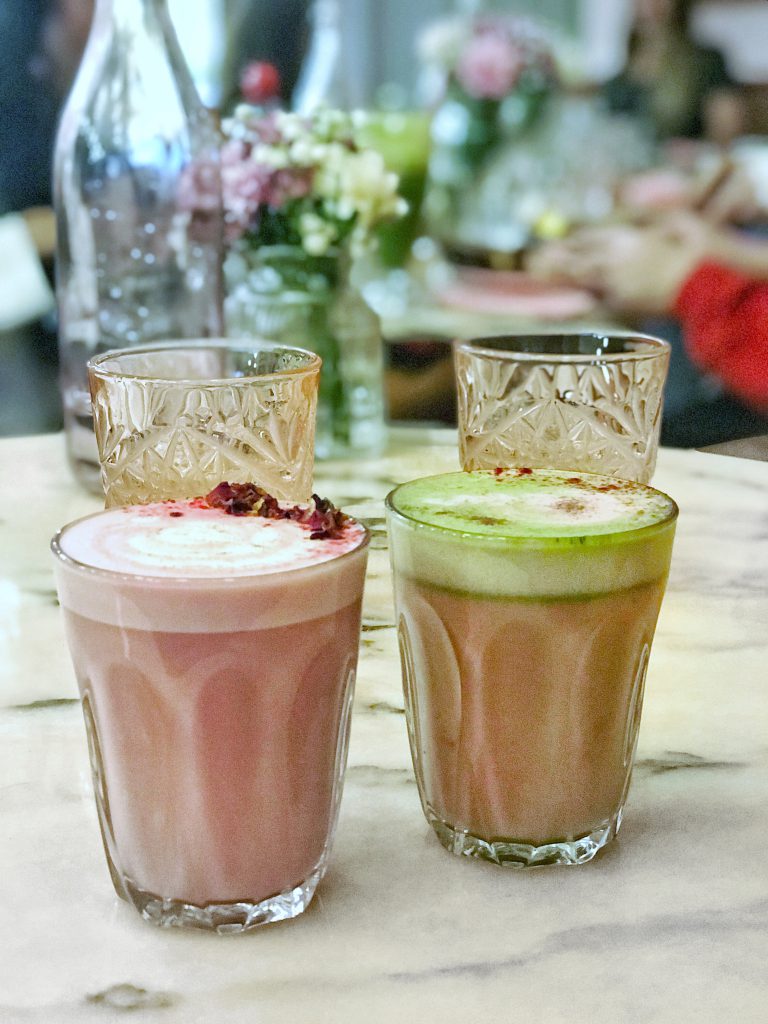 On a certain Sunday I decided to pop over to the Palm Vaults in Hackney. I've always wanted to go as it's a vegan cafe and well, I'm a vegan. But I have to be very honest, it was the rainbow lattes and pink glitter coffees I saw on a Facebook video in my feed that gave me the last push.
So there I was after over an hour commute from Tooting on Mare Street in Hackney. Didn't look like much from outside. It was a cold Sunday in December so the windows from the cafe where all steamy hence I couldn't really see inside.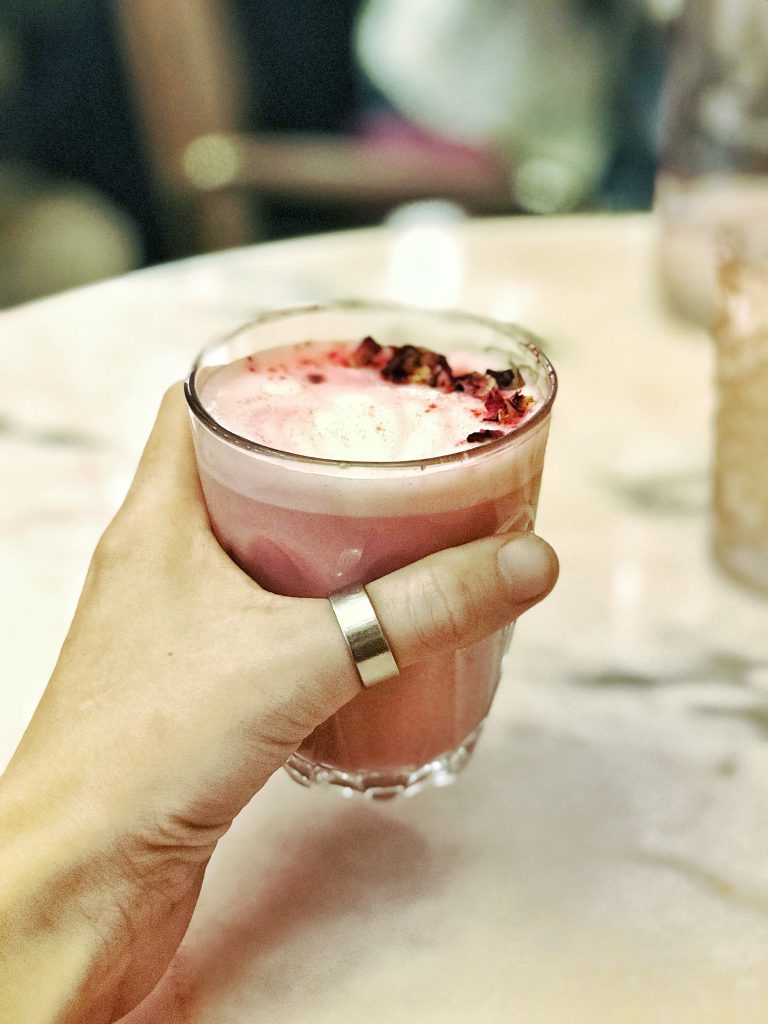 I went through the doors to find a pink universe, full of plants and people. Colorfully frosted vegan cakes stood on the pink marble counter where I asked for a table for two.
And there I proceeded to snap the main area of the cafe, which is quite small by the way, so it gets pretty busy. Pink in the walls, chairs, sofas, and on the crochet hangers holding the plant pots which filled all of the ceiling.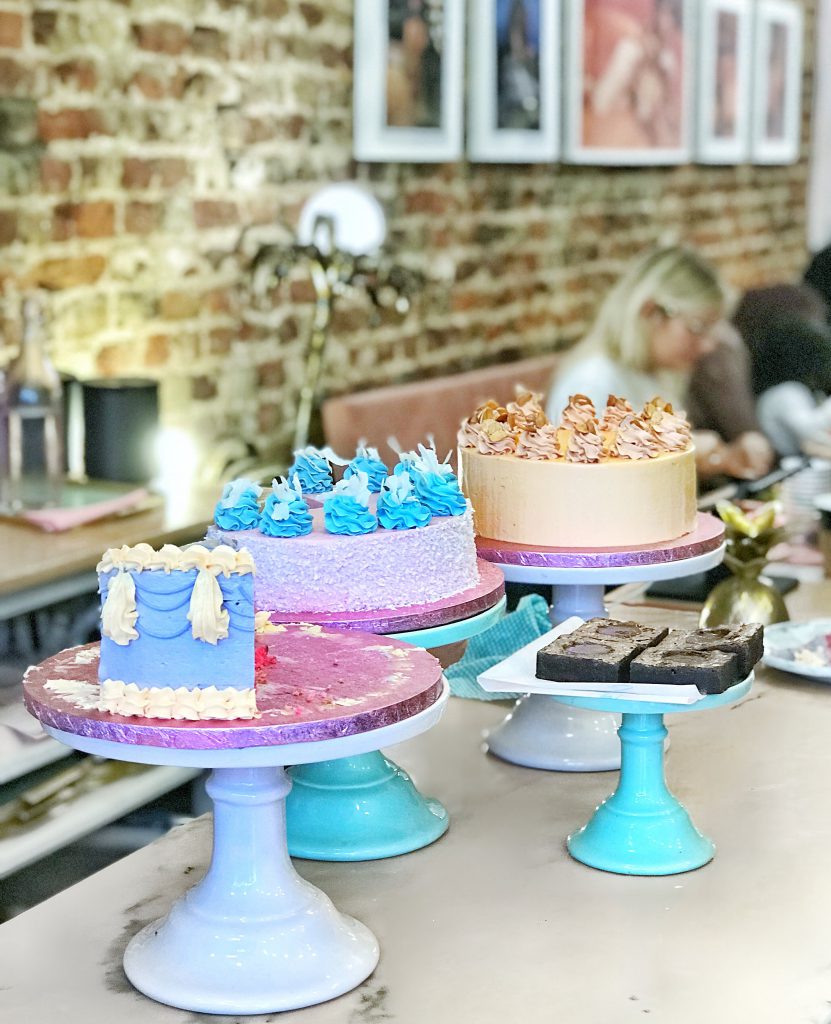 We waited over 30 minutes before being seated. Our server took our order right away. Unfortunately, they were out of two out of three of their savory choices, which was a bummer as I'm not really a fan of sweet things. So I ended up going for the only savory option: a vegan cheese and chilli jam toastie.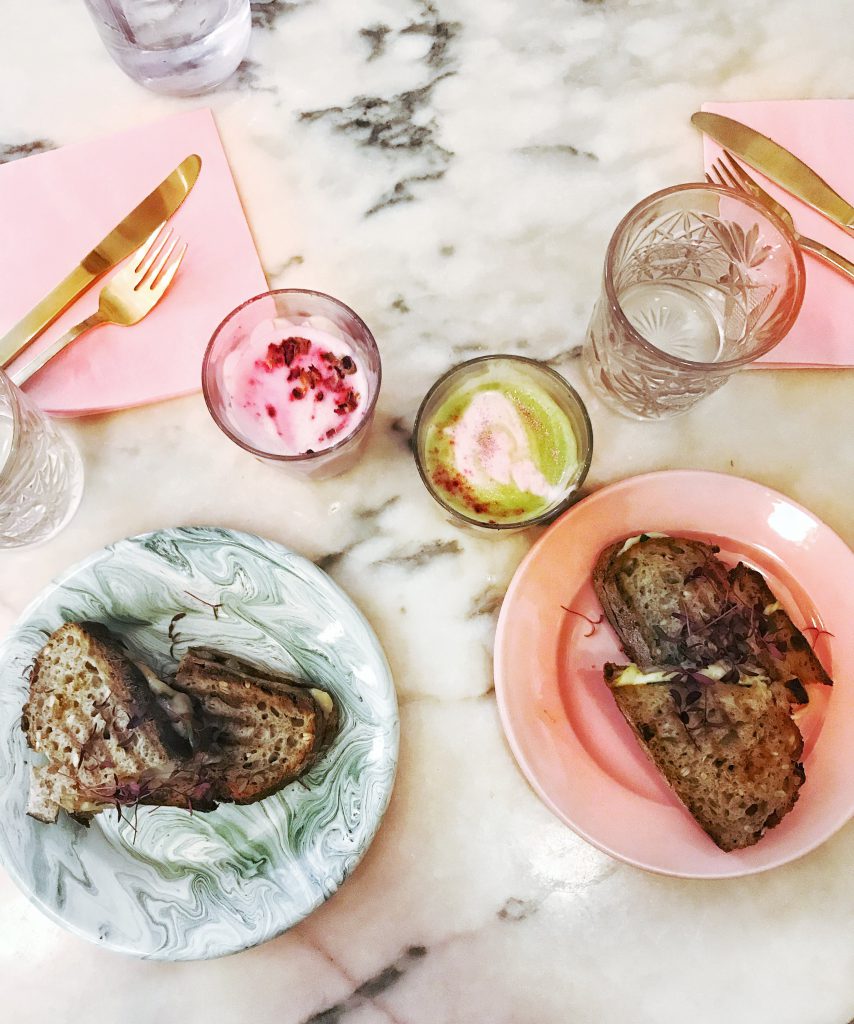 To drink, obviously, the first thing I asked was: "Which coffee comes with glitter?". The waiter responded that all coffees could be made with glitter. Result: ear to ear smile. I ended up ordering a plant milk based hot drink which didn't have coffee and was pink. It was gorgeous as well as delicious.
The toastie was lovely although I didn't end up full. Probably should have had something else as well. Maybe the other savory options are a bit more filling. To be honest I was too happy to care and my pink glittery drink was just delicious!
What can I say? I just loved the experience. I'll surely come again. Why? I work hard during the week and all I wanted on the weekend was some pink, plants, and glitter in my coffee. So thank you, Palm Vaults.
Palm Vaults is at 411 Mare St, E8 1HY in Hackney, London. Find more things to do in London here.