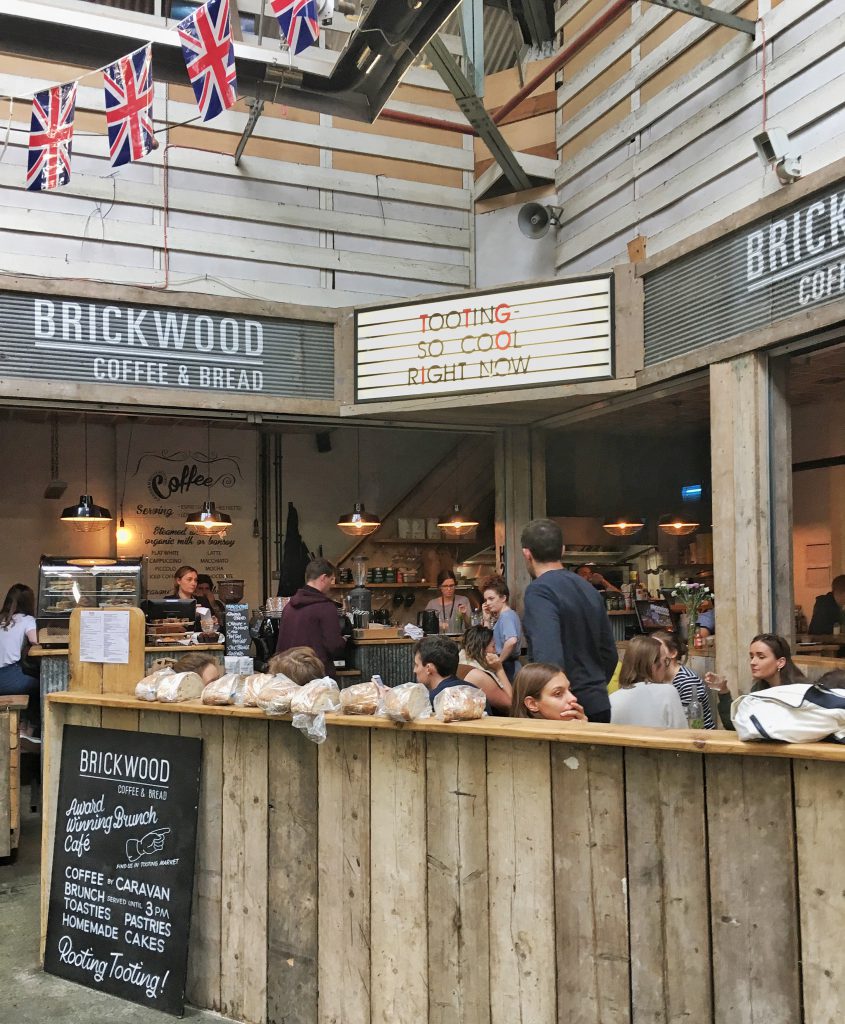 "Tooting so cool right now" that's what reads on the message board of popular brunch spot Brickwood Cafe. And with a good reason. Tooting has been chosen amongst the 10 best neighborhoods to visit in the world by Lonely Planet. As it happens, Tooting is actually my neighborhood. I choose to live here because I'm love with how multicultural it is, and to be very frank, I'm mostly in love of its super fun markets. To second Lonely Planet: Tooting's is gritty, but wonderful.
WHAT TO EAT IN TOOTING
Tooting's highlights are its markets! Why? There's something for everyone in them, and there's atmosphere like nowhere else in the neighbourhood. Best of all, the food is generally cheaper than outside.
EATING IN TOOTING: IF YOU ONLY HAVE ONE MEAL
If you only have one meal in Tooting… try the following:
Daddy Bao: Its name says it all… Daddy Bao does some banging baos. So much so that it's almost always full. Apart from the baos, the cocktails are one of the highlights. Address: 113 Mitcham Rd, London SW17 9PE
Barra10: This restaurant is definitely worth visiting Tooting just for it! Serving Argentinean fare (aka steak), as an Argentinean myself I can confirm it's de-li-cious. Try the steak, of course, but get the ox cheeks as a starter. Note it's located within Broadway Market. Address: 16 Broadway Market, Tooting High St, London SW17 0RL
Lahore Karahi: Always full to the brim, the specialty of this restaurant as the name implies is Pakistani food. It's spicy, and it's good. So good many people know this restaurant, and have no idea what Tooting is! Address: 1 Tooting High St, London SW17 0SU
EATING IN TOOTING: BRUNCH
Brunch is my favourite food… so this section is up on my list! My top 5 are:
PINCH: a vegan only cafe with a lovely sunny terrace, delicious, healthy and affordable! Address: Tooting Works, 89 Bickersteth Rd, London SW17 9SH
Brickwood Tooting: with a few branches in South London, the Australia cafe has not disappointed me once in my various visits. Lots of veggie and vegan options! It's inside Tooting Market. Address: Tooting Market, 21-23 Tooting High St, London SW17 0SN
MUD: a classic but delicious brunch menu with good size portions, good for meat eaters, less good for vegan & veggies. Address: 141 Mitcham Rd, London SW17 9PE
Juliets: the most hipster restaurant brunch spot in London, some people love it, some people hate it (the non-hipsters, mostly). It's good, portions on the smaller side. Address: 110 Mitcham Rd, London SW17 9NG
Taste: This Kurdish cafe offers brunch with a Kurdish twist! I don't visit enough but it's great. Address: 91 Mitcham Rd, London SW17 9PD
EATING IN TOOTING: SOUTH INDIAN
South Indian: Tooting has some of the best South Indian food in the UK. There are loads of curry houses, all of them quite good. Head to Lahore Karahi for a late night hot hot curry, Radha Krishna Bhavan if you like your spice on the mild side, and Jaffna House for a great curry at a negligible price.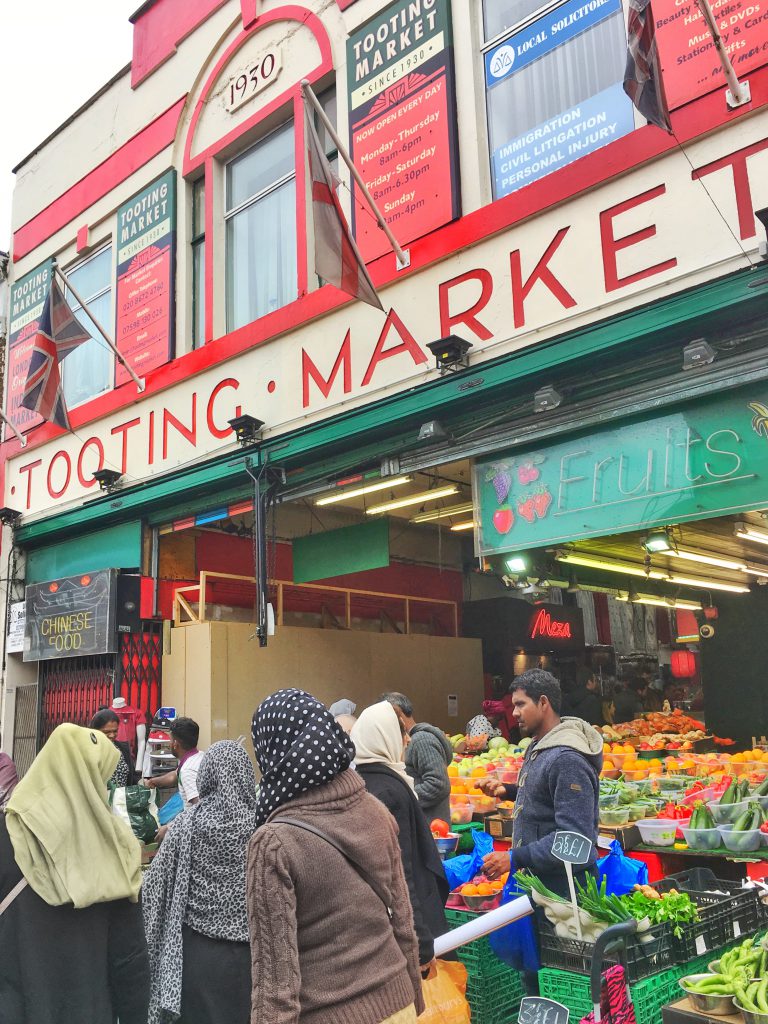 THINGS TO DO IN TOOTING
The one and only thing to do in Tooting is… visit the markets! They are the main attraction and probably the main reason to come to Tooting. The vibe is epic, and there are SO many places to eat and drink in them
Tooting Market: The oldest market in Tooting! I love the ramen from KOI. You can also enjoy a pizza from Franco Manca, have brunch at Brickwood (mentioned above), or drop by award winning wine shop, bar and kitchen Unwined. If you are feeling healthy, grab a juice from Get Juiced. If you need vegan food, hit VBelly. For Greek, check out Smashing Plates. Hong Kong foodies will love Ding Dong. For drinks, check out Graveney Gin. a woman run gin distillery which was actually based in the market (at some point).
Broadway Market: Right besides Tooting Market (I know, confusing) and also the market that has grown the most laterly. Here's where you'll find Barra10, and my favourite craft beer shop ever: Craft Tooting. The rest, you'll have to explore yourself!
Outside the market, buy some knick knacks at the fully Indian store Patel Brothers. Then stop by Daily Naan and take some naan home.
Las but not at all least, don't miss the beautiful Tooting Common and once there if you are feeling adventurous visit the Tooting Bec Lido, the largest swimming pool in the UK.
WHERE TO DRINK IN TOOTING
A rooftop bar? In Tooting? That's right! The Corin is the marvellous rooftop bar which will make you forget you are not in Soho.
My favorite pub is The Castle because of their beer garden, I also love that it's always full of lovely people having fun. The Antelope is also a local favorite with a beer garden too. For great cocktails head to Brick & Liquor.

WHERE TO DANCE IN TOOTING
The Tooting Tram and Social is an old tram station reconverted to dance floor. Great for dancing on Fri & Sat, and they also have live music during the week.