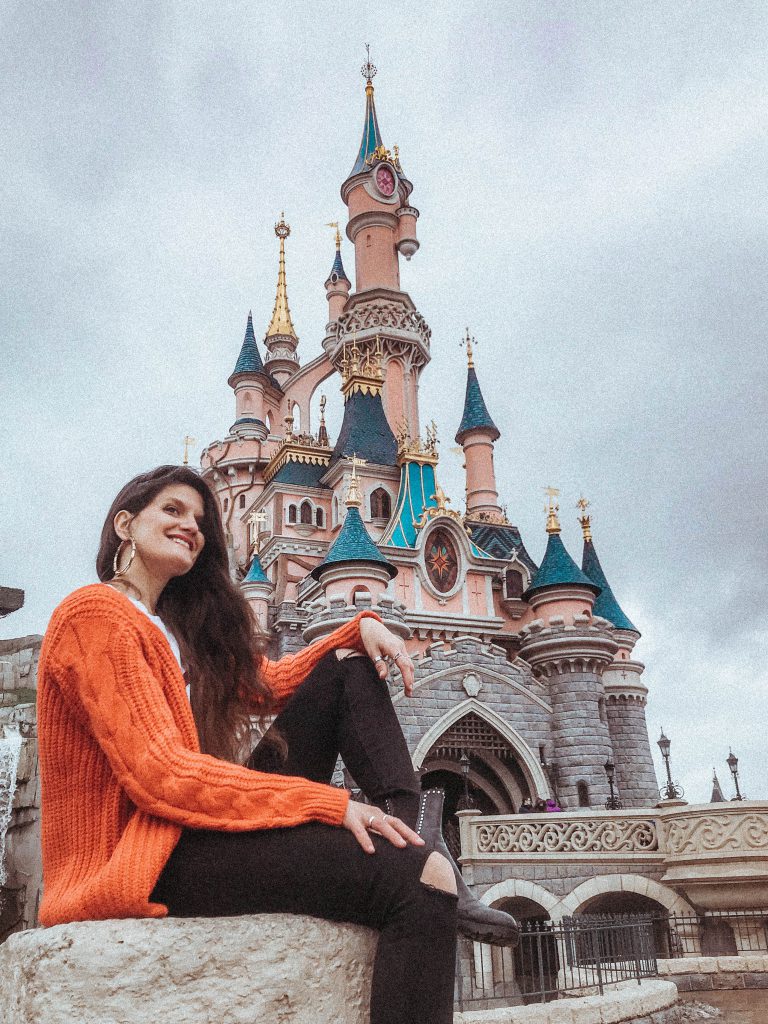 If you are reading this it's because you are seriously considering crossing the pond just to enter the magical world of Disneyland in it's European version. No one is ever too old for Disneyland. Not only that — I personally believe it is actually healthy for all of us to visit every now and then. I've been to Disneyland Paris from London three times already and as soon as I leave I already want to go back again. It's actually very easy to do — so let's dive in.
Disneyland Paris From London: How Long To Visit
Disneyland Paris has two parks: Disneyland Park and Walt Disney Studios Park. If you have been to Disney World, Disneyland Park is the equivalent to the Magic Kingdom Park and Walt Disney Studios Park to Hollywood Studios.
It is totally possible to visit both Disneyland Paris parks in a weekend if you are coming from London, it is also possible to visit both Disneyland Paris parks in just one day leaving Sunday free to visit Paris a bit and to go back home to London. I have done that in three occasions and left feeling satisfied. I was able to visit all the adult friendly rides this way and some kid friendly ones that seemed fun.
If you want to visit the parks properly though, going into almost every attraction, I would recommend one and a half or two full days. But honestly, one day is value for money if you are visiting as an adult and have the energy to rush through games quickly, take short lunches, etc.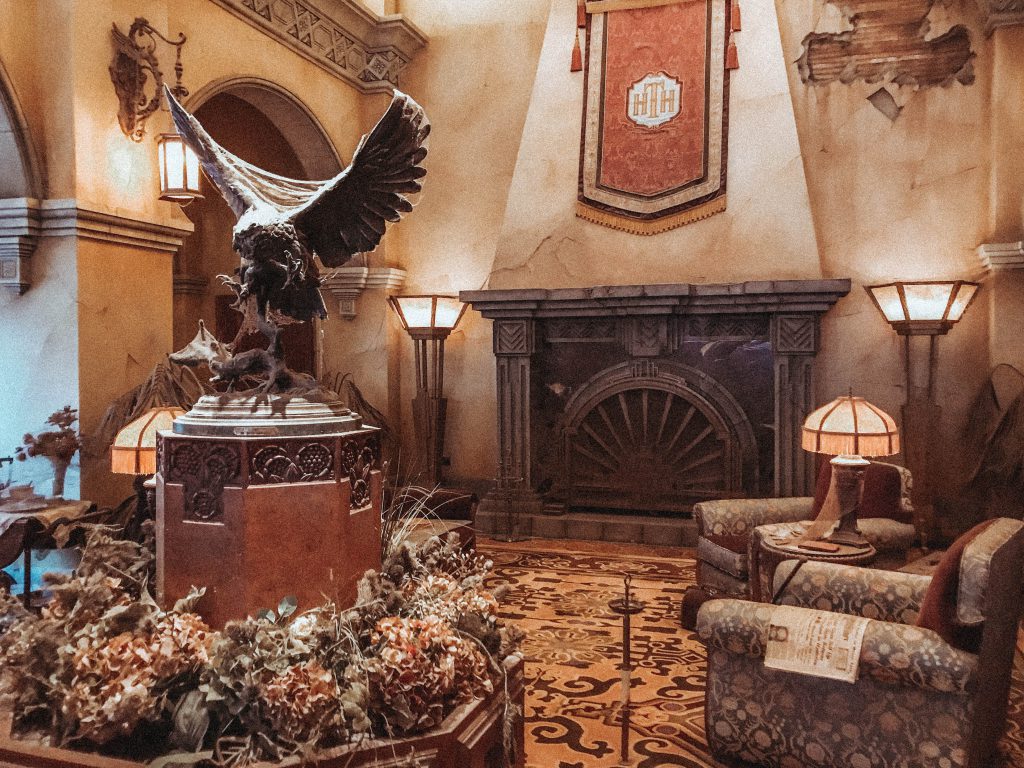 Disneyland Paris From London: How To Get There
There are several options to go from Disneyland Paris to London. I'll list them here and explain the pros and cons from each.
Eurostar from London to Disneyland Paris (Marne-la-Vallée): This is the most direct option for Disneyland Paris from London. Trains take around 2h 45 min and 3h 20 min if there is a stop at Lille. One of limitations it has is that there are far less trains from London to Disneyland Paris than from London to the centre of Paris so if you are planning to go after work on a Friday it may not work out. It also might not be best if your hotel is not in Marne-La-Vallee but in between Paris and Disneyland Paris. Last, you may want to return from Paris if you plan to spend some time in the city so a return train from Marne-La-Vallee might not work out. What I have done in the past is to take the Eurostar to Disneyland Paris from London on my way there, but from Paris centre on my way back.
Eurostar from London to Paris centre (Gare du Nord): This option has a 2h 20 min duration to Paris and then requires you to take a 30-40 minute RER train(s) costing 3-4 EUR to Disneyland Paris or your Disneyland hotel. The good thing is that there are many more Eurostar trains to Gare du Nord so it might be the best option in terms of price and timing — it generally was for me. At least taking the train back from Gare du Nord allows you to visit Paris on the day you are coming back to London, maybe eat in a nice restaurant and take yet another picture of the Tour Eiffel.
Flights from London to Charles-de-Gaulle or Orly airports in Paris: This is by far the least preferable option due to the added hassle of traveling to and from airports. And even if the ticket seems really cheap, you have to add in the costs of traveling to and from the airports which at least in London can be a lot. This option only makes sense in the event that you decide to make the trip to Disneyland with little anticipation and Eurostar tickets are over the roof which is not unusual if you are booking less than three weeks in advance. I always use Momondo to find the cheapest prices and in this case to compare prices to Eurostar.
Disneyland ticket prices don't vary as much and rarely sell out, so if you want to avoid spending a fortune in your trip to Disneyland Paris from London book your transportation as cheaply as possible first.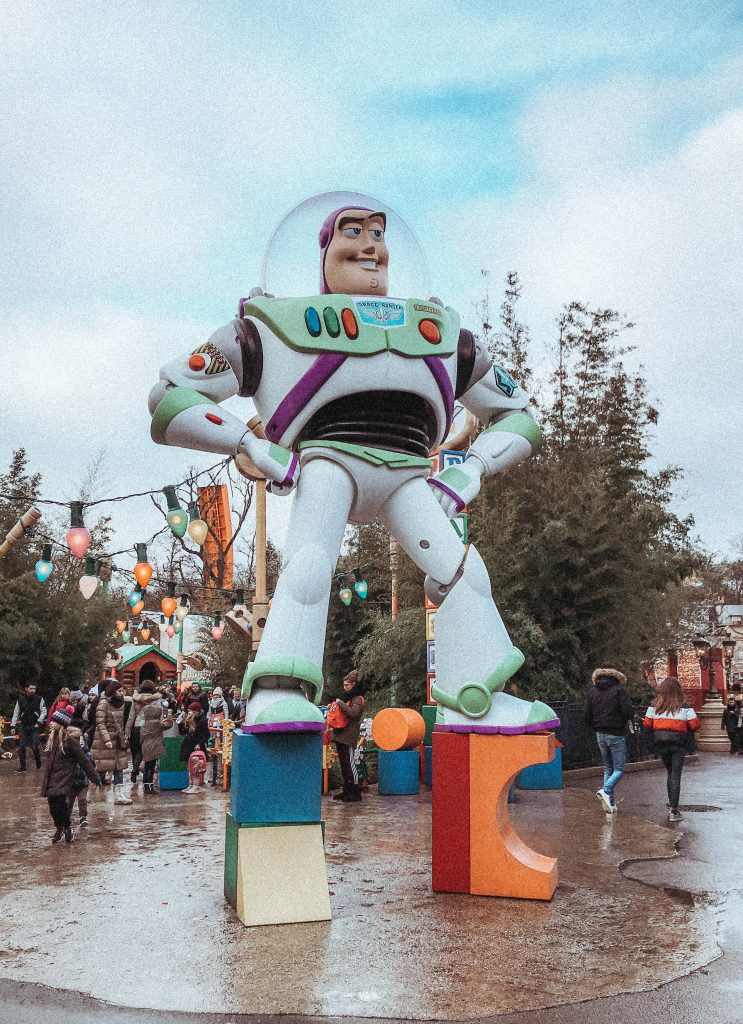 To get the best Eurostar prices from London to Paris or Disneyland Paris:
Book well in advance. This is the most important thing.
Check for any seasonal promotions — for instance Eurostar did a New Year promotion where tickets could up as cheap as £29 per leg.
If you have some flexibility use Eurostar Snap. This Eurostar tool allows you to snap really cheap tickets where you choose the time of the day you want to travel — AM or PM — without knowing the exact time. You then get the ticket confirmation and exact departure time 48hs before.
Disneyland Paris From London: Buying Disneyland Paris Tickets
If you have booked your London to Disneyland Paris transportation already, then it's time to book your Disneyland Paris tickets! You can buy 1 day or up to 5 day tickets. The most popular is the 1-day 2-parks ticket. You can also buy a flexible ticket valid from one year since you buy it.
Contrary to what one might think the official Disneyland UK website is not where you get the cheapest tickets. I usually just use GetYourGuide as the explanations on what each ticket is are very straightforward and you can also book tickets with transport. Book your tickets here.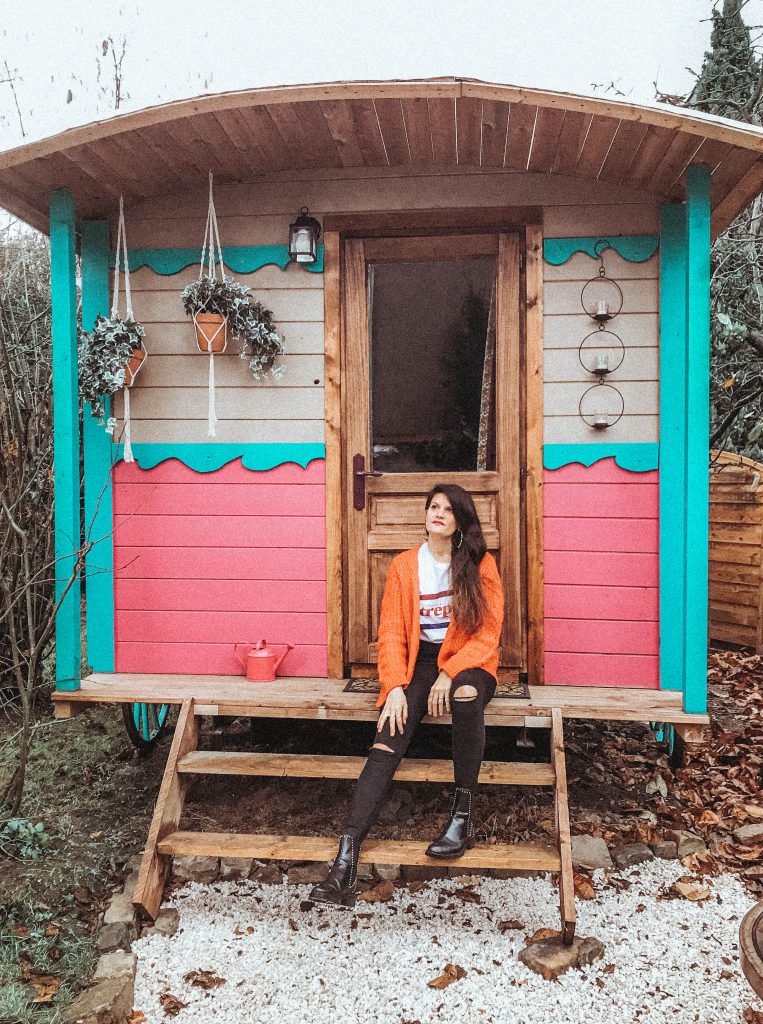 Disneyland Paris From London: Where To Stay
When I first visited Disneyland Paris from London I thought about staying in one of the Disneyland hotels. As an adult, it's not essential but I thought it would be nice. But then I saw the prices and I instantly pivoted from that idea.
Turns out there are other hotels around the area that are a lot cheaper, but most of them where budget chain hotels and that's not really my style. So I'm so glad I found Le Vieux Puits – a B&B located in quiet Bry-sur-Marne only about 20 minutes from Disneyland by RER. What's most special about this B&B is that you can stay in a gypsy caravan on the garden of the property which was magical in its own way. You are also supporting a local entrepreneur which is always nice. You can read my full review about Le Vieux Puits and book it here.
If you want to stay at the Disneyland Paris hotels or just want to view other options I've pre-filtered all the available Disneyland Hotels here.
Disneyland Paris From London: How To Make The Most Of Your Visit
Once you have transport and accommodation figured out it's now time to think about how to experience it to the maximum.
Entering the Disneyland parks and opening times
The park opens at 10AM till 8/9 or 10PM depending on the day. If you are staying in some Disneyland Hotels can access the parks during "Magic Hours" so from 8:30-10:00 AM but only some attractions are open at this time.
To enter the park you will need either an official Disneyland Paris ticket or an e-ticket printed at home. Note that despite the various disclaimers specifying that the ticket must be printed, you can actually scan the e-ticket from the PDF in your phone.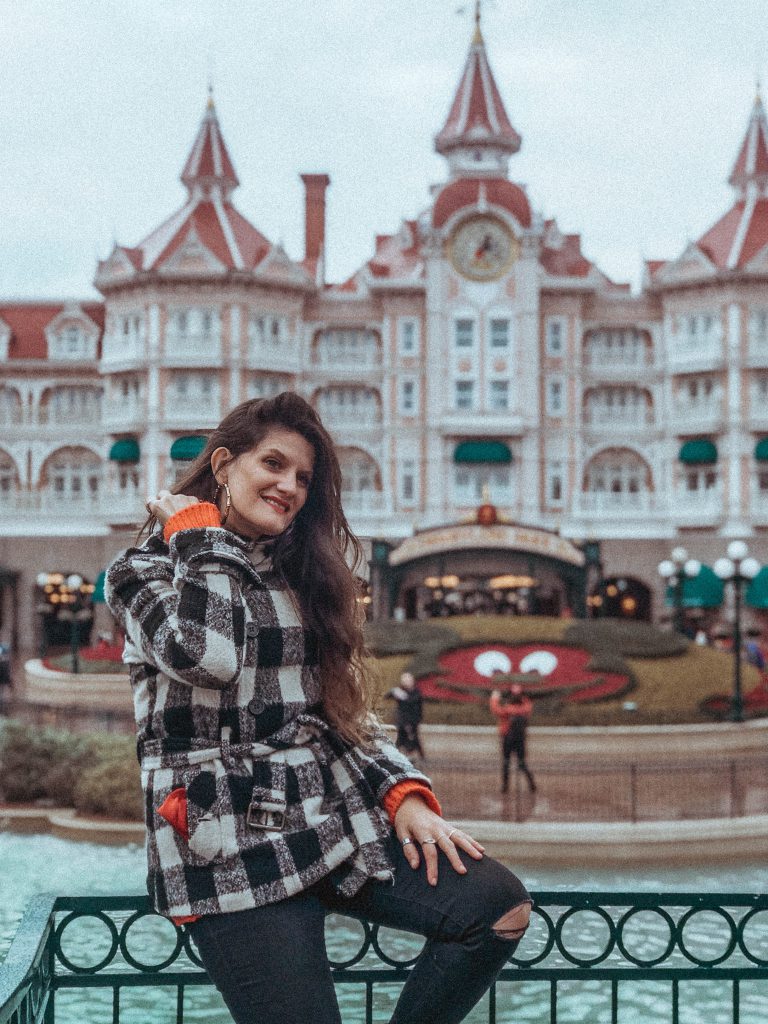 Disneyland Paris attractions and minimising waiting times
Before the day comes, download the Disneyland Paris mobile app where you'll be able to see a map, all available attractions and their waiting times. The app is pretty decent. It requires an internet connection, the cellphone reception in the park is ok and there is also wi-fi available which works most of the time.
In the app you'll be able to filter the attractions which have FastPass. Remember, the FastPass is your best friend. It is a ticket you take from an attraction in advance to enter it with no queue at a set time. The caveats are:
You need to physically walk to the attraction to take the FastPass by scanning your entrance ticket at the FastPass machines.
The time on the FastPass ticket is auto-allocated, you cannot choose a specific time.
You can only have one FastPass at a time. Another ticket can only be obtained once the previous one has been used or 2 hours after the previous one. The FastPass ticket will show you at what time you can take another one.
FastPasses are limited to availability, some attractions will run out of FastPass as early as 11AM.
I'll leave the decision for which attraction you'll get a FastPass to you. The only tip I'll give you is that the only attraction original to Paris that has a FastPass is Ratatouille and it usually has long waiting times so if you decide to start your day in Hollywood Studios visiting Ratatouille might make sense.
Some attractions also have a single rider queue with much less wait, so if you are going as an adult you can choose to split up and queue less. I thoroughly recommend this.
Food in Disneyland Paris
There are tons of places where to buy food in Disneyland Paris. Of course they are mostly overpriced and fast food as the expectation is that you'll eat quickly and be on your way to more rides.
You don't need absolutely need to bring food as you can find places where to buy something pretty fast —although there is generally a queue. If you are all about optimising time, bring packed sandwiches and use a long queue to have your lunch. And do bring snacks for time in between meals.
If you are a vegan like me, just know that although Disneyland Paris' has recently improved catering for vegans, options are limited and pricy so pack something just in case.
What to bring to Disneyland Paris
A small backpack. You'll be able to bring a small backpack on most of the rides and may run into trouble if it's too big.
Weather appropriate clothing — including a raincoat and/or umbrella if rain is expected. You'll be most of the time outside and many of the queues involve queuing in open air.
Comfy shoes as you will be standing most of the time and also walking quite a lot.
Sunblock and sunglasses depending on the season as you won't need these in winter.
A water bottle that you can refill on the drinking stations in the bathrooms.
Enjoyed this article? Support my work by buying me an oat capuccino. Otherwise, do me a great favor of leaving a comment and following me on Instagram (@travelwithpau). Feel free to say 'Hello!' I don't bite. And make sure you save the article for later!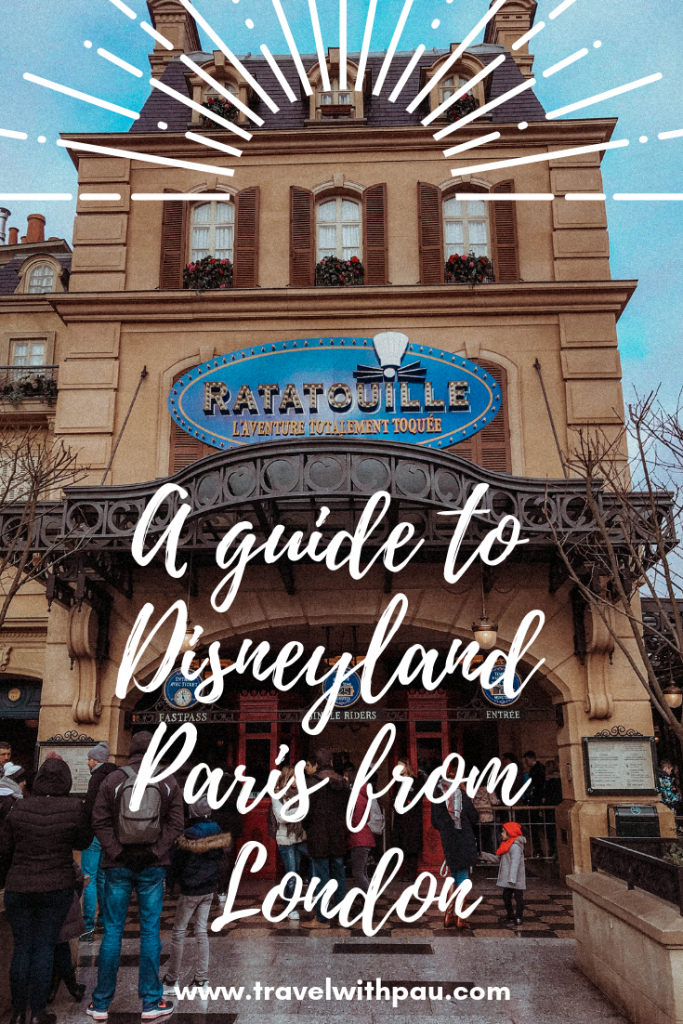 This post contains affiliate links. If you click on one and make a purchase, I might make a small commission, at no extra cost to you in order to help support my blog.